Arcade Block is a video game monthly subscription box from Nerd Block. Every Arcade Block has 4-6 video game collectibles, including an exclusive gamer t-shirt. Each monthly gamer box has a $60+ total retail value. Nerd Block recently announced that Arcade Block has been upgraded to Gamer Block. With today's Arcade Block/Gamer Block review, we're unboxing the December 2016 Arcade Block.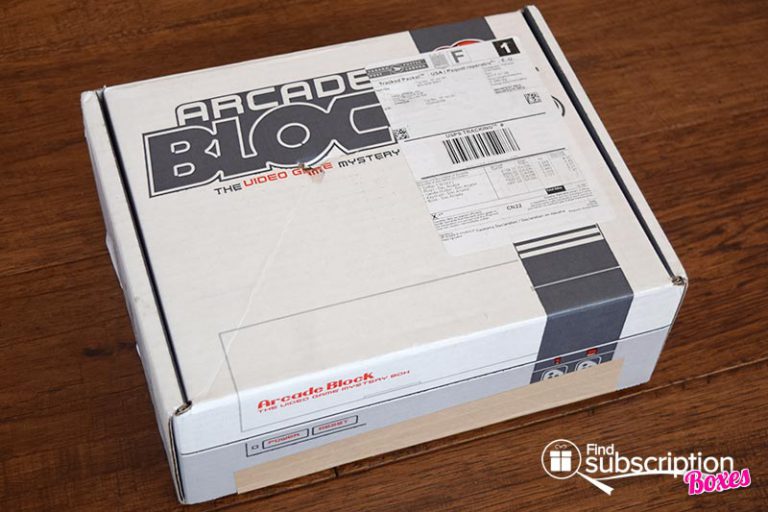 Arcade Block includes a product card that shares information about the gamer collectibles in that month's box. There were also spoilers for the January 2017 Gamer Block.  January's E for Everyone Gamer Block has exclusives from Pac-Man and PaRappaTheRapper. The M for Mature Gamer Block has exclusives from Fallout and Sniper Elite 4. Both blocks will have a code for a fully downloadable Steam Game.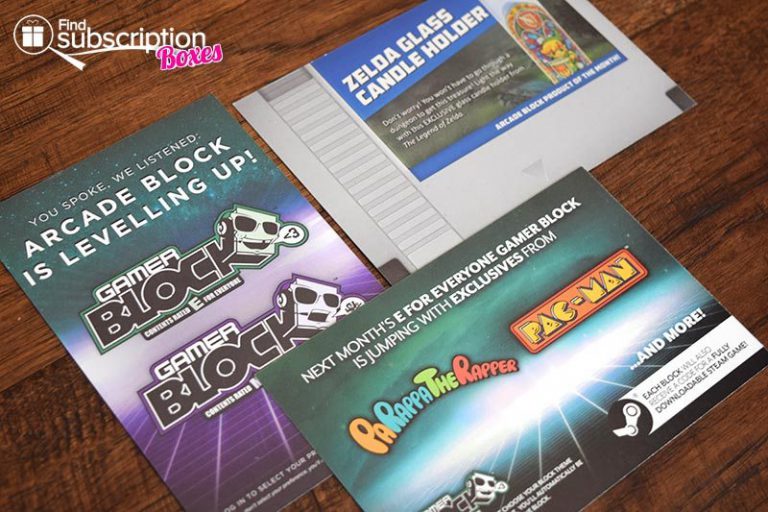 Here's a first look inside our Arcade Block December video game subscription box.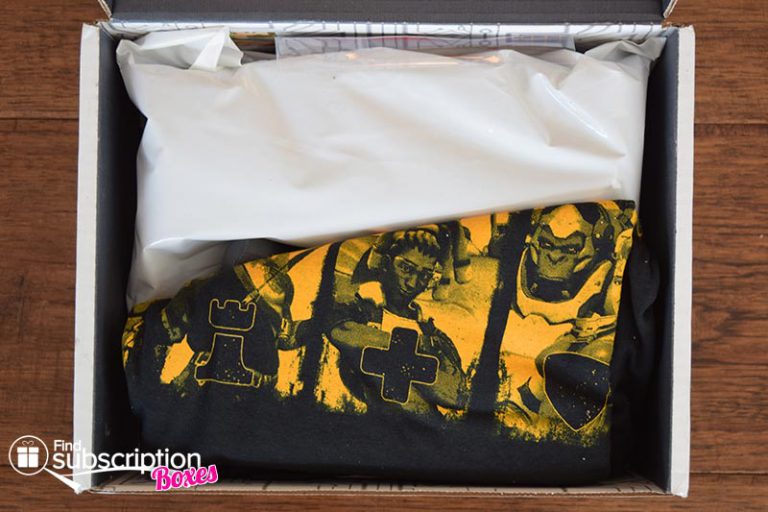 Inside the December 2016 Arcade Block
There were 5 video game collectibles in our December Arcade Block monthly box for gamers.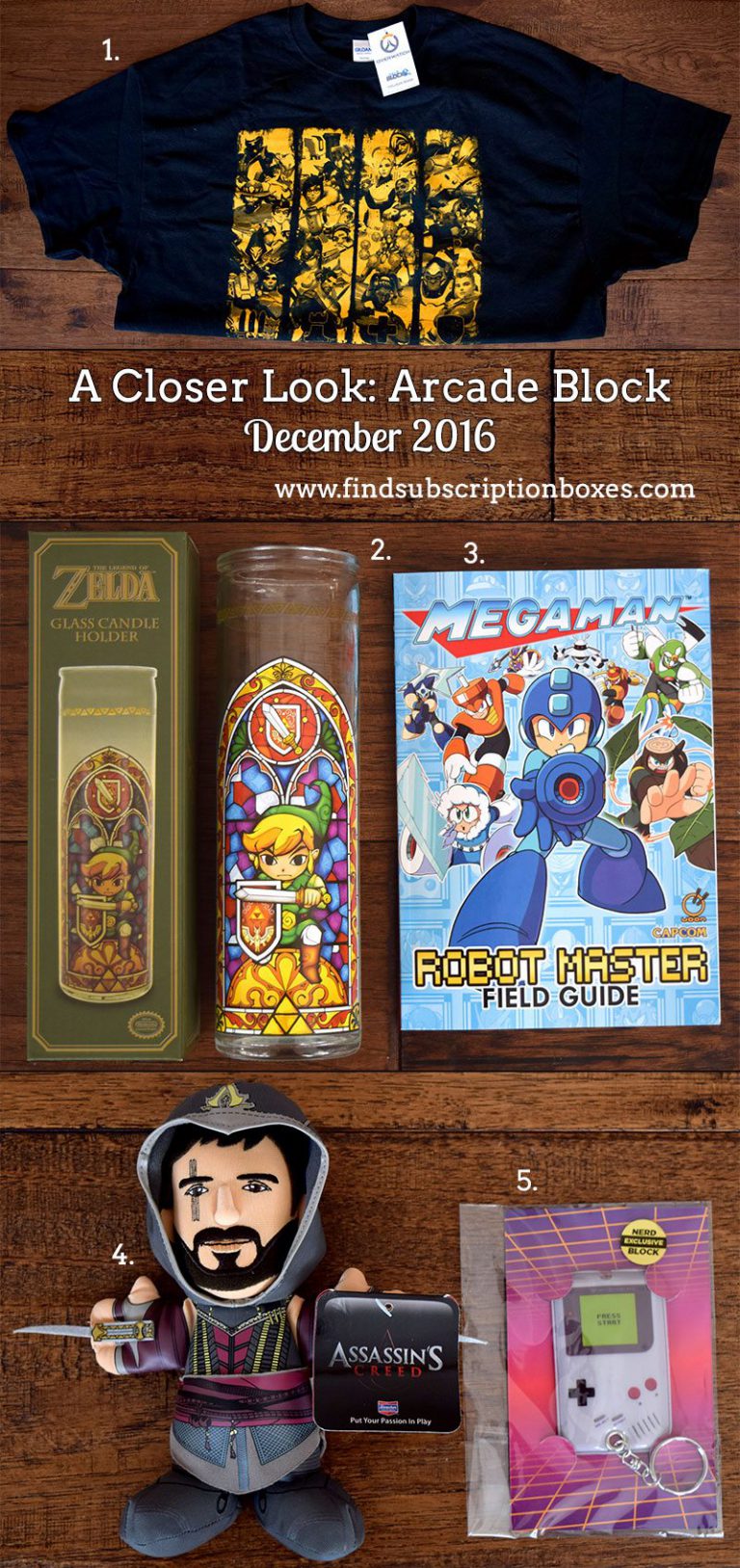 EXCLUSIVE Overwatch T-Shirt
Wear all the roles for your team with this exclusive Overwatch tee.
EXCLUSIVE Zelda Glass Candle Holder
Shine some light using this EXCLUSIVE glass holder from The Legend of Zelda.
EXCLUSIVE Mega Man Field Guide
Level up your game play with this Mega Man Field Guide with exclusive Nerd Block cover.
EXCLUSIVE Assassin's Creed Plush
This exclusive Assassin's Creed push performed a Leap of Faith into this month's block.
EXCLUSIVE Game Boy Flashlight Key Chain
Build your own Balloon Boy with this exclusively licensed construction set.
Bonus Item: $10 credit to the new Nerd Block Store. Collect all the puzzle pieces to get a $100 ShirtPunch.com credit.
December 2016 Arcade Block Review Wrap-Up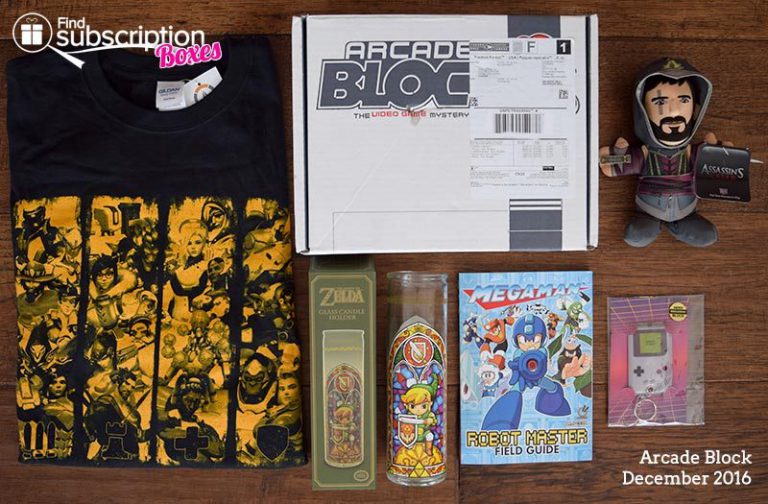 With Arcade Block turning into Gamer Block, December's Arcade Block is the last official Arcade Block. Last month's box featured some of our favorite video games. December's featured product was the Zelda Candle Holder. This glass holder has a unique and colorful Zelda design on each side of the holder. It's great for narrow column candles as well as floating tea lights.
Next is the exclusive Overwatch shirt. This mural-like design has all of the Overwatch team characters – Offense, Defense, Tank, and Support.
For Mega Man fans, you'll love the additional insight you get with the Mega Man Field Guide from Udon. This paperback guide has Mega Man character profiles and features classic CAPCOM artwork.
The Game Boy Flashlight Key Chain is a handy keychain that lights up when you "Press Start." It's great for a little extra light when you need it.
Finally, the Assassin's Creed plush is a detailed plush from Bleacher Creatures. This 7″ tall Aguilar plush is wearing his hood and armed with a dagger in each hand.
What was your favorite December Arcade Block video game item?