Loot Crate is a monthly subscription box for all your gamer and geek needs. Every month Loot Crate has a different theme and carries  over $45 worth of gamer/geek apparel, collectibles, reading material and more. Today, we will be unboxing the December 2016 Loot Crate. The theme for the December 2016 Loot Crate was REVOLUTION.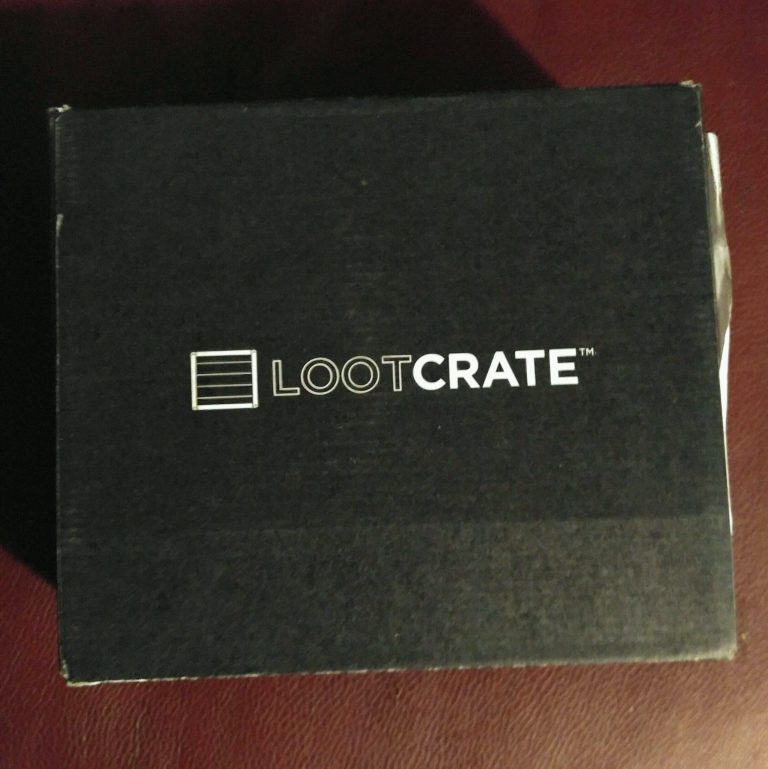 Loot Crate includes a new issue of their magazine in each box which corresponds with the theme. The magazine provides a description and short article about each item included in the box. This month there were articles on "Assassins Creed: State Of The Game" (Assassins Creed), "Firefly History: The Unification War" (Firefly), "A Short History of Hacking" with a Break the Code puzzle for you to test your knowledge on (Mr. Robot), "Loot In Action" where subscribers share awesome photos of their loot, "Top Loot Of 2016", "On The Set: Colony" (Colony) and "Top Looter Pics Of 2016".
Below is a peek of all the loot inside the December 2016 Loot Crate Revolution crate.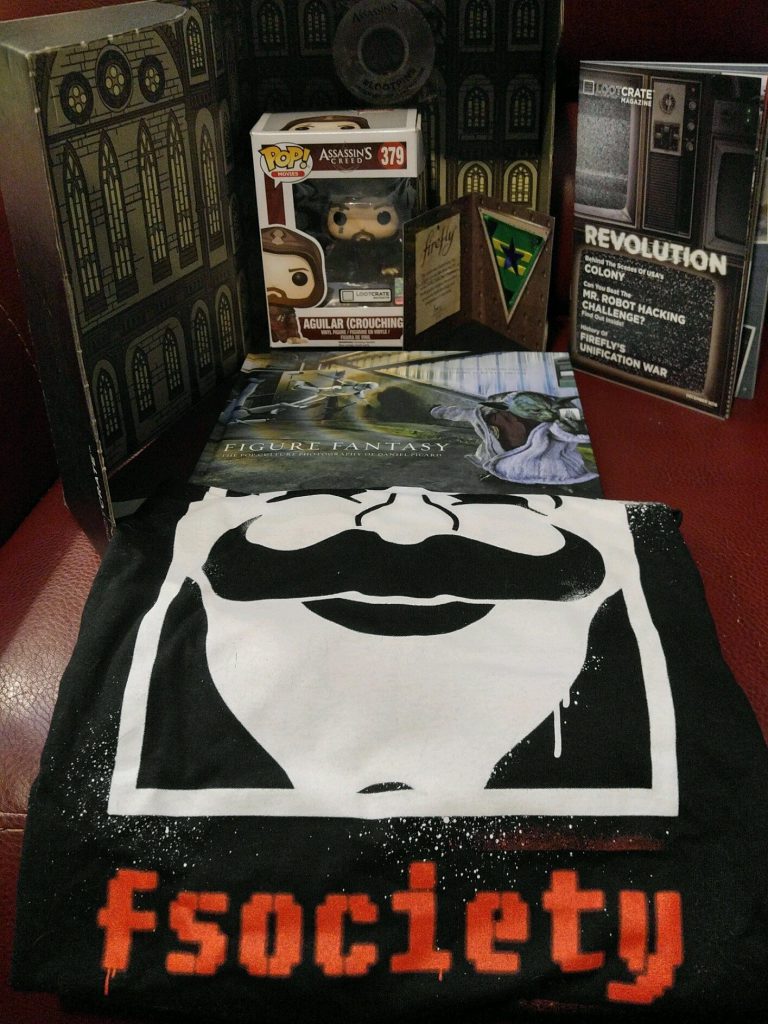 Inside the December 2016 Loot Crate Revolution Crate
There were 5 items inside the December 2016 Revolution Loot Crate (6 items if you include the box, see below).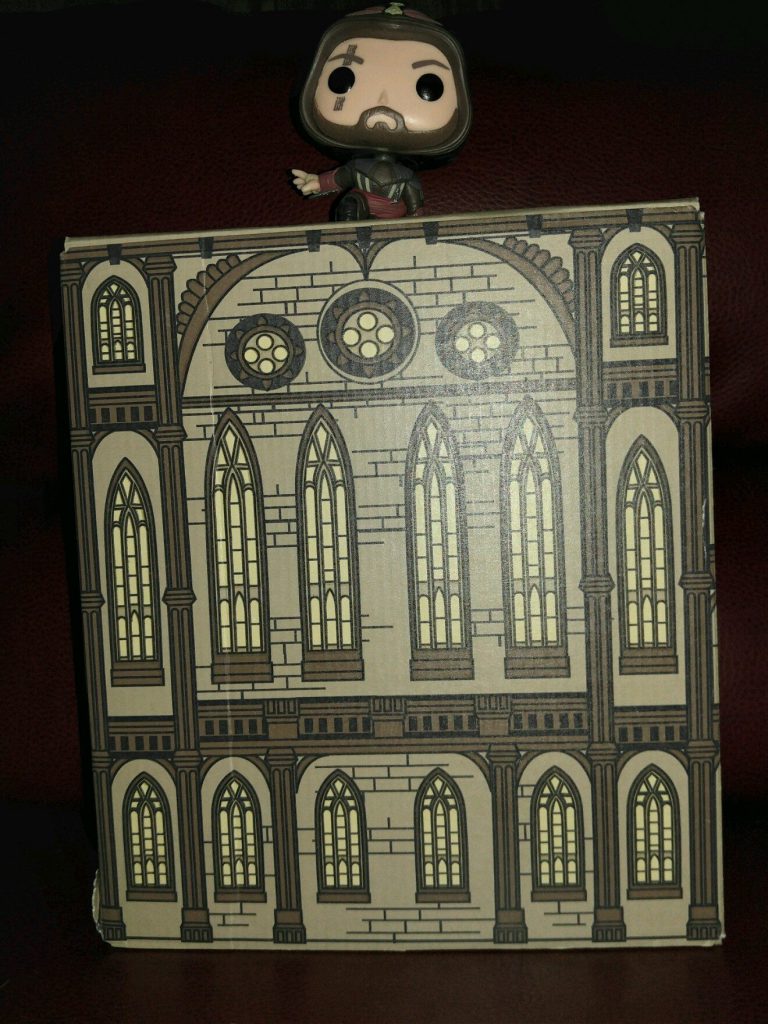 Pictured above we have the interior of the Loot Crate box reversed to be the exterior. When unfolded, flipped and refolded a daring four-story building arises. Do you think Aguilar will be successful? Using the hashtag #RevoLootion! you can show Loot Crate your crate crafting.
Exclusive Assassin's Creed Aguilar Funko Pop! is a vinyl figure which stands approximately 5 inches tall. The figure is packaged in a collector type box with a window to see in on the plastic insert nestled Aguilar. Aguilar is pictured above nearing making a revolutionary decision to make the faithful leap off the four-story Loot Crate box. Aguilar is "played by Michael Fassbender in the new Assassin's Creed film".  Licensed by Ubisoft and made by Funko. (pictured below).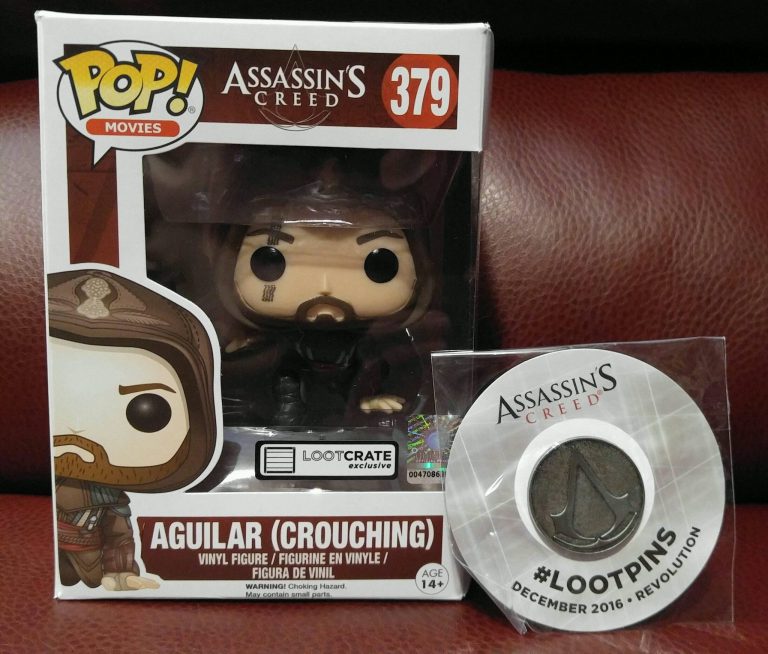 Every month Loot Crate gifts you a monthly mystery pin. This month's pin is an Exclusive Assassins Creed Pin+DLC. The pin features the emblem of the Assassin Brotherhood. It states in the Loot Mag that "This month's DLC is a digital excerpt from the new Assassin's Creed: Heresy novel." Licensed by Ubisoft and made by Loot Crate, Inc. (Pictured above with the Exclusive Assassin's Creed Aguilar Funko Pop!)
Exclusive Firefly Independents Patch is packaged in its own sturdy cardstock leaflet. The patch is anchored inside with a secure yet easily removable adhesive. Once you remove the patch, underneath where it was, are application directions for the patch. It tells on the first page of the leaflet that "This patch was created using the original artwork files from the TV series Firefly. Dylan Hay-Chapman, Firefly graphic designer, has certified as accurate both the design and orientation of this patch." Licensed by Fox and made by QMx. (Loot Crate Revolution Magazine pictured with Firefly Patch below).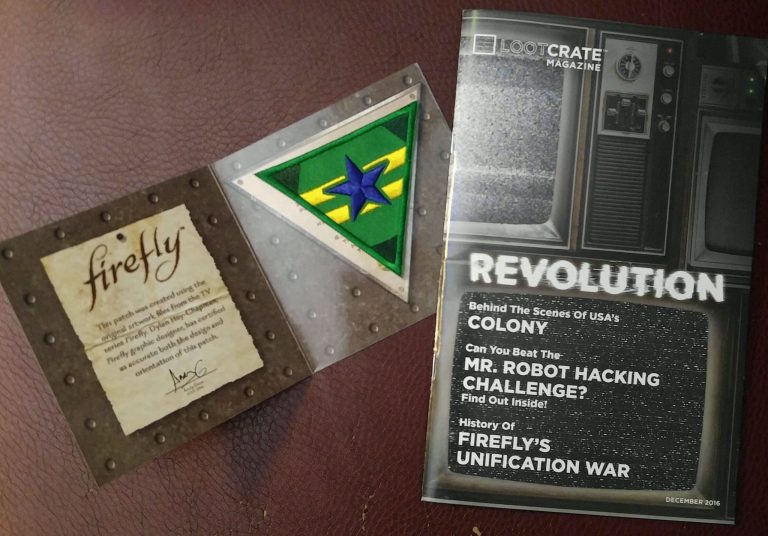 Exclusive Mr.Robot F-Society T-Shirt made out of 100% cotton. The F-Society mascot is featured on the front of the black T in a street art style fashion with "fsociety" written below in a digital street art font. Now you too can join in on the revolution and take down the Evil Corp and the rest of the top 1% with your hacker buddies. Licensed by NBC Universal and made by Loot Crate, Inc. (Pictured below).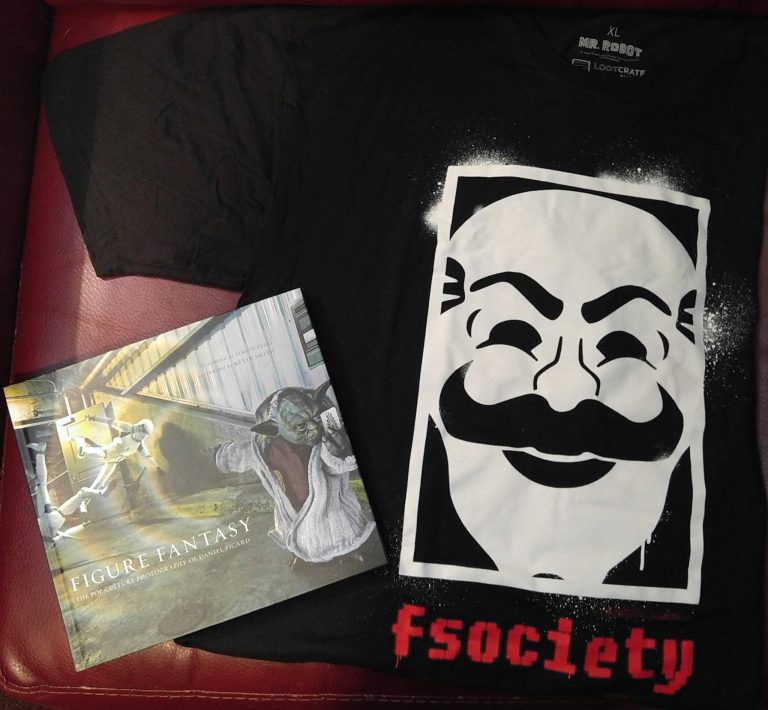 Exclusive Figure Fantasy Hardcover Book shows off Daniel Picard photography of Sideshow Collectibles figures. Forward by Simon Pegg and an afterword by Kevin Smith. This colorful, hilarious and original hardcover is perfect for any coffee table, side table or anywhere you know your guests will have a likely chance of picking up and experiencing this neat book of entertaining scenarios. Made by Insight Editions. (Pictured Above).
Thank You Loot Crate for yet again another great box! Loot Crate is always on it when it comes to all the new anticipated movies, games and more! Are you ready to start a REVOLUTION? What did you think of the December 2016 Loot Crate?
Loot Crate Coupon Code
Reserve your monthly geek subscription box! Save $3 off new Loot Crate subscriptions when you use coupon code LOOTR3. Use code FINDBOXES to save 10% off any Loot Crate subscription.