Brought to you by Loot Crate, Loot Gaming is a monthly subscription box for gamers and people who love video games. Every month, Loot Gaming feature $60+ worth of epic collectibles, figures, apparel, accessories and more from the biggest and best video game franchises. With today's Loot Gaming review we're unboxing the December 2016 Loot Gaming crate. The December Loot Gaming theme was SPACE.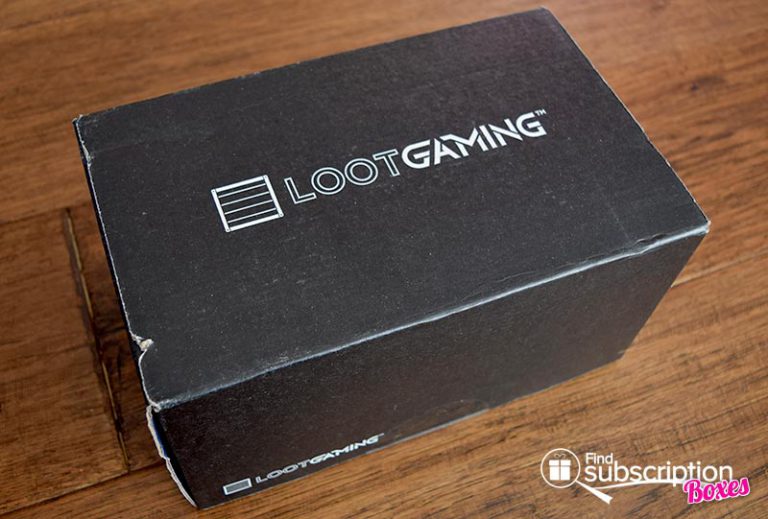 Loot Crate included a colorful, two-sided poster that represents the Space theme. Descriptions of all of the gamer collectibles in the box are on the back of the poster.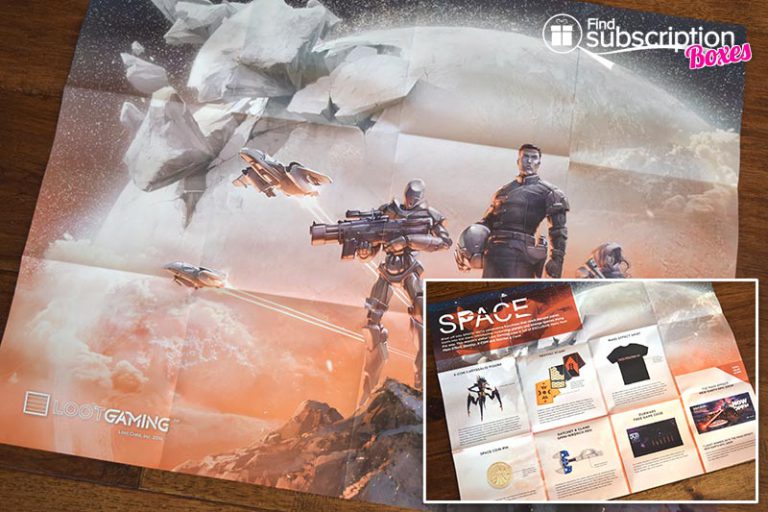 Here's a first look inside our December 2016 Loot Gaming Space crate.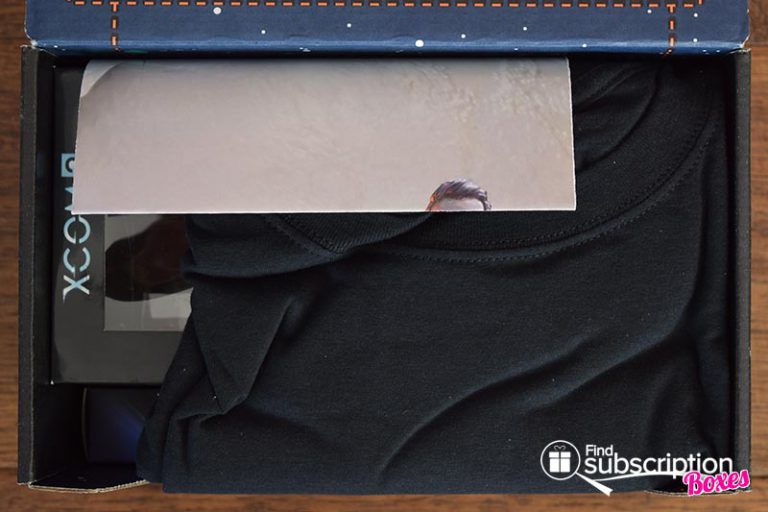 Inside the December 2016 Loot Gaming Space Crate
There were 5 video game items in the December Space Loot Gaming subscription box.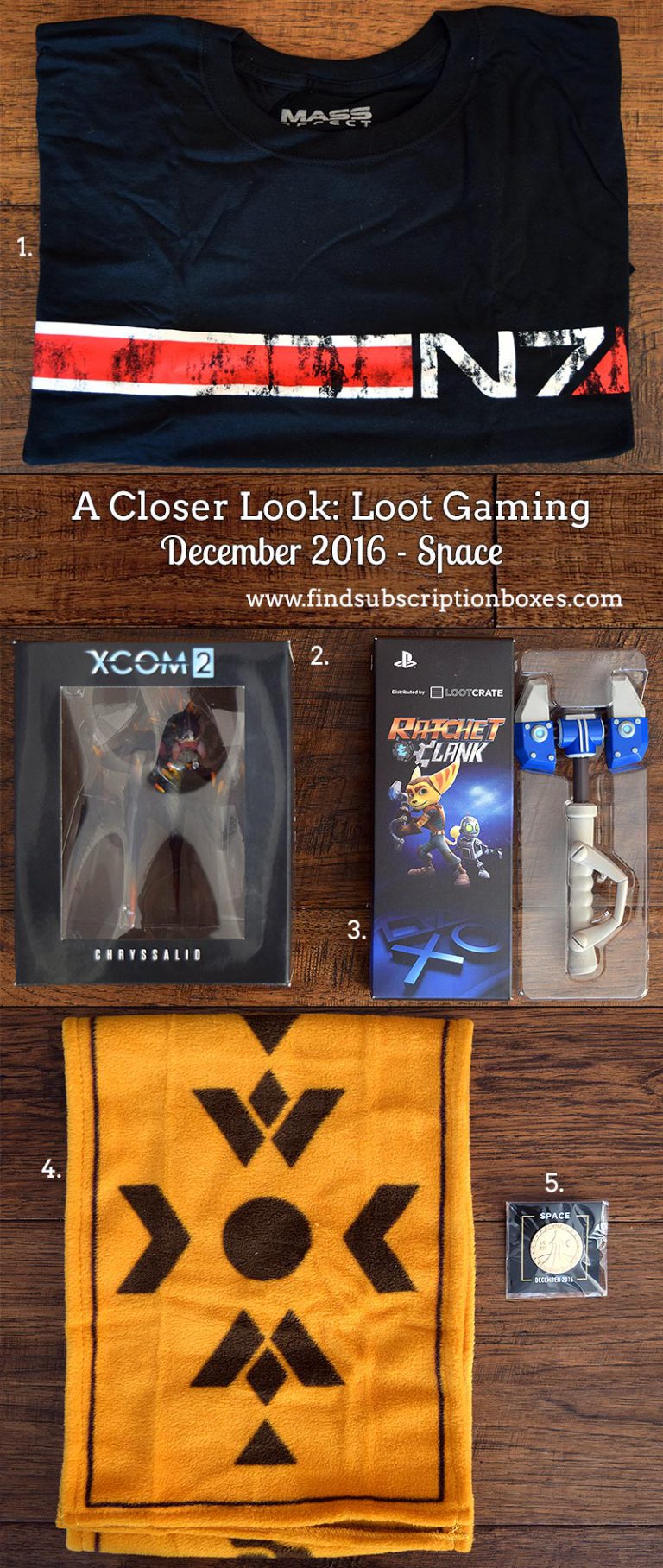 EXCLUSIVE Mass Effect Shirt
Rep the elite N7 soldiers in the Systems Alliance military with this exclusive Mass Effect shirt.
EXCLUSIVE X-Com Chryssalid Figure
This 100% exclusive features the fast-four-legged, poisonous aliens that are invading the world..
EXCLUSIVE Ratchet & Clank Omni-Wrench Pen
Celebrate 15 years of Ratchet & Clank with this exclusive pen, designed after the OmniWrench 8000.
EXCLUSIVE Destiny Scarf
Stay warm with one of 3 Destiny scarves – a Warlock Bond, Titan Mark or Hunter Cloak.
EXCLUSIVE Space Coin Pin
Explore the final frontier with this month's pin featuring a space shuttle taking off.
December DLC: All Loot Crate subscribers received an email with a Steam code to download DubWars.
December 2016 Loot Gaming Box Review Wrap-Up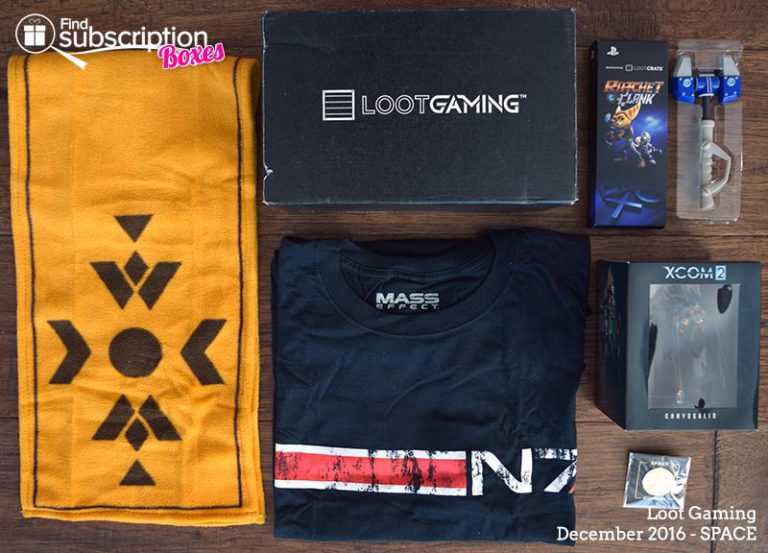 December's Space Loot Gaming crate was all about inter-stellar gaming franchises. The 4th video game in the Mass Effect series – Mass Effect: Andromeda – takes us to the Andromeda Galaxy, 600 years after the events of the first three Mass Effect games. The Mass Effect shirt has the N7 stripe reserved for  the highest level Alliance Personnel who have graduated from the ICT program. The N stand for special forces and the 7 is the highest level of proficiency.
For the figure collectors, the Chryssalid figure is a unique addition. In X-Com, these aliens implant themselves in humans they kill and spawn more Chryssalids from the zombie human bodies they have possessed. This figure is equally cool and gruesome.
Cold weather is still lingering, making the Destiny scarf a cozy gamer fashion item. Subscribers received 1 of 3 scarf designs. We received the Warlock Bond scarf. It is super soft and perfect for keeping your neck warm.
For almost 15 years, Ratchet & Clank have been traveling through their sci-fi universe to save it from evil. One of the first weapons you receive is the OmniWrench 8000 – a versatile in-game weapon that allows you to repair things, turn bolt cranks, and attack enemies. With this exclusive collectible, you can also use it to write notes.
What was your favorite geek item from the December Space Loot Gaming crate?
Loot Gaming Coupon Code
Use Loot Gaming coupon code SAVE3 for $3 off any new Loot Gaming subscription or save 15% with code MAD15. Join today!