LOVE GOODLY is bi-monthly subscription box that delivers cruelty-free beauty, wellness and lifestyle eco-friendly products. With today's LOVE GOODLY review, we're unboxing the December/January 2017 LOVE GOODLY Box. This month's box was co-curated by Emily Deschanel and supports Farm Sanctuary.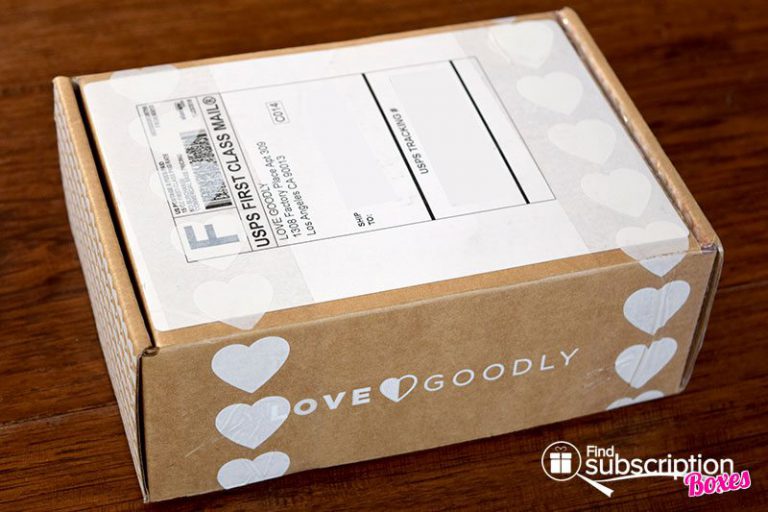 LOVE GOODLY boxes have a card that describes the eco and natural products in each box. The back of this month's card also had a note from Emily and a description about Farm Sanctuary's mission.
Here's a first look inside our LOVE GOODLY December and January 2107 LOVE GOODLY Summer box.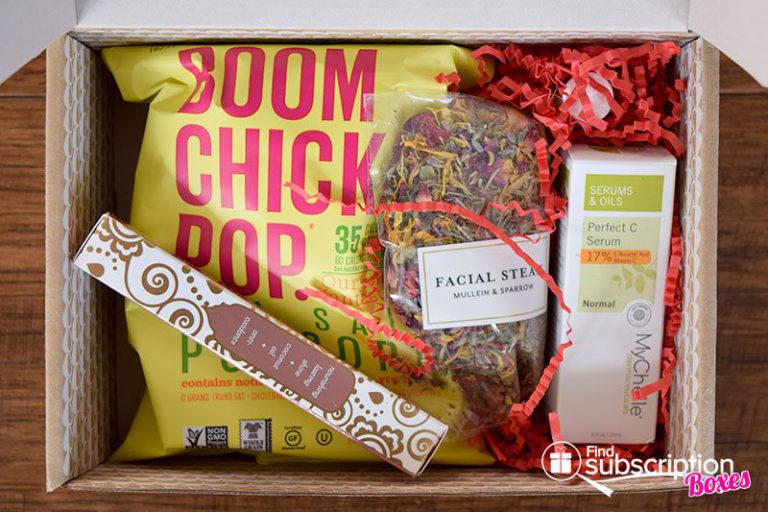 Inside the December/ January 2017 LOVE GOODLY Box
There were 5 eco goods in our December/January 2017 LOVE GOODLY box.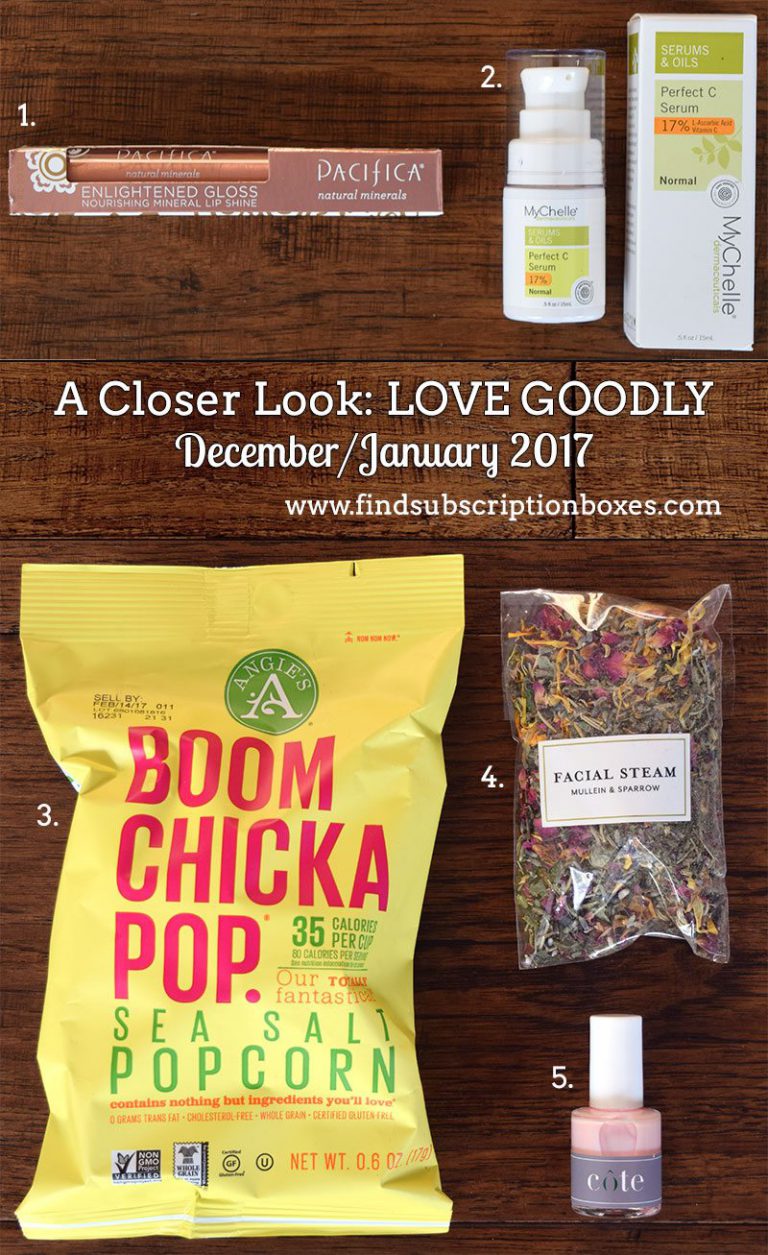 Pacifica Enlightened Lip Gloss – Opal, Retail Value: $10
Get supernatural shine and long-lasting natural color with this nourishing and hydrating lip gloss infused with coconut and antioxidants.
MyChelle Perfect C Serum, Retail Value: $44
Reduce the appearance of lines and wrinkles with this advanced, multi-tasking formula made with 17% L-Ascorbic Acid and Buddleja Plant Stem Cells.
Boomchickapop Lightly Sea Salted Popcorn, Retail Value: $1.50
Snack healthy with this low calorie and cholesterol free popcorn that is awesome and delicious.
Mullein & Sparrow Custom Facial Steam, Retail Value: $10
Detoxify your skin with this EXCLUSIVE blend of organic herbs. Just add to boiling water and let the steam soothe your skin.
Cote Nail Polish No. 10, Retail Value: $18
One of the cleanest nail polishes on the market add some color to your nails with one of 9 holiday perfect colors.
January 2017 LOVE GOODLY Box Review Wrap-Up
We're big fans of Bones and were so excited to see what Emily Deschanel curated for the December/January 2017 LOVE GOODLY box. There were two skincare products in the box. First is the MyChelle Perfect C Serum. We just started using this under our daily moisturizer and are looking forward to seeing the results. You use just one pump each morning and it easily absorbs into your skin.
To give your skin some extra TLC, you can give it a facial steam with the exclusive herb blend from Mullein & Sparrow. You throw a handful of herbs to boiling water and let it steep. Then you rest your head a few inches above the herbs and let them work their magic. Not only will it open up and detox your skin, but it also smells amazing.
Next up were the Pacifica Lip Gloss and the Cote Nail Polish. The Pacifica gloss is a big hit for us. The Opal shade is a neutral color with a touch of shimmer. We love that the formula isn't sticky and that the color really lasts. The coconut and antioxidants help keep lips smooth and healthy. We couldn't wait to use the Cote Nail Polish for our home manicure. The No. 10 shade is a lovely light pink color that goes on sheer and is perfect for french manis or to add a hint of color to your nails.
We ate the Boomchickapop popcorn as soon as we opened the box. It had the perfect amount of salty flavor and the popcorn was popped perfectly – no half-popped or un-popped kernels at all. The LOVE GOODLY December/January 2017 box had a $83.50 retail value!
What was your favorite product from the LOVE GOODLY December/January 2017 box?
LOVE GOODLY Coupon
For a limited time, use code LOVEFALL to save 20% off your 1st LOVE GOODLY subscription box. You can also use LOVE GOODLY coupon code SHOPLOVE5 to save $5 off any LOVE GOODLY order.