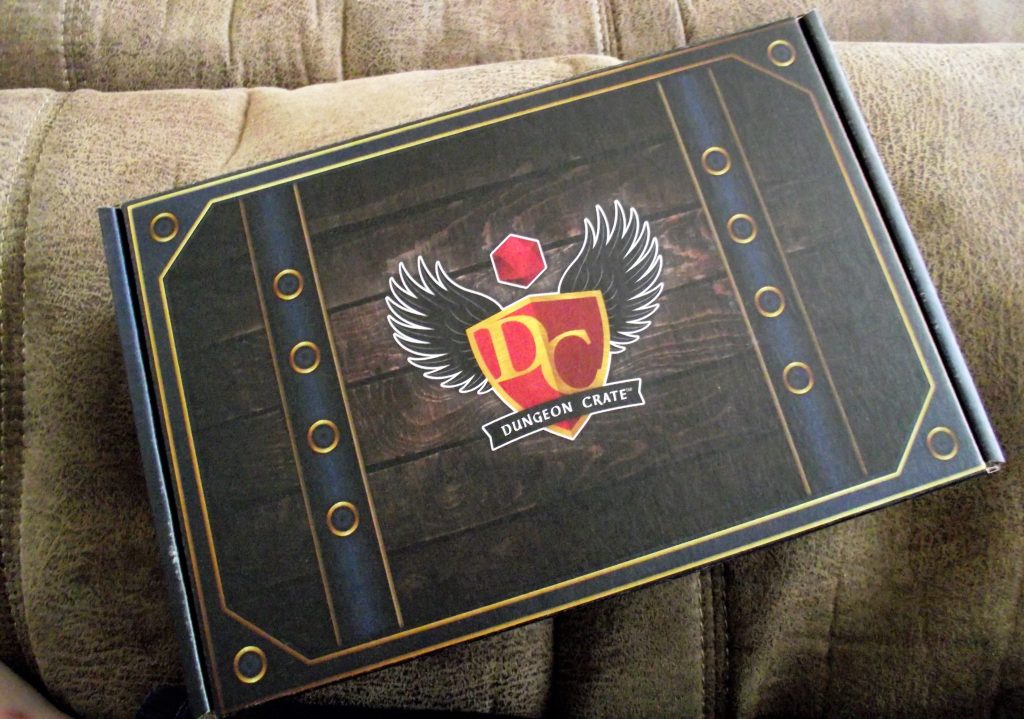 Dungeon Crate is a tabletop gaming crate that provides you with various items to further your game play experience. Crates often include, miniatures, markers, dice or dice related items, map pieces, and one shot encounters! They have various prepay options of month to month for $35.95 a month, 3 month prepay for $105.99 , and a 6 month prepay for $210.99! The more you prepay the more you save! In the US shipping is included! They do ship internationally with shipping fees calculated accordingly. Today I will be reviewing the May crate I received!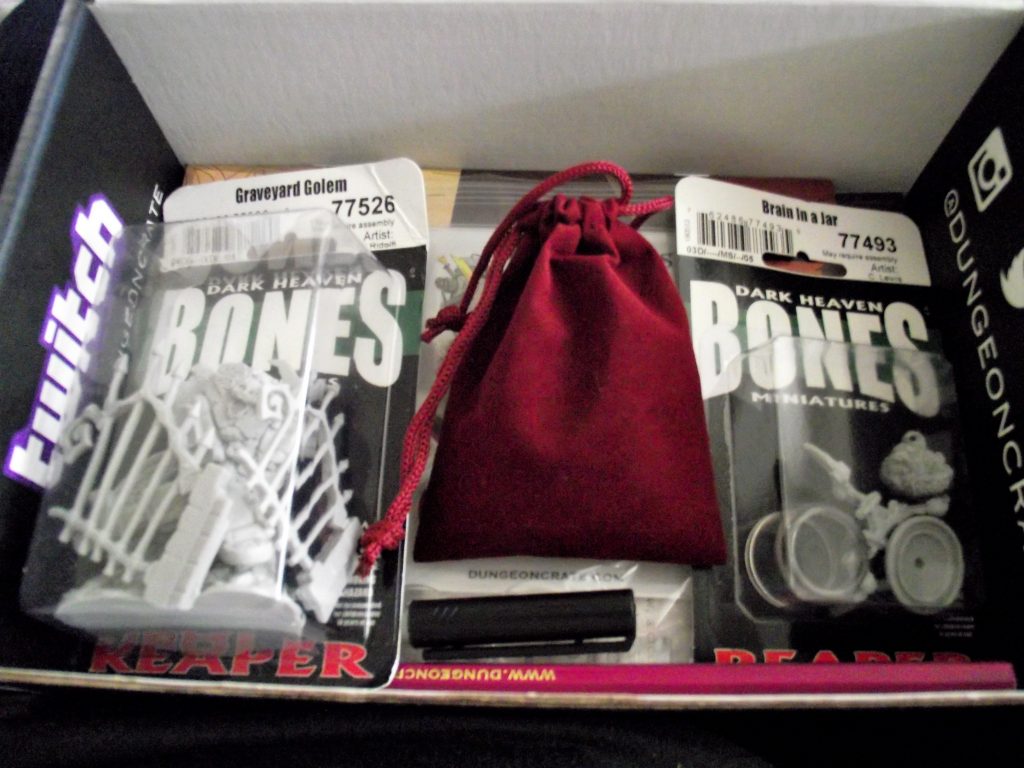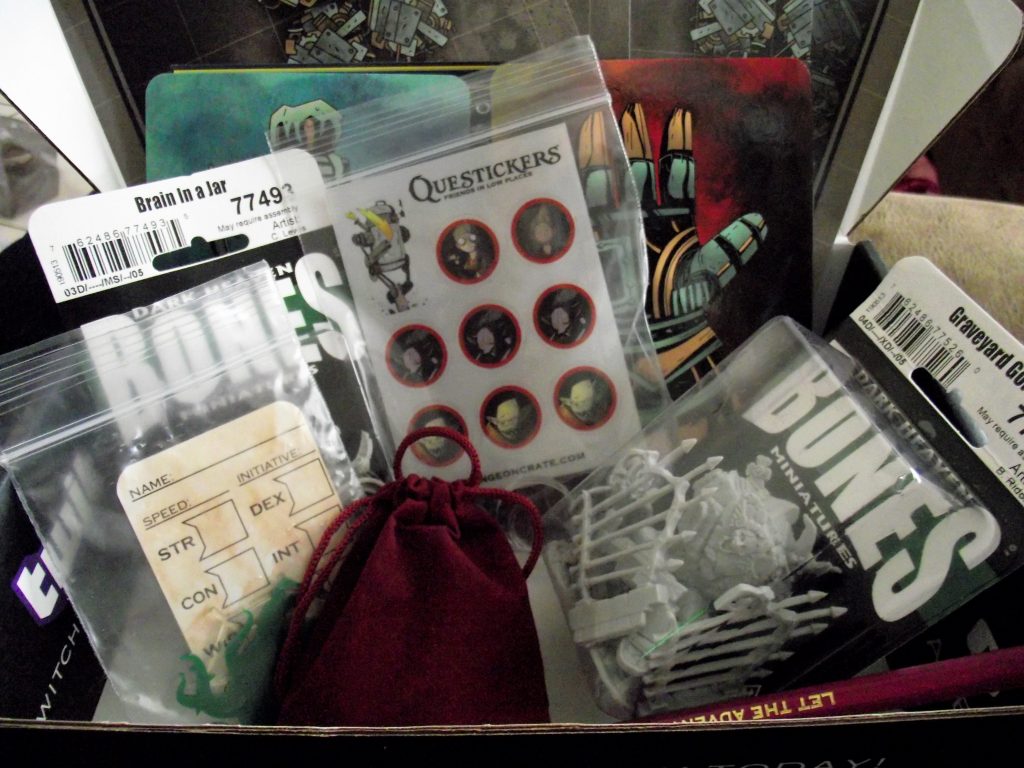 Dungeon Crate is really good at shipping and delivery. They take special care with their customers and that includes delivering a beautiful box and delivering it quickly. The box has so much detail on it to make it truly look like a special treasure chest or crate. There also is no worry on your box arriving because it always ships quickly and safely. There is also the bonus of each crate coming with tons of digital items, so you get more than what you see here.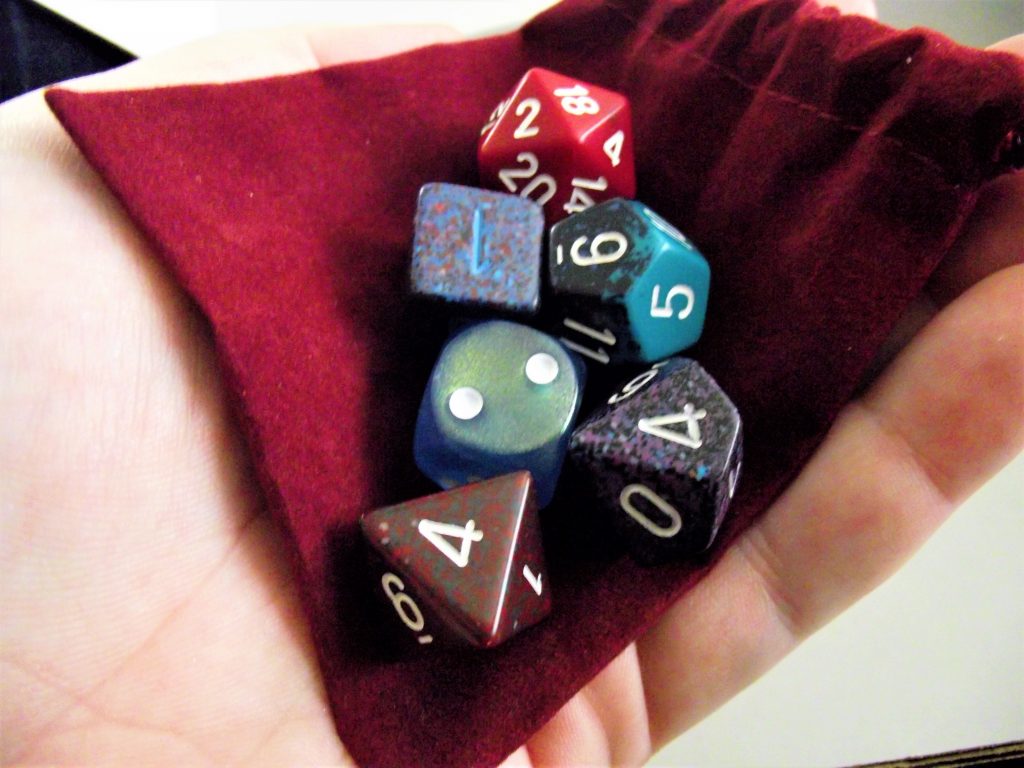 Chessex is one of the most well known dice makers. The fact that there is a full set of Chessex in the crate, starts it off wonderfully. They are an assortment of sets but they still add up. I love the colors of each die but I definitely have my favorites. I adore the dual one of the D12  and the speckled purple of the D10. They are all weighted so well. I personally plan to keep them as this set because sometimes a party is mismatched and it just works.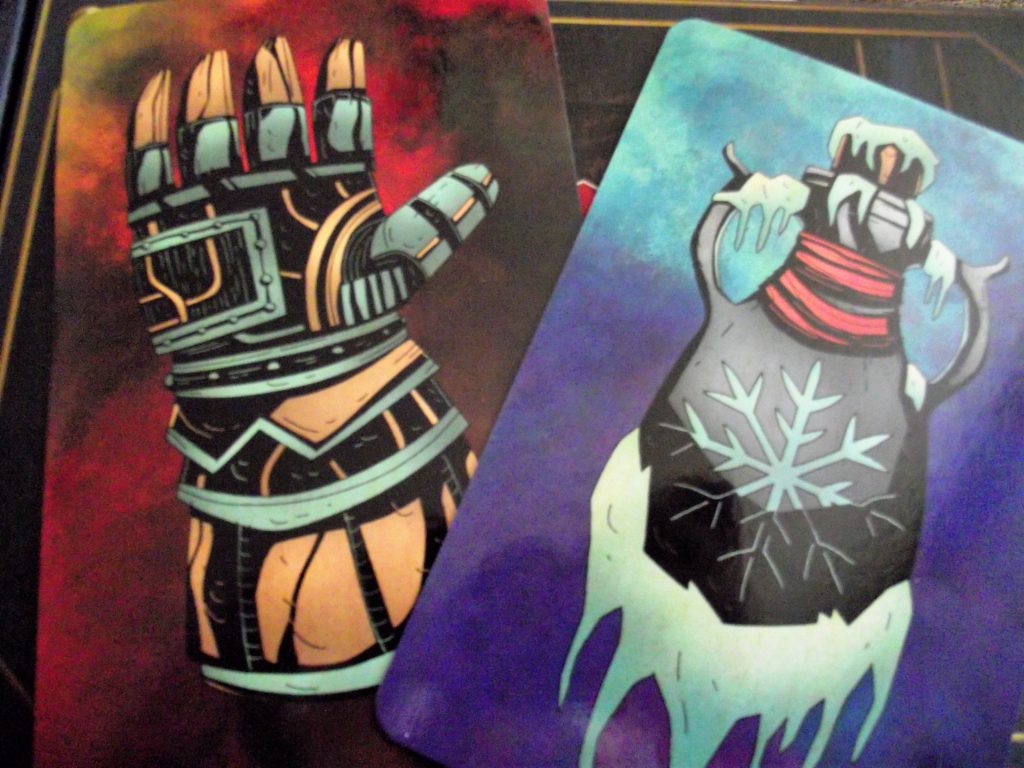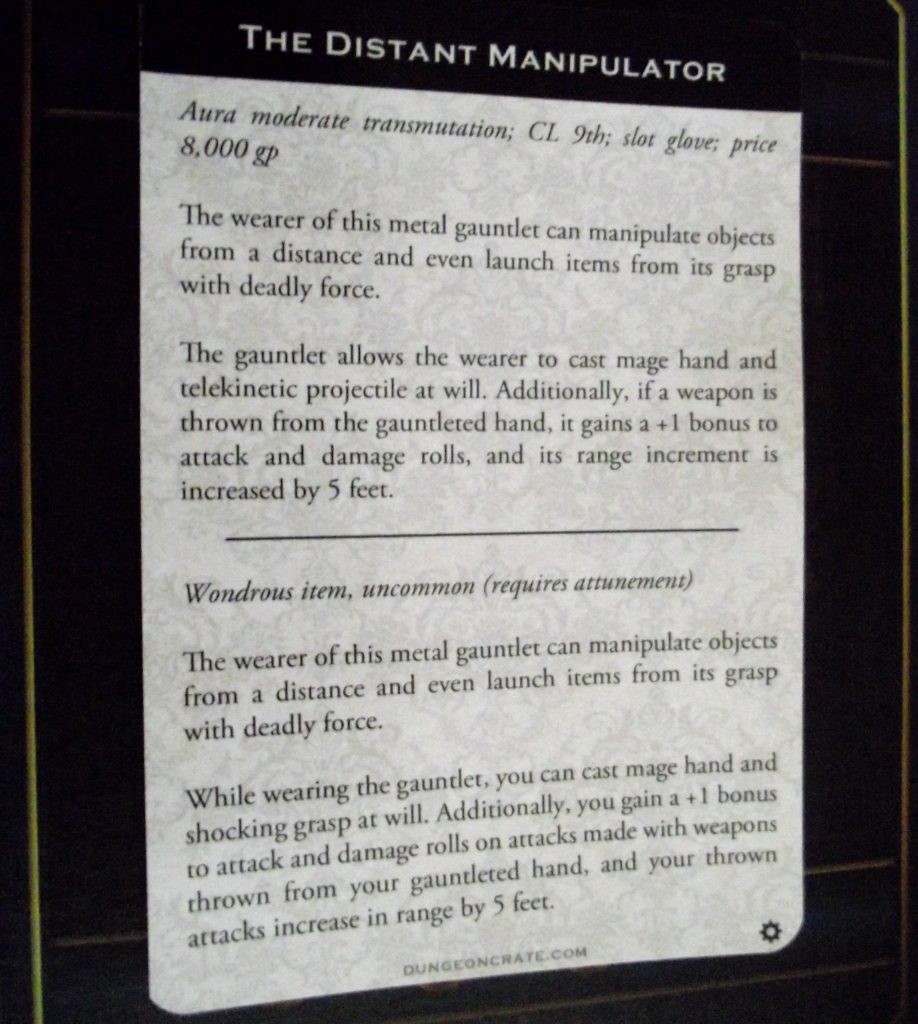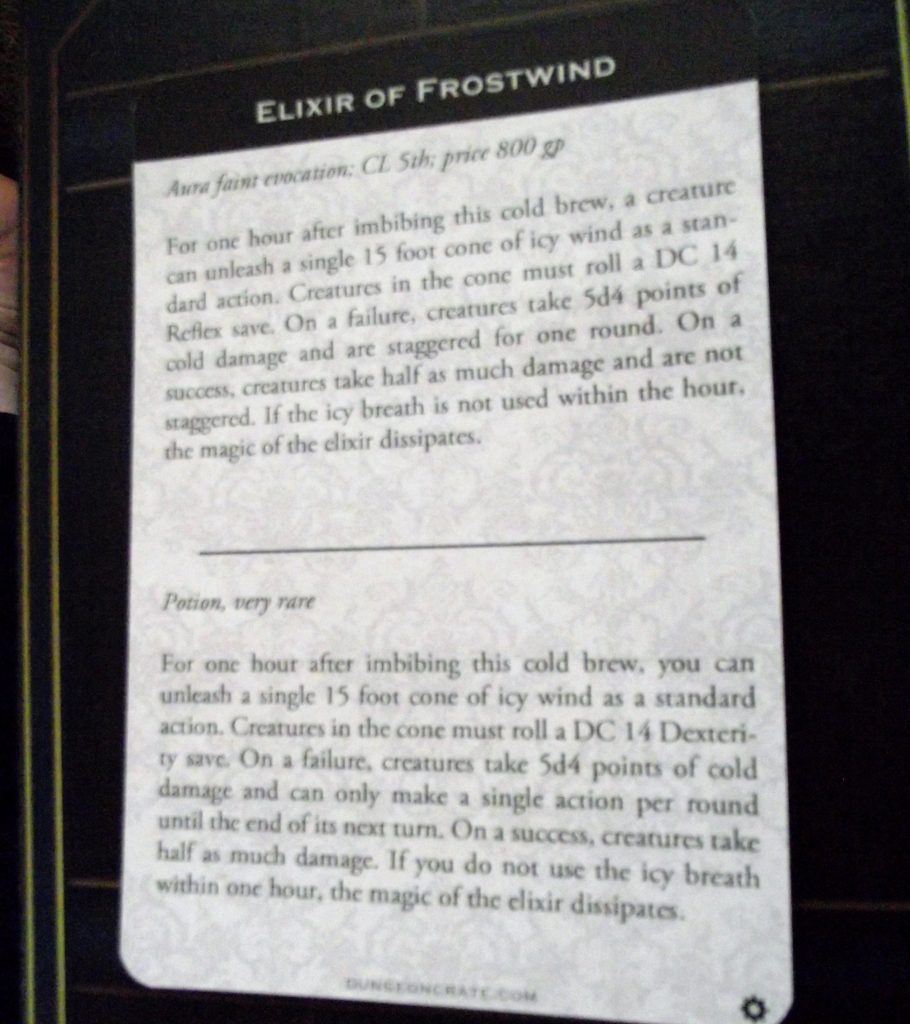 A staple of the Dungeon crate is the stat cards. This box includes two item cards. Both the Distant Manipulator and the Elixir of Frostwind seem unique and well thought out. The artwork is gorgeous. I feel preferential to the Elixir but that does not make the Manipulator any less awesome. I love the idea of being able to release an icy blast that does a great bit of damage. The manipulator plays along with mage hand but allows casting at will which is cool but less likely to be used by me.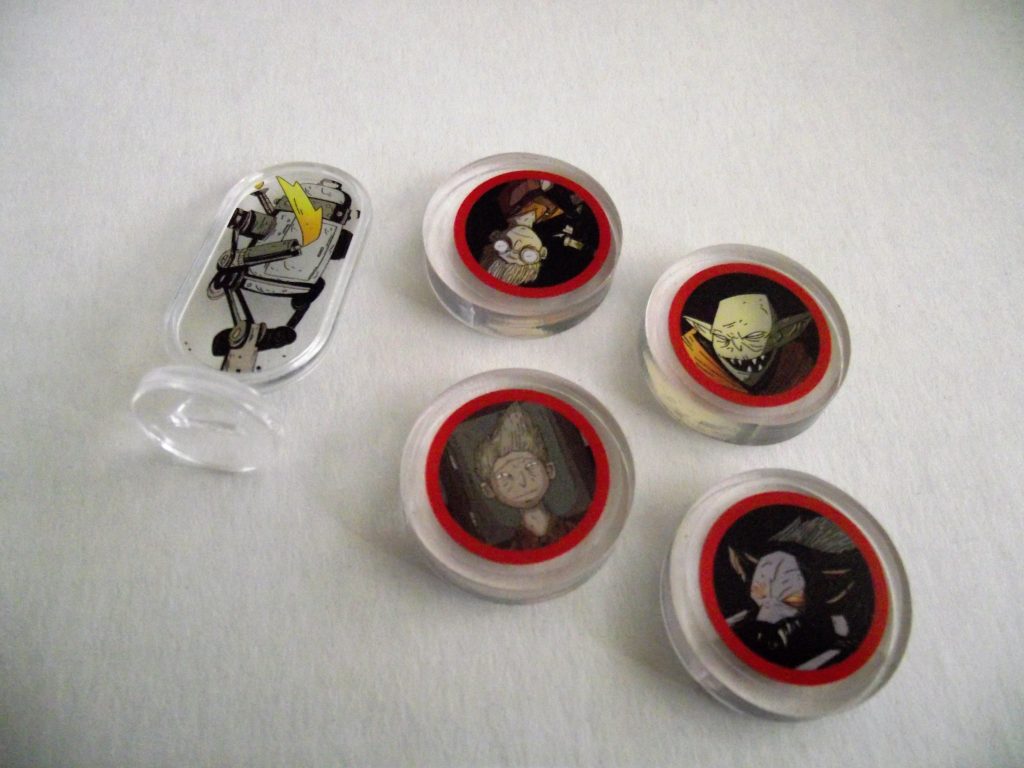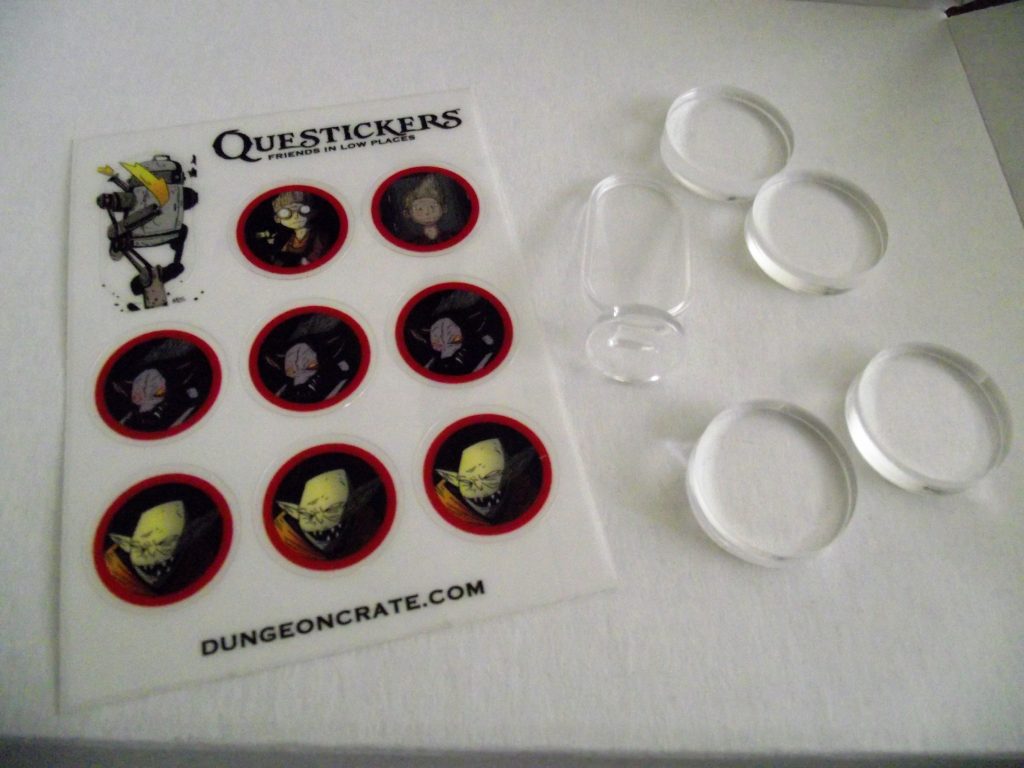 This is the first time I have seen Questickers. I love the idea. It is meant to mark characters or monsters on a map during an adventure. These particular Questickers relate to the campaign given with this crate. I love how easily they peel off and attach. It would be so easy to just alternate if I needed to which makes customizing the campaign easier.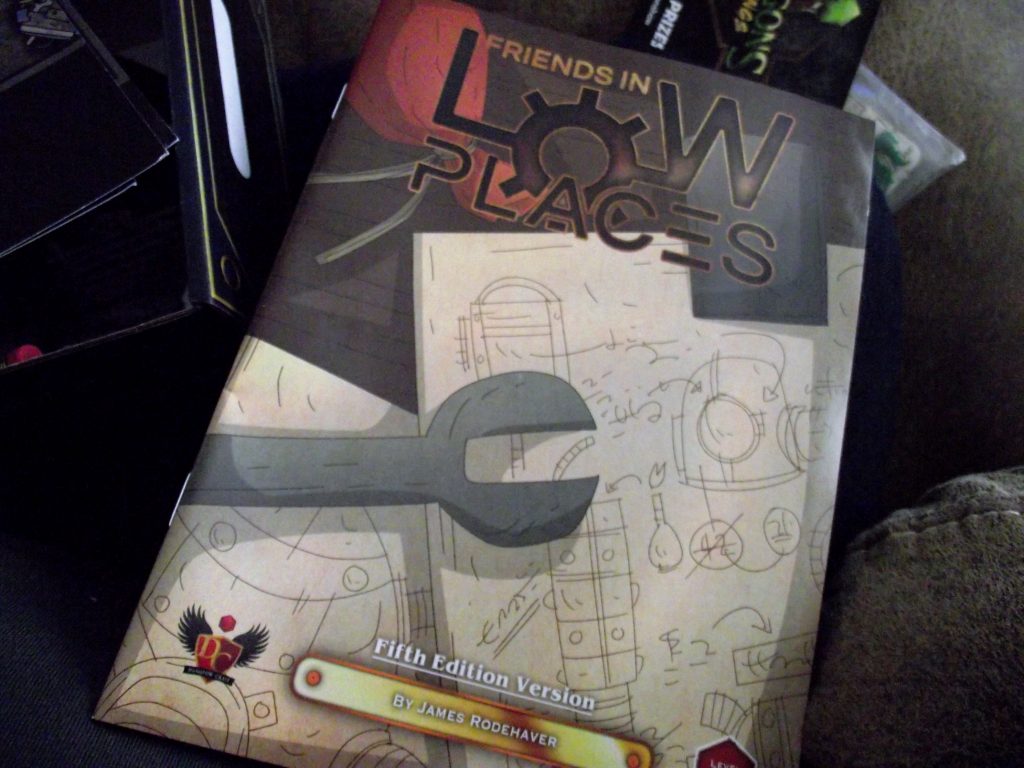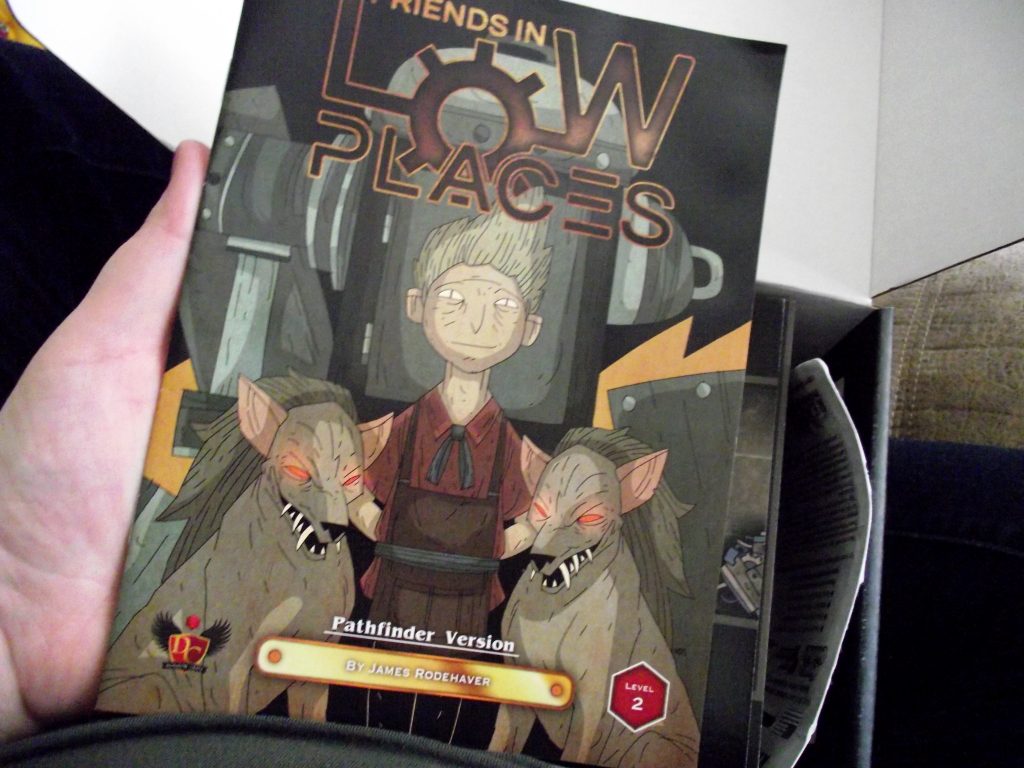 The quest for this crate is Friends in Low Places. It is a level two campaign and comes in both Pathfinder and 5E. Friends in Low Places was written by James Rodehaver and includes some gorgeous artwork as per usual. It seems like this one is a bit of a question as to whether or not a dear friend is dead or not. The campaign seems very open and mysterious which makes for a fun time all around. It is all so easy to follow which is beneficial for the dungeon master. I am excited to play this campaign!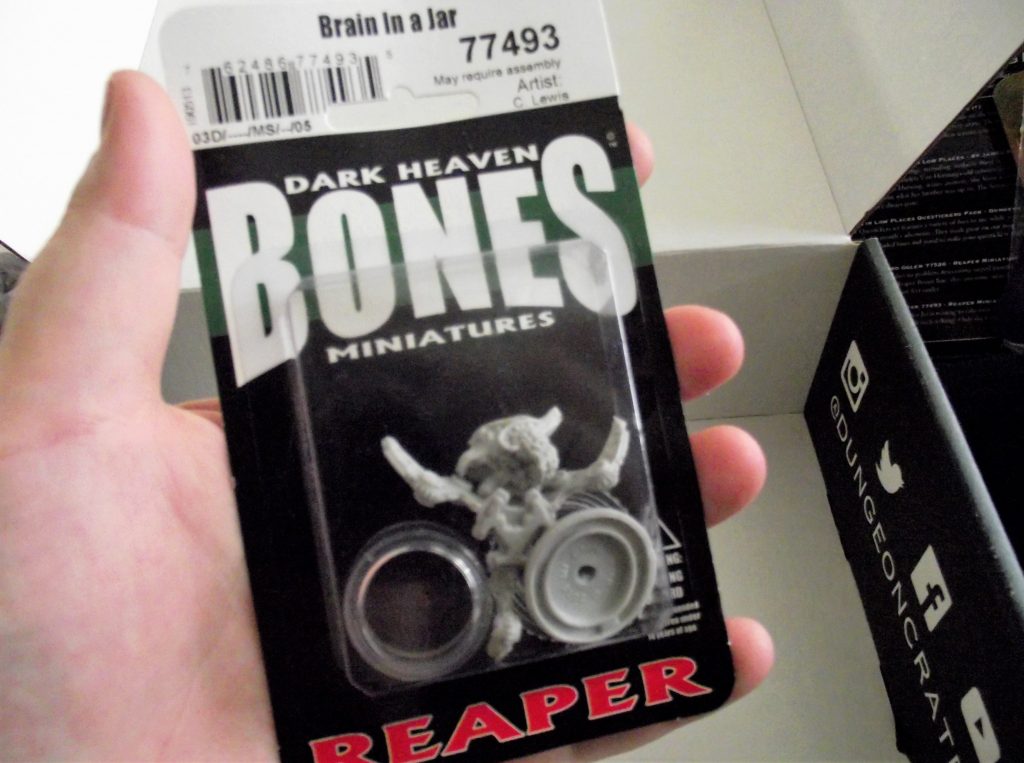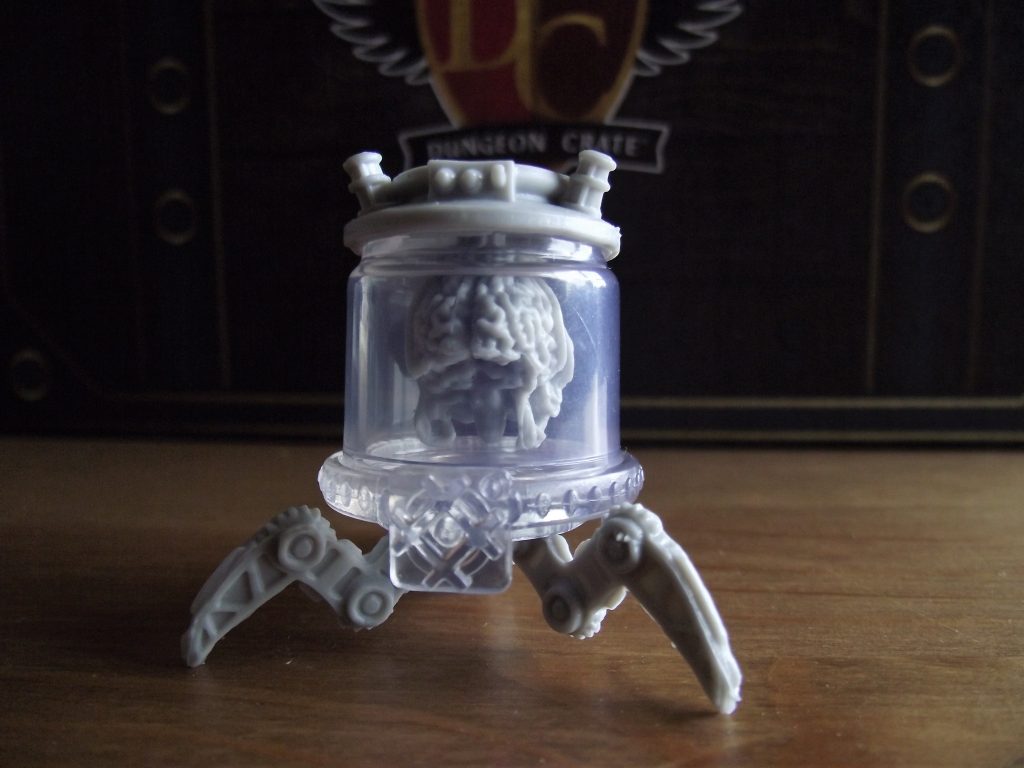 How cool is this? Reaper miniatures never cease to amaze me but this one is beyond. The Brain in a Jar is so fantastic. The details as always are impeccable. It comes already primed which makes the process of painting easier all around. There are so many details that I am just imagining the colors I will use to paint it and have it really pop.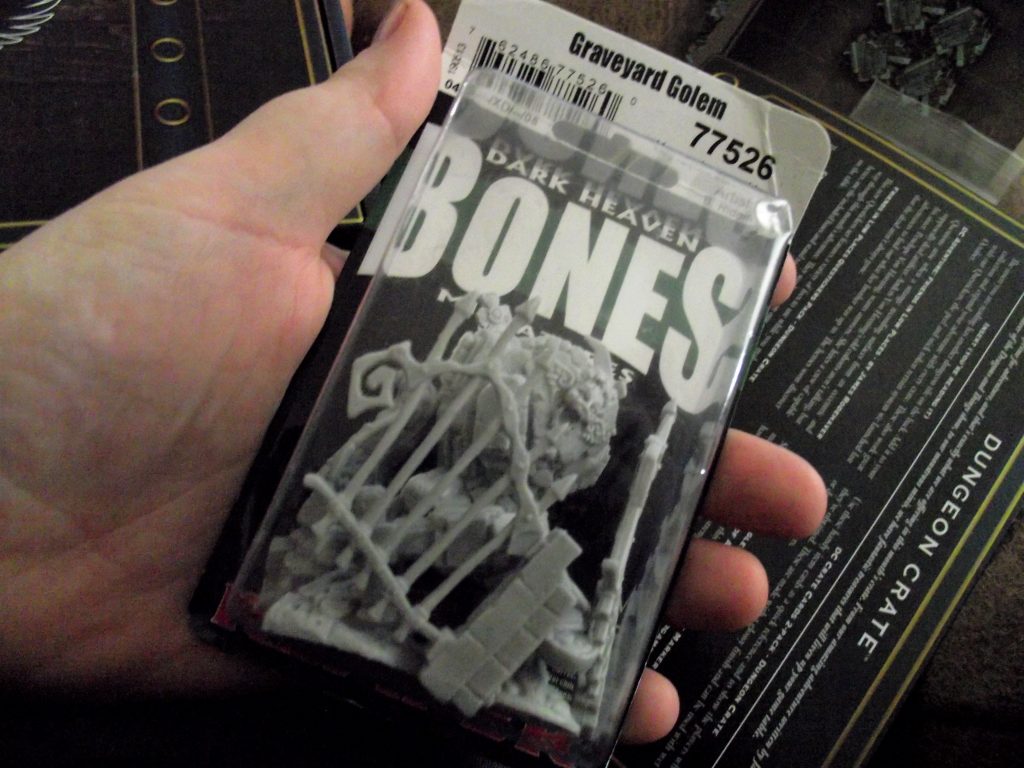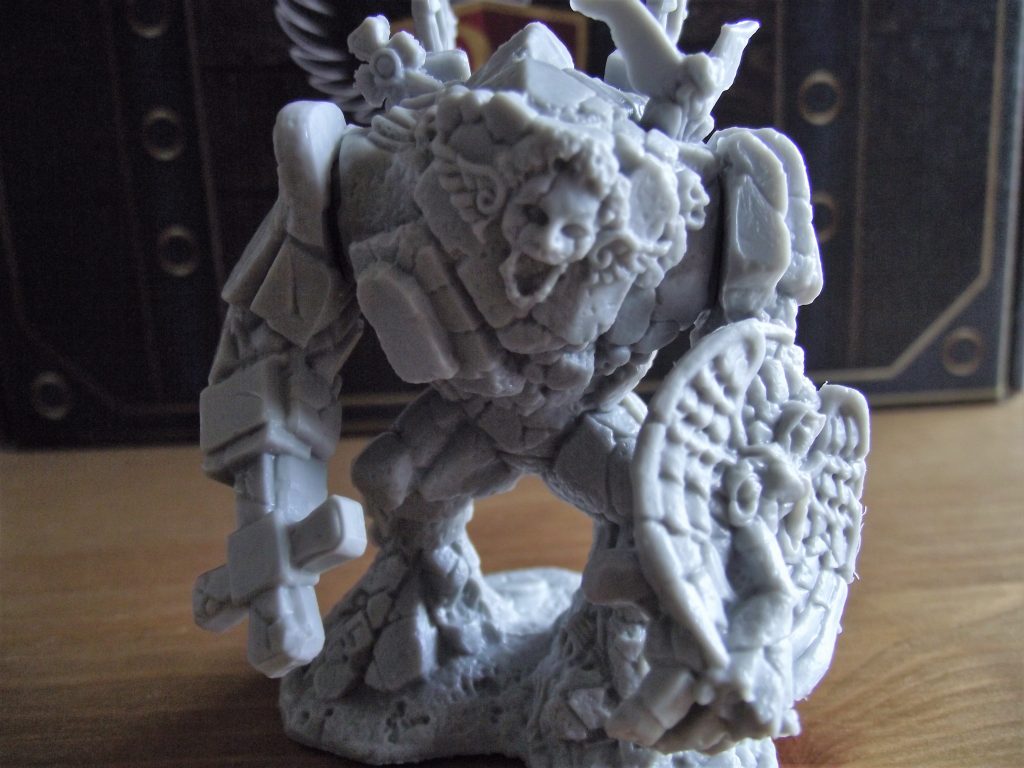 This Graveyard Golem reaper is so creepy it is amazing.I mean I know I talk about the detail but this thing is so fantastically thought out. It has a hauntingly blank face and seems to be made up of things you could find in a graveyard. It is so dark and I will absolutely paint it to match. There is so much hope for this piece and I am itching to bring it to life.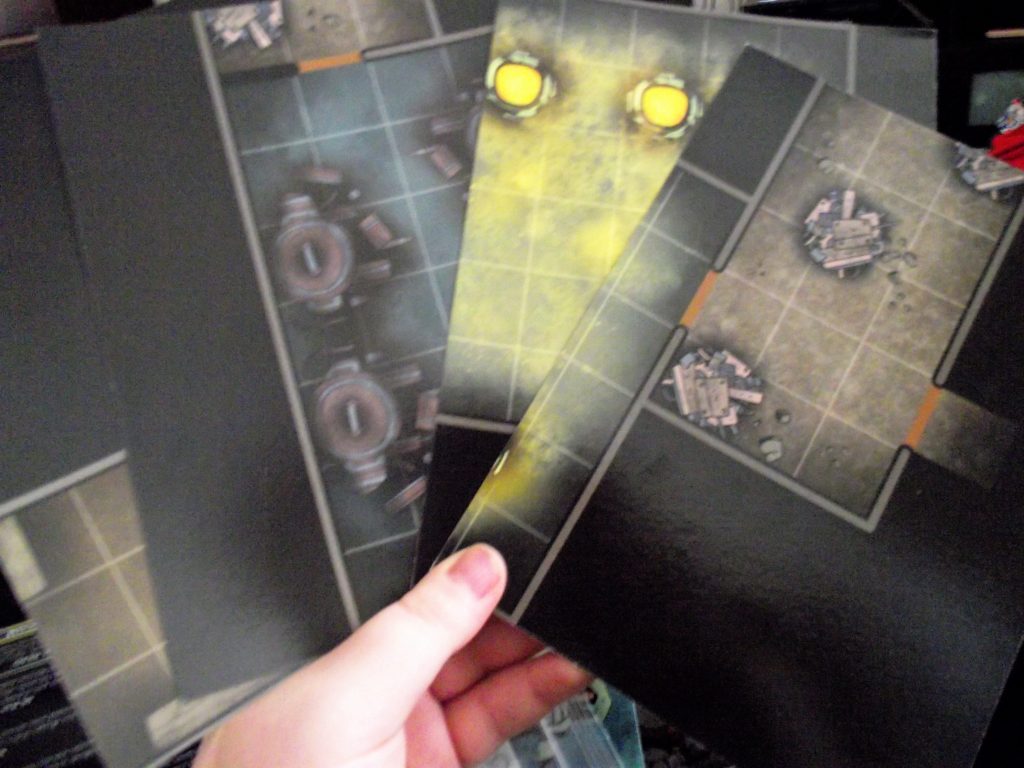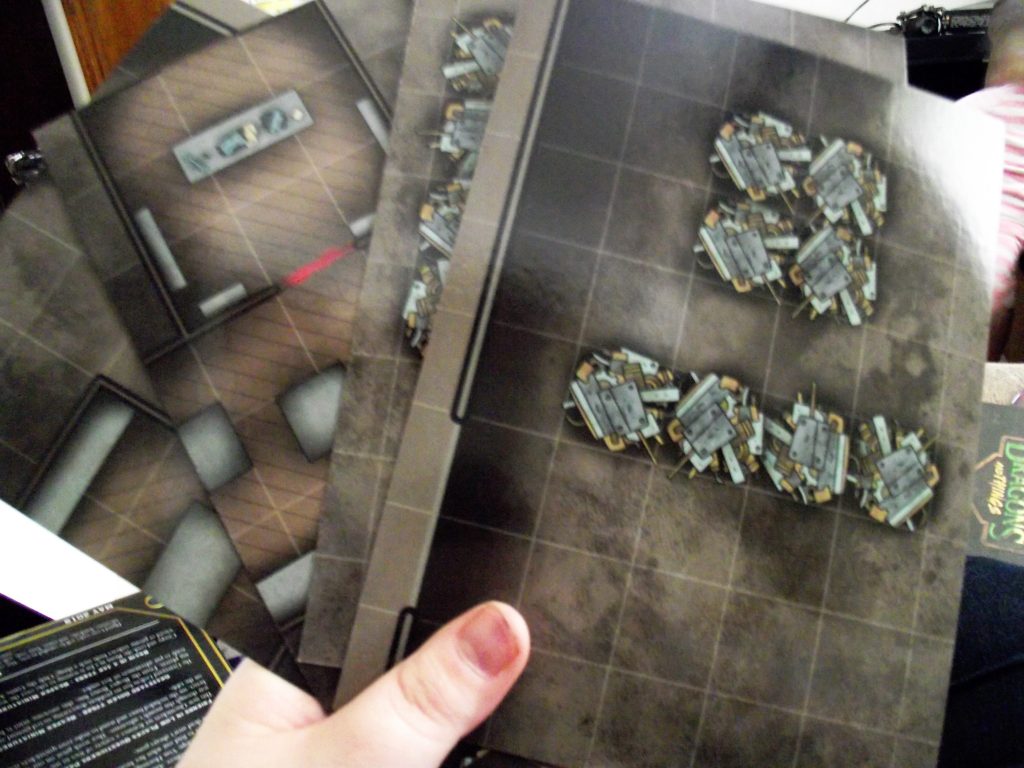 These map tiles are an amazing addition to the box. There are four in total but each one is double sided. They are created for the campaign included in the box. The tiles are glossed to work with wet or dry erase markers and work wonderfully with the Questickers. They have grid lines which I find beneficial for distance and movement. All around these map tiles are awesome.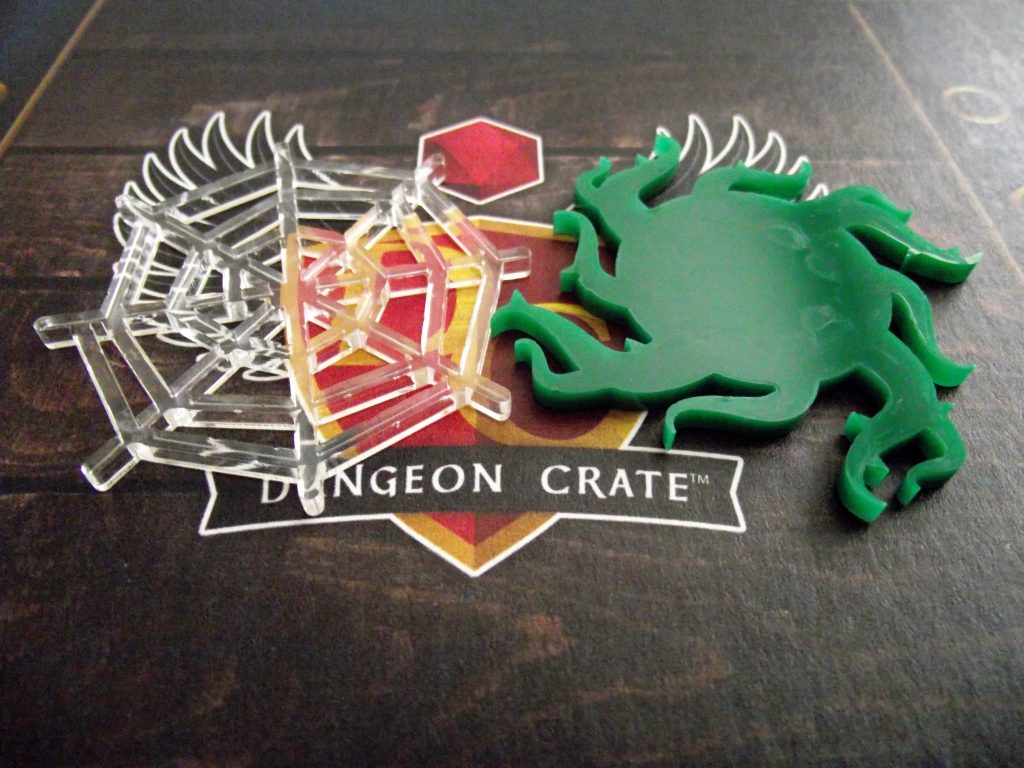 The last items in the box are these markers. The green one is an entanglement effect marker which can help with terrain. The second is the web spell effect marker which is perfect when fighting spiders or casting the web spell and trying to capture your enemies. They both lay flat on a table but show up really nicely. They are thick enough that they will not break and size wise they fit in the palm of your hand. I love them.
Everything in the Dungeon Crate is stand out. At the same time they all work together incredibly. It is a RPG dream! If you are interested in this box be sure to use our code FINDASUBBOXDC here when you go to check out!