Every quarter (once a season) FabFitFun curates an amazing collection of full-size (and fabulous) beauty, wellness, fashion, and fitness products to deliver to your door. With today's FabFitFun VIP Box review, we're taking a closer look at the Summer 2015 FabFitFun VIP Box!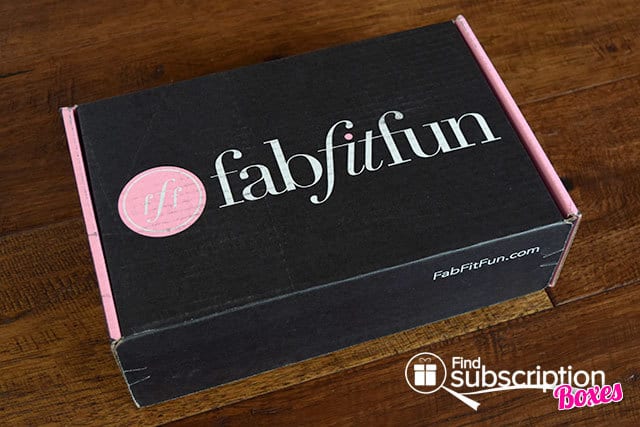 FabFitFun includes a products flyer that provides the descriptions and retail values of each of the products in that season's VIP Box. Each FabFitFun VIP Box has a $225+ retail value.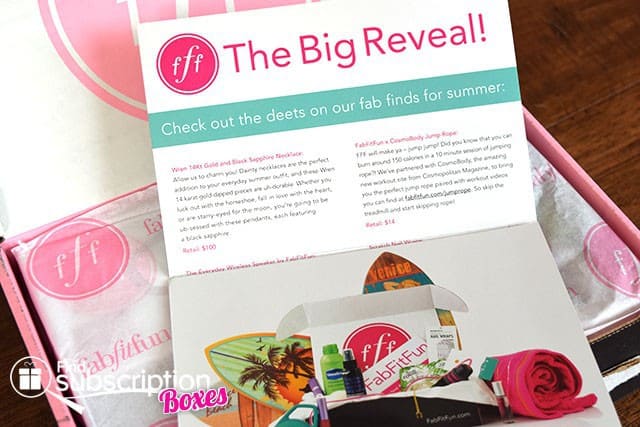 Here's a first look inside our Summer 2015 FabFitFun VIP Box.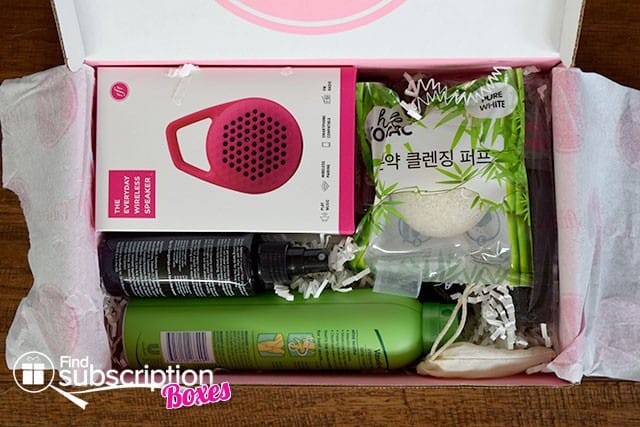 Inside the FabFitFun Summer 2015 VIP Box
There were 10 items in our FabFitFun Summer VIP Box.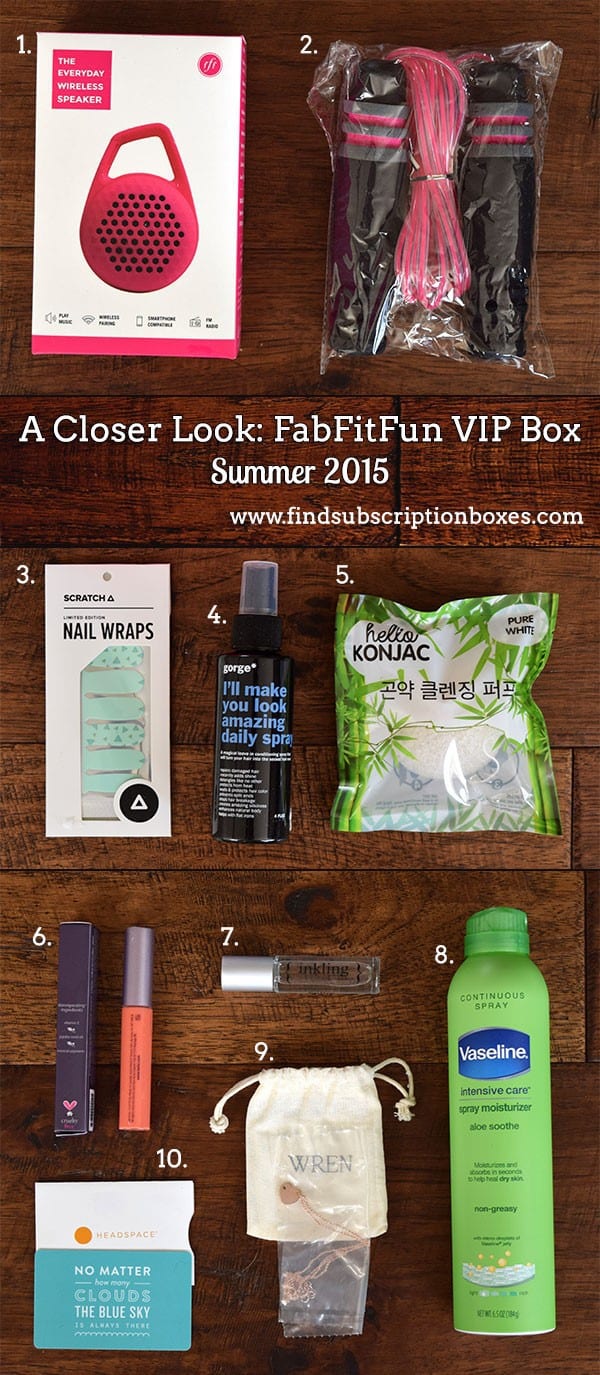 1. The Everyday Wireless Speaker by FabFitFun, Retail Value: $29.99
Take this portable wireless speaker with you for on-the go sound. Pair wirelessly up to 30 feet, FM radio, and hands-free speaker phone!
2. FabFitFun x CosmoBody Jump Rope, Retail Value: $14
Skip the treadmill and start skipping rope with this new jump rope from CosmoBody and FFF!
3. Scratch Nail Wraps, Retail Value: $12
Made with 5-free polish inks, these nail wraps last like a real manicure, but have unique, easy-to-apply designs perfect for the season!
4. Gorge "I'll Make You Look Amazing" Daily Spray, Retail Value: $24.95
Transform your hair with this every-day leave-in conditioner which works to repair any damage without leaving residue.
5. Hello Konjac Cleansing Sponge, Retail Value: $12
A Korean beauty secret, this soft sponge is made from konjac vegetable fibers as an all-natural way to restore and balance your skin.
6. Tarte LipSurgence Lip Gloss, Retail Value: $19
Add color and moisture tor you lips with this infused lip gloss, made with vitamin E, jojoba seed oil and flower extract.
7. Inkling Scents Sultry Roll-On Oil Perfume, Retail Value: $25
This alcohol-free pure oil fragrances blends creamy sandalwood, white amber, lotus flower, orchid, Bulgarian rose, and vanilla for an amazing sent everywhere you go.
8. Sponsored: Vaseline Intensive Care Aloe Soothe Spray Moisturizer, Retail Value: $7.99
This non-greasy, spray-on moisturizer absorbs in seconds to help heal dry skin.
9. Wren 14Kt Gold and Black Sapphire Necklace, Retail Value: $100
These 14 karat gold dipped pieces, each featuring a black sapphire, are the perfect addition to your summer outfits.
10. Headspace 3-Month Subscription, Retail Value: $38.85
Change your mindset and get some headspace with this innovative app featuring life-changing, guided meditations.
FabFitFun Summer 2015 VIP Box Review Wrap-Up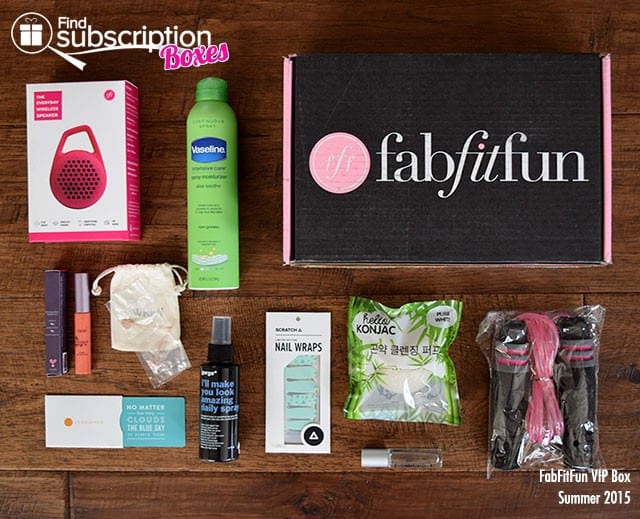 The FabFitFun Summer 2015 VIP Box was filled with products to help you get active and spend more time feeling, and looking, fabulous outdoors. From the delicate necklace to the fragrant roll-on perfume oil, we loved each of the items in this Summer FabFitFun box. The spray lotion, leave-in-conditioners, lip gloss, and konjac sponge as super-easy ways to get a quick look refresh. We've already started enjoy the benefits of our new Headspace subscription. The total retail value of the FabFitFun VIP Box Summer 2015 box is $275.79.
What was your favorite product from the Summer FabFitFun VIP Box?
FabFitFun VIP Box Coupon Code
The Summer 2015 FabFitFun VIP Box is currently still available! Subscribe today and use our exclusive FabFitFun VIP Box coupon code FSB10 to save $10 off your first FabFitFun VIP Box. The Summer FabFitFun VIP Box is just $39.95 + free shipping with code!
Coupon expires August 31, 2015.