FabFitFun VIP Box is one those subscription boxes every woman should try at least once. Once every season (4 times a year), the FabFitFun delivers a surprise mystery over $200 worth of amazing beauty, wellness, fitness and fashion finds for just $49.99. With today's FabFitFun review, we're unboxing the Fall 2017 FabFitFun VIP Box. This season's box has a gorgeous design by artist and illustrator Yelena Bryksenkova.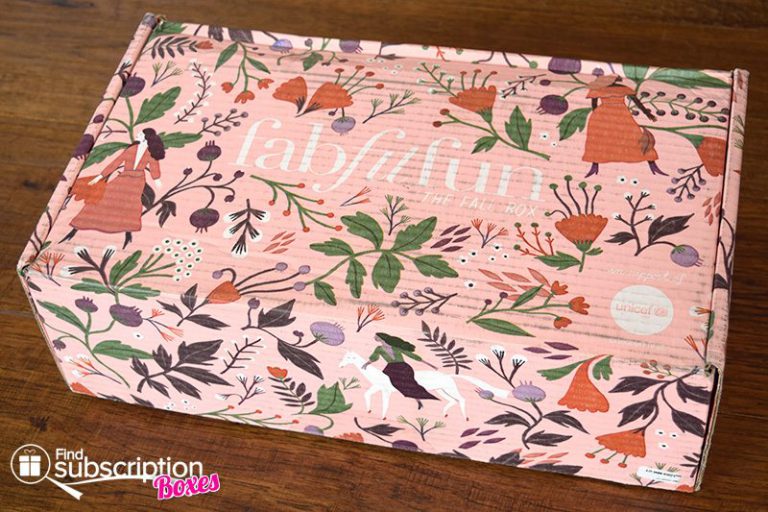 Each FabFitFun Box subscription box includes a FabFitFun magazine filled with fun articles and information about the products in the box. The Fall2017 Edition is designed like a newspaper and also had articles about UNICEF USA and recipes by chef Ayesha Curry.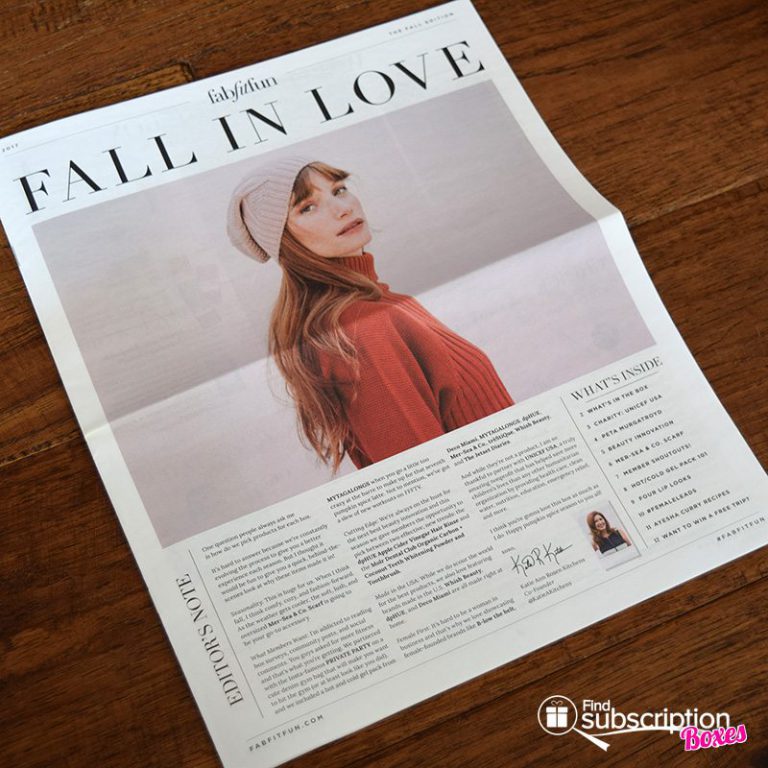 Here's the first look inside our FabFitFun Fall Box.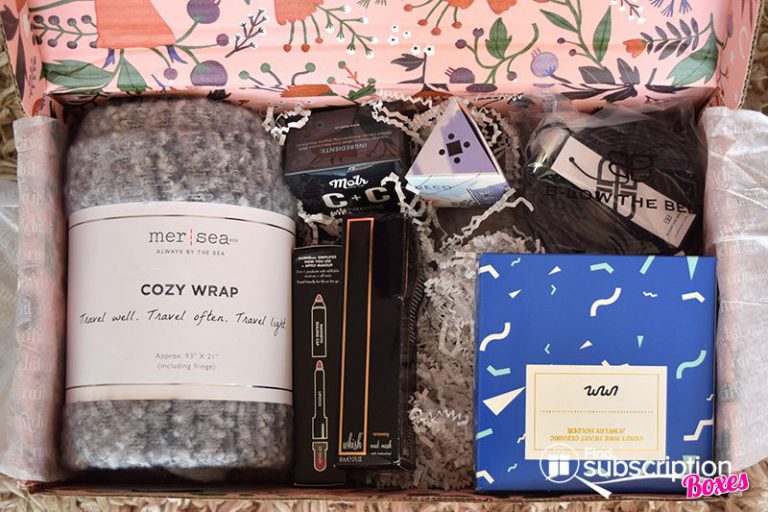 Inside the Fall 2017 FabFitFun Box
There were 9 products in our FabFitFun Fall 2017 Box.

Mer-Sea & Co Scarf, Retail Value: $98
Snuggle up in style this season with this luxuriously soft 100% polyester knitted scarf.
IMM Living Coxet Wire Heart Ceramic Jewelry Holder, Retail Value: $33
This rose gold and porcelain minimalistic jewelry holder hits all the right notes to hold jewelry or other knick knacks.
My Tagalongs Hot & Cold Gel Pack, Retail Value: $15
Simply freeze or heat this pack to sooth any aches and pains with hot or cold relief.
TreStique Matte Color & Shiny Balm Lip Crayon in Florence Fig & Rose Balm, Retail Value: $28
This handy 2-in-1 product features a creamy, lightweight lip color crayon and a BB lip balm for added shine and moisture.
WHISH Beauty Renewing Mud Mask, Retail Value: $48
Reveal smoother, softer skin with this mud mask featuring natural ingredients like bentonite clay, aloe, and rosehip oil.
DECO Miamo Lavender Cuticle Oil, Retail Value: $12.50
Moisturize and soft the cuticle bed of your nails with this nourishing blend of vitamins and organic oils.
Private Party Gym Bag, Retail Value: $59
This charming gym bag features a denim wash, cotton handles, and zippered compartments for all of your necessities.

B-Low the Blet Mia Belt in Black with Silver Buckle, Retail Value: $55
Made of 100% snythetic leather, this timeless belt is a closet essential you never knew you needed
MOLR Dental Club Organic Carbon + Coconut Teeth Whitening Powder and Toothbrush, Retail Value: $43.50
Whiten your teeth the all-natural way with this set that uses the power of activated charcoal.
BONUS: Cottonelle FreshCare Flushable Cleansing Cloths
Fall 2017 FabFitFun Box Review Wrap-Up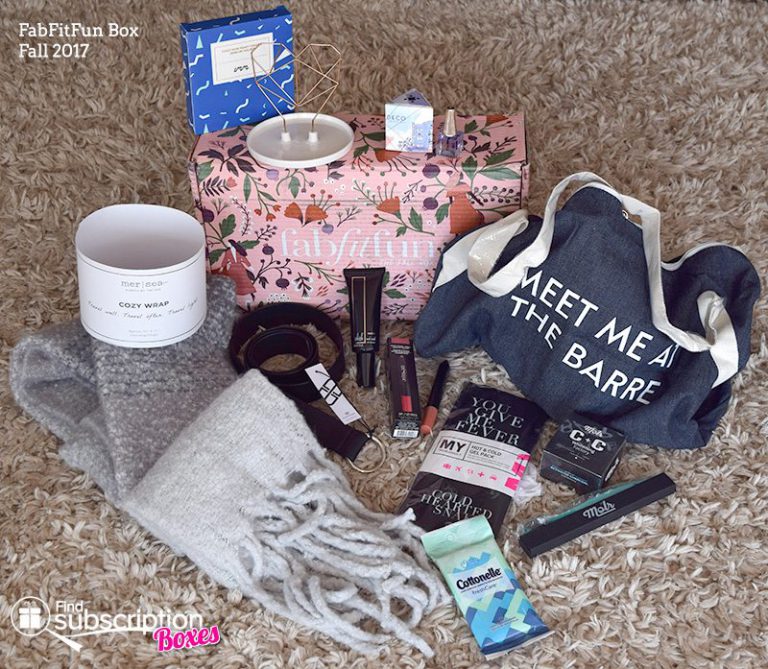 The Fall 2017 FabFitFun Box might be my favorite box to date! Every item is something I can't wait to use (or have already used.) Right after we filmed the unboxing video, the temperature plummeted, so the Mer-Sea & Co scarf was right on time. This cozy, 100% polyester scarf is perfect for bundling up.
The second fashion item in the Fall FabFitFun Box was the B-Low the Belt Mia Belt. This is my new go-to belt for Fall. It's perfect for oversized sweaters, jeans, and I'm even thinking about styling it with one of our raincoat belts to dress the coat up a bit.
Private Party's denim gym bag is a versatile bag that's great for heading out to the gym. The bag is large enough to hold shoes, workout clothes, a jacket, etc. and folds up compactly when empty.
The beauty items in the FabFitFun Fall 2017 box did not disappoint. It seemed like the MOLR C+C Whitening Powder whitened my teeth after just one use! It's a little odd brushing your teeth with black charcoal, but if it works – it works! I used the WHISK BEAUTY Mud Mask almost immediately. Unlike other mud masks, this one works in just 1 minute. It smells WONDERFUL – a lovely, tropical fruit scent that is so pleasant.
The TreStique Lip Crayon really was a 2-in-1 beauty product! One end of the crayon has the lip color, and the other end of the crayon, under the cap, is a BB lip blam. You can use the balm as a base for the color or add it on top of the color for some added shine. DECO Miami's Lavender Cuticle Oil is a must-have product for home manicures. Just brush the oil over your cuticles to add moisture. The lavender scent is relaxing and a nice touch to the nail treatment.
Next up, for this season's home decor item, FabFitFun provided the stylish ceramic jewelry holder. The wire frame of the heart and the wide ceramic base offer plenty of space to store little jewelry items or knick knacks. I put this on the dresser and started using it to hold jewelry immediately.
Finally, the MyTagalongs Gel Pack works wonderfully for treating sore muscles or pains. We love that it can be used hot or cold depending on whether you want to boost circulation or reduce swelling. The flexible material lets the pack easily shape to your muscles to provide treatment where you want.
Each of the items in the Fall FabFitFun box was amazing and did not disappoint. I can't pick a favorite because we love everything! The total retail value of our Fall 2017 FabFitFun Box was $392!
What was your favorite Fall 2017 FabFitFun Box item?
FabFitFun Fall 2017 Unboxing and Review ~ Over $375 in A-MAY-ZING Goodies!
FabFitFun VIP Coupon Code
For a limited time, new FabFitFun VIP Box subscribers can save $10 off your 1st VIP box when you use exclusive FabFitFun coupon code FAB10 at checkout. Your first VIP Box is just $39.99 after savings!