Supply Pod from Outer Places is a monthly subscription box for science fiction fans. Every other month, Supply Pod delivers a themed box with a new sci-fi theme. With today's Supply Pod review, we're unboxing the January / February 2016 Supply Pod from Outer Places box. The January/ February 2016 Supply Pod theme was X-Files!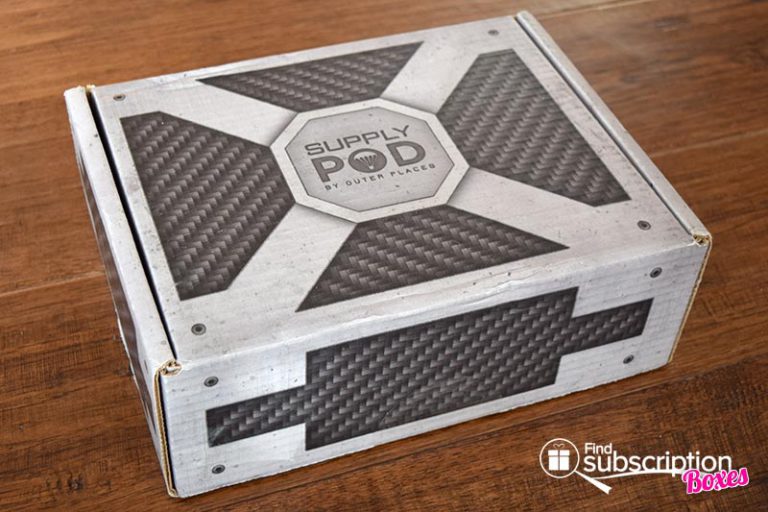 Supply Pod includes a product card that shares additional information about that month's sci-fi items.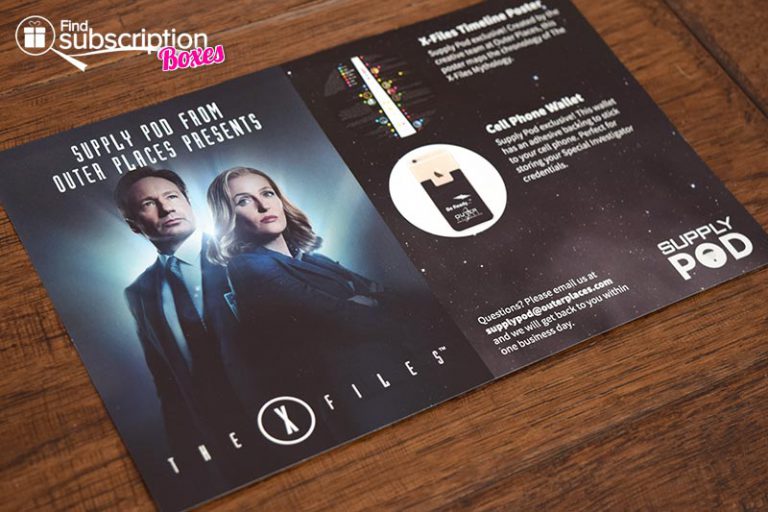 Here's a first look inside our X-Files February 2016 Supply Pod.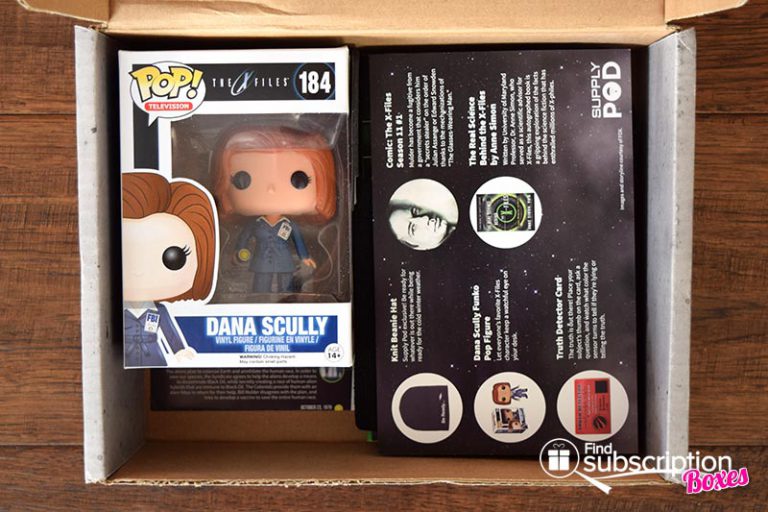 Inside the X-Files February 2016 Supply Pod Box
There were 7 sci-fi goodies in our January/ February Supply Pod from Outer Places X-Files box.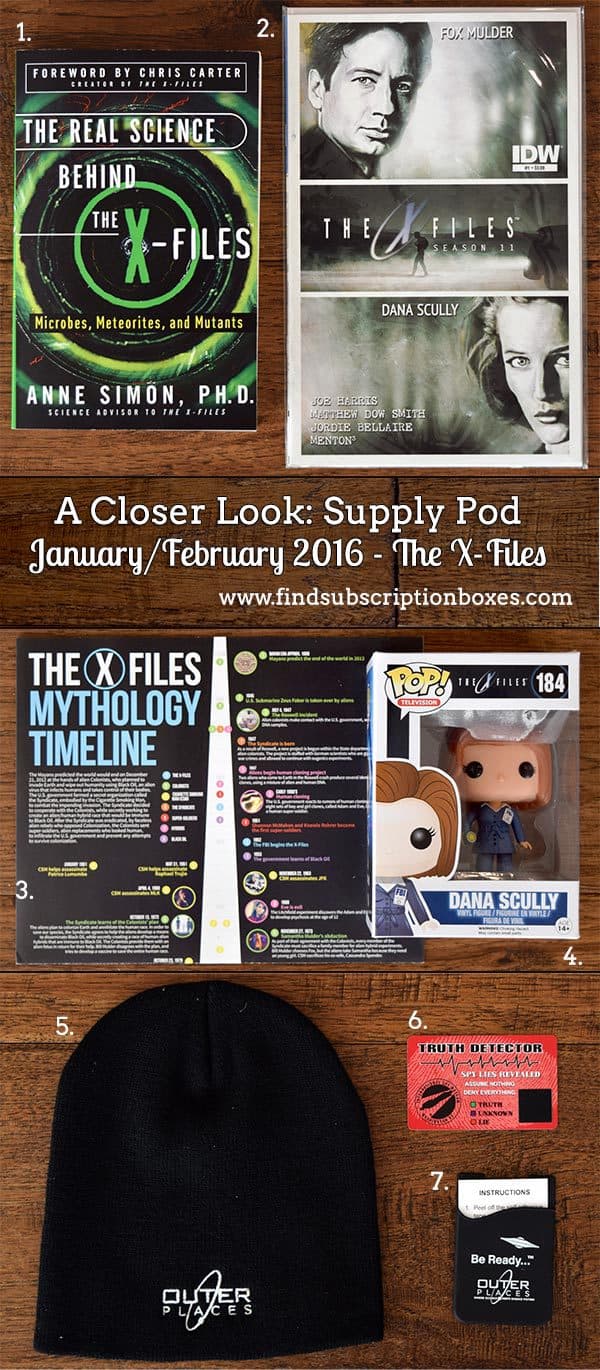 Autographed copy of The Real Science Behind the X-Files by Anne Simon
Discover the real facts behind some of your favorite science fiction mysteries from the X-Files.
The X-Files Season 11 #1 Comic
Mulder has become a fugitive from a government that considers him a "secrets stealer" on the order of Julian Assange or Edward Snowden thanks to the mechanizations of "The Glasses-Wearing Man." It's up to Scully, and what allies Mulder has left, to work to clear his name and keep the government itself from falling further into the villain's clutches.
EXCLUSIVE X-Files Timeline Poster
Brought to you by the Outer Places creative team, X-Files fans can use this poster to track the chronology of The X-Files Mythology.
Dana Scully Funko Pop Figure
FBI Agent Dana Scully is ready to investigate the mysteries around your home or office.
EXCLUSIVE Be Ready Knit Beanie Hat
If you're out searching for extraterrestrials, you'll be ready for any weather with this cozy beanie.
Truth Detector Card
The truth is out there and easy to find with this color-changing truth detector card.
EXCLUSIVE Cell Phone Wallet
Be ready for anything with this handy wallet that sticks to the back of your cell phone.
The X-Files February 2016 Supply Pod Box Review Wrap-Up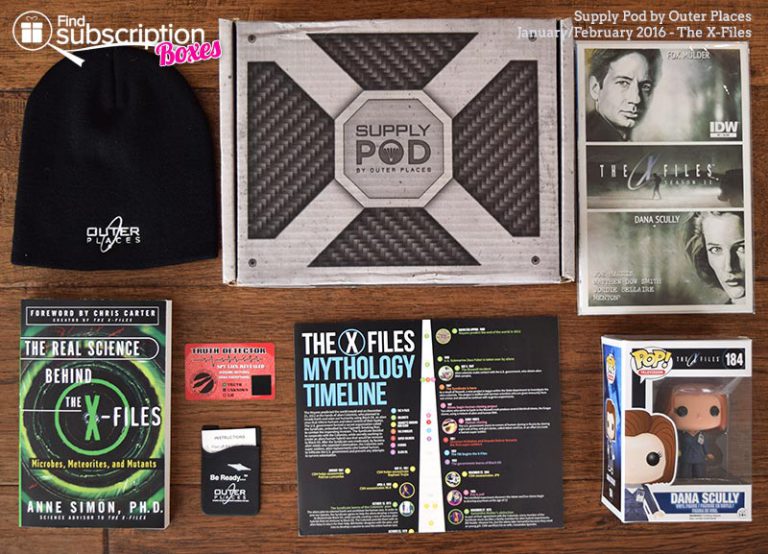 The January/February 2016 Supply Pod X-files sci-fi box was chock full of X-files gear and collectibles for the truth-seekers out there. All-in-all, whether you're a cult follower or a new fan, the X-Files Supply Pod box featured items to help you both catch up on the series and learn things you didn't know before.
What was your favorite Supply Pod X-Files collectible?
Supply Pod Coupon Code
Join Supply Pod today and save 10% off any Supply Pod subscription when you use Supply Pod coupon code FIND10 at checkout.