I have always loved makeup and the application process. There is something special in knowing that I can change my look day to day in magical ways depending on my mood. There is an appreciation that a makeup lover has for his/her products that others may never understand. The texture, the feel of a tool on your face, even the smell of a product, or the soft touch of a brush. With today's MorpheMe Brush Club review I'm unboxing my February 2017 LiveGlam MorpheMe Brush Club delivery.
MorpheMe Brush Club by LiveGlam is a monthly subscription box that delivers quality make-up brushes every month. My February 2017 brushes arrived in a sleek black bubble mailer with #MorpheMe – Powered by : LIVEGLAM written on it. When I opened my mailer I found my three brushes and an approximately 4 inch long sticker printed with a Valentines Day theme. The February 2017 Morphe Me Brush Box also contained a brochure with each brush number listed with it's name, intended application purpose, and a brief Valentines Day themed description. On the other side it featured ways to earn Morphe Me club points and a disclaimer proclaiming that if you didn't love these brushes you can swap them out for other brushes. There is also a coupon code to save 10% at checkout on all Morphe Me products!
I received the Morphe Me G33, G34, and G36 brushes in my February 2017 Valentines Day themed box. These brushes have a very clean and sleek looking stainless steel handle with a small loop detail around the circumference. Each brush displays the Morphe brand in black lettering with the brush number as well in a lovely statement font. The brush end itself has dark brown fibers with a white tip made of sable and goat bristles.
Let's start off with the Morphe Me G33 Angled Buffer Brush, it has a stiff triangle shaped brush end. The bristles are very soft and feel wonderful on the skin. "Get it bright, get it right! Our G33 brush gives you the BEST coverage your eyes could ask for! It has a unique shape so it can get right in the inner corner of your eyes. It's def #EyeCandy." This brush has exemplary performance and does its job, and then some. The unique shape that goes above and beyond may be an adjustment for a first time user, but once you use it a couple of times, you won't want to use anything else!
Next, we have the G34 Mini Round Buffer, this brush features the appearance of a much larger scale, standard eyeshadow brush and is also very soft and kind to the skin. "If we haven't made you blush and glow just yet, the G34 will, for sure. There's no better way to apply your highlighter. You'll be so obsessed, you'll think you're in a love spell." I am so in love with this brush especially! I have used it to apply highlighter and blush, but my absolute favorite use for this Morphe Me brush is to get that perfect sharp cheek bone contour that we all search for. I use this brush for my multi purpose brush if I am unable to travel with multiple brushes, it can get ANY job done!
Last but oh so certainly not least inside the Morphe Me February 2017 Valentines Day brush box, the G36 Round Powder brush ladies and gentlemen! "Whether you use it for foundation or to contour, do it flawlessly with this softy. It's best used for any powered product, making this a match made in heaven!" I personally use this beauty for applying my foundation and blending. The bristles are packing into this puppy fairly tight, but not too tightly. This gives you a flawless application without blending all of your coverage away as is the problem with a majority of brushes.
All in all, these beautifully branded and presented makeup brushes are worth the hype and every penny! What did you think about the February 2017 LiveGlam MorpheMe Brush Club makeup brush subscription box?
LiveGlam MorphMe Brush Club Free Gift!
Want a free makeup brush? Subscribe to MorphMe Brush Club with our exclusive link to get a free brush and additional savings on new subscriptions. Claim your free brush today!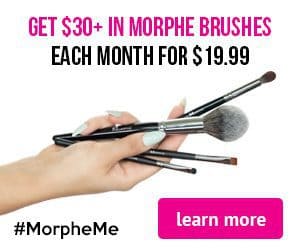 Offer expires April 15, 2017.