Powered Geek Box is a monthly subscription box for geeks, gamers, and nerds. Every month, they send a mystery geek box filled with epic geeky, gamer and nerd gear right to your door step. Powered Geek Boxoffers a Premium geek box that sends 6-9 geek items plus a monthly t-shirt and a Deluxe box which includes 4-6 items plus a monthly shirt. With today's Powered Geek Box review, we're unboxing the February 2017 Powered Geek Box. The February Powered Geek Box theme was TIME TRAVEL.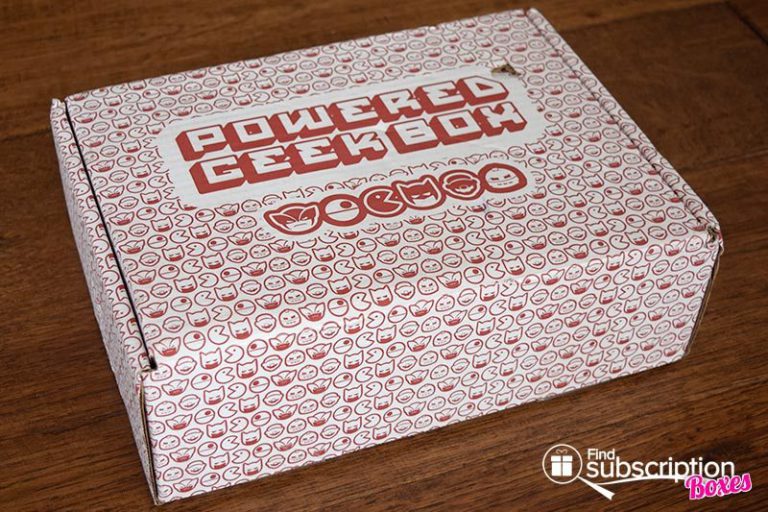 Powered Geek Box sends quality geek items in their monthly geek box, selecting the best geek t-shirts, comics and other geeky, gamer, and pop culture gear. Here's a first look inside our Powered Geek Box February Time Travel box.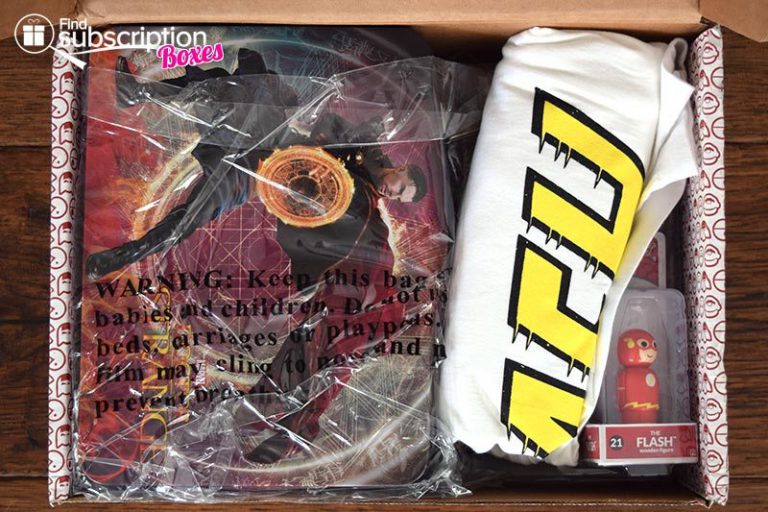 Inside the February 2017 Powered Geek Box
There were 7 geek and nerd items in our February 2017 Powered Geek Box.

DC Comics The Flash T-Shirt
Marvel's Doctor Strange Large Tin Tote
DC Comics Justice League Pen Mate – The Flash
The Flash Pin
BBC's Doctor Who Topps Alien Attax Trading Card Game
BBC's Doctor Who 500 Year Diary
BBC's Doctor Who Top Trumps Card Game
Powered Geek Box February 2017 Box Review Wrap-Up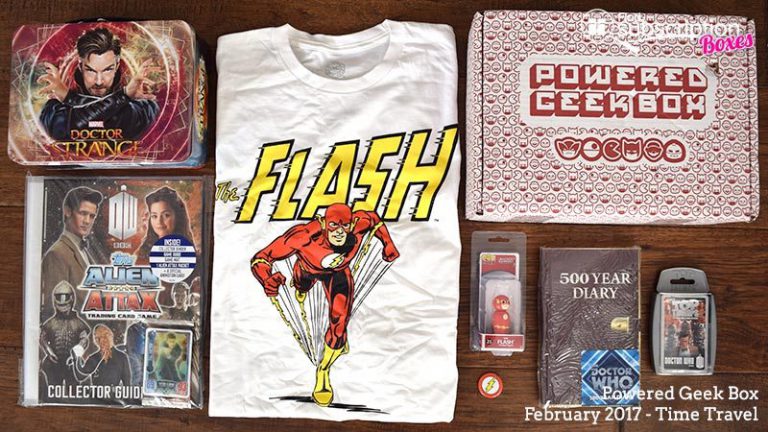 February's Powered Geek Box featured some of our favorite Time Travelling heroes! We love that every Powered Geek Box always has something unique and cool from a variety of geek franchises and that all of the items are officially licensed. First is the Doctor Strange tin lunch box. Printed on both sides with Benedict Cumberbatch as Marvel's Doctor Strange, the tin tote is perfect for carrying your lunch or storing your geeky valuables.
There were 3 items from The Flash in the Time Travel Powered Geek Box. The Flash t-shirt features one of the original designs of DC Comic's The Flash. The Justice League Flash pen topper is a fun way to add some geekiness to your office space. Decorate your bag or lapel with the subtle The Flash pin.
Powered Geek Box also included 3 Doctor Who collectibles in February's geek subscription box. You can kick-start your Doctor Who Trading Card collection with this starter package. It has a collector binder, game guide, game mat, and a special animotion card. The 500 Year Diary is a great for jotting down notes about your latest adventures. Instead of plain lined paper, the pages of this diary look like aged parchment paper. Finally, you can take the classic card game of "war" into the future with this fun Doctor Who version called "Top Trumps."  Each Top Trumps card has fun facts and statistics for characters or events from the Doctor Who universe. You choose your strongest statistic against the other player to try to win both cards.
What was your favorite February Powered Geek Box Time Travel item?
Powered Geek Box Coupon
For a limited time, save $3.50 off the March Powered Geek Box Premier Box with Powered Geek Box promo code POST.