Try The World is a monthly subscription box which delivers a variety of gourmet fare from all over the world. Each month subscribers receive delicious food products from that month's featured country or a themed box with goodies from multiple countries that fit the theme. Today, we will be unboxing the February 2017 Try The World x Condé Nast The Amour Box box. Just in time for Valentine's Day, The Amour Box is Try the World's second exclusive collaboration with Condé Nast Traveler. The box features products from some of the most attractive, picturesque and culinary countries around the globe: "France for appetizers, Italy for entree, and Thailand for dessert."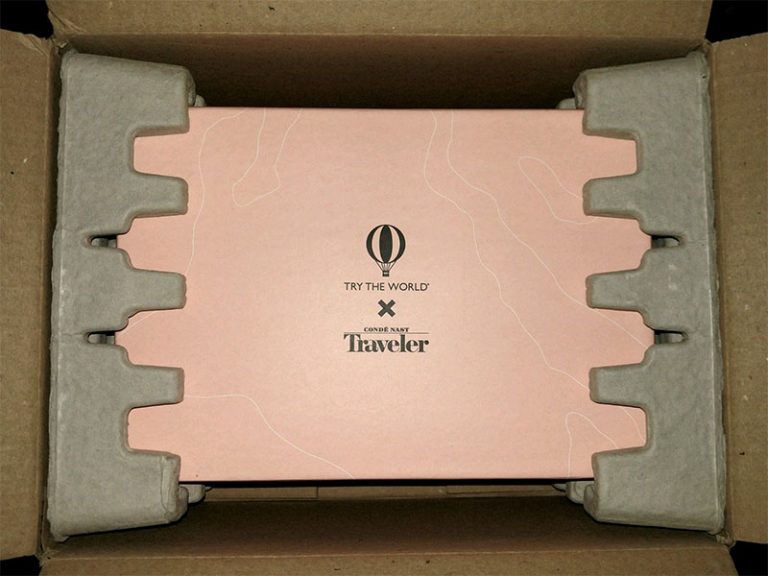 The Try The World x Condé Nast The Amour Box is a light pink box with white topographic map lies, instead of the usual teal box for a more festive look. The interior of the box is white with light pink topographic map lines. A cardboard shipping box with inserts holding the Valentine's box to further ensure the safety of your goodies during transit. Decorative natural colored straw pads and secures your lovely fare inside. Each Try The World box includes a Culture Guide folded in to an accordion style brochure. The Culture Guide includes a brief description,tips and facts on the three countries, color photographs, "how your box came to life," a festive recipe for each item held inside and an ad for Condé Nast Traveler's "Shorties" their 3rd annual short film festival. An exclusive coupon for 20% off the Try The World Shop was also provided.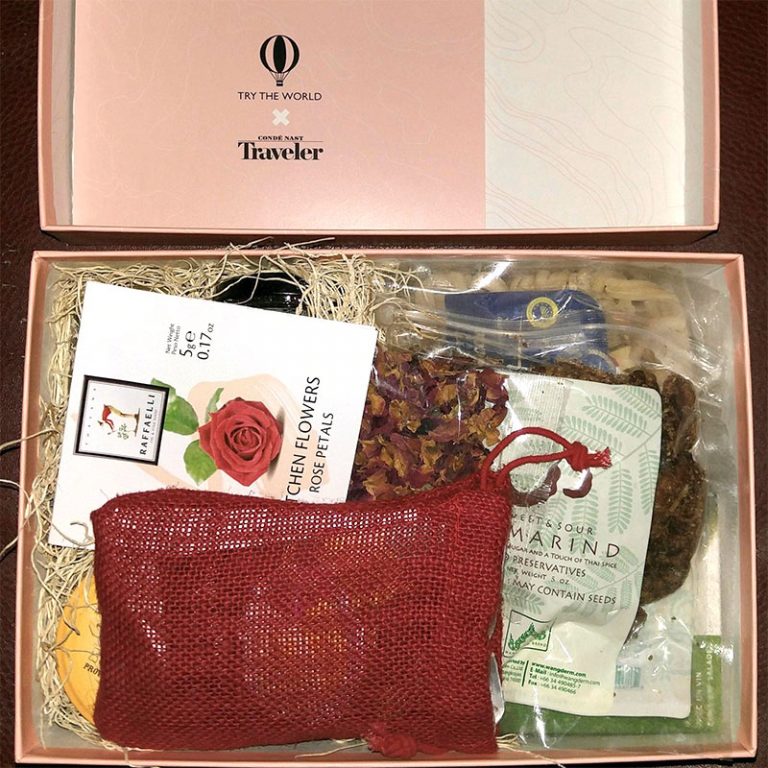 Inside the February 2017 Try The World x Condé Nast The Amour Box Valentine's Box
There were 8 gourmet food products in the February 2017 Try The World x Condé Nast The Amour Box Valentine's Box.
France For Appetizers: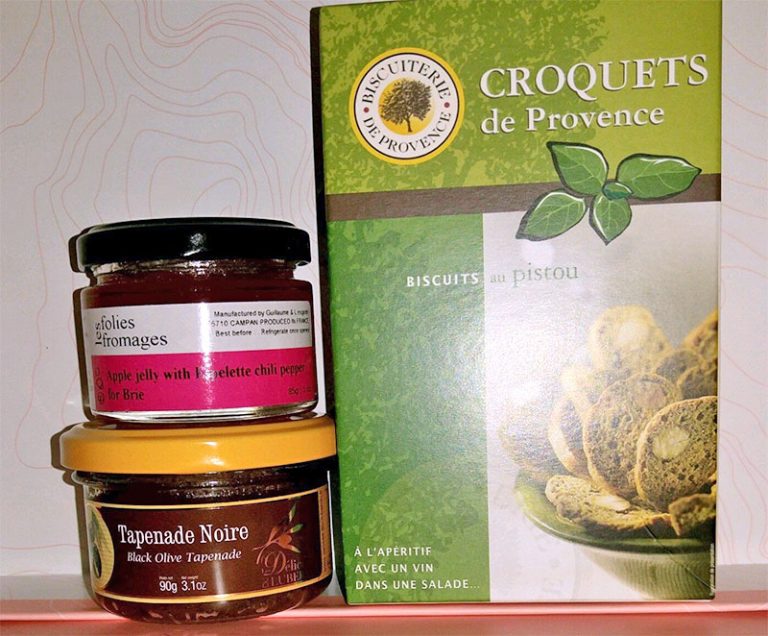 Crochet Crackers made by Biscuiterie de Provencei in Saint-Maurice-Sur-Eygues, France has been using a traditional recipe that has been passed down for generations. It states in the Culture Guide that the "family business first started by trading almonds, apricot kernels, and cherry tails. These all natural crackers are inspired by the regional flavors of southern France." Crochet Crackers pair nicely with the Black Olive Tapenade as well as with the Apple Jelly with Espelette Pepper. These tasty crackers resemble a rye chip that you would see in snack mix. They are an excellent source of energy and protein and are a wonderful snack to go along with cocktails, wine, beer or in a salad for a little crunch. The Crochet Crackers were packaged inside a sealed bag inside their own 2.65 oz box.
Black Olive Tapenade made by Delices du Luberon in L'Isle-Sur-La-Sorgue, France is a black olive and anchovy paste giving it a savory and rich flavor that spreads with ease (which is great since you only need a thin layer). Referencing from the Culture Guide "this one has a rich deep flavor inspired by the Mediterranean. For over 20 years, Delices Du Luberon has been committed to preserving Provencal gastronomy." Black Olive Tapenade pairs wonderfully with the Crochet Crackers as an appetizer or snack. The Black Olive Tapenade were packaged inside a 3.1 oz glass jar with a safety seal twist-on lid.
Apple Jelly With Espelette Pepper made by Les Petits Fruits in Campan, France is "situated at the base of the Pyrenees Mountains near the border of France and Spain, Les Petits Fruits is dedicated to producing jams in a traditional way by cooking them in copper cauldrons," according to the Culture Guide. The jelly has a sweet yet subtle spicy flavor that is neatly spreadable. The Apple Jelly With Espelette Pepper pairs well with the Crochet Crackers, a light cheese such as Brie, beer and/or wine.  The jelly was packaged inside a 3 oz glass jar with a safety seal twist-on lid.
Italy For Entree: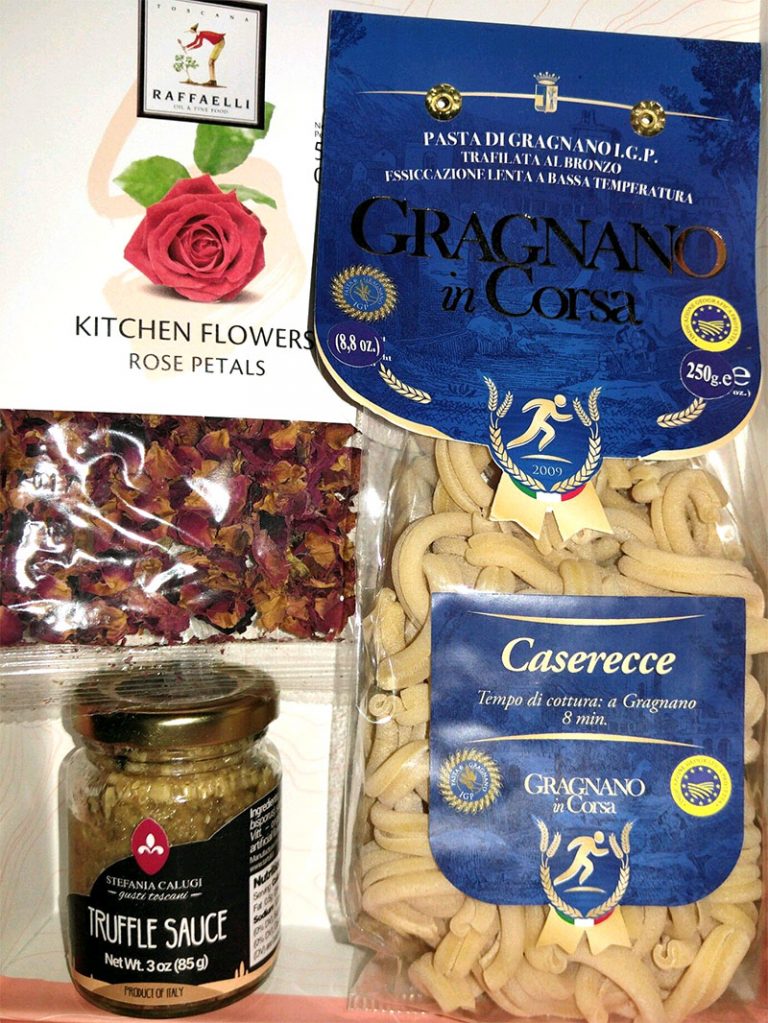 Casarecce made by Gragnano in Corsa in Gragnano, Italy is  "a loosely made, free-form pasta." Referring to the Culture guide "this durum wheat semolina pasta is made in the coastal town of Gragnano-an area famed for its centuries-old traditions of pasta making." The pasta is a dense consistency and has a mouth-watering texture; each bite is satisfying. Casarecce or "homemade" pasta and Black Truffle Sauce are a robust and full-bodied combination. Packaged in a clear and heavy plastic bag with the display tag attached on with rivets, ensuring freshness.
Black Truffle Sauce made by Stefania Calugi in Castelfiorentino, Italy has been "foraging truffles since the 1900's, the Calugi family produces truffle products sourced from the cold northern forests of Tuscany," as stated in the Culture Guide. The sauce is finely chopped and is a tasteful option as a sauce for pasta and folded into other savory dips and spreads. Black Truffle Sauce pairs well with the Casarecce. Ingredients for the Black Truffle Sauce include champignon mushrooms, sunflower oil, summer truffle, 2% spice, sunflower lecithin, salt and artificial flavor. Packaged in a 3 oz glass bottle with a safety seal twist-on lid.
Edible Flower Petals made by Raffaelli Food in Pistoia, Italy are "gathered in season and carefully dried to preserve their scent, these petals are a beautiful finishing touch. They add a light, floral note that elevates and dish, from roasted meat to sweet pudding," referring to the Culture guide. The Kitchen Flower Rose Petals moderately chopped and are dried yet not to the point that they crunch apart. The Edible Flower Petals compliment the Casarecce with Black Truffle sauce as well as the Sticky Rice. Packaged in their own clear and heavy plastic bag sealed at both ends with the display tag adhered to the top.
Thailand For Dessert: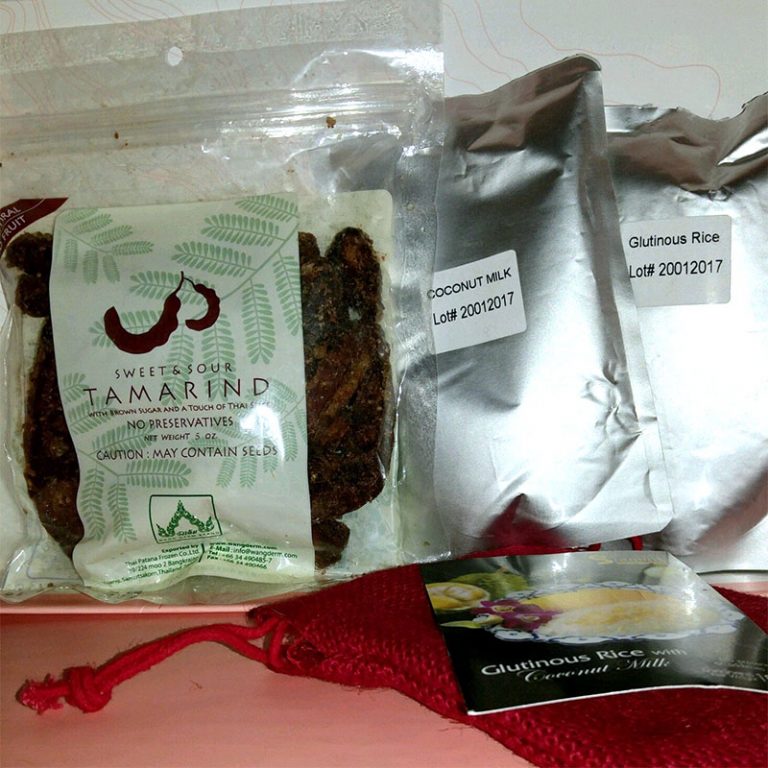 Sticky Rice made by Siammit in Bangkok, Thailand "glutinous rice is one of Thailand's most beloved desserts. Made with a rice variety that's high in starch, the dish is sweet and sticky like pudding," referring to the Culture Guide. The sticky rice is easily prepared in a microwave or on the stove top; the kit includes a single package of glutinous rice and single package of coconut milk, just combine, heat up and enjoy. The Sticky Rice pairs nicely with the Edible Flower Petals and Dried Tamarind. The two packages of ingredients were slipped into a red festive potato sack pull-tie bag.
Dried Tamarind made by Wang Dem in Samutsakorn, Thailand are "tangy and fresh, these chunks of dried tamarind are mixed with brown sugar and subtle Thai spices," referring to the Culture Guide. The Thai spice provides the little bit of a sour and spicy kick while the brown sugar calms that sweet tooth. The Dried Tamarind goes well with the Sticky Rice and if you want a lot of sweet, sour and spice then the Apple Jelly With Espelette Pepper combined tastes great as well with or without the Sticky Rice. Packaged in its own clear and heavy plastic bag with a sticker label.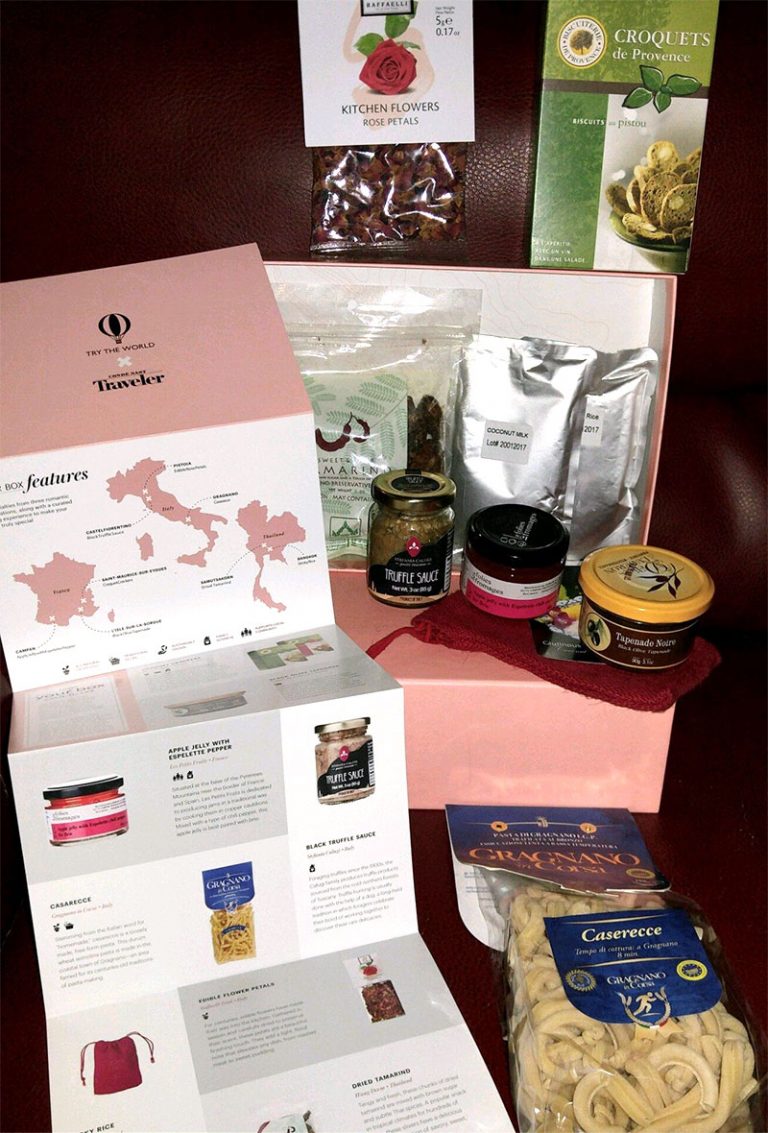 I hope you enjoyed this review of the February 2017 Try The World x Condé Nast The Amour Box. Order yours today to give that special someone a delicious gift. I suggest that if you are interested in trying gourmet favorites from all over the world you might want to look into a Try The World monthly subscription box.  Happy Valentine's Day!
Try The World The Amour Box Coupon Code
We're excited to share an exclusive promo code with FSB readers! Use code FSB10 to save 10% off your The Amour Box. Click here to get your box today!