If you love Nacho Cheese, Ranch or flavored tortilla chips, the HONCHOS Subscription Box is for you! Every month, HONCHOS delivers a tortilla chip subscription box filled with 24 bags of HONCHOS Organic Tortilla Chips for just $26.50 each month. Shipping is free! With today's HONCHOS subscription review, we're unboxing the HONCHOS Free Trial box. This is the trial subscription box you receive when you sign-up for the limited time HONCHOS Free Trial offer.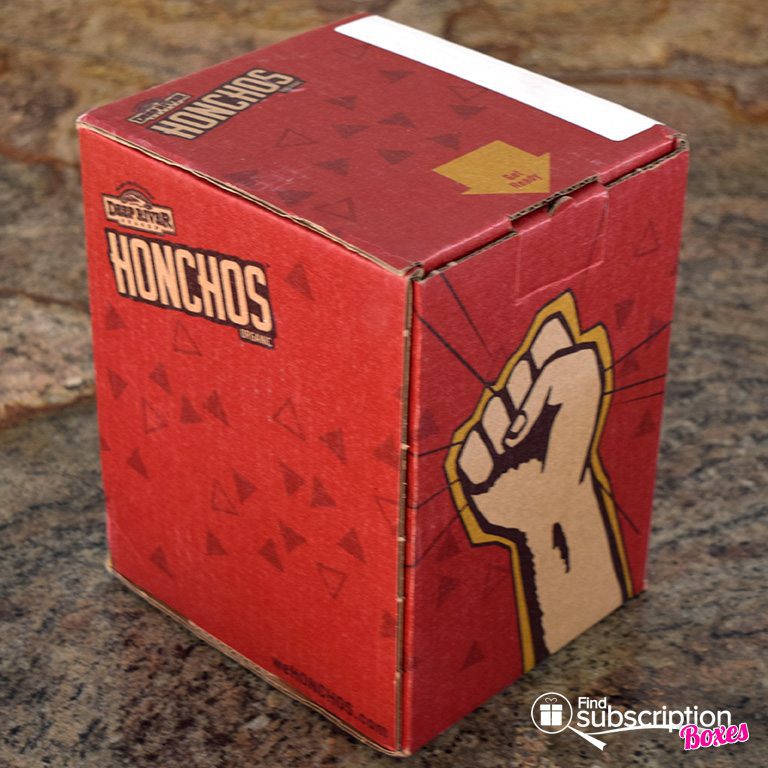 The HONCHOS Free Trial box includes a flyer that shares ingredient information and details about your monthly HONCHOS subscription.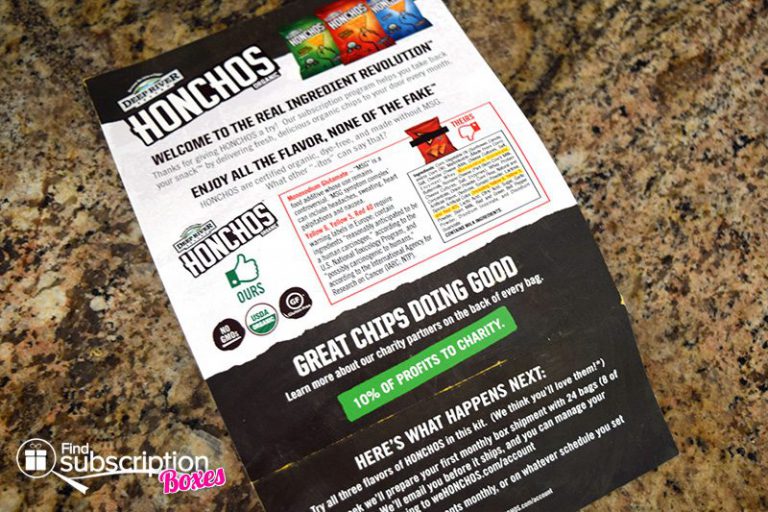 Here's a first look inside our HONCHOS Subscription Free Trial Box.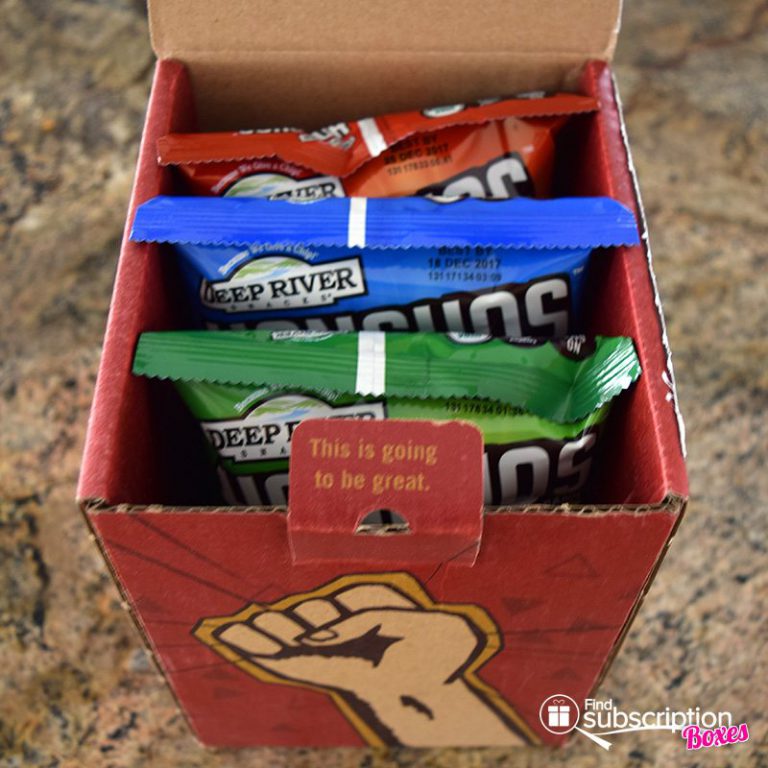 Inside the HONCHOS Subscription Free Trial Box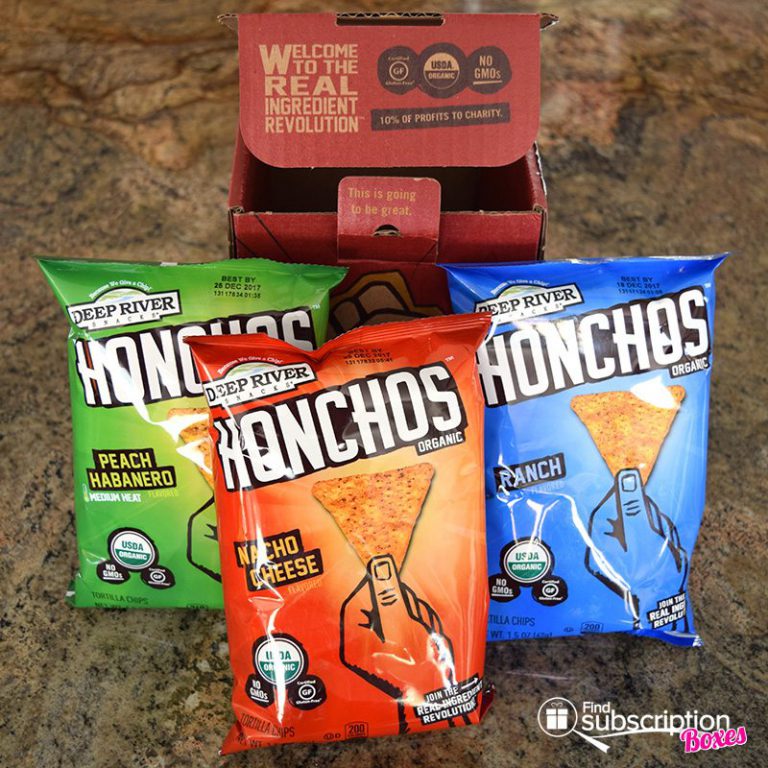 The HONCHOS Free Trial Box includes one 1.5 oz bag of each of the 3 HONCHOS flavors – Nacho Cheese, Ranch, and Peach Jalapeno. Your regular HONCHOS subscription box will have 24 bags of HONCHOS chips. You can get 8 bags of each flavor or all one flavor.
First up was the Nacho Cheese flavor. People would likely compare this chip to Doritos Nacho Cheese. Unlike competitor chips, HONCHOS uses only non-GMO, certified organic ingredients and has no MSG. The HONCHOS Nacho Cheese tortilla chips really deliver in flavor. There's a strong cheese flavor with each bit and there's a subtle spicy kick at the end.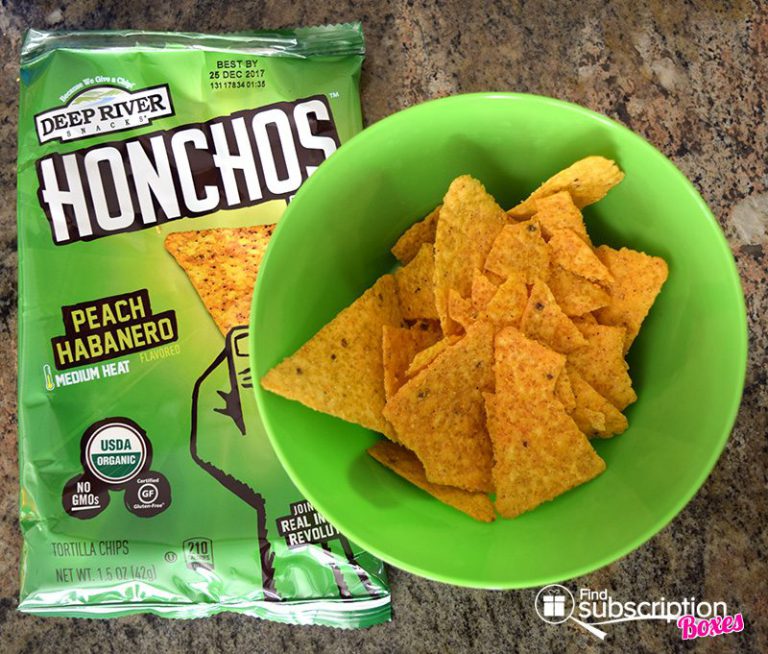 The Peach Habanero HONCHOS were the surprise chips of the three. This uniquely flavored tortilla chip has a noticeable sweetness from the peach followed by the perfectly balanced amount of heat from the habanero. After just one chip, the flavor lingers pleasantly, only making you want to grab another chip. Definitely a new favorite for us!
The third HONCHOS tortilla chip flavor is Ranch. Just like the other two varieties of HONCHOS, the Ranch chips was a satisfying snack. There's plenty of zest without being overwhelming.
We love that HONCHOS makes it easy to stay stocked with organic, flavorful tortilla chips. The chips are light, crispy and aren't greasy or oily. Have you tried HONCHOS Organic Tortilla Chips yet? Which is your favorite flavor?
HONCHOS Subscription – Free Trial Box Unboxing
HONCHOS Free Trial Offer
Click here to sign-up for the HONCHOS Free Trial and get 3 FREE Bags of HONCHOS Organic Tortilla Chips – you just pay $2.25 shipping.