In the most recent NewBeauty TestTube, the brochure "discover NewBeauty" celebrates the inception of the idea for the TestTube ten years ago. Over the years, nine million-plus products have been delivered to millions of women. With today's NewBeauty TestTube, we're unboxing the January 2016 NewBeauty TestTube beauty box.
To celebrate the TestTube's 10th Anniversary, there will be surprises all year-long in the subscriptions.

In this first TestTube of the 10th Anniversary year, the trendsetters are all editors from NewBeauty magazine. The editors feature products and encourage subscribers to send feedback with photos or tweets to the magazine's twitter and Instagram accounts.
Fromm beauty: diane pink hope brush, a miniature detangling brush perfect for purse or gym bag and can be used on wet or dry hair. Sales of the Pink Hope brush directly benefit Bright Pink, an organization dedicated to bringing breast and ovarian cancer awareness to young women in hopes of early prevention. **some TestTube boxes may include a different variety. I received a gold brush.
Dermalogica: daily microfoliant acts as a skin polisher with papain, salicylic acid, and rice enzymes to exfoliate in a gentle formula containing calming ingredients of green tea and colloidial oatmeal. Deluxe .45 oz sample.
Bliss: that's incredi-'peel'! a glycolic peel which is gentle for all skin types without irritation. Contains soothing ingredients of witch hazel and licorice extract plus vitamin E and glycolic acid on a peel pad to wipe in the skin. One-use sample packet.
Hask beauty: express beauty, a blow dry spray or repair that hair, a leave-in spray. The sprays restore, detangle, polish, and deliver essential moisture in a pre-blow dry formula to protect against thermal harm. Aloe vera leaf is one of the ingredients which helps to smooth, control frizz, and add shine while helping to cut drying time. **One full size bottle of the 5 in 1 one sprays featured in the brochure.
Supersmile: professional whitening toothpaste with Calprox fluoride and baking soda in a formula gentle enough for sensitive teeth, bonding, caps, veneers, and dentures to restore or maintain natural whiteness while preventing cavities. Full size product. **some TestTube boxes may receive the professional whitening gum in a full size product instead
Cailyn Cosmetics: makeup melt cleansing balm made with papaya and acerola which deep clean the face from makeup, even troublesome waterproof products, while hydrating with ingredients of aloe vera and calendula flower extract with a unique balm-to-oil formula. Deluxe 13ml sample.
Neocell: beauty bursts soft chews deliver beauty nutrients of collagen and vitamin C with hyaluronic acid, and biotin which can benefit skin, hair, and nails in a fruity supplement which is gluten-free, non-GMO, and free of soy and palm oil. Deluxe 10 piece sample.
Mally: evercolor starlight waterproof eyeliner containing jojoba seed oil to glide on easily with a crisp line and lasts until you remove it. Full size product and colors may vary; we received Sailor (blue).
Bonus Editor Favorites: TanTowel one-use sample packets were in my TestTube box.
January 2016 NewBeauty TestTube Review Wrap-Up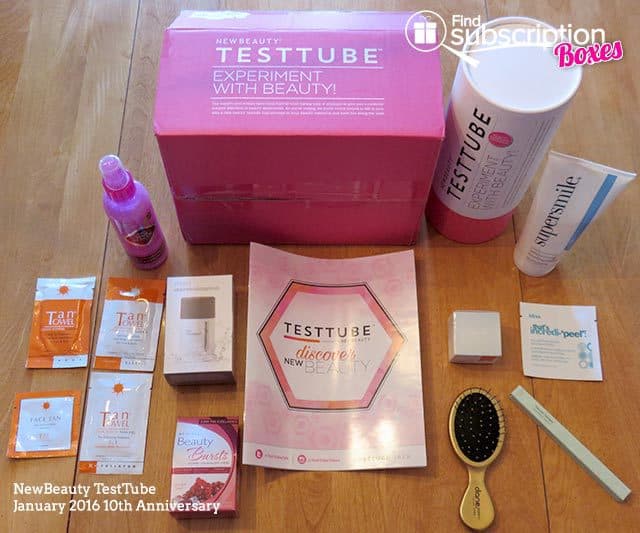 As always, the NewBeauty TestTube delivers the best, trendsetting products handpicked and curated by experts. There's always more information on tips, tricks, and updates at newbeauty.com/testtube and NewBeauty magazine.
What was your favorite January 2016 NewBeauty TestTube beauty product?
NewBeauty TestTube Coupon
For a limited time, use our exclusive NewBeauty TestTube discount link to save 30% off your 1st NewBeauty TestTube beauty box.