Loot Crate sends monthly mystery subscription boxes for geeks and gamers. Monthly Loot Crate geek crates have different geek themes and have over $45 worth of geek t-shirts, vinyl figures and other geek and gamer collectibles. With today's Loot Crate Review, we're unboxing the July 2016 Loot Crate. The July Loot Crate theme was Futuristic. The Loot Crate August theme has been revealed!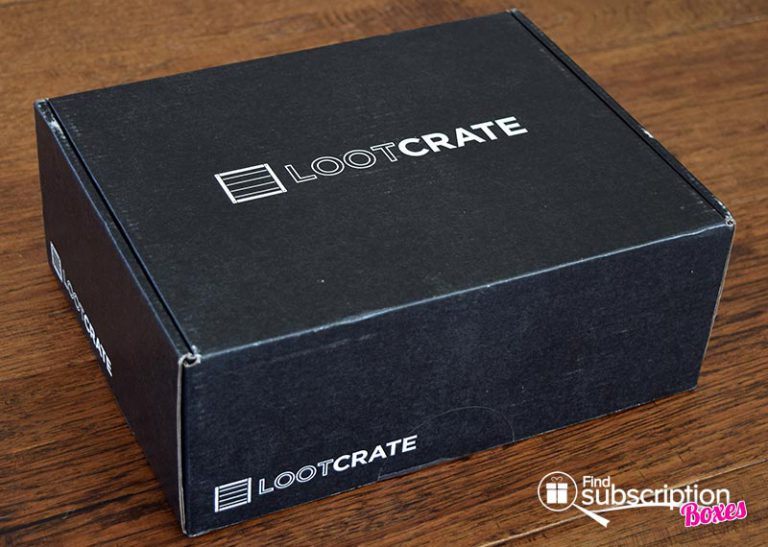 Loot Crate includes a new issue of Loot Crate magazine in each geek box. The LC Magazine provides the product descriptions for that month's items and mini-articles for each.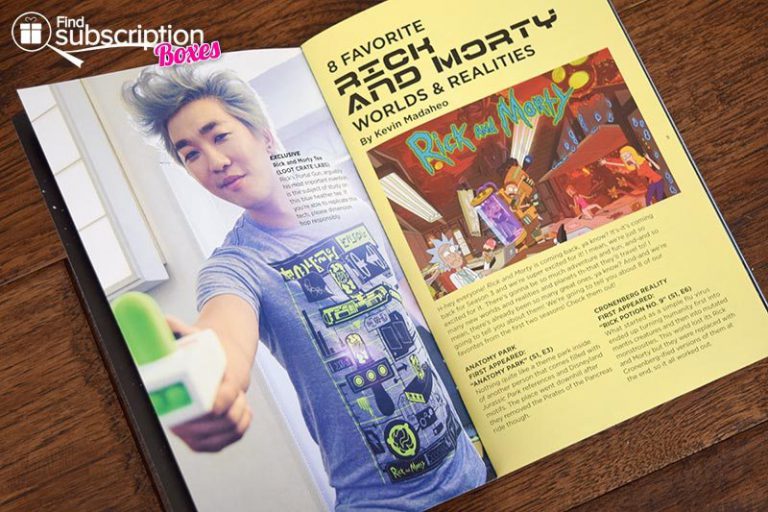 Here's a first look inside our Futuristic Loot Crate geek box.
Inside the July 2016 Loot Crate Futuristic Crate
There were 6 geek and gamer collectibles in the July  Futuristic Loot Crate.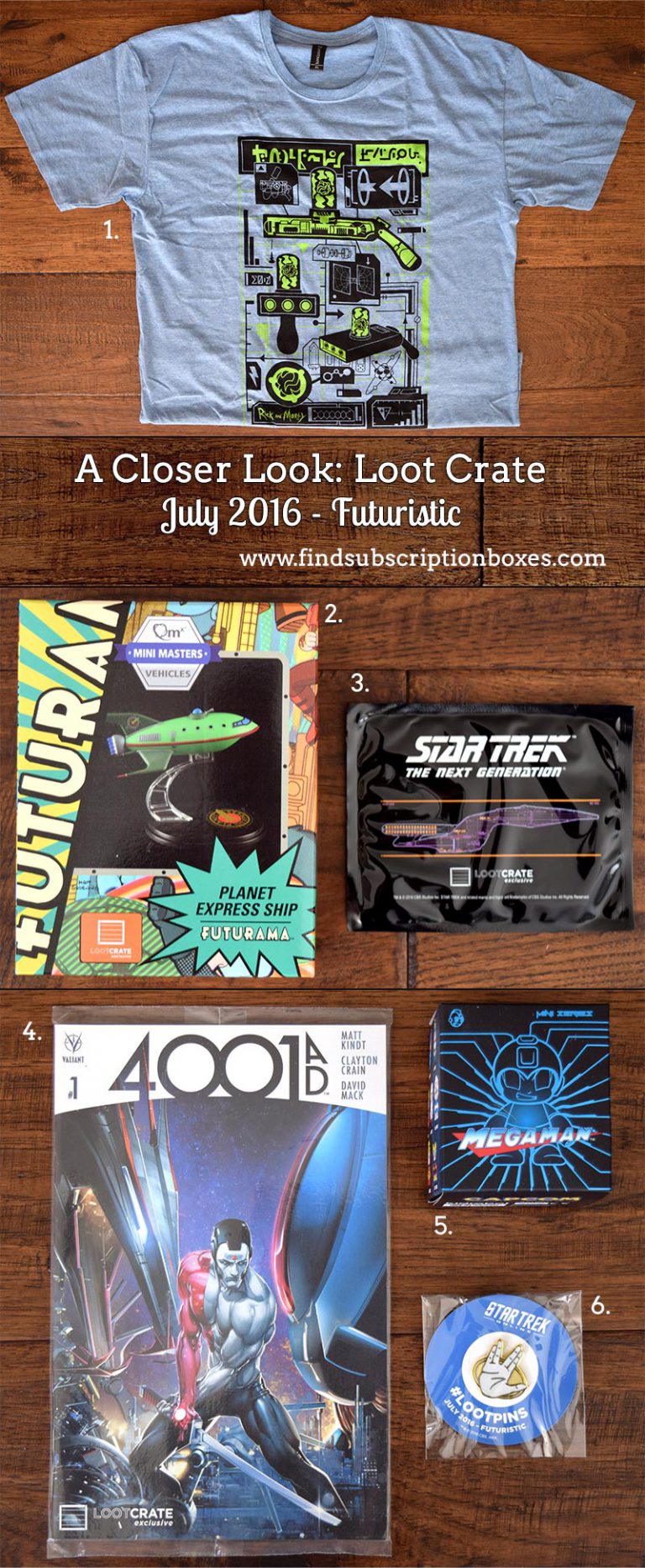 EXCLUSIVE Rick and Morty Tee
This heather blue Rick and Morty Tee features the "blueprints" for Rick's Portal Gun
EXCLUSIVE Futurama "Planted Express" Ship Model
From Q-Fig, this Futurama Planet Express model is a new addition to any space ship collection.
EXCLUSIVE Star Trek Dedicated Plaque Replica Decal
Turn just about anything into the U.S.S. Enterprise with this 4.5×3″ repositionable Star Trek decal.
EXCLUSIVE KidRobot 3″ Mega Man Red Variant Figure
This 3″ Mega Man figure from Kid Robot features an exclusive red-and-white suit for Loot Crate subscribers.
EXCLUSIVE Valiant Comics' 4001 A.D. #1


Earth must rise. Father must fall. Rai! Eternal Warrior! X-O Manowar! Bloodshot! Geomancer! Armstrong! And more! The war for the ultimate fate of humanity begins in 4001 A.D.!

EXCLUSIVE July 2016 Loot Pin
The July Loot Pin is inspired by Star Trek and unlocks a Loot Crate exclusive pack for Star Trek Online.
July 2016 Loot Crate Review Wrap-Up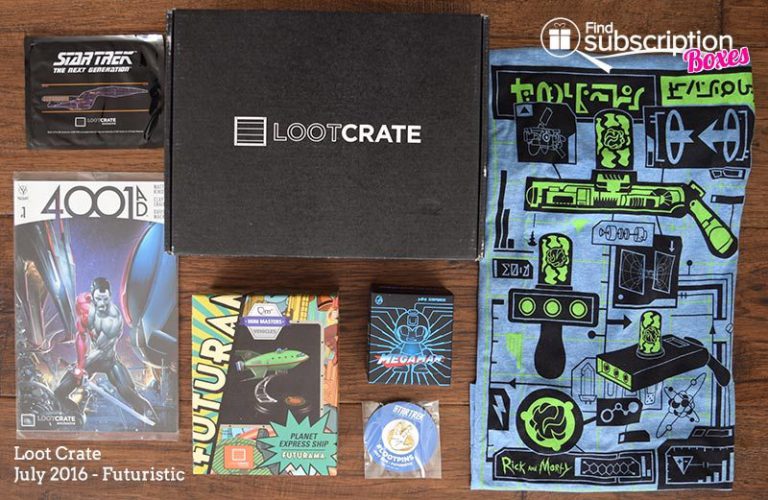 July's FUTURISTIC Loot Crate gave us a taste of the epic loot that's in our future. The QMx Mini Masters Vehicle Futurama space ship model comes with its own stand and is colorful and fun. It even has the laser cannon turret on top! Another great figure is the exclusive Red Mega Man figure from Kid Robot. This Mega Man is red because he's absorbed some of the powers of his defeated evil foes.
While portal guns might not (officially) be real, you can plan your own with this exclusive Rick and Morty Tee. It pays homage to one of Rick's portal-hopping inventions and has a blueprint design with bright green accents.
Finally, we love the Star Trek collectibles. The Star Trek decal is a gold U.S.S. Enterprise Dedication plaque that you can stick to your wall, computer, or other flat surface. Wrapping up the July Loot Crate is the exclusive Loot Pin that features the Star Trek salute to live long and prosper.
What was your favorite July Loot Crate Futuristic crate collectible?
Loot Crate Coupon Code
Don't miss another box! Save $3 off new Loot Crate subscriptions when you use coupon code LOOTR3 or use code FINDBOXES to save 10% off any Loot Crate subscription.