The Trendy Box delivers monthly jewelry subscription boxes featuring 2-4 trendy jewelry and fashion accessories. With today's The Trendy Box review, we're unboxing the July 2016 The Trendy Box. The July 2016 The Trendy Box theme was Beach Flow and featured fun jewelry for our next trip to the beach or lake.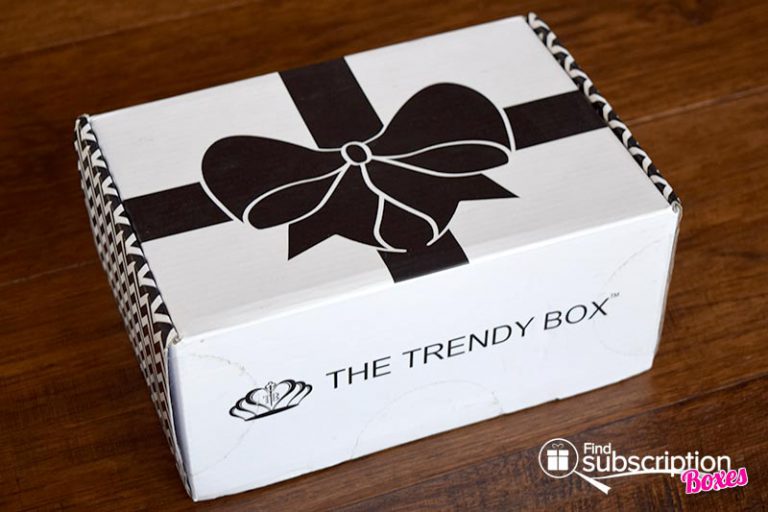 Each The Trendy Box monthly jewelry box includes a product card the describes the jewelry and accessories in that month's box.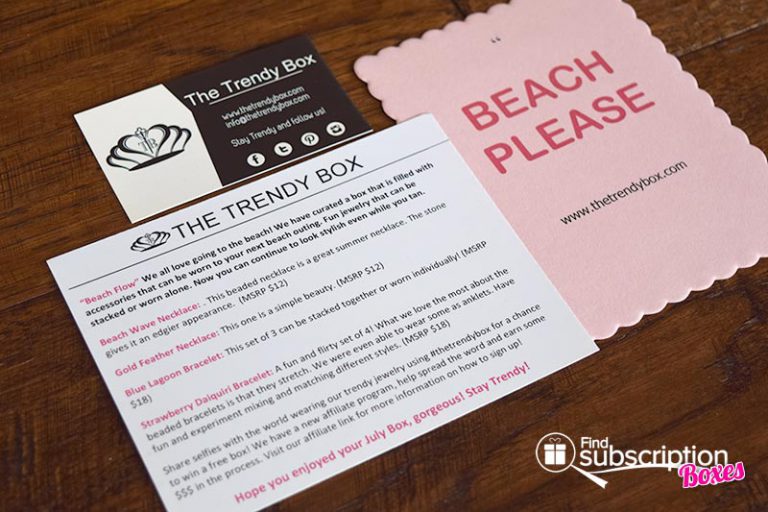 Here's a first look inside our The Trendy Box July jewelry subscription box.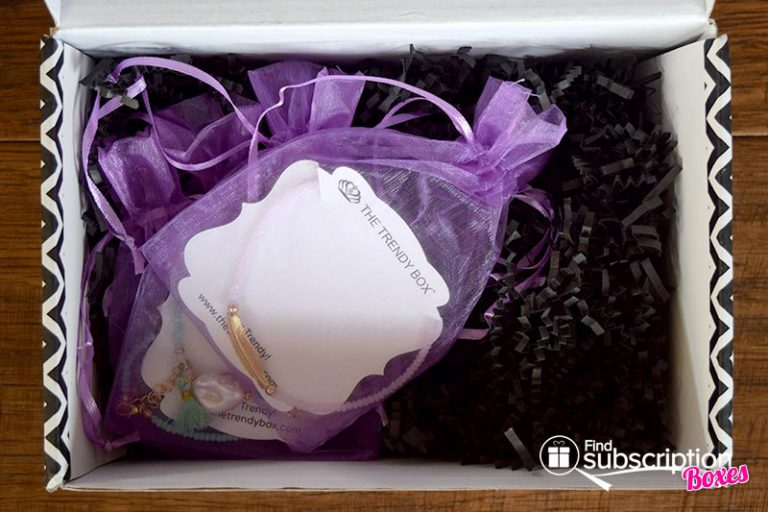 Inside the July 2016 The Trendy Box
There were 6 jewelry items in our July The Trendy Box.

Blue Lagoon Bracelet, $18 MSRP
Three colorful bracelets can be stacked together or worn separately.
Strawberry Daiquiri Bracelet, $18 MSRP
This set of 4 fun beaded bracelets can be easily mixed and matched for different styles. Some can even double as anklets!
Gold Feather Necklace and matching earrings, $12 MSRP
This necklace has pink beads and a delicated gold feather. It came with matching pink beaded earrings.
Beach Wave Necklace and matching earrings, $12 MSRP
A simple beaded necklace accented with stone beads.
July 2016 The Trendy Box Review Wrap-Up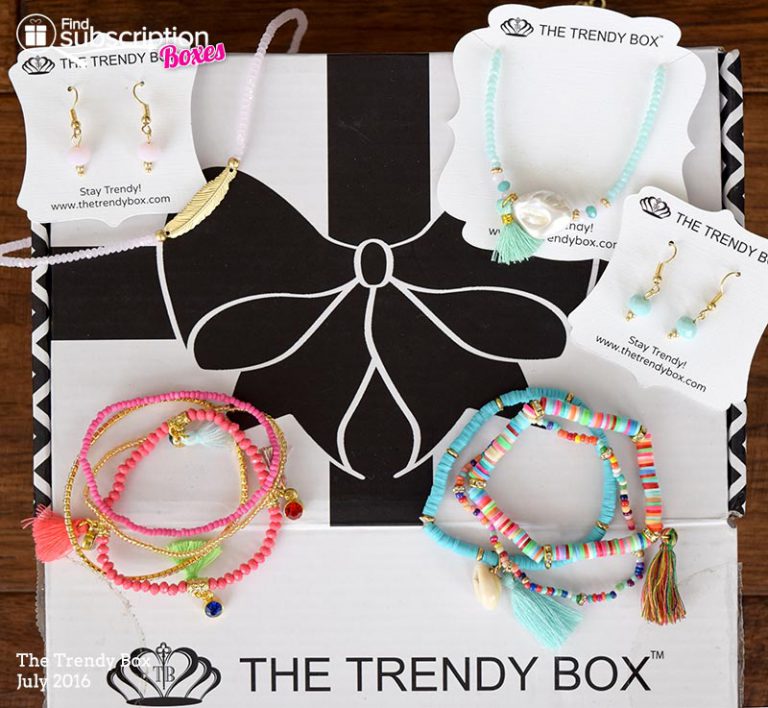 The July The Trendy Box was all about delivering fun, colorful jewelry that will help us keep Summer going strong. The two vibrant bracelet sets can be worn together or alone. They have elastic bands so you can stack and layer them. The different color beads and tassels make the bracelets pop and make a style statement whether your wearing a simple tee and jeans or a Summer dress. We love the sea shell on the Blue Lagoon Bracelet. The Strawberry Daiquiri set includes two gold beaded bracelets that you can also wear alone for a more subtle look. With these two bracelet sets, you can create a variety of fun looks for your wrist or ankles.
The two necklace and earring sets provide a more classic look with a touch of flare. The Gold Feather necklace has light pink beads and a delicate gold feather accent. The matching earrings have two round pink beads with gold accents. The last item in the box is the Beach Wave necklace. This beaded necklace and earring set features light blue beads and a shiny coral-like stone accent. The turquoise tassel also adds some extra style. Both of these matching jewelry sets can easily be dressed up or down to match daytime and evening looks. The total MSRP value of the July 2016 The Trendy Box was $60!
What was your favorite July The Trendy Box jewelry item?