Blue Apron is a meal delivery subscription box that makes cooking gourmet meals easy and fun. Blue Apron subscribers choose from a changing weekly menu and the food is shipped with ice packs so all the ingredients are fresh upon delivery. With today's Blue Apron review, we're unboxing our July 2017 Blue Apron Week 3 meal delivery.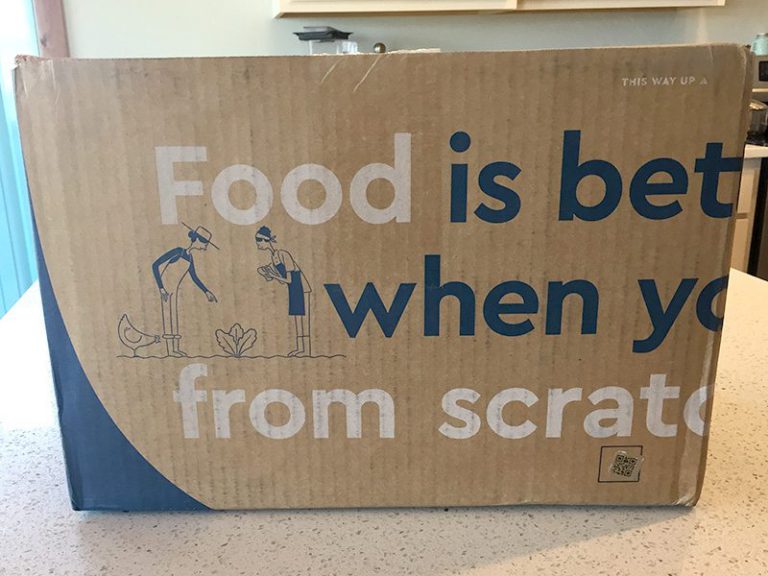 Each week, subscribers can log-in to their Blue Apron account to select the meals they want to receive. Blue Apron includes very basic step-by-step recipe cards for each of your meals to make you feel like the 5-Star chef we have all dreamed of becoming. Each card also has a picture to guide you through your meal prepping, and if that isn't enough, they also give you how-to videos on their web page.
Here's the first look inside our July Blue Apron subscription box.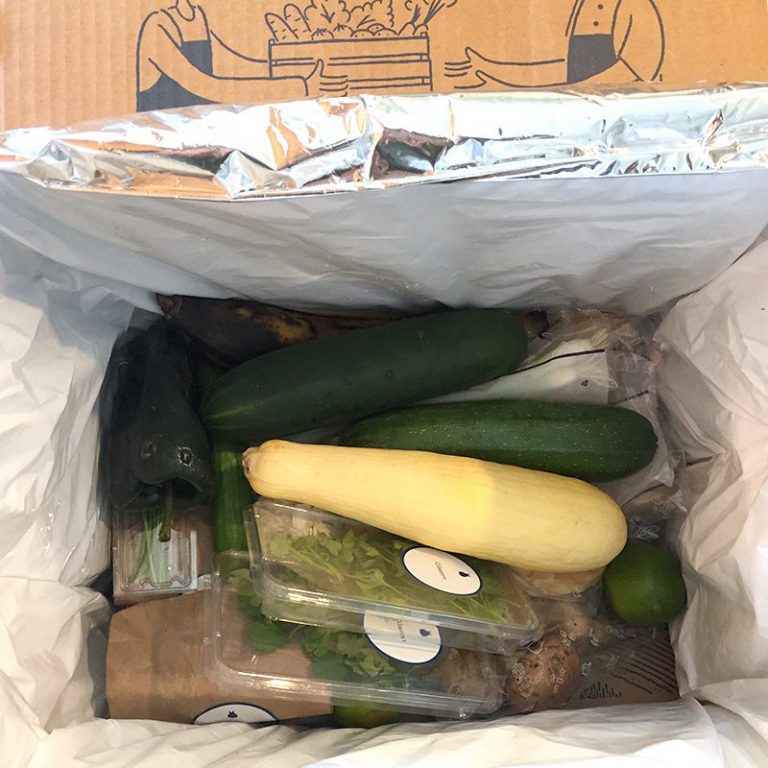 Inside Our July 2017 Blue Apron Meal Delivery Box
Our weekly July 2017 Blue Apron box contained ingredients and recipes for:
Caribbean Chicken Curry with Roasted Plantain & Coconut Rice
Smoked Gouda Cheeseburgers with Summer Squash Slaw
Ribeye Steak & Spicy Vegetable Hash with Marinated Cucumber
Caribbean Chicken Curry with Roasted Plantain & Coconut Rice
For our first Blue Apron recipe, we cooked Caribbean Chicken Curry with Roasted Plantain & Coconut Rice. Blue Apron conveniently provided all the fresh vegetables, meat, and sauces to turn this meal experience into a fun date night. All we had to provide was salt, pepper, and olive oil.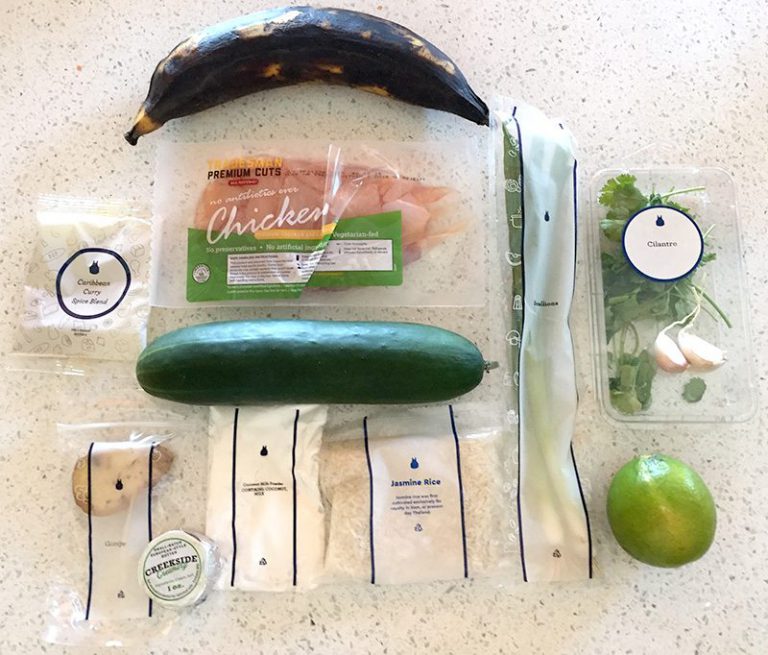 For the Chicken Curry dish, sliced the plantains and garlic. We also peeled the cucumber leaving alternate strips and diced, chopped the scallions, ginger, and cilantro. In a bowl, we mixed the coconut milk powder with one cup of water and quartered our lime.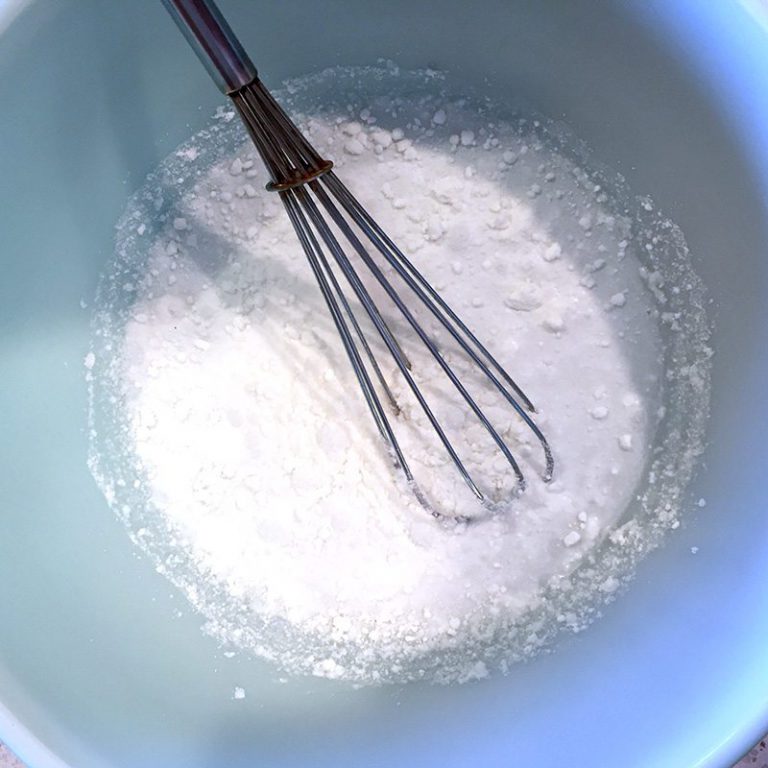 With our prepared coconut milk powder and water, we combined it to a packet of rice in boiling water. Once boiling we covered the pot and reduced the heat to a low for the rice to absorb the water and become tender.
As the rice cooked, we roasted the plantains on a sheet pan and drizzled with olive oil. Flipping each plantain halfway through the roasting process to get them evenly browned on both sides.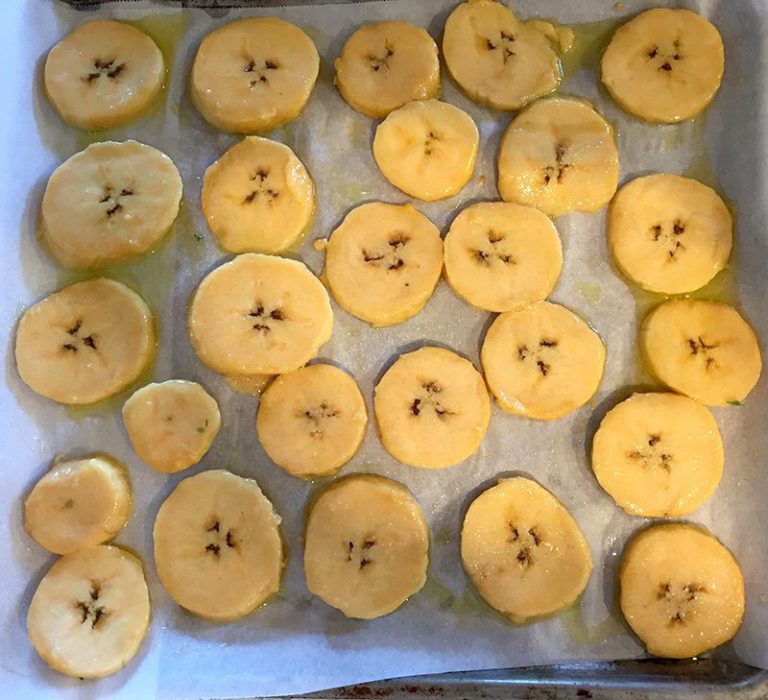 Our next step was to marinate the cucumber salad. We added the green tops of the scallions, half of our diced ginger, and the juice of two limes. Drizzle with olive oil and allowed to sit until our meal was complete, stirring occasionally.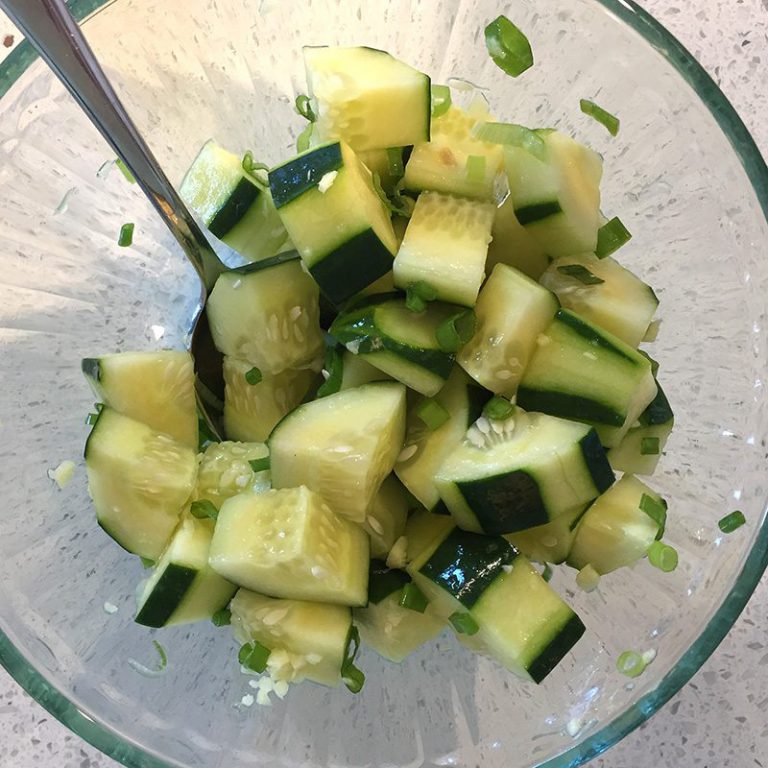 In a nonstick pan with olive oil, we put in the chicken, which was already cut for us. Once there was an even cooked layer on the chicken, we added the garlic, spice blend, white bottoms of scallions, and remaining ginger.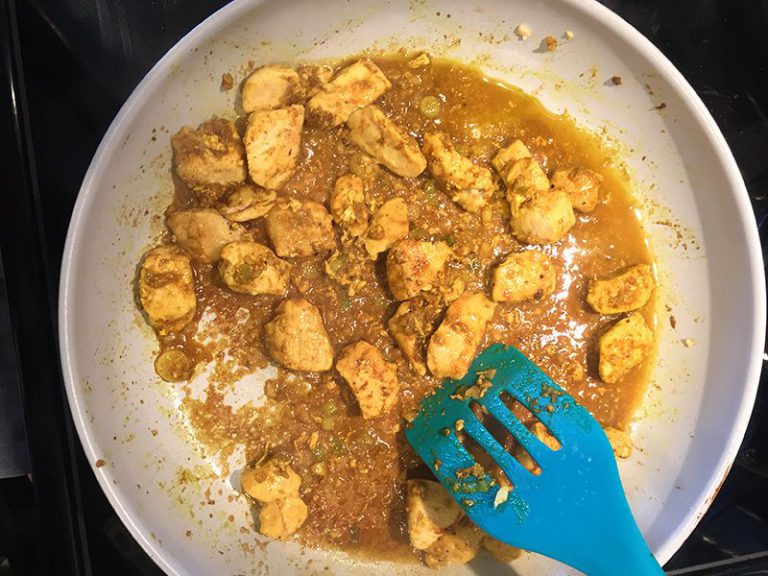 The Carribean Chicken Curry was such an original and flavorful meal. The plantains were an unexpected favorite and the curry flavor was divine!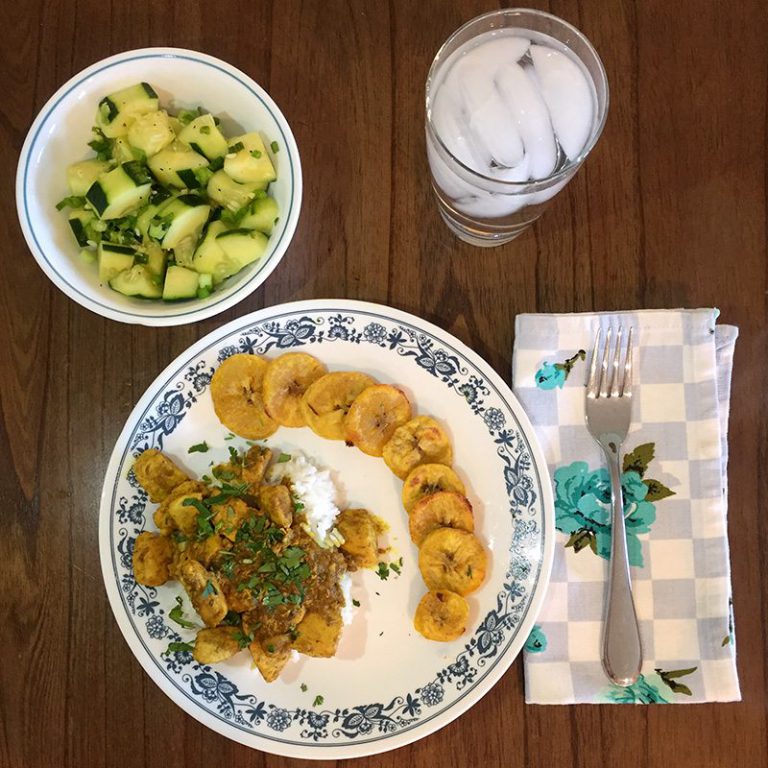 Smoked Gouda Cheeseburgers with Summer Squash Slaw
With this recipe, we started by, cutting strips of squash, finely chopping garlic, slicing the mushrooms and cheese. We chopped the parsley, and to finish the prep work we sliced the pepper.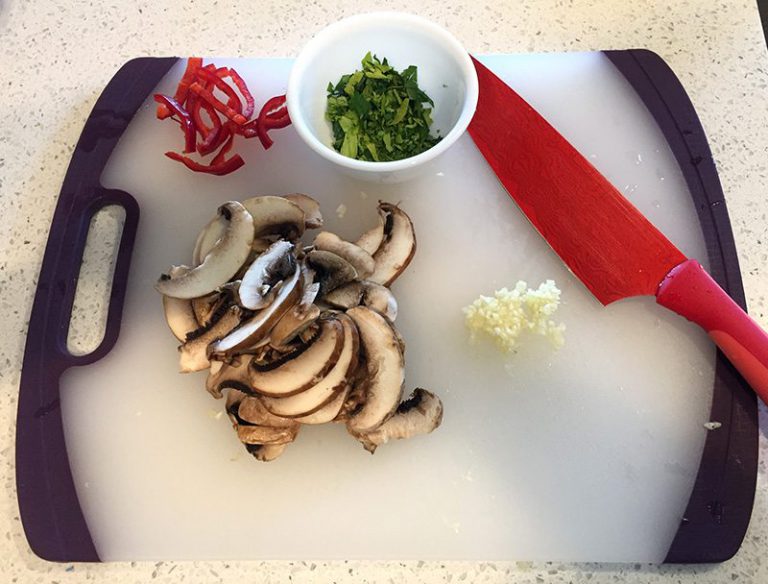 In a medium bowl, we combined squash, pickle relish, half the vinegar, and half of the garlic paste. Allowed it to marinate for 10 minutes then we added pepper.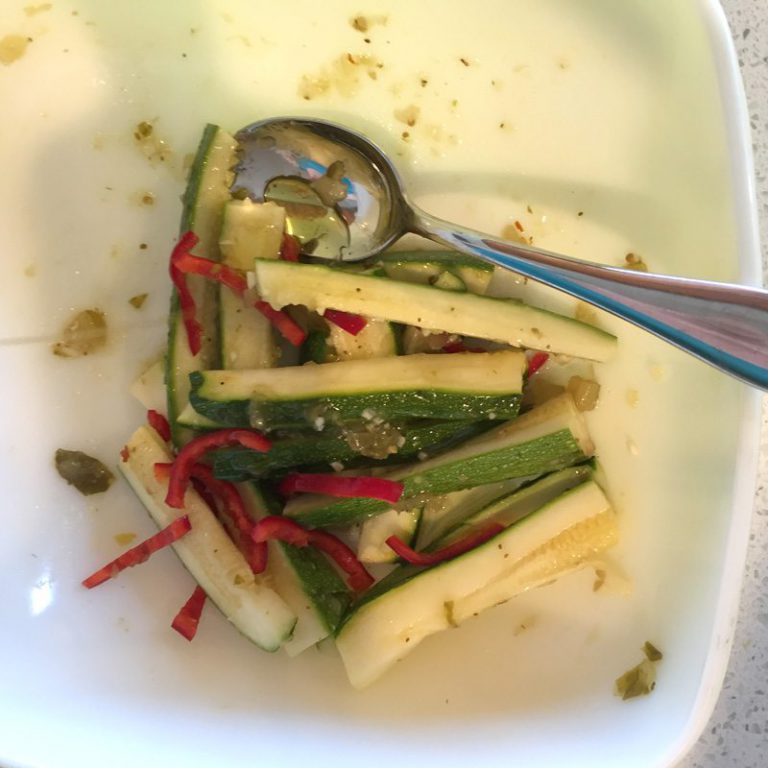 While the slaw marinated, we cooked the mushrooms in a medium-high pan with olive oil until softened. Then we added the remaining vinegar and garlic paste and cooked for another minute.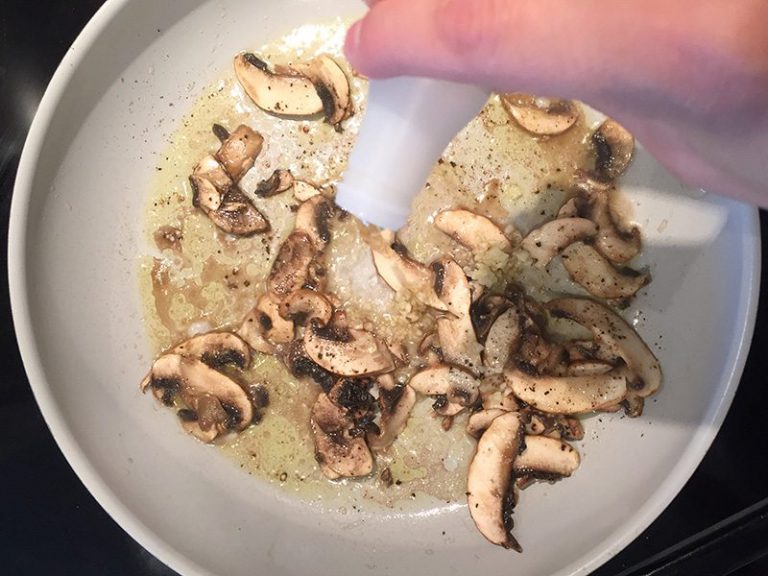 In a bowl, we mixed the ground beef with salt and pepper. We then formed ½ inch patties and cooked them in the same pan we made the mushrooms. After cooking 2-4 minutes per a side, we evenly placed the gouda cheese on the burgers and covered the pan until it was melted.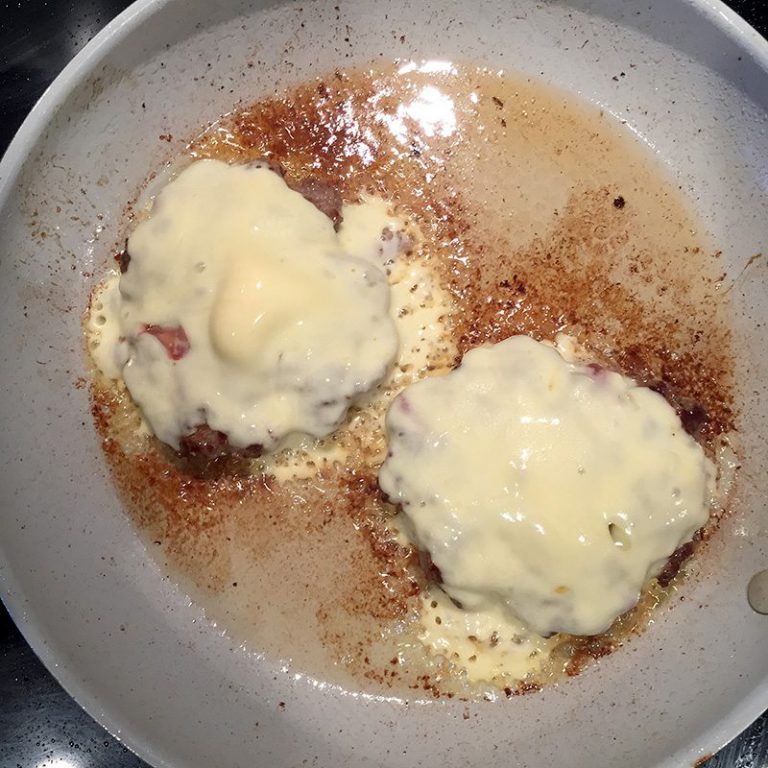 We toasted the potato buns in the pan of reserved fond then applied Dijon mustard to each toasted side. We dished our meal and topped the slaw with chopped parsley.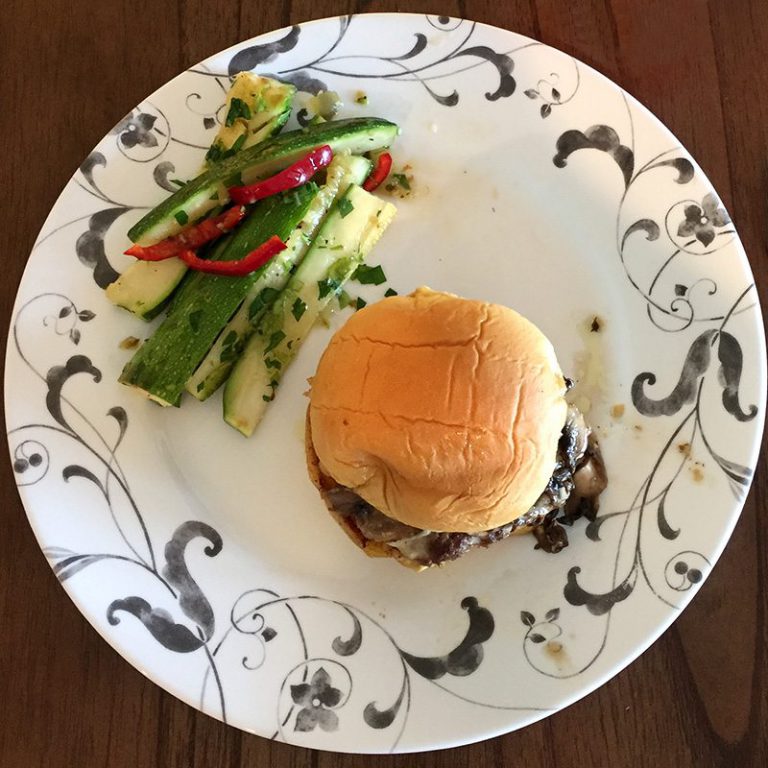 YUM!! These smoked gouda burgers were incredible! The combination of the gouda, mushrooms, and burger made our taste go ballistic. The summer squash was a nice touch as well.
Ribeye Steak & Spicy Vegetable Hash with Marinated Cucumber
Our final meal was the eye-catching Ribeye Steak and Spicy Vegetable Hash.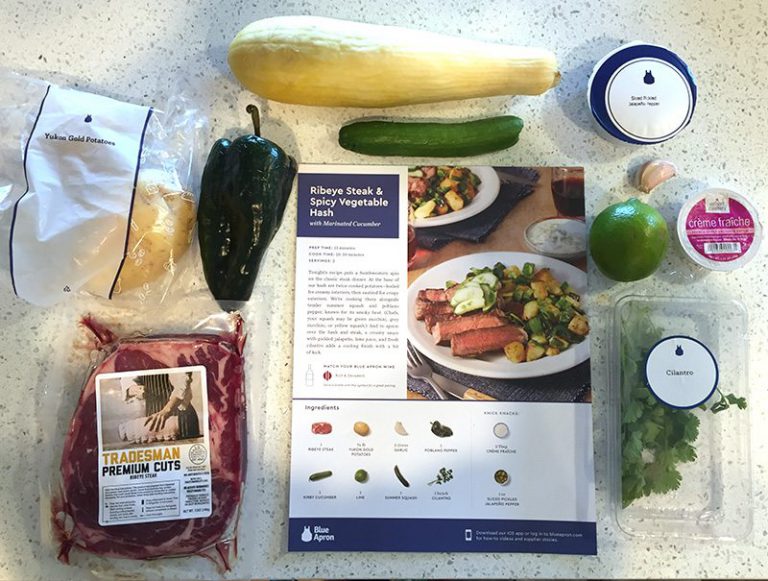 Again, we prepped our meal by dicing potatoes, squash, and quartering the lime. We also smashed the garlic to flatten it and chopped the cilantro leaves, poblano pepper, and jalapeno pepper. In our prepping stage marinated our cucumber with the juice of two limes, olive oil, and salt and pepper.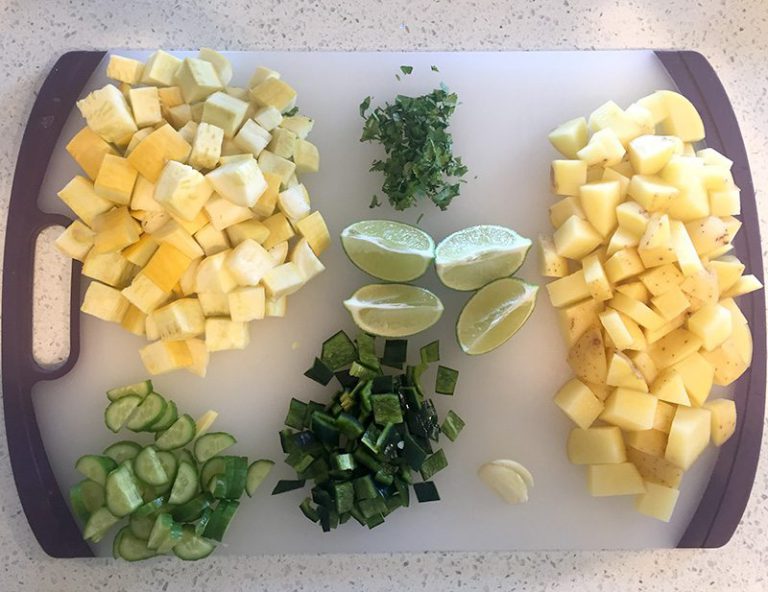 While the Cucumbers marinated we boiled potatoes and flattened garlic until tender.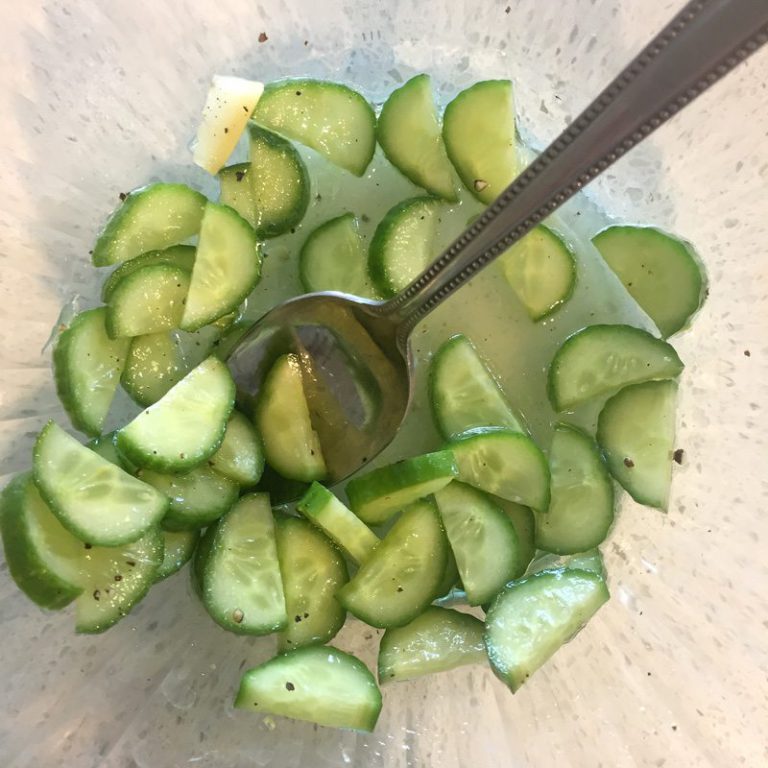 The steak was patted dry with a paper towel then seasoned with salt and pepper on both sides. In a large cast iron pan, we cooked the steak with olive oil for 5 minutes on each side, since we like our steak cooked medium. Once cooked to our liking, we set the steak aside to rest. We thinly sliced the steak against the grain crosswise to make little individual strips.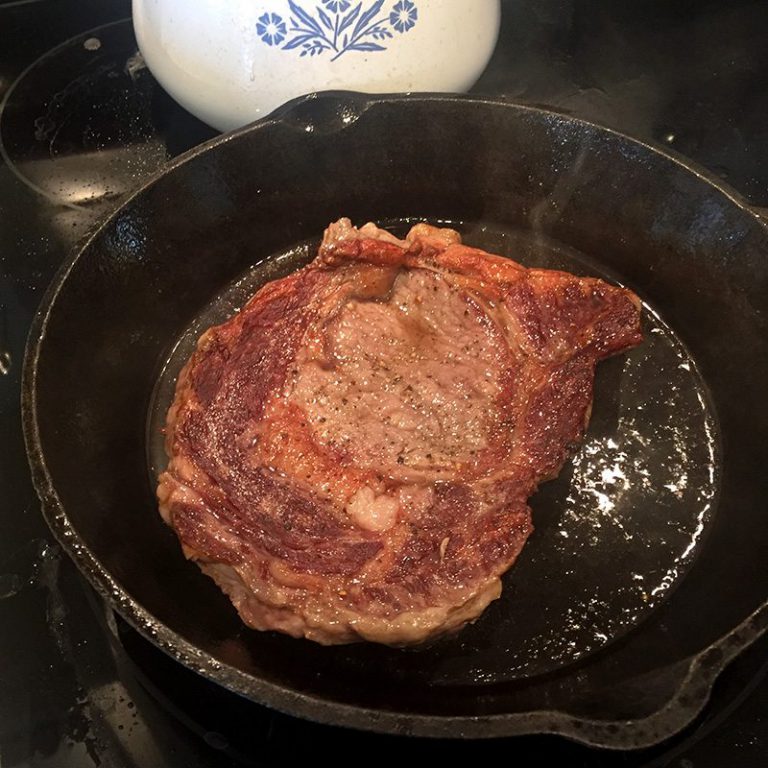 While the steak cooked, in a bowl we combined the crème Fraiche, half of our cilantro, the juice of the remaining limes. We also added a few jalapeno limes to give it a little kick and then drizzled with olive oil.
Lastly, while the steak rested, we drained the potatoes and placed them in a medium high pan until lightly browned. Once complete we added the squash and poblano pepper and continued to cook for another 3 to 4 minutes. We seasoned the hash with salt and pepper and it was time to eat.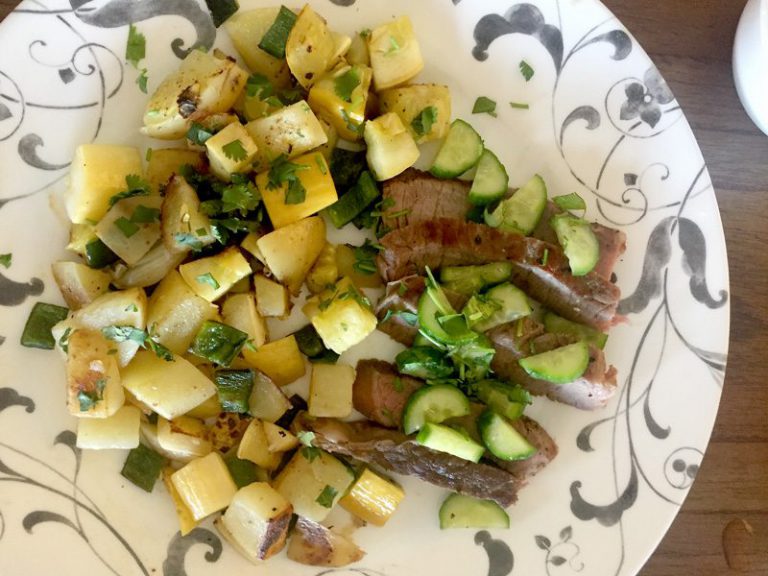 We loved this meal. The ribeye steak was mouth watering with all the spices and jalapeno pepper. The vegetable hash paired nicely with the steak and the cucumber was so fresh.
We sure enjoyed ALL our Blue Apron meals. The recipes were so detailed and it was easy making these gourmet meals. Blue Apron has mastered both cost efficiency and convenience.
Blue Apron Free Meals Coupon
Get 3 free meals in your first meal delivery box when you join using our Blue Apron coupon link! Click Here to get THREE FREE meals when you join Blue Apron today!