Cate & Chloe VIP box delivers 3 new popular jewelry pieces to your door for just $19.99/month. Available in 3 styles of jewelry subscription – Trend Setter, Modern Classic or Mix it Up – each box delivers 1-3 on-trend jewelry items to add to your jewelry collection. Monthly Cate & Chloe VIP box include bracelets, necklaces, earrings, rings, and other new jewelry trends from Cate & Chloe. With today's Cate & Chloe VIP Box review, we're unboxing the July 2017 Cate & Chloe VIP Box jewelry subscription box. The July Cate & Chloe VIP Box theme is Wander Lust.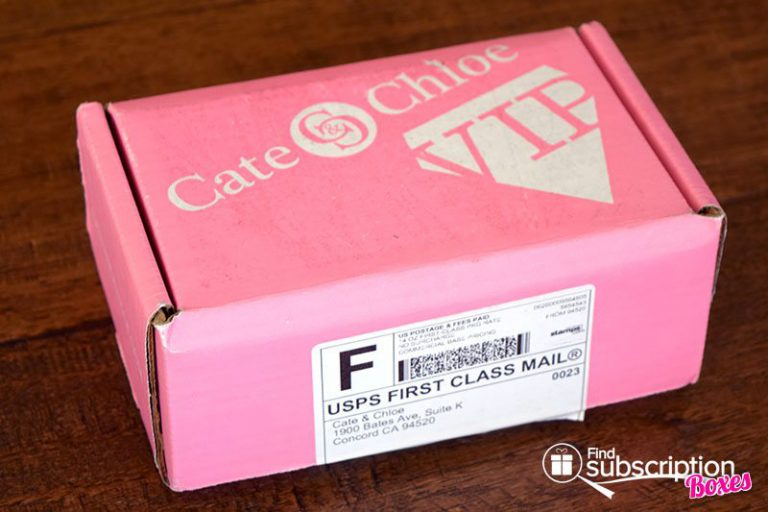 Each Cate & Chloe VIP box includes a product card describing that month's theme and jewelry items. Every VIP box also includes a bonus beauty or lifestyle Perk of the Month item.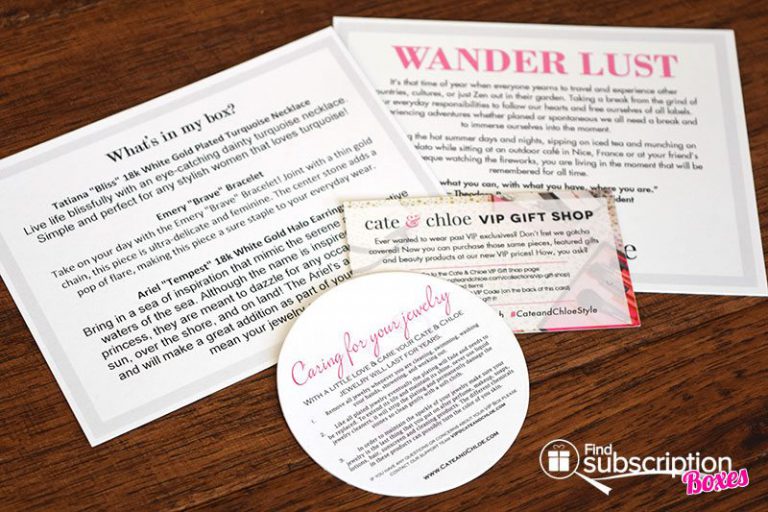 Here's a first look inside our July 2017 Cate & Chloe VIP Box.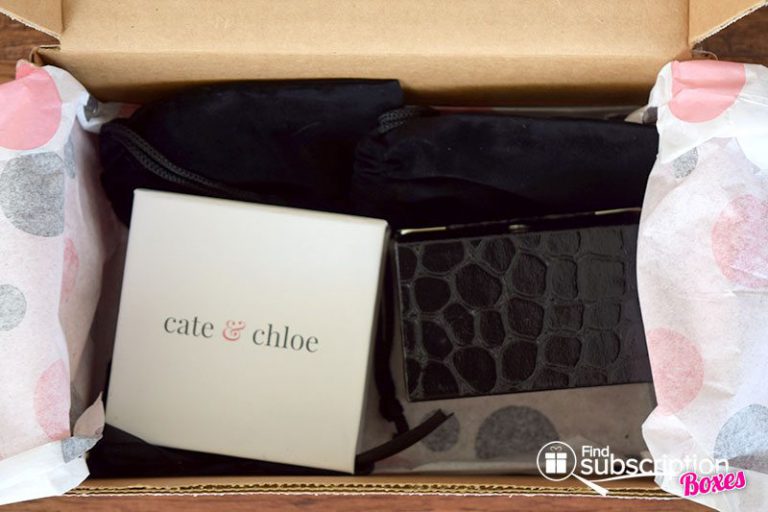 Inside the July 2017 Cate & Chloe VIP Box
There were 3 jewelry pieces and the VIP Perk in our July Cate & Chloe VIP Box monthly subscription box for jewelry.
Tatiana "Bliss" 18k White Gold plated Turquoise Necklace
Live life blissfully with an eye-catching dainty turquoise necklace.

Ariel "Tempest" 18k White Gold Halo Earrings
Although the name is inspired by the sea princess, these earrings are meant to dazzle for any occasion under the sun, over the shore, and on land!

Emery "Brave" Bracelet
Joint with a thin gold chain, this piece is ultra-delicate and feminine.
Perk of the Month: Cate & Chloe Folding Travel Jewelry Case – Now you can take your favorite C&C jewelry with you where ever you are going.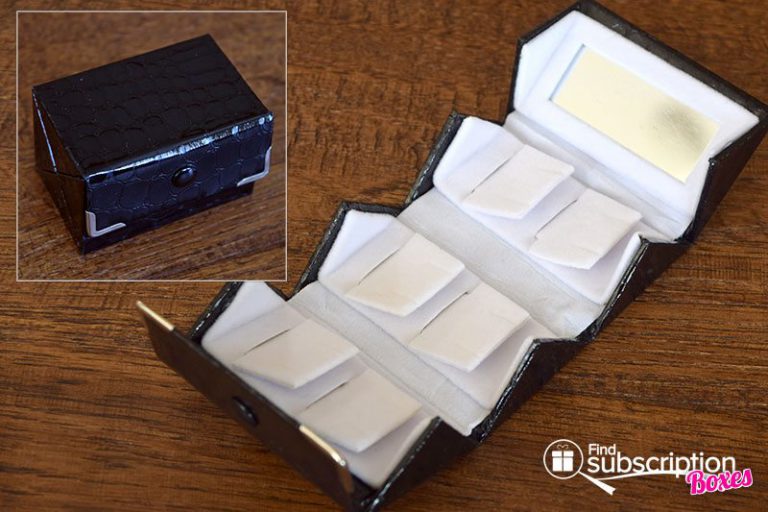 July 2017 Cate & Chloe VIP Box Review Wrap-Up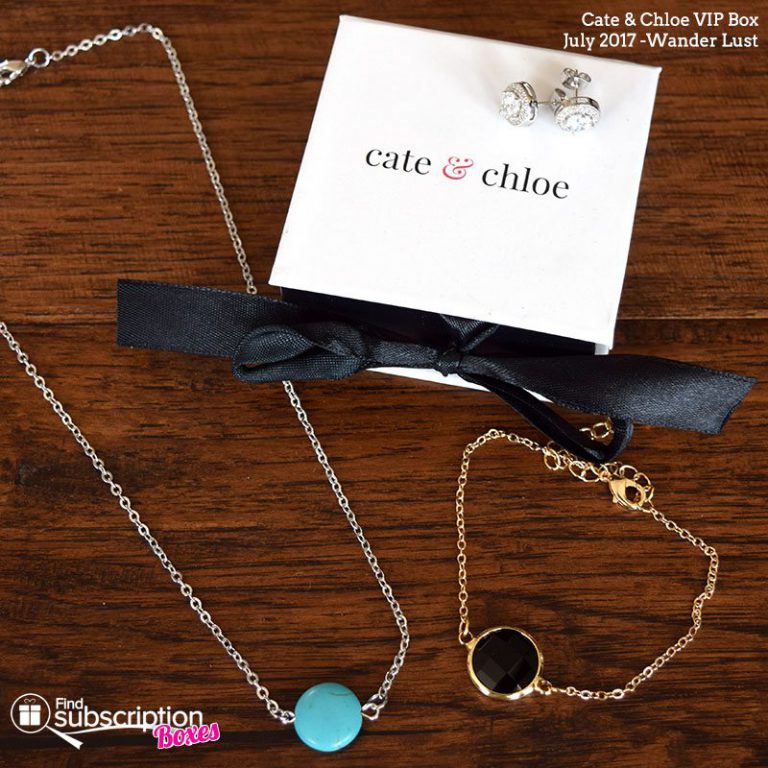 The July Modern Classic Cate & Chloe Wander Lust VIP Box truly delivered items that had classic designs with a modern flare. The simple Turquoise necklace adds a Bohemian flare to your outfit. The round Turquoise stone makes a statement, balanced out with the delicate 18k White Gold plated chain.
Also featuring a statement stone and thin chain is the Emery Bracelet. The cut of the stone gives a bit of an edge to your look, while the gold chain allow it to be worn with evening and day looks.
Finally, the Arial Halo Earrings in our Wander Lust Cate & Chloe VIP Box are absolutely stunning. The cut of the crystals make these earrings absolutely sparkle. There's a large stone in the center, surrounded by a "halo" of smaller stones. These earrings are so elegant!
The July VIP Perk is Cate & Chloe's new Folding Travel Jewelry case. We love the unique folding design – it's very origami-like. It folds compactly into a small rectangle and opens to reveal a mirror and multiple spaces to organize your jewelry on the go.
What did you receive in your July Cate & Chloe VIP box?
July 2017 Cate & Chloe VIP Box Coupon
We're excited to share an exclusive Cate & Chloe VIP Box promo code for FSB readers! Use exclusive code FSBWANDERVIP to get 35% OFF all one month Cate & Chloe VIP Box subscriptions (The Starter Package, Double the Fun, Full VIP Status.)