UrthBox is a monthly subscription box that delivers full size, healthy and delicious snacks right to your door. With four snack type options: Classic, Gluten free, Vegan and Diet, and four box size options, you're guaranteed to receive the perfect snack food box for your snacking preference. UrthBox snack boxes ship on the 15th of every month and the shipping is free to boot! For this review, we are unboxing the July 2017 UrthBox Classic box. Every box includes a few extra treats to enjoy and don't be deceived by the box size.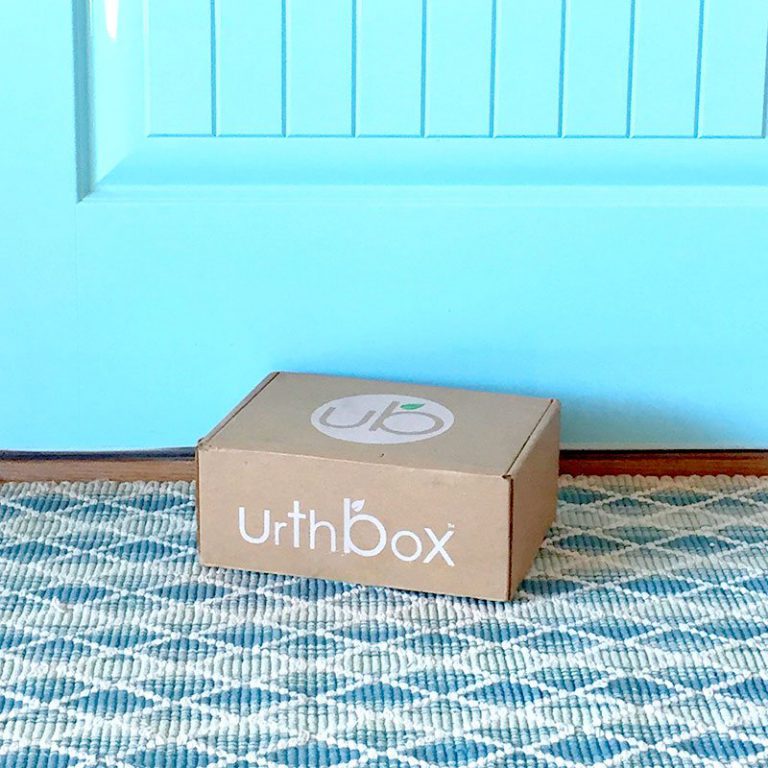 Inside the July 2017 UrthBox Classic Box
There were so many goodies packed inside the July 2017 UrthBox Classic small box!
HUNGRY Buddha coconut chips
I'm going to start with one of my favorites the HUNGRY Buddha Coconut Chips. These all-natural coconut chips were delightfully crunchy! With only four simple ingredients, these are a wise choice for a sweet snack. They are gluten free and non-GMO. I loved the heavenly honey flavor. These were hard to put down.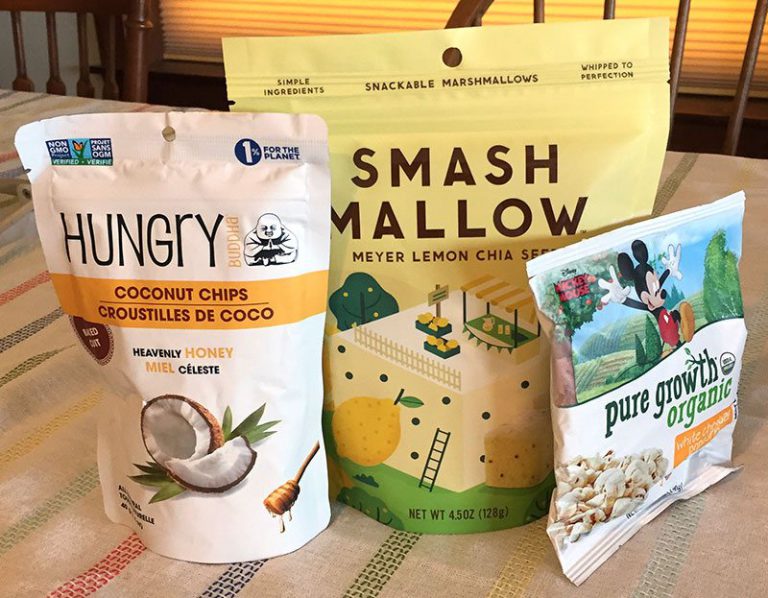 Smash Mallow
I've never been a fan of marshmallows but these were a "Smashing" surprise! I loved the crunchiness if the chia seeds and the Meyer lemon flavor had a delicious citrus zing. With around 80 calories per serving, these are a great choice to satisfy your sweet tooth. These would make the most amazing s'more paired with a lemon cookie!
Pure Growth Organic White Cheddar Popcorn
This yummy white cheddar popcorn was the perfect summer time snack. Pure growth popcorn doesn't contain artificial flavors, artificial colors, and has 0g of trans fat. This Organic, gluten free, and kosher treat is popped in the USA. My two-year-old kept asking for more!
WANU Kiwi-Cucumber Nutrient Infused Water
This Kiwi-Cucumber infused water was so hydrating and refreshing on a hot summer day. This drink is packed with antioxidants, vitamins, and is a good source of fiber. Wanu is sugar-free, sweetened with stevia, BPA free, non-GMO, vegan and gluten free. The kiwi cucumber flavor was a delicious combination! This a perfectly healthy drink to wet your whistle.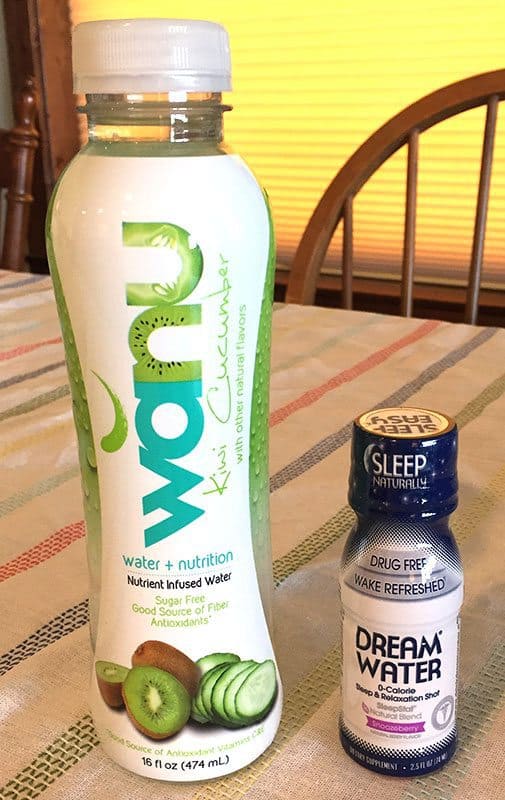 Dream Water
Dream Water is a drug-free sleep and relaxation aid. The snoozeberry natural flavor had a pleasant taste. I tend to have a hard time shutting down after a long day and this helped me unwind and relax. I woke up so refreshed! This is a great natural help for the occasional sleeplessness.
Mary Macleod's Shortbread
These shortbread cookies were truly, unforgettably delicious. I have always loved shortbread cookies, and these were the best I have ever tried! Mary Macleod, growing up in Scotland learned the traditional recipe of shortbread from her mother and grandmother. She later started her own business in Canada adapting her traditional recipe with Canadian flours and butter. I'd say it was quite a success! Every bite was a delight!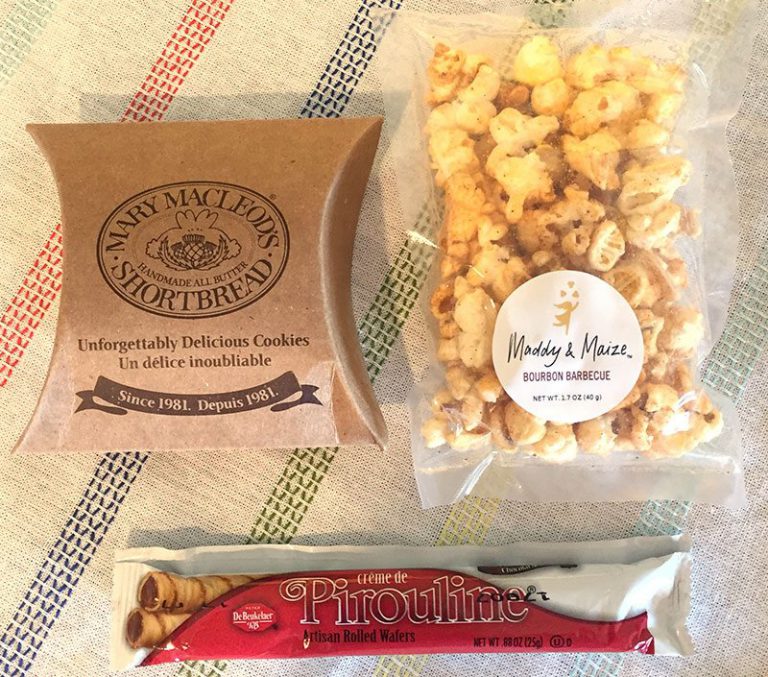 Pirouline Artisan Rolled Wafers
These rolled wafers must be delicious! My husband devoured them before I had a chance to try them. He normally doesn't care for dark chocolate but these were obviously an exception! His words, "The wafers were crunchy and the chocolate was smooth and fudgy." He loved them.
Maddy and Maize Bourbon Barbeque Popcorn
Oh my, what a tasty treat! This popcorn was incredibly savory. The perfect combination of salty and sweet. Between me and my two-year-old, the generous portion was gone in minutes! It was a hit!
Whole Cuts Sea Salt and Vinegar Fries
These fry chips made my taste "spuds" go crazy! They look just like a French fry but crunch like a potato chip. These are made with 100% natural-cut potatoes, they have no preservatives, no artificial flavors and are a great gluten free option. Every bite was so flavorful with sea salt and vinegar. I enjoyed the uniqueness of this yummy snack.
SPORTea
Talk about a pick me up! This tea is filled with nutrition and energy. With Siberian Eleuthero Root, vitamins and minerals, premium grade teas and herbs, ginger and electrolytes, this tea gives energy and relieves stress. I tried this on a day when I was dragging my feet and it sure gave me a boost! I can see why professionals drink it. It didn't give the crash that coffee can do. SPORTea is an ideal choice for someone looking for energy and health benefits.
Nut Butter Nation
Say goodbye to plain old peanut butter! This Brown Sugar Cinnamon peanut butter was delish! Nut Butter Nation is gluten free, all natural, soy free and has six grams of protein. I enjoyed it on a piece of toast. This would be a perfect go-to for breakfast or an afternoon snack.
Surf Sweets Organic Fruity Bears
These little gummies were scrumptious! Surf Sweets are vegan, gluten free, soy free, dairy and casein free, made without corn syrup or artificial colors or flavors. For those with severe nut allergies, these are made in a nut free facility and are free of 8 common allergies. These organic fruity bears come in 6 flavors: Cherry, grapefruit, grape, lemon, orange, and strawberry.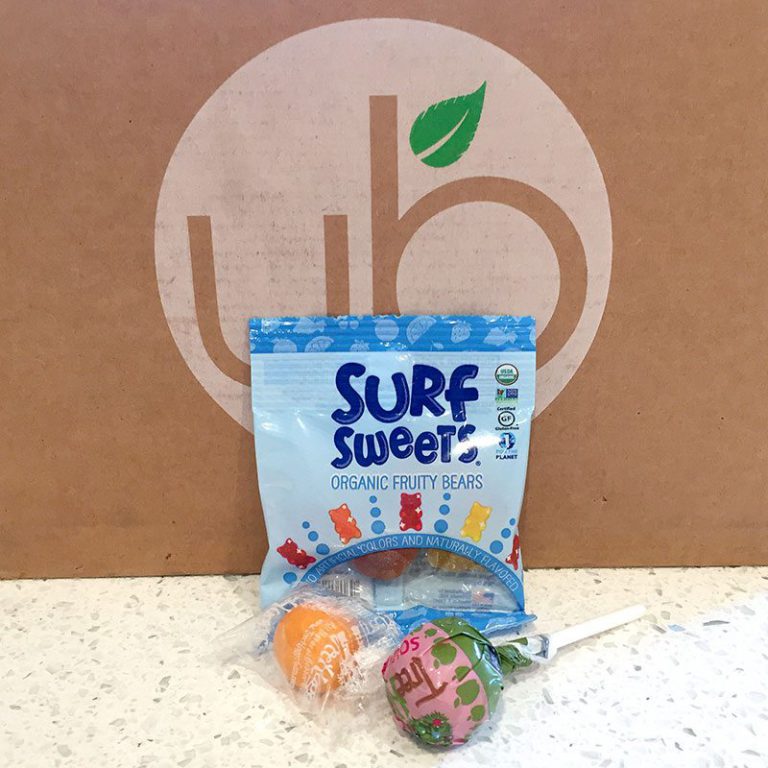 Tree Hugger Sour Apple Bubble Gum Filled Pops
When you need a sweet treat fix, Tree Hugger sour apple bubble gum filled pops get the job done without guilt. The yummy sour apple flavor has natural colors and flavors, non-GMO and wholesome ingredients.
Tree Hugger Bubble Gum
Another tasty treat from Tree Hugger was the bubble gum. Get in touch with your inner child with this fruity flavored bubble gum!
UrthBox was a holiday of indulgence in delectable sweet and savory snacks. What was your favorite July 2017 UrthBox Classic snack?
UrthBox Coupon Code
For a limited time, click here and use code 10BUCKSOFF at checkout to save $10 off your 1st UrthBox!