Whether you're a long-time or a first-time yogi, a monthly yoga box can help you discover new, positive and uplifting products. Yogi Surprise subscription boxes deliver 6-8 full-size yoga lifestyle products to help you relax and renew. With today's Yogi Surprise review, we're unboxing the June 2017 Yogi Surprise subscription box. The June Yogi Surprise theme was Summer Solstice.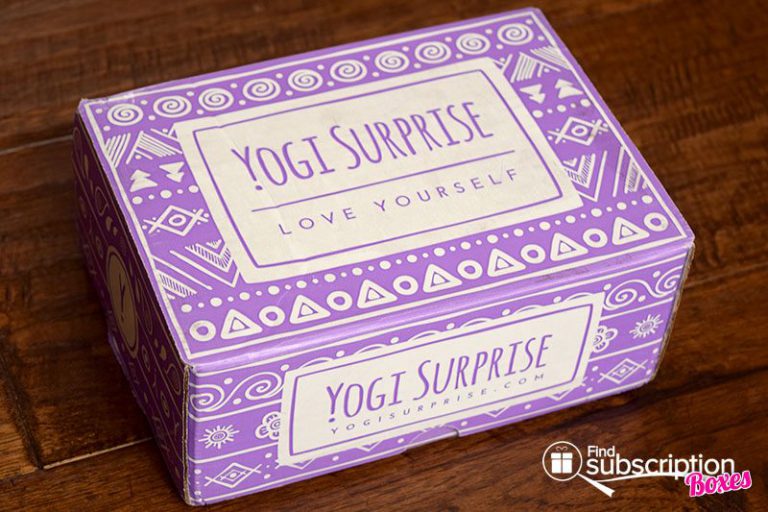 Yogi Surprise includes a product card that shares that month's inspiration, as well as provides descriptions for each of that month's yoga lifestyle products. June's box also had a card with a Summer Solstice yoga variation of the classic Surya Namaskar, Sun Salutation. Yogi Surprise also gave us a sneak peek into the July Yogi Surprise box!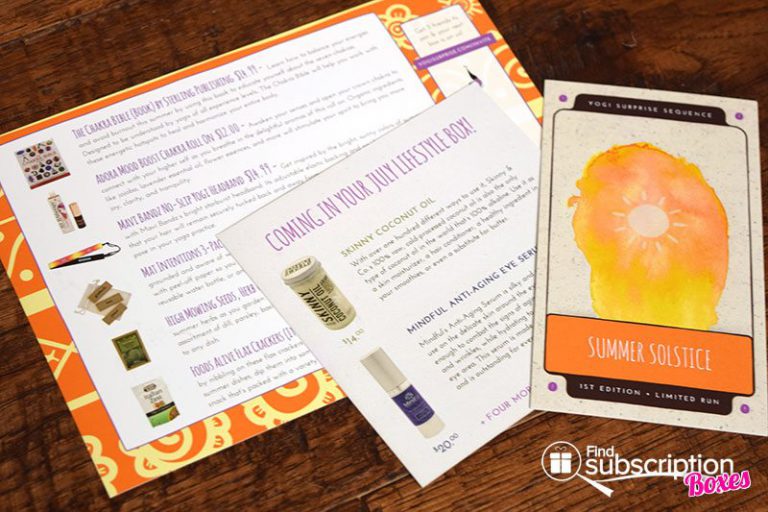 Here's a first look inside our June Yogi Surprise Summer Solstice box.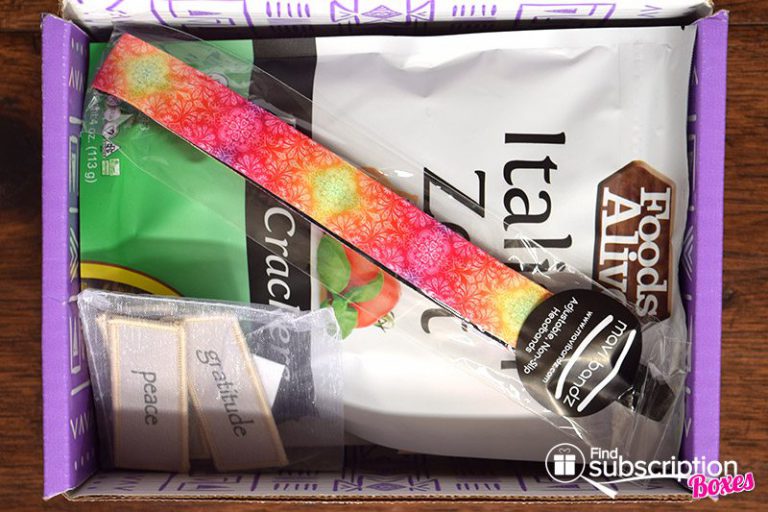 Inside the June 2017 Yogi Surprise Summer Solstice Box
There were 6 yoga lifestyle products in our June Yogi Surprise Summer Solstice box.

Mavi Bandz No-Slip Yogi Headband, Retail: $14.99
Get inspire by the bright, sunny colors of summer with Mavi Bandz's bright starburst headband.
Foods Alive Flax Crackers (Italian Zest), Retail: $7
Replenish your energy and nourish your body by nibbling on these flax crackers flavored with a delicious blend of Italian herbs.
The Chakra Bible (Book) by Sterling Publishing, Retail: $14.99
Learn how to balance your energies and avoid burnout this summer by using this book to educate yourself about the seven chakras.
Adora Mood Boost Chakra Roll On, Retail: $12
Awaken your senses and open your crown chakra to connect with your higher self as you breathe in the delightful aromas of this roll on.
High Mowing Seeds, Herb Gift Box, Retail: $15
Take in the fresh and invigorating scents of popular summer herbs as you garden or cook with High Mowing Seeds' organic seed collection.
Mat Intentions 3-Pack, Retail: $10.50
These motivational affirmation tags will keep you spiritually grounded and aware of what truly matters.
June 2017 Yogi Surprise Review Wrap-Up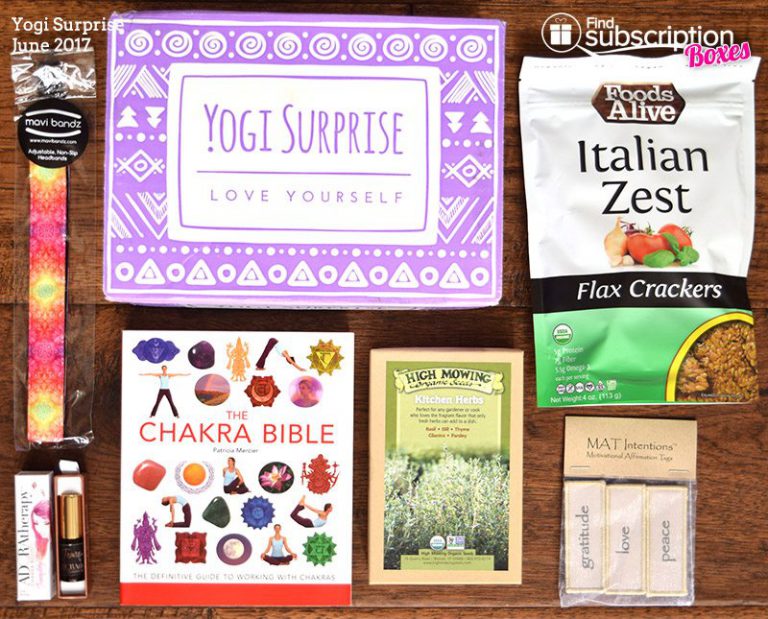 This was our first Yogi Surprise box and we were so impressed by both the quality and variety of products.  We really like that you don't have to be a serious yoga-practitioner to enjoy the yogi lifestyle products in the box. First up, The Chakra Bible (Book) is a useful resource for both beginner and advanced yogis. The book breaks down each of the seven chakras, including the energy focus, yogi moves to help balance each chakra, and more. The Tranquility Chakra Boost by ADORAtherapy is made of  100% pure, organic and wildcrafted Essential Oil Blends and is designed to help balance your 7th chraka.
June's Yogi Surprise yoga box had two products perfect for our next yoga session. When you're stretching and moving, having hair fly into your face can be a bit distracting. The no-slip yogi headband by Mavin Bandz is a miracle headband that actually keeps your hair off your face as you move.
For your mat, Yogi Surprise included motivating Mat Intention tags. These positive and affirming tags can easily adhere to your yoga mat, mirror, or anywhere else you want a reminder.
To give you a quick power boost, Yogi Surprise included delicious Italian Zest Flax Crackers by Foods Alive. If you haven't tried flax seed yet, it has a light, almost nutty flavor to it. Not only do these crackers deliver in zesty flavor, but they're also high in fiber and packed with vitamins. Side note: The flax seeds in these crackers are still alive, so you can PLANT THE CRACKERS and grow your own flax plants!
Often, eating healthy means cooking your own food. You can amp up your dishes with the fresh herbs grown from the High Mowing Seeds Herb Gift Box. This non-GMO seed pack includes seeds for basil, dill, thyme, cilantro, and parsley.
What was your favorite June Summer Solstice Yogi Surprise item?
Yogi Surprise Promo Code
Join Yogi Surprise today and save 15% off your Yogi Surprise subscription for life when you click this link and use Yogi Surprise coupon code YOGILOVE.