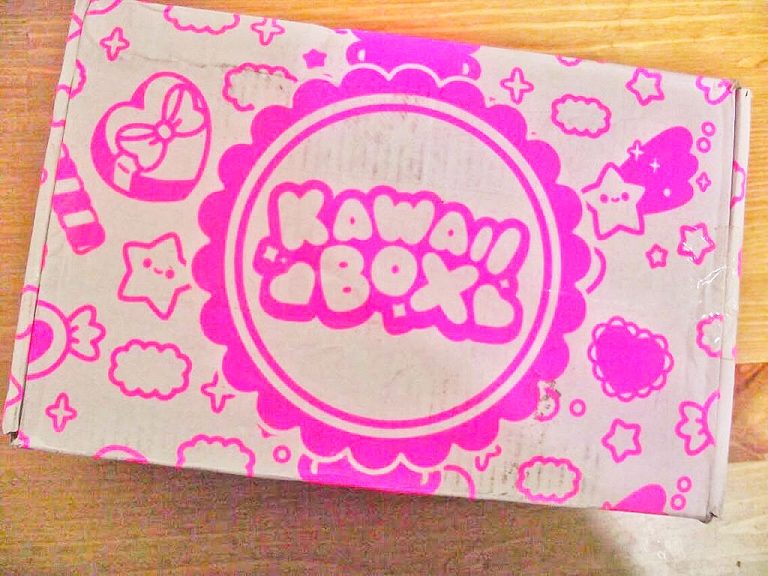 The Kawaii Box is the box for those of you who love all things cute. Kawaii means cute and that is the epitome of this box. Each box has 8-10 awesome items in it! For a month subscription the cost is $19.90, but there are longer subscriptions of 6 and 12 months for lower prices. Today I will be reviewing the August Kawaii Box.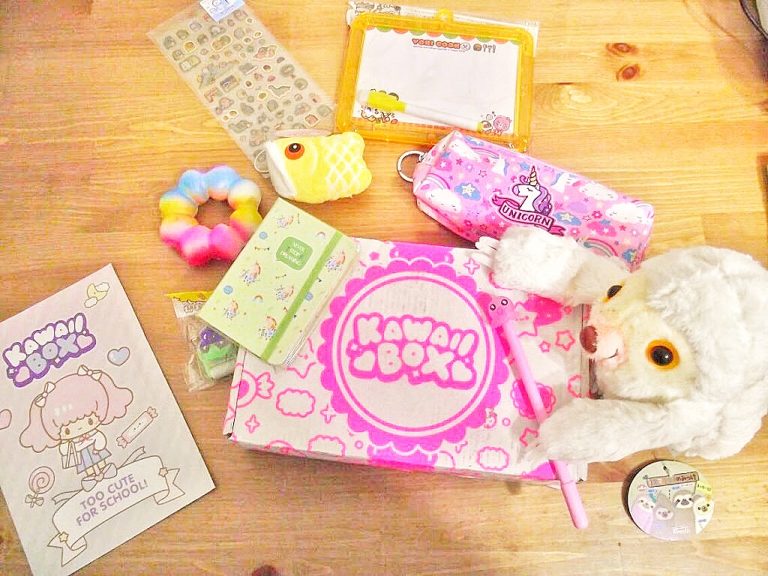 As you can see my box came with nine cute items in it. The box itself came a bit dinged up, but most of the misshapenness was from it being stuffed with the items inside. There was a piece of tissue paper around all the items together but that was the only packing material in it. It took awhile for it to arrive but it does come from overseas and has to go through customs.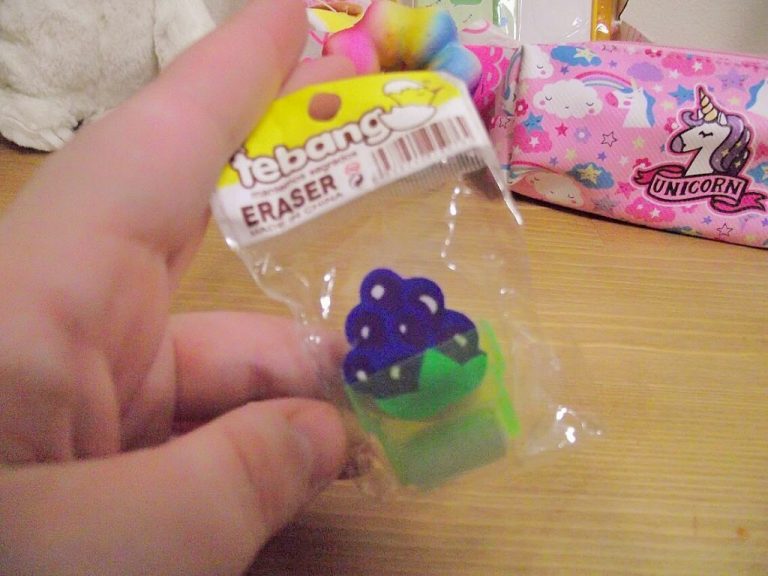 The first item that came in my box was this rolling eraser. It is shaped like grapes which is definitely a cute concept. I was unsure about the quality of the eraser as I have found novelty erasers to be pretty bad honestly. It surprised me though as it erases really well. This is a perfect eraser for a kiddo who is going back to school.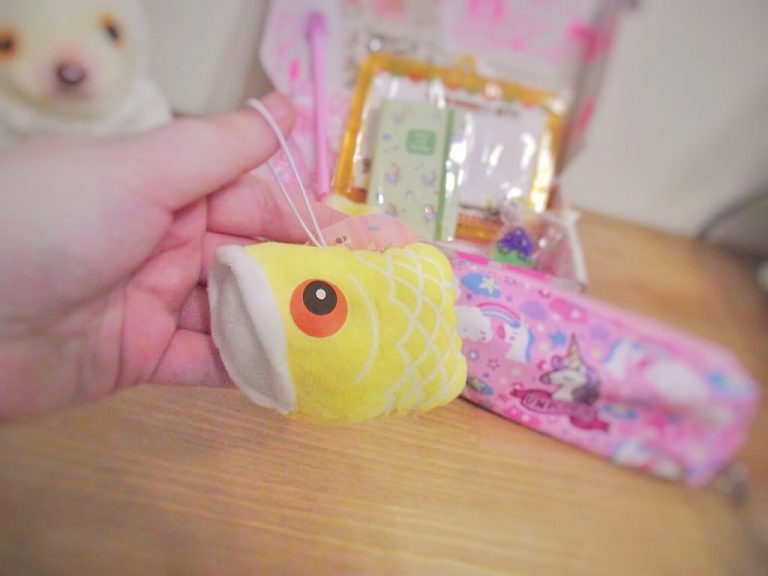 This little item is an open mouth fish stuffy. There is a loop on it so it could work for attaching to a backpack or hanging form your car mirror if that is the type of thing you are into. It is about the size of the palm of my  hand so it is a decent size item. It is a vibrant yellow color which adds to the overall look of it.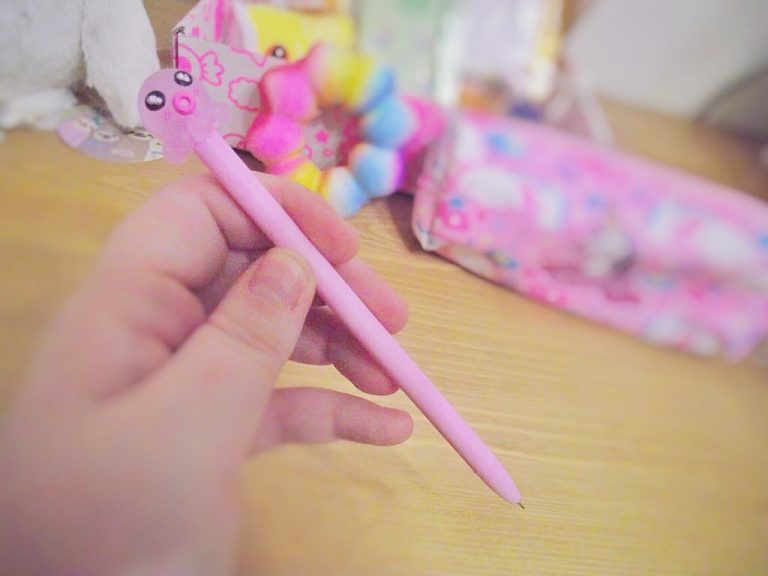 Next I pulled out this pen. It is topped with a little jellyfish style animal making on open mouthed face. It also came with a cap which can prevent ink from getting everywhere. This item definitely is more of a novelty item and doesn't write perfectly but it does still write at least. It is really a cute pen to add to your school pencil bag.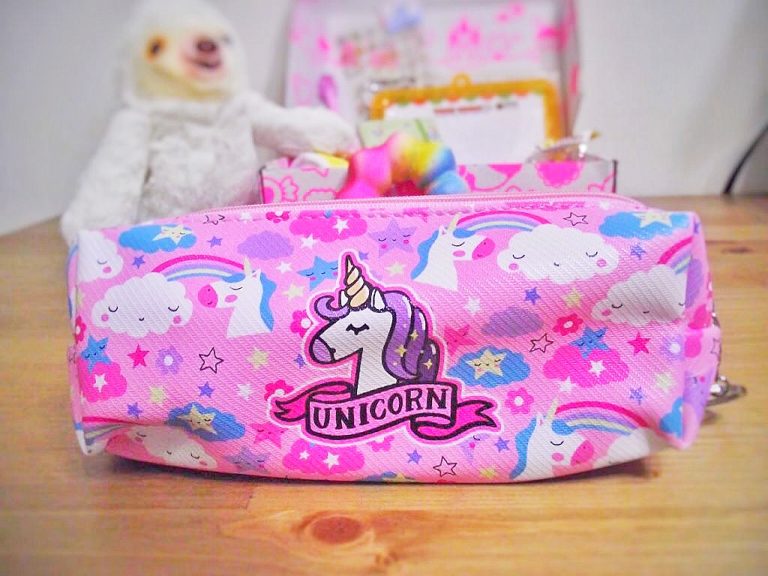 Speaking of your pencil bag, no backpack is complete without it. This unicorn pencil case is made from cloth and is a bright pink. It matches other items in the box. There also is a keychain holder attached to the zipper so you can use it in bag or on your backpack. It seems pretty sturdy and spacious.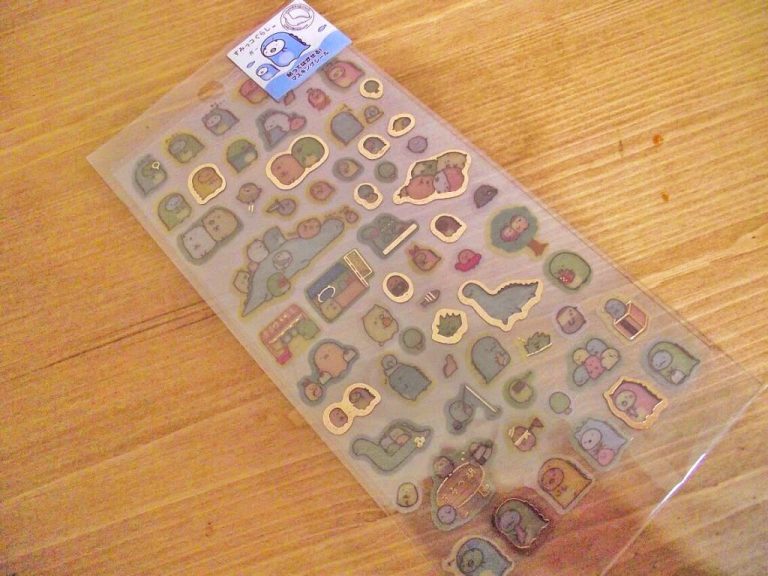 What cute package is complete without stickers? Whether you are a little girl who wants to decorate her binders or just a regular adult who happens to love stickers, these will stick out to you. There are a variety of cute stickers like dinosaurs and kittens that definitely fit the theme of this box. Each sticker is small to fit more stickers on the sheet.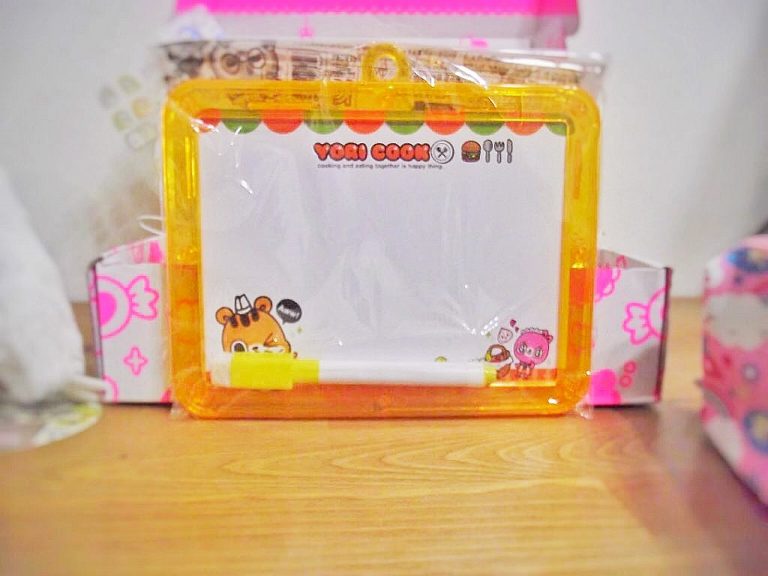 The box also came with its own white board. It's pretty small, maybe 5″ by 7″ but its still helpful. It also comes with a marker and built in eraser. It has a cute print on it themed around food and cooking. I never got to use one of these in school unless it was a special day so this would have been fun to have and doodle with. The nice thing about its smaller size, is that it will fit easily into any size backpack. it is perfect for all ages.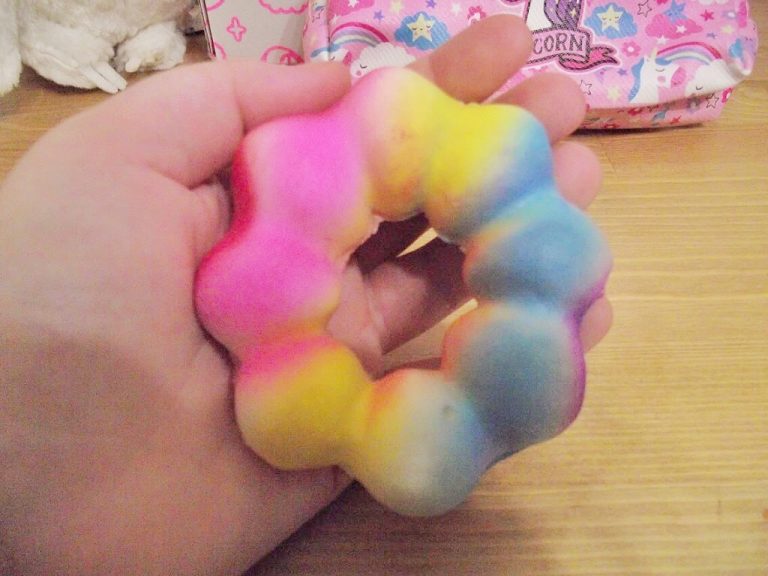 This was my wife's favorite item. It is a squishy that reminds me  of a colorful donut. It is perfect for when you need to fiddle around with something for stress or to help you focus. Generally it is just cute and fun to play with. It is some type of foam material like memory foam so it will conform to your hand but spring right back to normal after you have had fun with it. The colors on this item are vibrant and playful as well.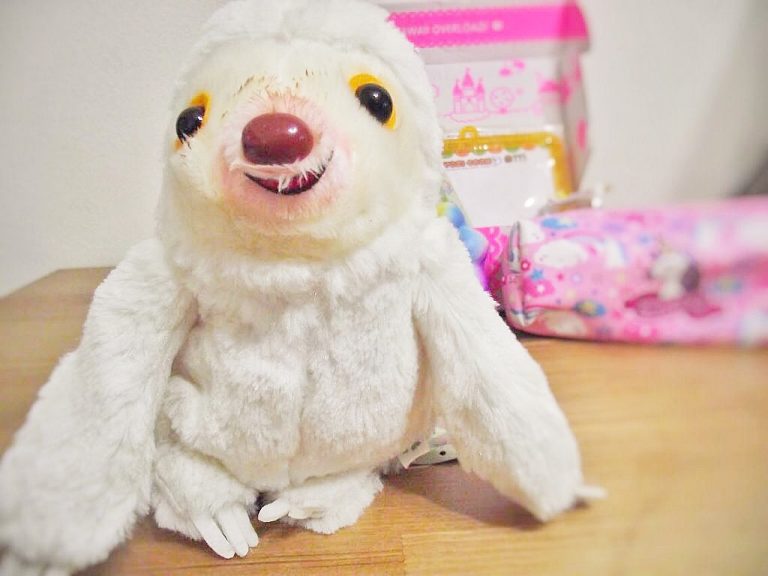 This item my daughter scooped up. She didn't even want me to take it away for the picture. It is a sloth stuffed animal! This is what made the packaging bulge because its actually quite large. The sloth is about the size of the whiteboard from earlier. It has super soft fur and is extremely huggable. I don't know that it fits the school theme but it definitely fits the cute theme. I don't know if my daughter will give it up again now that she has it.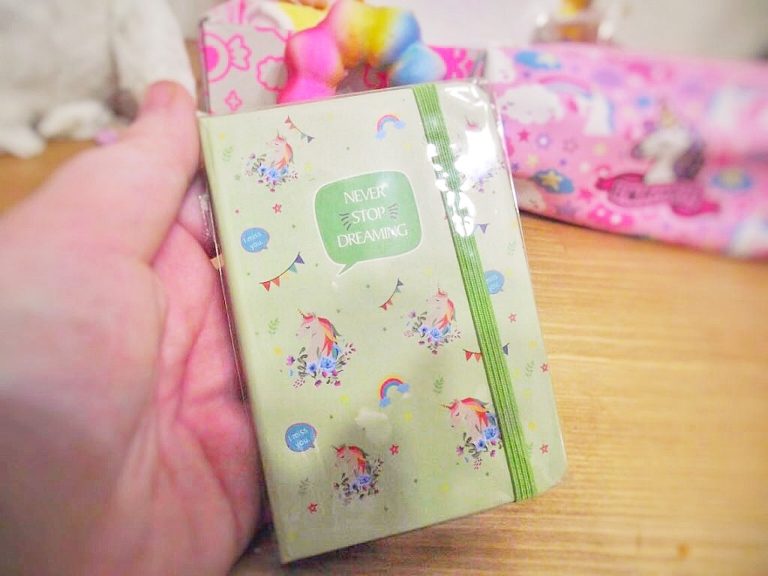 The last item I pulled out was this small notebook. It is green and has unicorns and rainbows . There is a nice rubber band that  can keep it closed when it isn't in use. It is about the size of my palm so you will have to write small if you want to use this. It is perfect for doodling on the go however.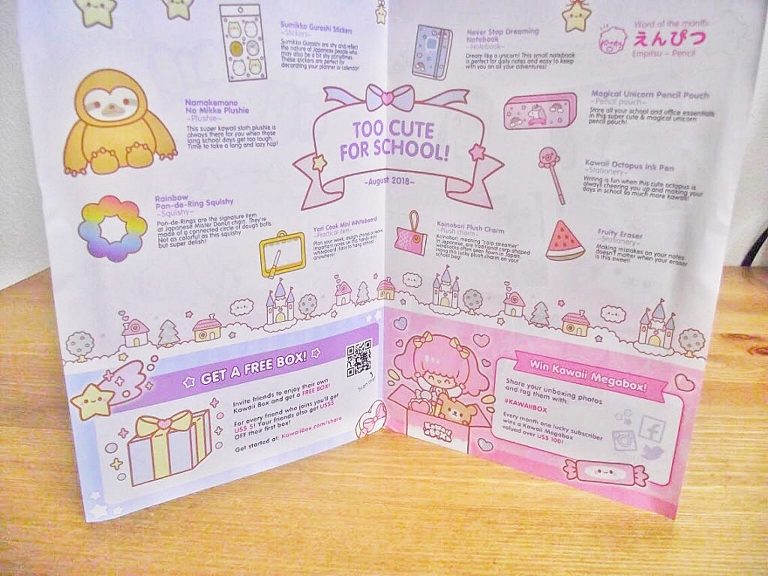 All in all this box is so cute. It is perfect for any little girls in your life or anyone who just happens to enjoy the cuter things.  If this seems like something you would want in your life or someone whom you love check it out here!