Lipstick Junkie is a lip lovers paradise. For only $18.00 a month you get three full size lip products. They also work hard to match their products with the seasons to make your lips look their best year round. This review will focus on the August box I received.
So true to form I received my three full size products but I also found an amazing bonus item! They have a cute card that shows which month and explains each product a bit better. The box also came in a bubble mailer to keep it extra safe. Inside there was a purple paper packing material that kept the individual products safe. I really think the packaging in general was adorable. The package also shipped really fast so, thus far it's all perks. This month they seemed to aim for a box that fits the end of summer feeling.
The Products
I was  intrigued by the inclusion of this Sorme Metallic Lip & Eyeliner. The color choice is Palladium which reminds me of a pretty silver. I have never heard of a liner that could be used for both lip and eyes so it's an awesome concept. It is waterproof formula and is gel based. The pigmentation is amazing. When I sampled it to check it wouldn't come off with a wipe so it really is long lasting! One of the great features about this liner is that it is both Paraben and cruelty free!
Kiss Me Honey Exfoliating Lip Polish also made an appearance in my box. Let me start by saying it came in a cute little pink drawstring bag which added to the overall "yes" factor. The flavor of this exfoliator is Strawberry. It is a mix of cane sugar, honey, beeswax, coconut oil and shea butter which makes it a great natural product. Included is a cute stirrer to make sure you are getting a good mix. From what I have seen normally lip exfoliators have come as sticks so this is a new for for me. It really does work and it makes your lips feel smooth and refreshes. The best part for me is if something happens and you get a little in your mouth it tastes nice and sweet and you aren't dealing with chemicals!
This gloss wraps up the three items tat came with the box for the subscription. It is from SheBelieves Cosmetics by Jas B. The color I received was rose gold which is nice because most of my color choices on glosses are more toned down. It is great because its glossy but not overly sticky so I can still kiss my husband without worry of it really transferring. The applicator is brush which I prefer to other applicators on glosses. It really is true to the color you see as well which means no worrying about random shades. I really like this gloss and I am happy to add it to my collection.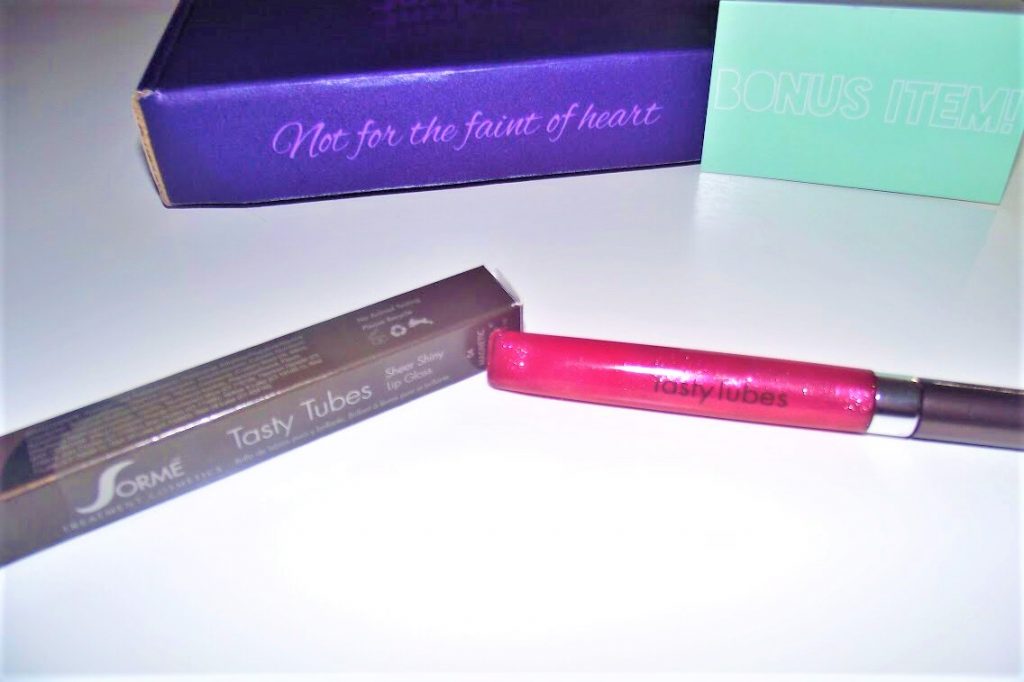 My box had a bonus item in it that I was surprised to see! I was treated with another Sorme product. It is another gloss but this one is much more sheer. the color choice is Magnetic which is a light shimmery pink. I would say it isn't really true to color but it does add a nice shimmer to my lips. This gloss has a squeeze applicator which means you will be touching the tube directly to your mouth so be careful sharing. I am really happy with this gloss though!
You can see above the colors of the products in order of review (liner, SheBelieves gloss, Sorme gloss). They are all really gorgeous and each in their own right amazing products. I also see how they are thinking in terms of end of summer products. There is a slight question of why it is called Lipstick Junkie when there was no lipstick, however. I also really wish the liner had coordinated better with the colors of the other products in the box. It seems kind of random and I don't have any lip colors that will work with it. Really though I am still in love with the box and would love to see what else they can come up with in future boxes! If you are interested in receiving this box monthly click here for a 50% off coupon!