Loot Crate DX is a premium monthly subscription box delivering geek collectibles for geeks and pop culture fans.  Each month, Loot Crate DX boxes feature "next level loot" including $100+ worth of pop culture collectibles, lifestyle gear, premium apparel, and more exclusive items. With today's Loot Crate DX review we're unboxing the Loot Crate DX December 2016 crate. The December Loot Crate DX theme was REVOLUTION.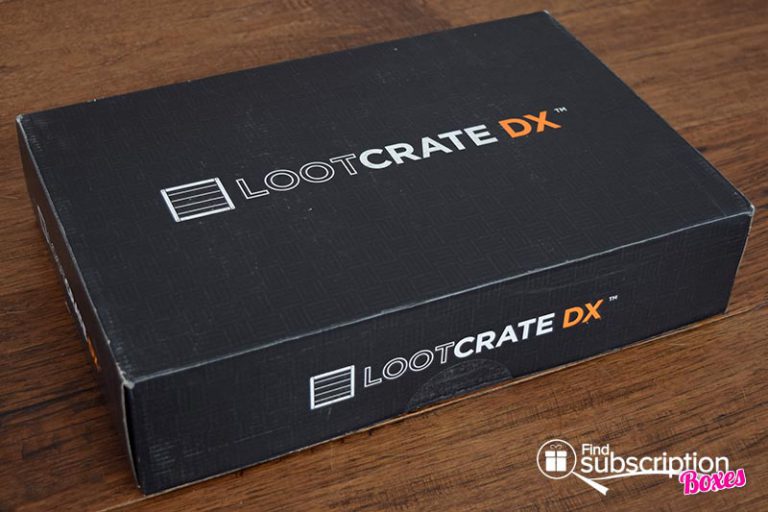 Loot Crate DX includes a colorful brochure with pictures and descriptions for each of the premium geek collectibles in that month's box.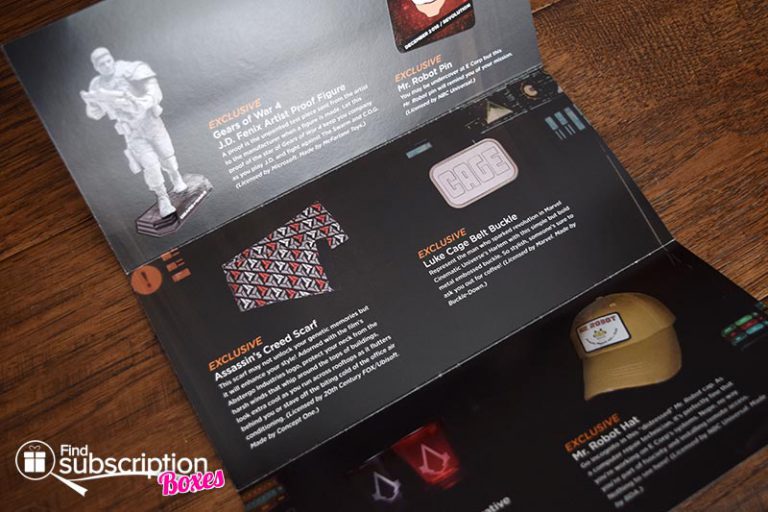 Here's a first look inside our December 2016 Loot Crate DX Revolution crate.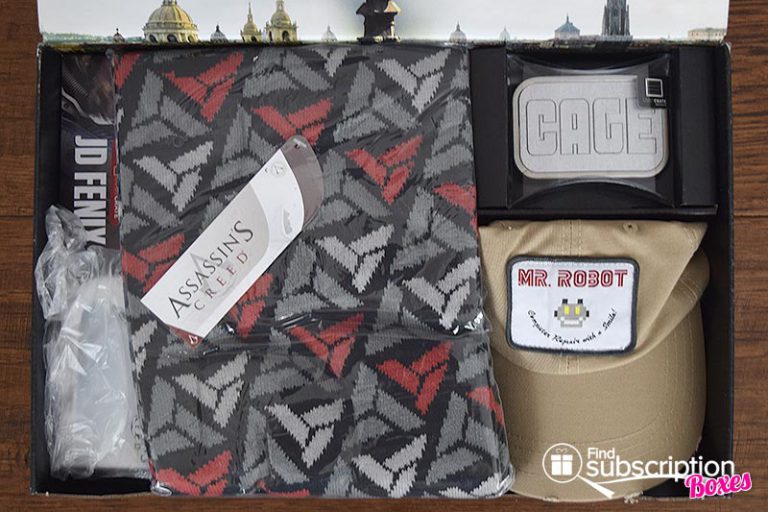 Inside the Loot Crate DX December 2016 Revolution Crate
There were 5 premium collectibles in the December Revolution Loot Crate DX subscription box.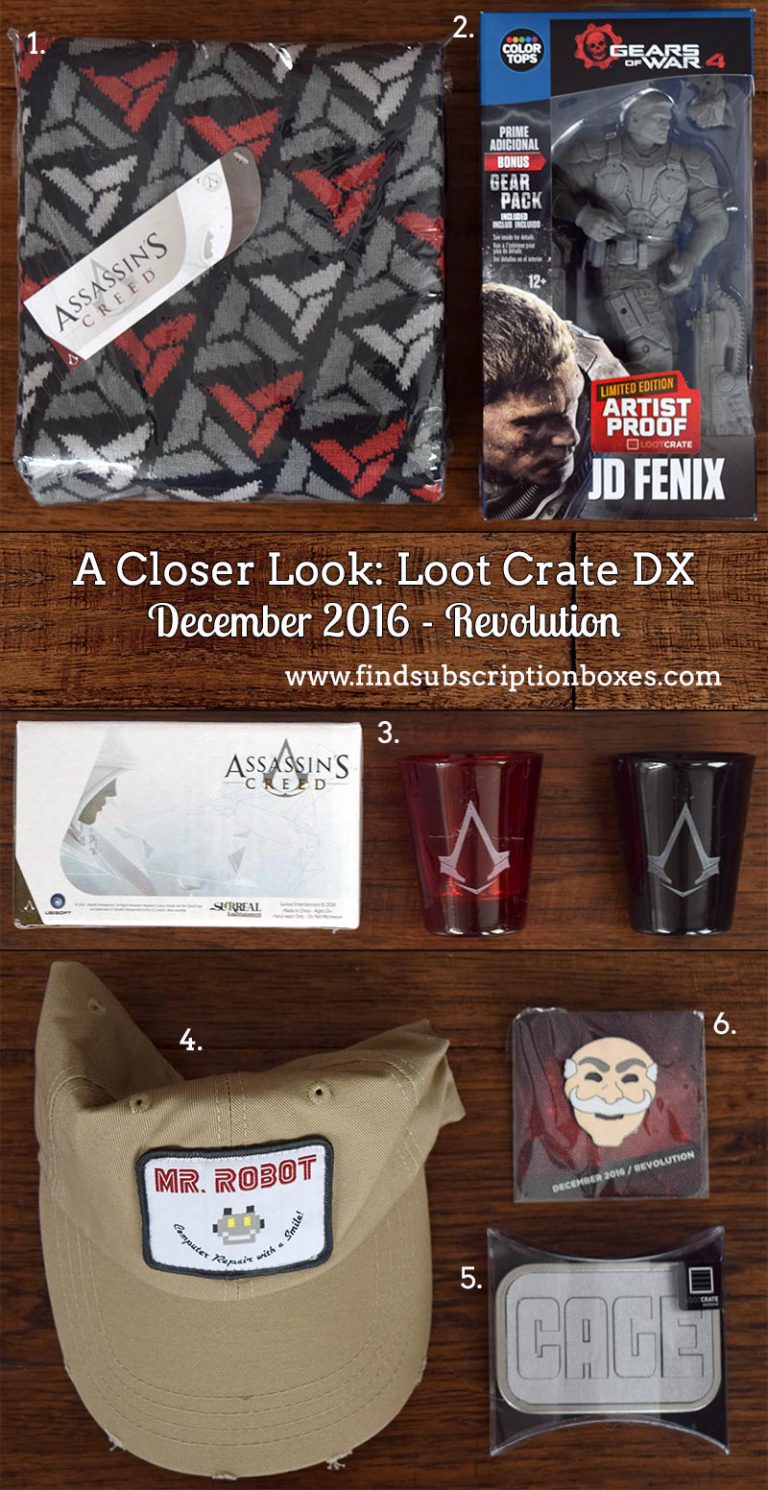 EXCLUSIVE Assassin's Creed Scarf
Enhance your style and protect your neck from the cold with this Assassin's Creed Scarf adorned with the Abstergo Industries logo.
EXCLUSIVE Gears of War 4 J.D. Fenix Artist Proof Figure
Fight against The Swarm and C.O.G. with this exclusive proof of J.D, the star of Gears of War 4.
EXCLUSIVE Assassin's Creed Commemorative Mini Drinkware Set
Stamped with the AC logo, toast to your latest successful mission with these colorful mini-glasses.
EXCLUSIVE Mr. Robot Hat
Go undercover at E Corp as a computer repair technician with this "distressed" Mr. Robot hat.
EXCLUSIVE Luke Cage Belt Buckle
This simple but bold metal embossed buckle helps you represent who sparked the revolution in Marvel's Harlem.
EXCLUSIVE Loot Crate DX Pin
December's Loot Crate DX pin is inspired by Mr. Robot.
Loot Crate DX December 2016 Box Review Wrap-Up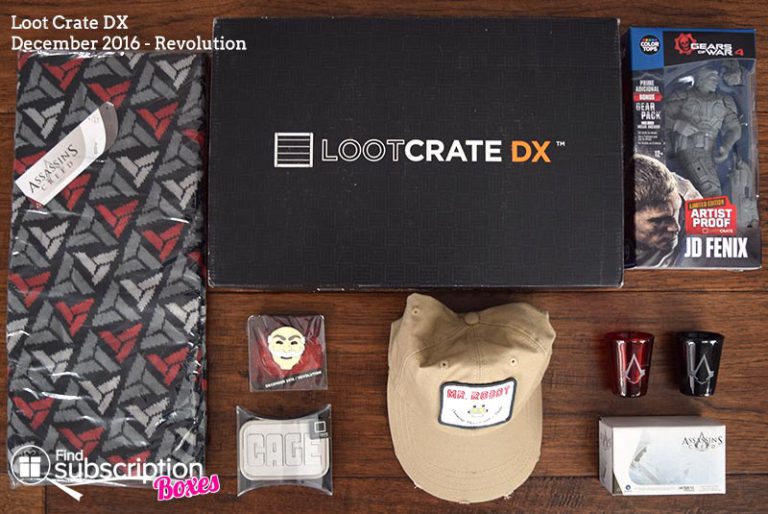 We're ready to fight and make the world a better place with the epic loot in December's Revolution Loot Crate DX box. The Assassin's Creed movie hit theaters last month and Loot Crate included to Assassin's Creed collectibles for AC fans. First is the geek chic Assassin's Creed Scarf that has the Abstergo Industries logo in white, red and gray. It's a great way to help stay warm this winter. Another way to stay warm is to have a shot of your favorite drink using the Assassin's Creed shot glass/mini drinkware set. One is gray and the other is red.
Luke Cage fans will love the simple and heavy-duty Luke Cage Belt Buckle. It easily attaches to your belt and has CAGE written across the front.
In Mr. Robot, Elliot Alderson is recruited to join a group of "hacktivists" that want to attack E Corp and erase all debt. The Mr. Robot hat has a distressed/worn look and says "Computer Repairs with a Smile" to help keep your cover as a computer tech.
Finally, the Gears of War 4 Proof Figure is a serious addition to figure collections. It features J.D. Fenix, armed and ready for battle.
What was your favorite geek collectible from the December Revolution Loot Crate DX crate?
Loot Crate DX Coupon Code
Use Loot Crate DX coupon code SAVE3 for $3 off any new Loot Crate DX subscription. Join today!