Loot Crate DX is a premium geek subscription box for geeks and pop culture fans.  Each month, Loot Crate DX boxes feature "next level loot" including $100+ worth of pop culture collectibles, lifestyle gear, premium apparel, and more exclusive collectibles. With today's Loot Crate DX review we're unboxing the Loot Crate DX October 2016 crate. The October Loot Crate DX theme was HORROR.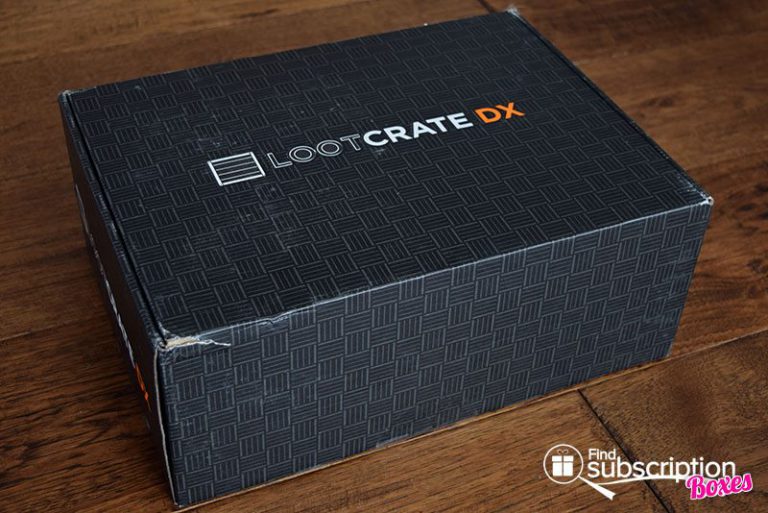 Loot Crate DX includes a brochure with pictures and descriptions for each of the premium geek collectibles in that month's box.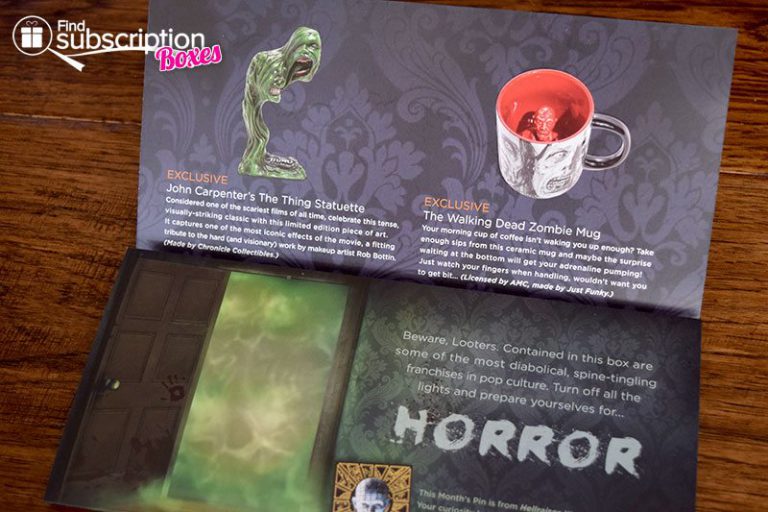 Here's a first look inside our October 2016 Loot Crate DX Horror crate.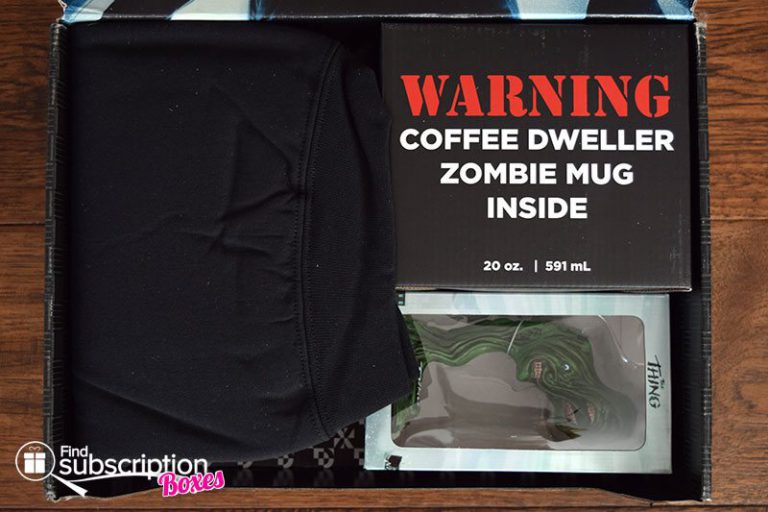 Inside the Loot Crate DX October 2016 Horror Crate
There were 5 premium collectibles in the October Horror Loot Crate DX subscription box.

EXCLUSIVE John Carpenter's The Thing Statuette
This limited edition geek art piece celebrates one of the scariest movies of all time.
EXCLUSIVE The Walking Dead Zombie Mug
Give yourself a zombie surprise as you sip on your morning cup of coffee with this exclusive zombie mug.
EXCLUSIVE Evil Dead II Variant Art Print
Decorate your wall with this exclusive variant print from the Sam Raimi classic.
EXCLUSIVE Scream Fleece Sweater
Stay warm during chilly weather with this crewneck sweater featuring Ghostface in the style of The Scream.
EXCLUSIVE Ash vs. The Evil Dead Chainsaw Replica Power Bank
Keep your phone or other USB-powered devices running with this 3000mAh power bank. It's an officially licensed replica of Ash's signature chainsaw.
EXCLUSIVE Loot Crate DX Pin
This month's Loot Crate DX pin is designed after Hellraiser III: Hell on Earth.
BONUS: Delirium Magazine – Enjoy this full issue featuring an exclusive Loot Crate article.
Loot Crate DX October 2016 Box Review Wrap-Up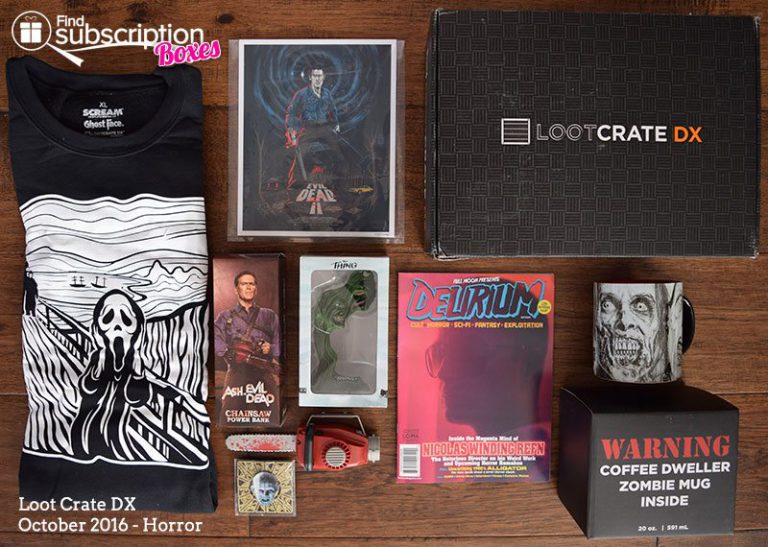 The October Speed Loot Crate DX box delivered exclusive, collectibles from some of the spookiest, most spine-tingling franchises. Last month's wearable is a thick sweat shirt/sweater that's great for giving others a fright while staying warm. It's design is a mashup of The Scream painting by Edvard Munch and Ghostface, from Wes Craven's Scream.
There were two horror-themed geek decor items in the box. The Thing Statuette stands 4″ tall and depicts the parasitic lifeform as it assumes a new form. For Bruce Campbell fans, you can showcase your fandom with this exclusive art print that shows Ash Williams "armed" with his chainsaw. The Chainsaw Power Bank is an official replica of the chainsaw that Ash uses to replace the possessed right hand that he cut off (using a chainsaw) after it tried to kill him.
Finally, there's the gruesome zombie mug from The Walking Dead. The design has zombies around the outside and a zombie figure on the inside. It's the perfect coffee mug for zombie fans.
What was your favorite geek collectible from the October Horror Loot Crate DX crate?
Loot Crate DX Coupon Code
Use Loot Crate DX coupon code SAVE3 for $3 off any new Loot Crate DX subscription. Join today!