Loot Crate DX is a premium geek subscription box for geeks and pop culture fans.  Each month, Loot Crate DX boxes feature "next level loot" including $100+ worth of pop culture collectibles, lifestyle gear, premium apparel, and more exclusive collectibles. With today's Loot Crate DX review we're unboxing the Loot Crate DX September 2016 crate. The September Loot Crate DX theme was Speed.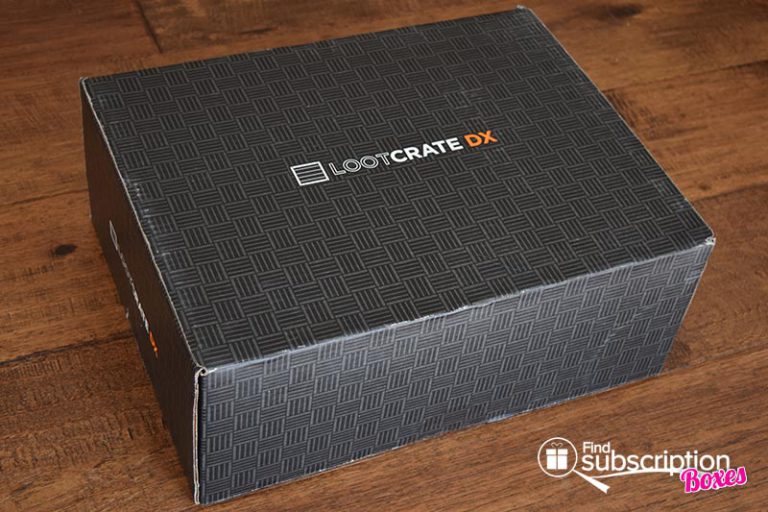 Loot Crate DX includes a nice brochure that has pictures and descriptions for each of the collectibles in that month's box.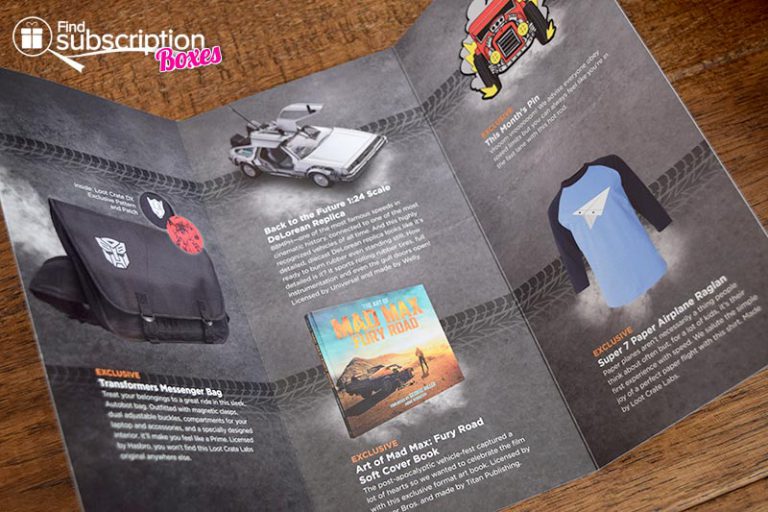 Here's a first look inside our September 2016 Loot Crate DX Speed crate.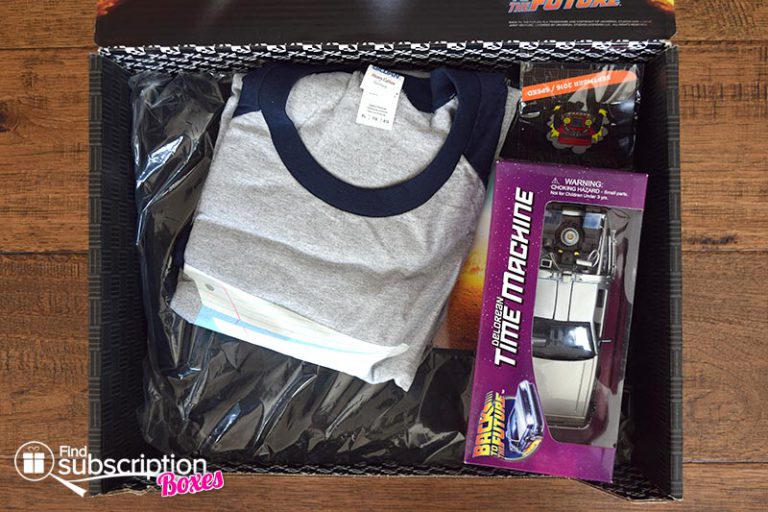 Inside the Loot Crate DX September 2016 Speed Crate
There were 5 premium collectibles in the September Speed Loot Crate DX subscription box.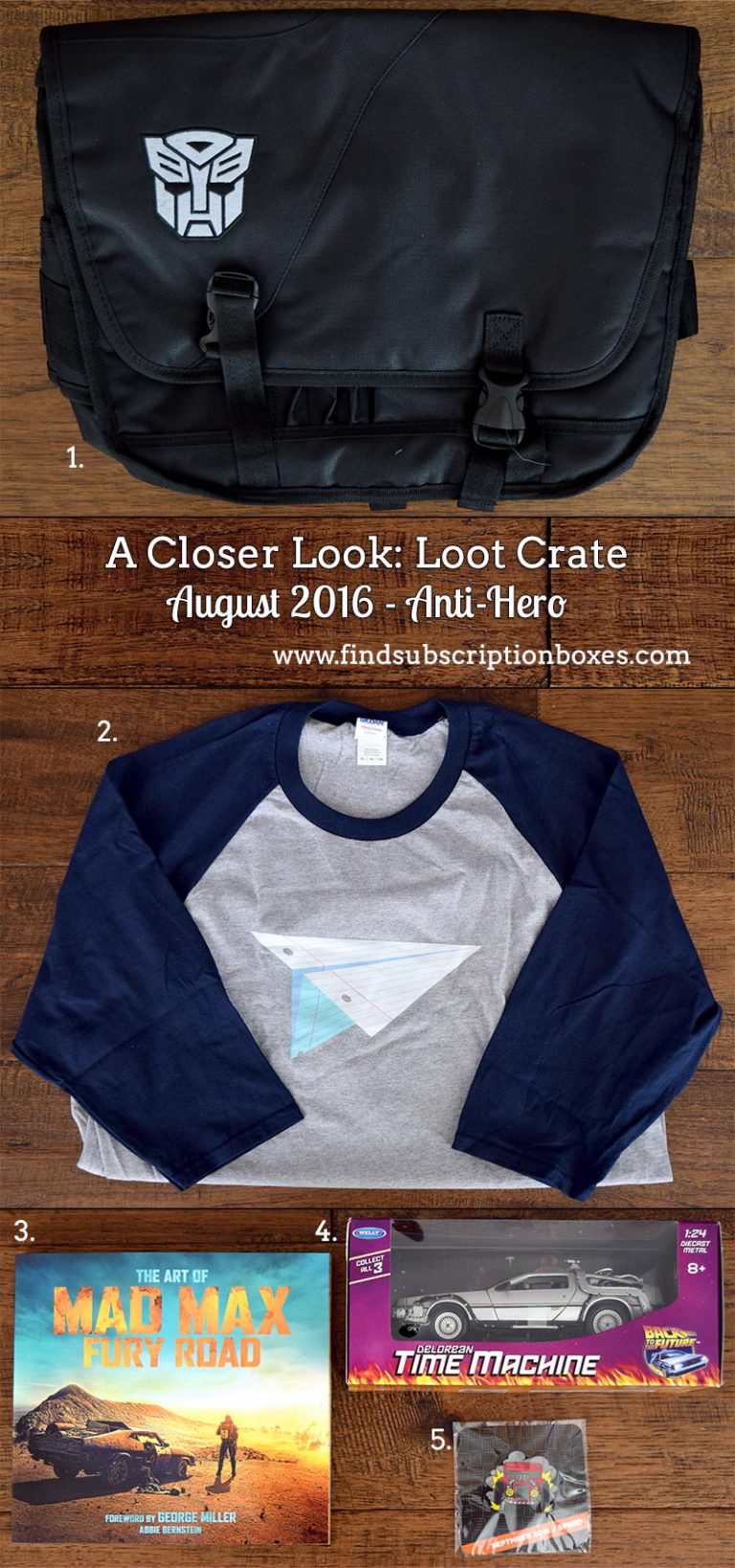 EXCLUSIVE Transformers Messenger Bag
TGive your laptop and papers a great ride in this exclusive Autobot bag with an exclusive Loot Crate DX Pattern and patch.
EXCLUSIVE Super 7 Paper Airplane Raglan
Salute the joy of a perfect paper airplane flight with this exclusive t-shirt.
EXCLUSIVE Art of Mad Max: Fury Road Soft Cover Book
This exclusive format art book celebrates the post-apocaplytic vehicle-fest featured in the film.
Back to the Future 1:24 Scale DeLorean Replica
Honor one of the most famous speeds in history – 88MPH – with this detailed dicast DeLorean replica.
EXCLUSIVE Loot Crate DX Pin
Feel like you're in the fast lane with this hot rod inspired Loot Crate DX pin.
Loot Crate DX September 2016 Box Review Wrap-Up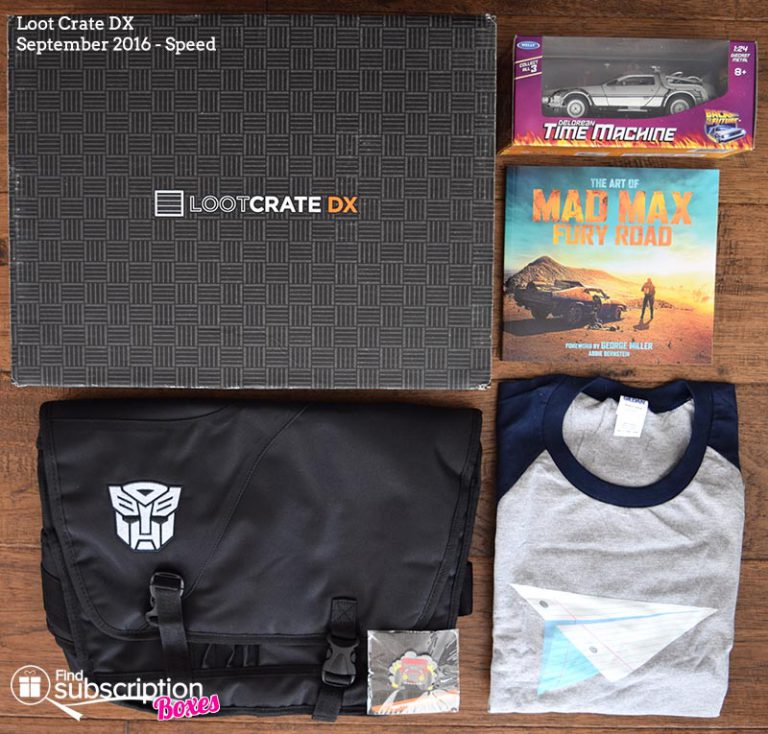 The September Speed Loot Crate DX box had exclusive and licensed items for geeks who love speed. The Transformers Messenger Bag is one of our favorite geek collectibles yet. It's the perfect way to carry your work or laptop in true geek style. The bag has two magnetic clasps that keep the flap down and adjustable buckles for added security. Under the flap is a small zippered compartment, a velcro pocket, and pen pockets. It also has a padded shoulder strap and separate compartment for your laptop.
Loot Crate DX gives a nod to the speed of flight with the paper airplane raglan. We love the simple paper airplane design and contrasting sleeve colors.
The DeLorean diecast metal replica is a serious collectible for Back to the Future fans. It features rolling rubber tires, gull doors that open, and superb detailing from the inside dashboard to the sophisticated time-traveling engine.
Finally, the Art of Mad Max Fury Road book gives a behind-the-scenes look into the legendary Mad Max franchise. It starts with a forward by George Miller and shares story boards, concept art, and on set photos of the cast members.
What was your favorite geek collectible from the September Speed Loot Crate DX crate?
Loot Crate DX Coupon Code
Use Loot Crate DX coupon code SAVE3 for $3 off any new Loot Crate DX subscription. Join today!