Loot Crate delivers a monthly box of epic geek and gamer gear every month. The theme of the Loot Crate March 2015 crate was COVERT and featured a variety of spy-themed collectables and other items.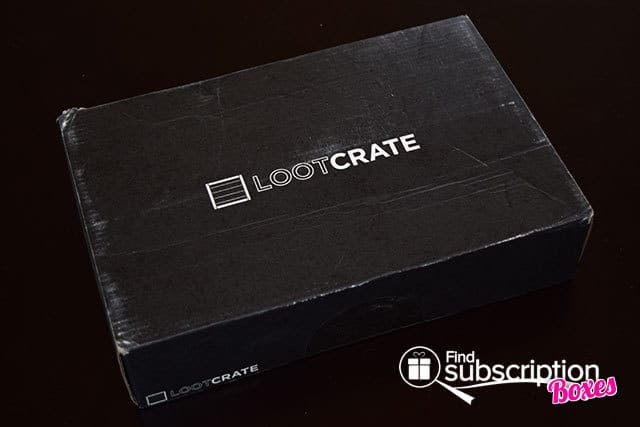 Loot Crate includes a Loot Crate Magazine in each box. The March Loot Crate featured Issue No. 20 and in addition to describing the geeky and covert items in this month's box,  included fun articles that match this month's theme.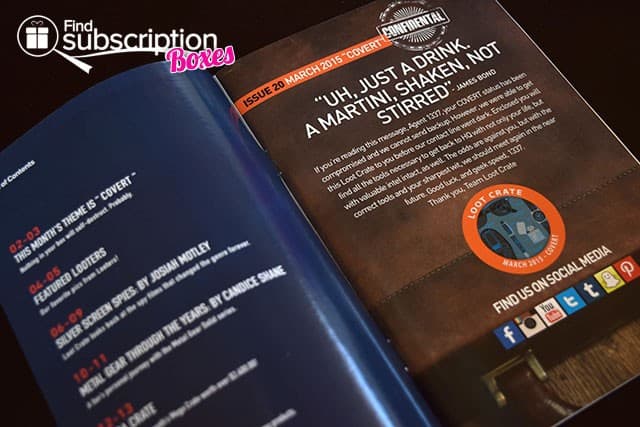 Here's a first look inside our Loot Crate March 2015 Cover crate.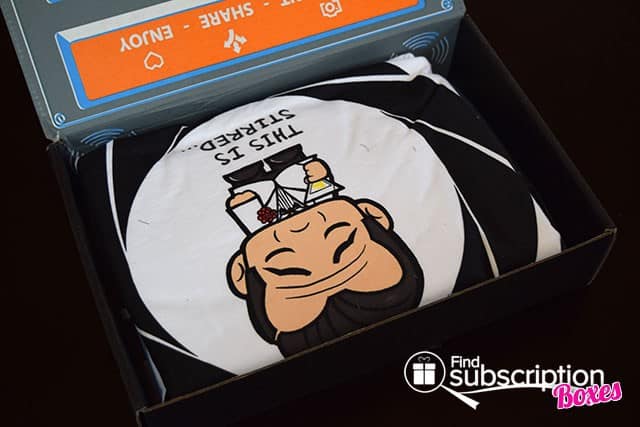 Inside the Loot Crate March 2015 Box
There were 7 items in our March 2015 Loot Crate Covert box.

1. Exclusive Bond: This Is Stirred T-Shirt
Shaken or stirred? We know how 007 prefers his martinis.
2. Exclusive Field Agent Blink Time Wrist Watch
This super secret watch has a stylish black design that only shows the time when you press its face.
3. Spy Mad Libs
Whether on the road or hanging out with friends, use this trusty Mad Libs for spy-themed hilarity.
4. EXCLUSIVE Replica Agents of Shield Lanyards
Wear this exclusive lanyard with pride and let others know you're an agent of S.H.I.E.L.D.
5. EXCLUSIVE Paracord Survival Bracelet
This accessory for your wrist is made of military-grade parachute cord and can be unwrapped for use in times of emergency.
6. EXCLUSIVE Orphan Black Comic Book
This first issue of Orphan Black features an exclusive Loot Crate variant cover.
7. EXCLUSIVE Special Agent Dossier Notebook 2-pack
You can use this handy notebook to jot down top-secret grocery list or notes.
BONUS: Loot Crate March 2015 Collectable Pin
Loot Crate March 2015 Box Review Wrap-Up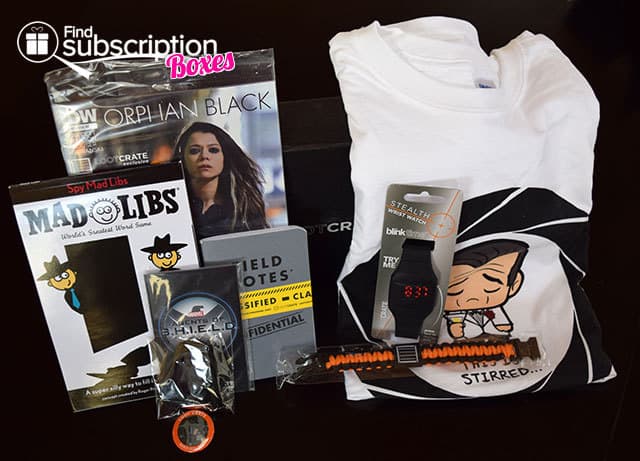 The Loot Crate March 2015 Covert crate was packed with useful, and very cool, items that are great additions for any Looter spy kit. We loved the sleek design of the watch and the survival bracelet is definitely something that a spy could re-purpose in a variety of ways. We loved the throw-back fun that can be had with the Spy Mad Libs.
What was your favorite item from the March 2015 Covert Loot Crate?
Loot Crate Free Bonus Gift + 10% Off Coupon
For a limited time, subscribe to a 12 month Loot Crate subscription and get a Loot Crate t-shirt as a FREE bonus gift – a $15 value! Use our exclusive Loot Crate coupon code FINDBOXES to save 10% off any Loot Crate subscription – that's a $21.54 savings on 12 month subscriptions PLUS a FREE t-shirt!