Loot Crate delivers a monthly box of geek + gamer gear every month. With today's Loot Crate box review, we're taking a closer look at the Loot Crate May 2015 box. The May Loot Crate theme was UNITE!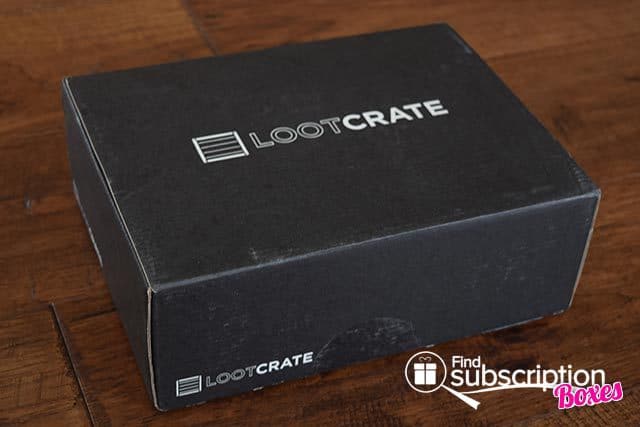 Each Loot Crate includes a Loot Crate Magazine that describes the loot in that month's crate and has fun articles related to that month's theme. The Unite magazine has articles about the greatest comic teams and an interview with Boom! Studios.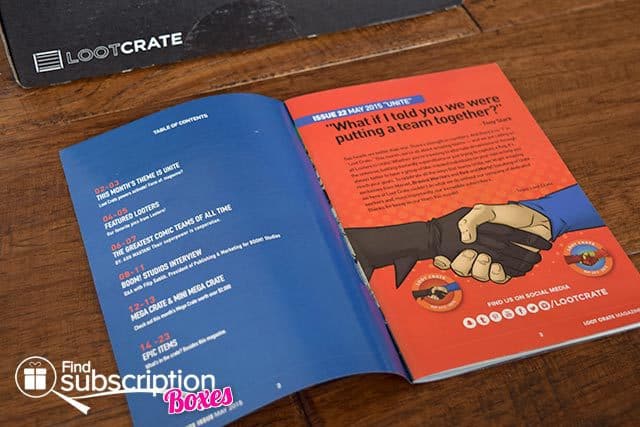 Here's a first look inside our May Unite Loot Crate.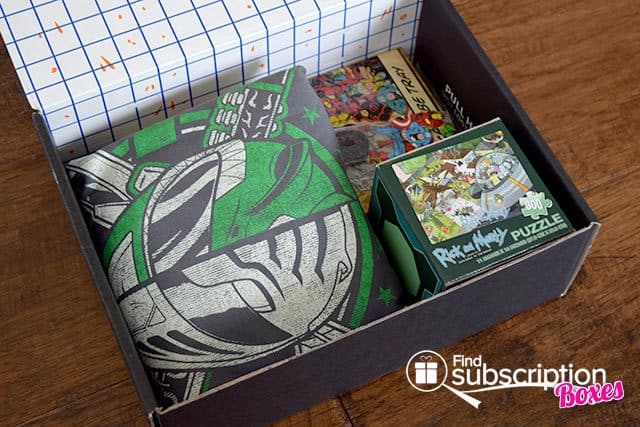 Inside the Loot Crate May 2015 Unite Crate
There were 8 items in our May 2015 Unite Loot Crate.

1. EXCLUSIVE Marvel Sneaker Laces
Lace up those boots with these stealthy sneaker laces featuring favorite Marvel characters.
2. Avengers: Age of Ultron Car Decal
Protect your wheels with Marvel's Avengers and show off your nerdy side.
3. Marvel Super Heroes Ice Tray
Take your summer drinks from regular to super heroic with ice cubes featuring Marvel Super Heroes.
4. EXCLUSIVE Green Ranger T-Shirt
Put on this vintage-style tee when you're ready to morph and battle with your fellow Rangers.
5. EXCLUSIVE MAD Magazine LOOT CRATE Edition
This exclusive edition has new, Looters only content and lampoons some popular teams!
6. EXCLUSIVE Bravest Warriors Tales from the Holo John #1
Featuring an exclusive cover design, this comic brings some comedy to your bathroom reading.
7. EXCLUSIVE Team Fortress 2 Button Set
Show off your Team Fortress 2 spirit with these collectible buttons.
8. EXCLUSIVE Rick and Morty 300-piece Jigsaw Puzzle
Assemble this mind-bending 300-piece puzzle alone or with friends.
Bonus Item – Loot Crate also includes a monthly collectible pin in every box.
Loot Crate May 2015 Box Review Wrap-Up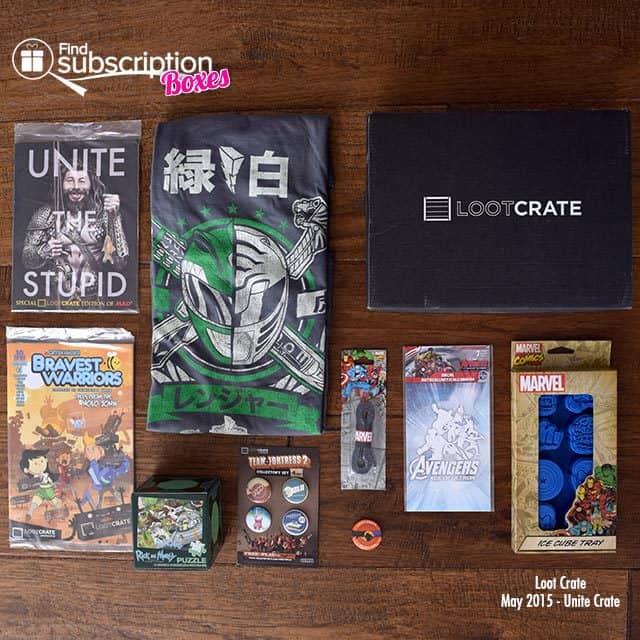 The Loot Crate May 2015 Unite crate was filled with exclusive items from some of our favorite teams. The Marvel laces, decal, and ice-cube tray are perfect accessories for Avengers fans. The Power Rangers T-Shirt is another stylish addition to our geek t-shirt collection.
What was your favorite item from the May 2015 Unite Loot Crate?
Loot Crate Coupons
For a limited time, subscribe to a 12 month Loot Crate subscription and get a Loot Crate t-shirt as a FREE bonus gift – a $15 value! Use our exclusive Loot Crate coupon code FINDBOXES to save 10% off any Loot Crate subscription or use code SAVE3 to save $3 off.