Luxur Box delivers a curated box of luxury gifts to your door every other month. Each Luxor Box is filled with $275+ of luxury beauty products, jewelry, apparel, home accessories and other unique items from luxury and up-and-coming brands.
Luxor Box has recently launched their new Luxor Box "Petite" Box. Available to US subscribers for $39.95 per box, each Luxor Box "Petite" Box includes 3-4 of the products featured in that month's full-sized Luxor Box. With today's Luxor Box, we're taking a closer look at the Luxor Box July 2015 luxury subscription box.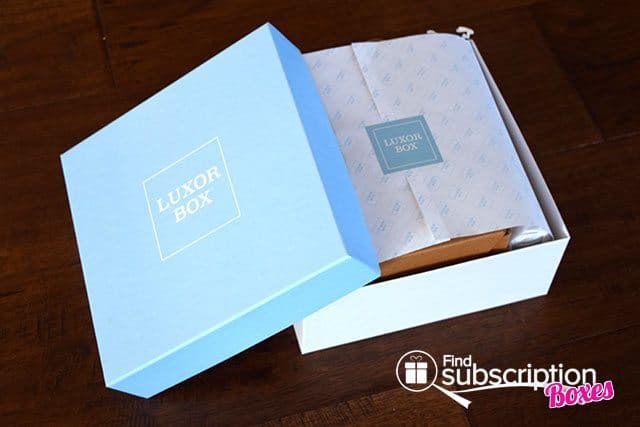 Luxury Box includes informative products cards for each luxury gift in that month's box.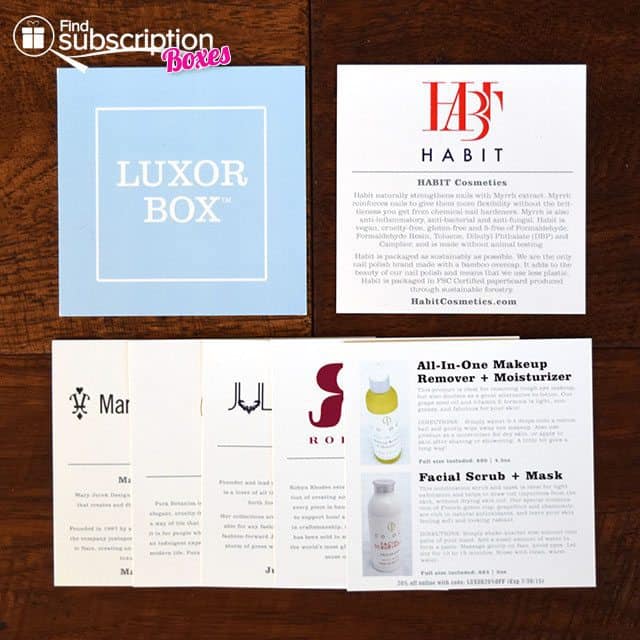 Here's a first look inside our July 2015 Luxur Box.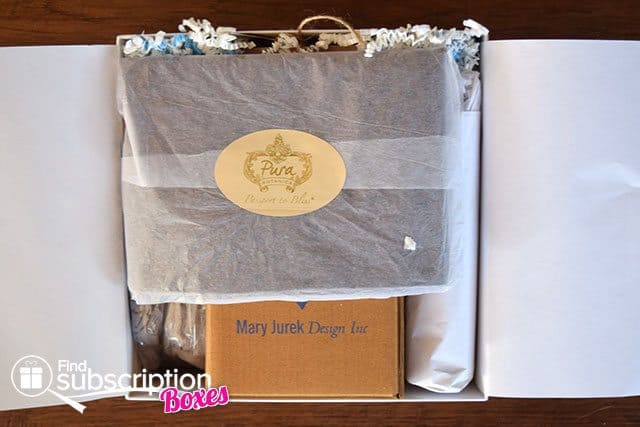 Inside the Luxor Box July 2015 Box
There were 7 luxury items (8 total products) in our July Luxor Box.

1. Co-Pur Facial Scrub + Mask, Retail Value: $24
Made with French green clay, grape fruit and chamomile, this combo scrub and mask gently exfoliates to reveal soft and radiant skin.
2. Co-Pur All-In One Makeup Remover + Moisturizer, Retail Value: $20
This light, non-greasy all-in-one has grape seed oil and vitamin E to gently wipe away tough eye makeup and add a bit of moisture for dry skin.
3. Jules Smith Distressed Infinity Scarf in Gray, Retail Value $45
Use this lightweight infinity scarf as a stylish accessory perfect for summer nights.
4. Mary Jurek Design Inc Kenya Indian Rosewood Round Box w/Crocodile Lid, Retail Value: $50
Use this handcrafted rosewood box to store your treasured keepsakes. It's classic design is perfect for the home or the office.
5. Robyn Rhodes Jerry Necklace, Retail Value: $89
Wear this lariat-style necklace in 5 different ways. Each necklace has geometric charms finished in rhodium or 14kt gold.
6. HABIT Cosmetics Natural Nail Polish in Kitten and Creature of the Night, Retail Value: $36 set ($18/bottle)
HABIT's 5-free nail polish is vegan, cruetly-free, gluten-free and uses Myrrh extract to naturally strengthens your nails.
7. Pura Botanica Essentials Pouch, Retail Value: $18
This chic, cruelty-free pouch is made from luxurious, faux ostrich and conveniently holds your travel essentials.
Luxor Box July 2015 Box Review Wrap-Up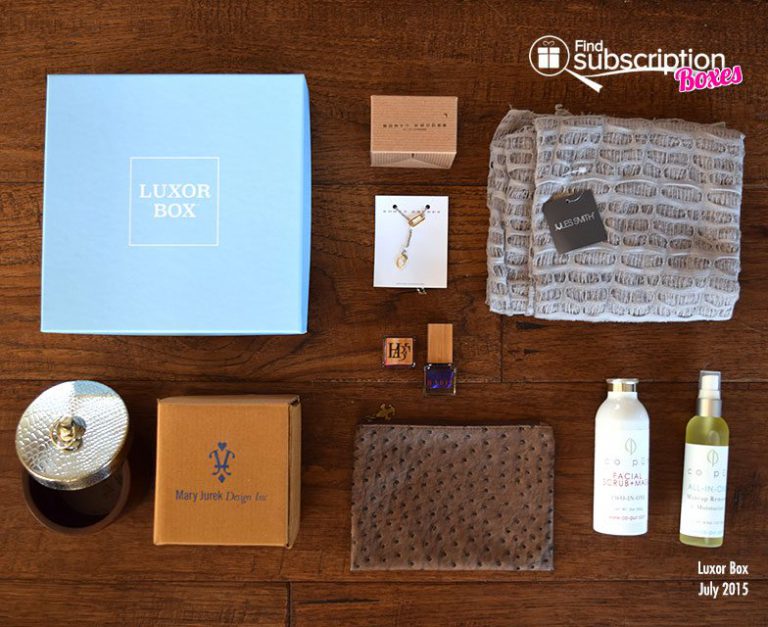 We couldn't get enough of the luxurious products featured in the Luxor Box July 2015 subscription box. The necklace and infinity scarf are versatile fashion accessories that can be worn through the year. The Co-Pur skin care products are perfect for helping to keep skin fresh and healthy. The Kenya round box is a stylish storage box for jewelry or other small items and the design suits almost any home decor. The total retail value of the Luxury Box July 2015 box was $282.
What was your favorite item from the July 2015 Luxor Box?