Luxor Box is a luxury subscription box for women that delivers 5-7 hand-selected, high-end, unique and luxurious products to delivery to your door every other month. With today's Luxor Box review, we're taking a closer look at the first Luxor Box, the May 2015 box.
Luxor Boxes are shipped in discreet white cardboard boxes.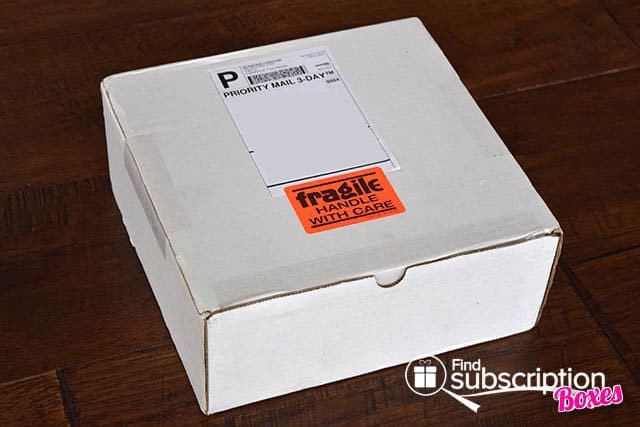 Inside the outer box is a lovely blue Luxor Box that can be re-used for storage or gifting.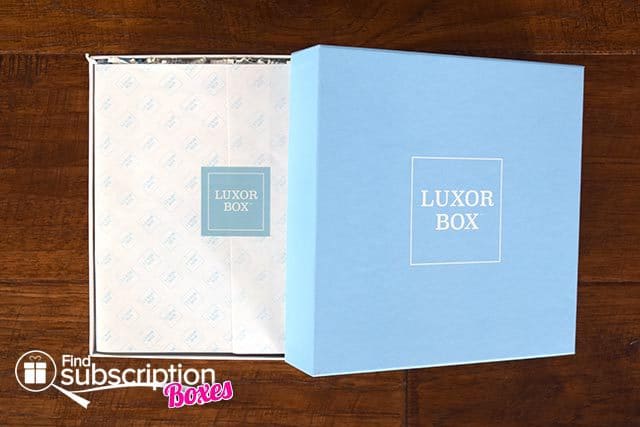 Luxor Box includes product cards that have pictures and descriptions about each of the products and brands in the box.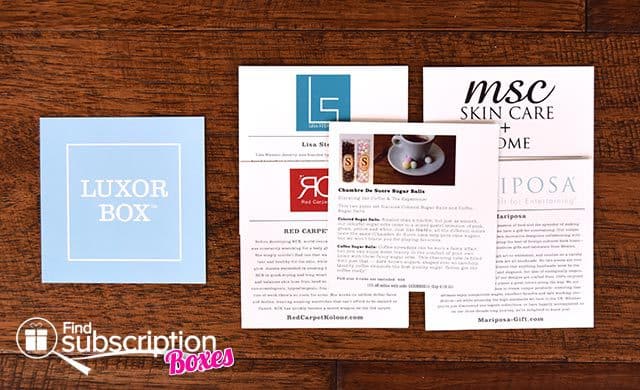 Here's a first look inside out May 2015 Luxor Box.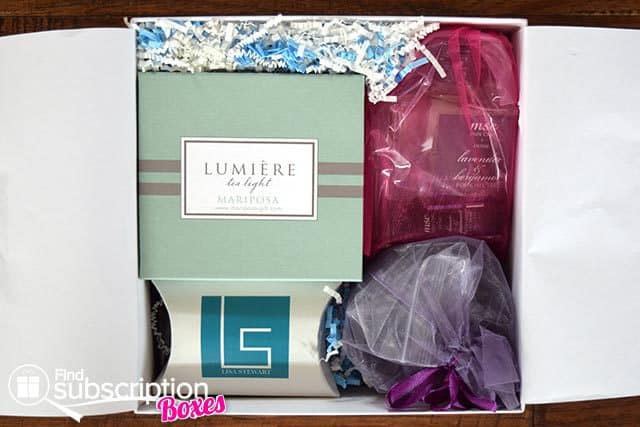 Inside the Luxor Box May 2015 Box
There were 7 products inside our May Luxor Box.

1. Mariposa Tea Light – The Pearled Wavy Tea Light, Retail Value: $25
This handmade tea light features a wavy border accented with small, sculpted pearls.
2. Chambre De Sucre Sugar Balls, Retail Value: $26
There are no spoonfuls of sugar here, just these super cute color sugar and coffee sugar balls perfect for adding sweetness to your morning cup of tea or coffee.
3. Red Carpet Kolour Body Glow, Retail Value: $49.95
Get instantly younger looking skin with this non-transferable, body lotion. It blurs the appears of spots, stretch marks, & veins while hydrating, calming, and healing.
4, 5, 6. MSC Exclusive Gift Set
Lavender and Spearmint Lip Cream, Retail Value: $7
This award-winning lip creme is 100% natural, vegan, and has nourishing oils like Sunflower and Apricot Kernel to help keep your lips moisturized.
Lavender and Bergamot Body Nectar, Retail Value: $30
Tone and nourish your skin with this blend of lavender and bergamot essential oils, perfect for daily use.
Vanilla Exfoliating Sugar Scrub, Retail Value: $33
Made with imported Madagascar vanilla beans, this dual-action scrub uses raw sugar to exfoliate and remove dead skin cells.
7. Lisa Stewart Bar None Stud Earrings, Retail Value: $85
Made of Sterling Silver vermil and genuine CZ stones, these 14K gold-plated stud earrings add some delicate sparkle to any outfit.
Luxor Box May 2015 Box Review Wrap-Up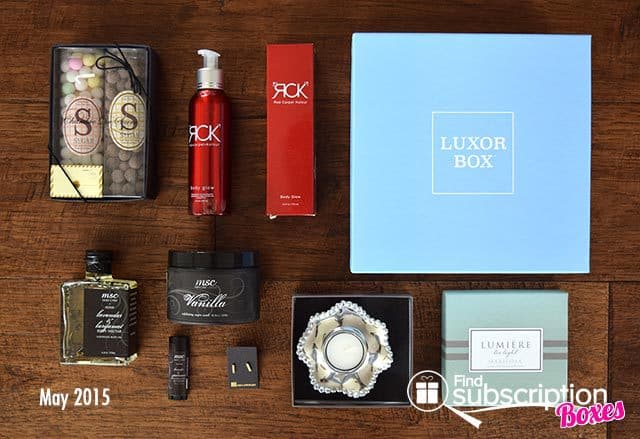 The May Luxor Box was filled with luxurious items that will help us indulge in a little (or should we say, a lot) of TLC. We love the super classy earrings that can be worn day or night. The MSC gift set included products that smelled AMAZING and it's even better that each of these items is hand created and made without parabens, sulfates, or microplastics. The total retail value of the May 2015 Luxor Box was $255.95.
What was your favorite item from the May Luxor Box?