BuddhiBoxes delivers monthly yoga subscription boxes of conscious and eco products for yogis. With today's BuddhiBox review, we're unboxing the March 2016 BuddhiBox yoga box.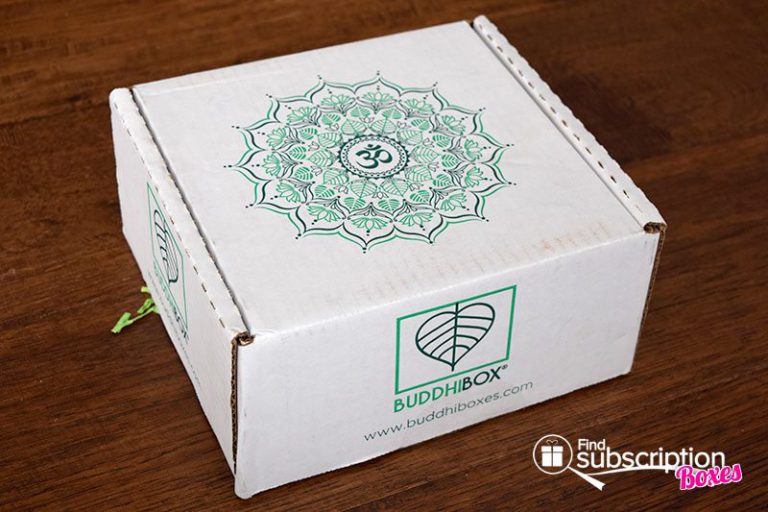 With each BuddhiBox shipped, BuddhiBox donates a portion of proceeds to a new charity. For the month of March, BuddhiBoxes supported 109World, a non-profit organization that enables people to change the world through online movements, global missions and raising awareness for social and environmental challenges.
BuddhiBox includes product cards with descriptions of that month's yogi gifts. There is also a yoga pose card that provides instructions for a yoga post. The March box teaches the Ardha Chandrasana Half Moon Pose. Our box also had a recipe for Raw Vegan Zucchini Pasta with Basil Pesto, provided by Leah Putnam from Grokker Inc.
Here's a first look inside our March 2016 BuddhiBox Yoga Box.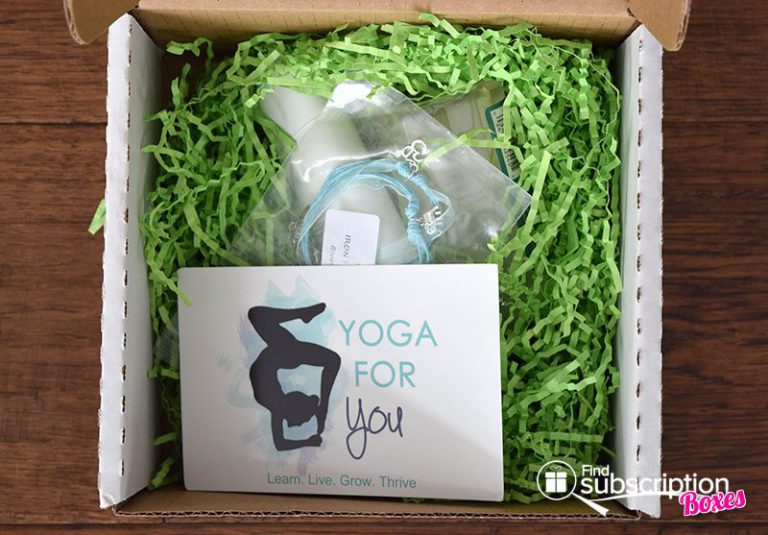 Inside the March 2016 BuddhiBox Yoga Box
There were 6 products in our March BuddhiBox.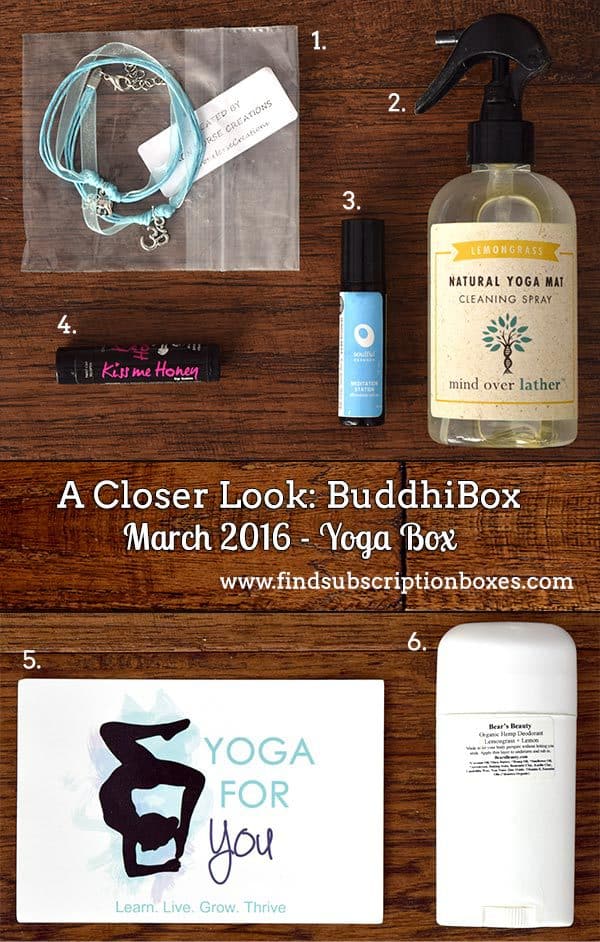 Iron Horse Creations Wrap Bracelet, Retail Value: $12
This beautiful light-blue fabric wrap bracelet has metal charms and can be adjusted for all wrist sizes.
Mind Over Lather Mat Spray, Retail Value: $12
Keep your yoga mats clean with these easy mat spray. It's made with naturally antibacterial and antiviral eucalyptus and tea tree essential oils.
Soulful Essence Therapeutic Oil Blend – Meditation Station, Retail Value: $20
Enhance your next meditation session with this portable aromatherapy roll-on. Meditation Station has Juniper and Frankincense essential oils to relieve tension, drive out negativity and connect with the Mindfulness affirmation.
Kiss My Honey Lip Balm, Retail Value: $5
With all natural ingredients like beeswax, coconut oil, shea butter and vitamin E, this cruelty-free and organic balm soothes and protects your lips.
Yoga for You Online Free Month Card, Retail Value: $20
Enjoy a free month of yoga wherever you need with streaming yoga classes, guided meditations and more.
Bear's Beauty Natural Deodorant, Retail Value: $12
Combat body odor with this natural vegan deodorant, made with clay and essential oils for non-toxic odor protection.
March 2016 BuddhiBox Review Wrap-Up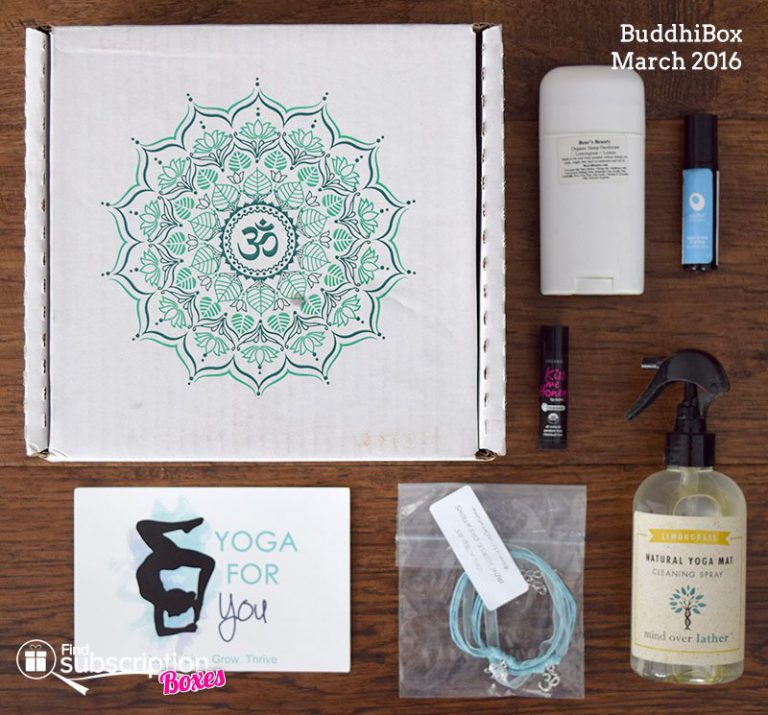 March's BuddhiBox yoga box was a collection of products you can use before, during and after your next yoga session. Keep your lips hydrated and healthy all day with the Kiss My Honey lip balm. The natural, hemp deodorant is scented with Lemongrass and lemon, and is made with shea butter and bentonite and kaolin clays.
Whether looking to relax through stretching or meditation, the Yoga for You Online subscription provides instant access to a variety of meditations and yoga and fitness classes. If you choose a meditation course, the Meditation oil can be used to help you connect to your inner self. After your yoga session, the yoga mat spray is perfect for cleaning your mat naturally.
What was your favorite March BuddhiBox yoga item?
BuddhiBox Coupon Code
Save on your monthly BuddhiBox yoga box! Use BuddhiBox coupon code yogaeveryday for 10% off all subscriptions. Stock up on favorite yoga products and save 25% off the BuddhiBox store with code spring25. Shop now!
Enter to win the BuddhiBox Zen Mom Box!
The BuddhiBox Zen Mom Box is a great gift for yogi moms! Check out what's in the Zen Mom BuddhiBox and enter below for a chance to win!