Home Chef is a monthly meal subscription service that sends weekly meal subscription boxes of fresh, perfectly portioned ingredients that have everything you need to prepare home-cooked meals in your own kitchen. Home Chef meals can be cooked up in about 30 minutes. With today's Home Chef Review, we're reviewing our May 2016 Home Chef meal box.
After signing up, you can choose the meals you would like to receive from that week's menu. The Home Chef Culinary Team creates a variety of meals to choose from including breakfast, seafood, and vegetarian options. The week of your delivery, you'll receive your Home Chef box at your doorstep, kept cool with packaging and ice packs.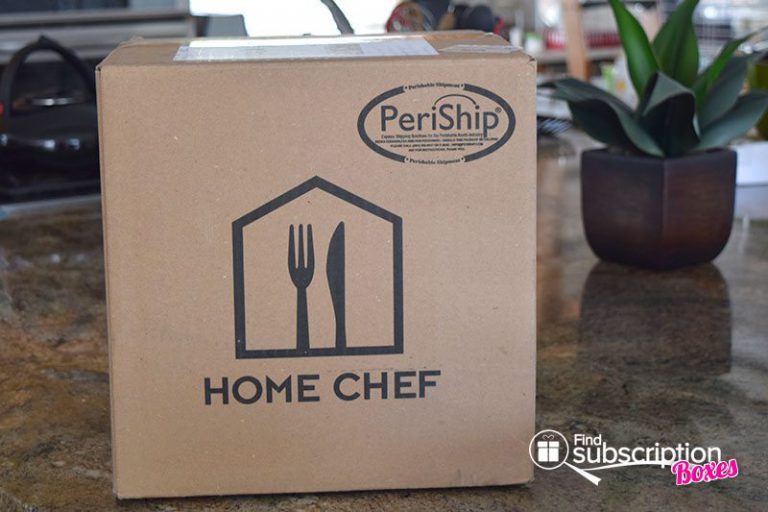 Each Home Chef meal box includes colorful recipe cards for each of your weekly meals. Our first box also included a plastic binder we could use to store our new Home Chef recipe collection. If you find a recipe you like, you can always cook it again using your own ingredients. :) The cards have a big picture of the final dish and the recipe on the front. The back of the cards have step by step prep and cook instructions and pictures.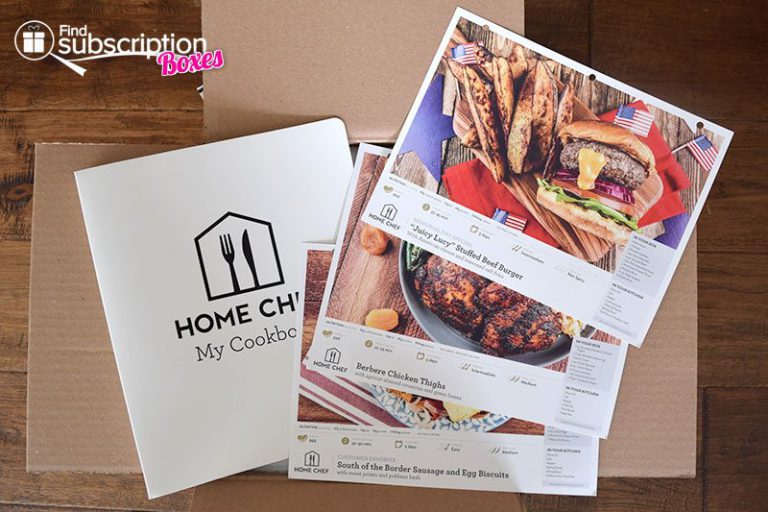 Here's a first look at our May Home Chef box.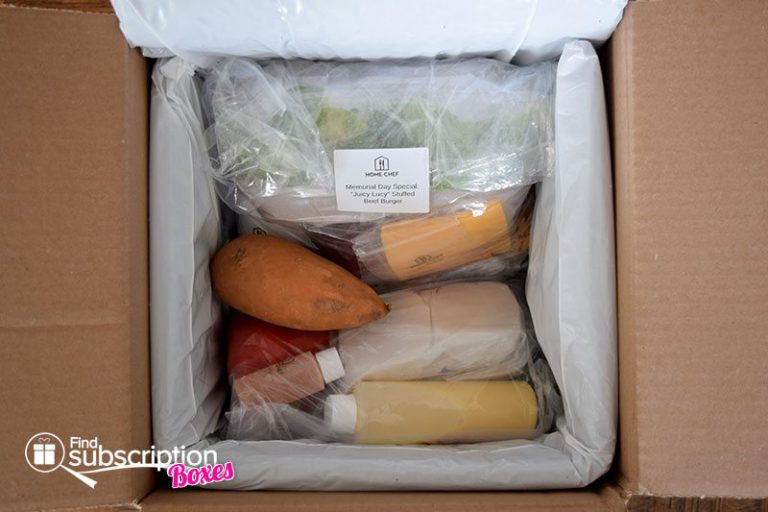 Inside Our May 2016 Home Chef Box
Our week 4 May 2016 Home Chef box contained ingredients and recipes for:
"Juicy Lucy" Stuffed Beef Burger with American cheese and seasoned salt fries
Berbere Chicken Thighs with apricot-almond couscous and green beans
South of the Border Sausage and Egg Biscuits with sweet potato and poblano hash
The first night, we cooked up Berbere Chicken Thighs. Here's the recipe and the ingredients Home Chef provided.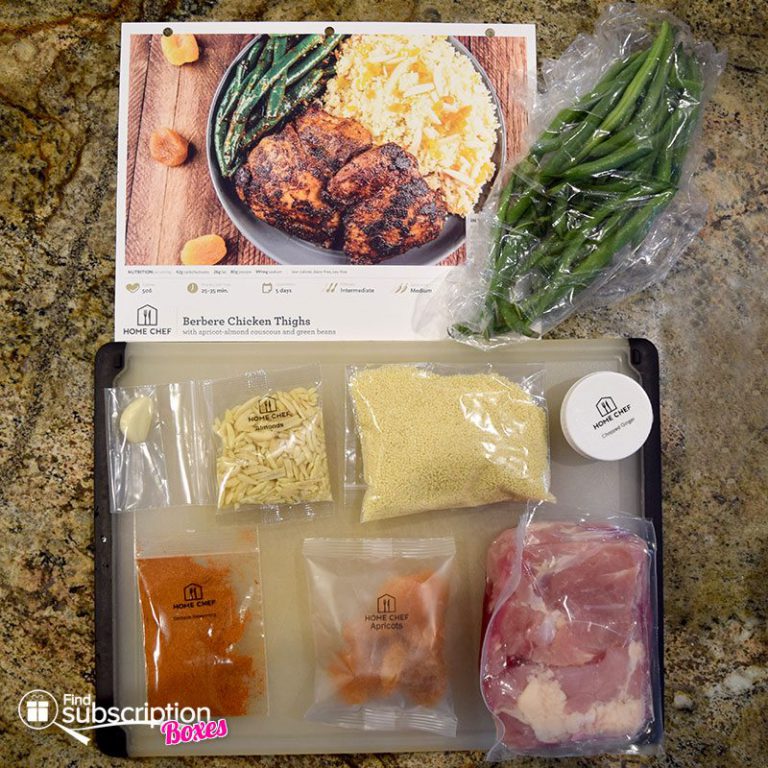 The recipe cards include instructions for preparing the meals, including the prep work. Here are our trimmed green beans and chopped garlic and apricots. You can really tell that the ingredients are fresh.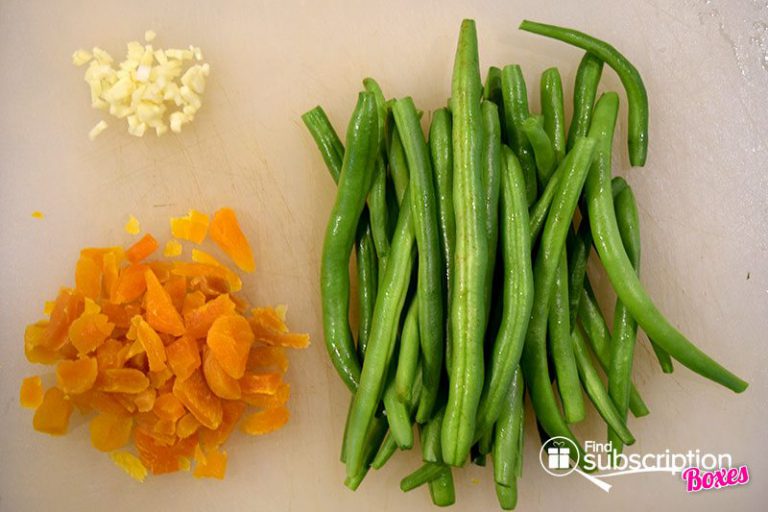 All of the dinners Home Chef provides can be cooked in about 30 minutes. They guide you through preheating and time management to help get your food on the table. Here, we have our couscous set aside as we cook up the rest of the dish.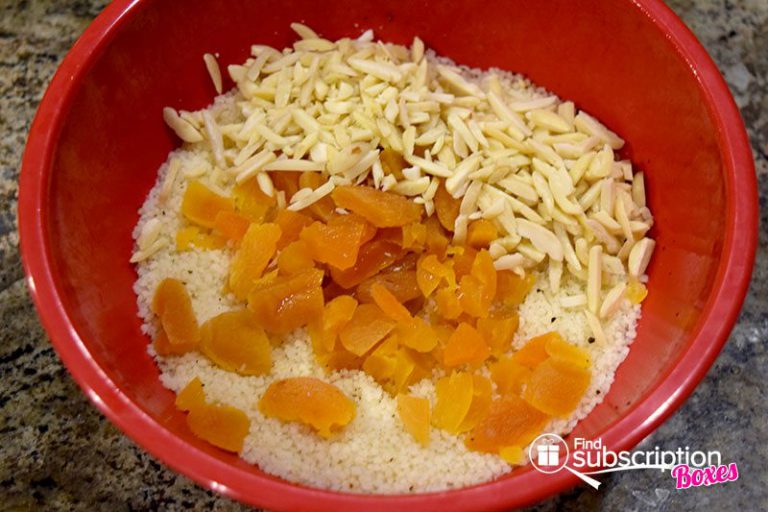 The Berbere Chicken thighs were so moist and so delicious. It has a Mediterranean seasoning that isn't too heavy and the couscous was the perfect side. The chopped almonds added great crunch and texture. Green beans and garlic is a classic side that is always a hit. We also liked that this was a "one pan" dish – everything was cooked in the same pan.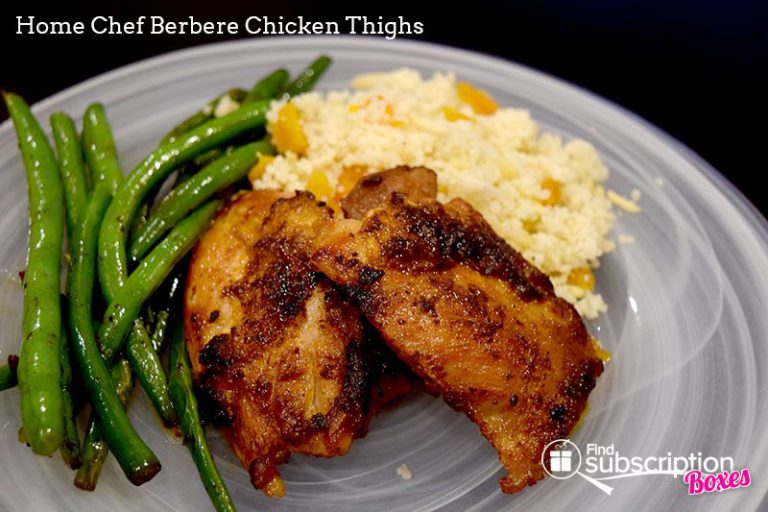 We cooked up the Juicy Lucy Burgers for Memorial Day weekend. Home Chef provided all the fixings and ingredients we needed to cook up juicy stuffed burgers.
First up was getting the fries in the oven. Simple wedges, tossed in seasoning salt, olive oil, salt and pepper and baked until golden. While the potatoes cooked, it was time to get the burgers ready. First we added Worcestershire sauce, salt and pepper to the ground beef and formed 4 burger patties. Cheese is carefully placed between two patties, pinching the edges around to create a tight meat seal to hold in the cheese. Then, onto the grill for cooking!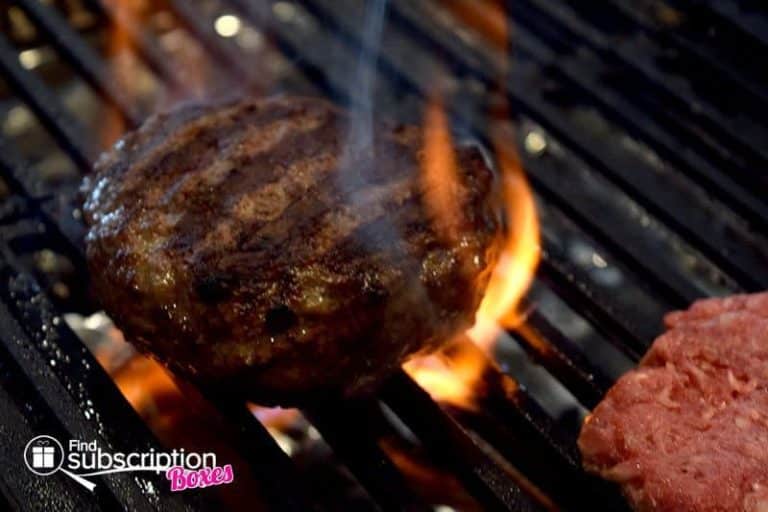 The burger was flavorful and savory – the perfect meal for the holiday weekend. Adding cheese between the patties is a gourmet twist and the seasoning for the beef was spot on. We really like that Home Chef included the burger buns – this is the first meal deliver service that has provided bread items with our meals.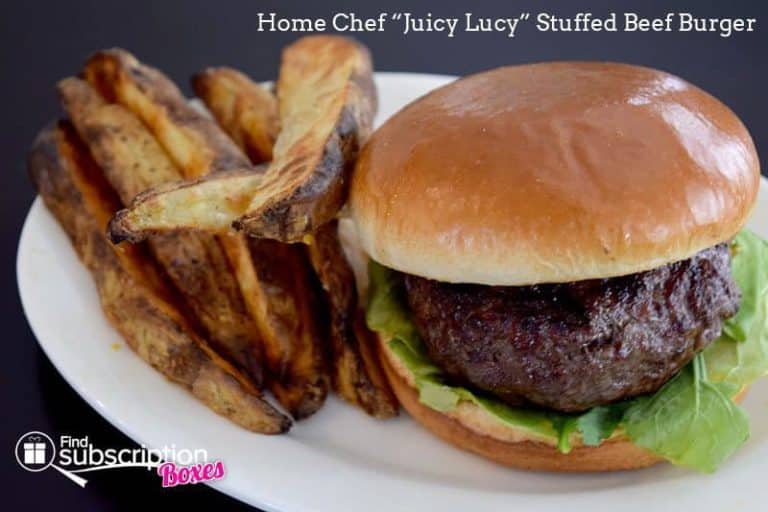 The Home Chef experience can truly make cooking gourmet meals for yourself or your family fun, easy and convenient. Home Chef offers a wide variety of menu options and we really appreciated being able to order a breakfast item. The vegetables were fresh and the meat was high quality and cooked up with great flavor. Home Chef provides the seasonings for your meals (except for salt and pepper) which allowed us to try new flavors that we wouldn't have been able to try without a special trip to the store.
Which was your favorite May 2016 Home Chef meal?
Home Chef Father's Day Deal
Celebrate Father's Day with Home Chef! Through June 21, 2016, join Home Chef today and take $30 off your 1st Order from Home Chef when you use promo code DADSDAY30 at checkout.