Sci-Fan Block is a monthly mystery subscription box that combines two of your favorite genres – science fiction and fantasy. Each Sci-Fan Block subscription box features 4-6 science fiction and fantasy collectibles plus an exclusive t-shirt. With today's Sci-Fan Block review, we're unboxing the May 2017 Sci-Fan Block.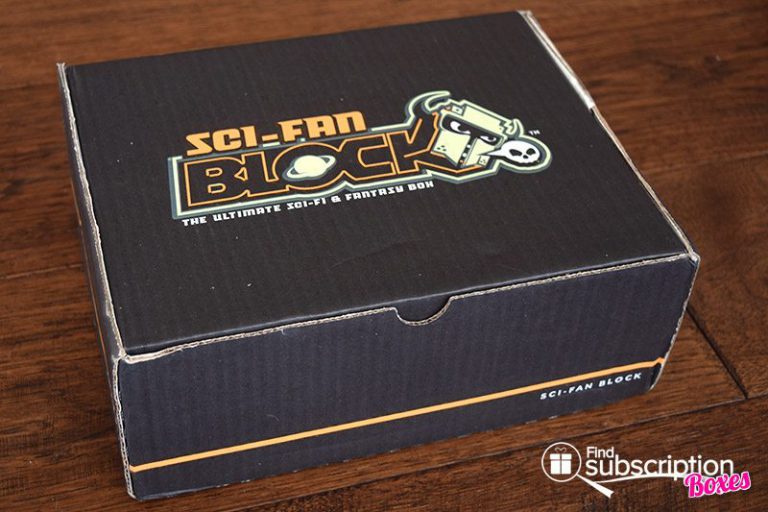 Each Sci-Fan Block comes with a fun Nerd Block Magazine – Sci-Fan Edition. The magazine has fun articles like "10 Guardians of the Galaxy Facts You Might Not Know." It also describes each of the collectibles in that month's box. There was also a sneak peek at the June 2017 Sci-Fan Block theme – PLACES!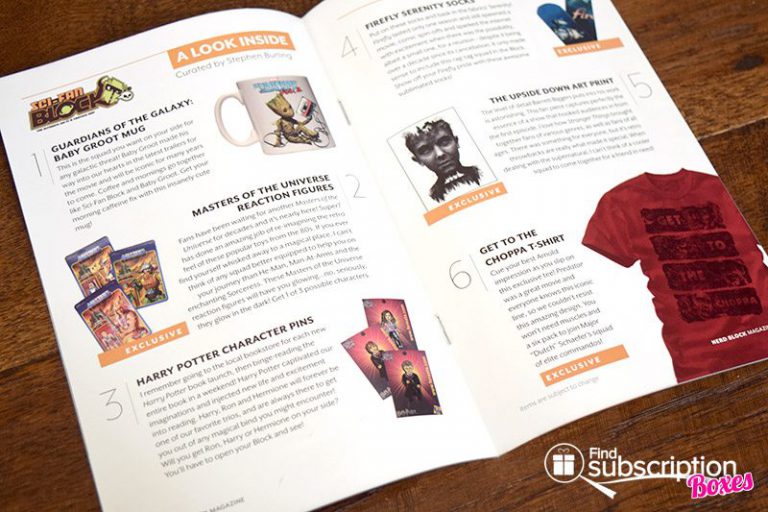 Here's a first look inside our May Sci-Fan Block.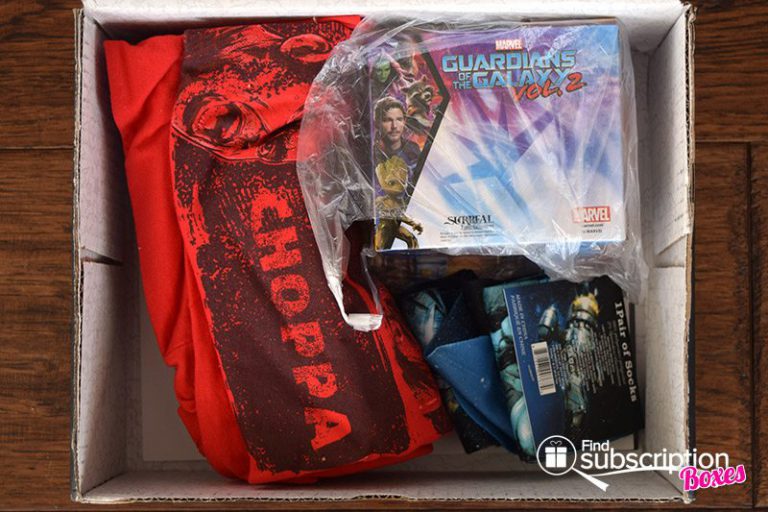 Inside the May 2017 Sci-Fan Block

There were 6 science fiction and fantasy items in our Sci-Fan Block May 2017 monthly subscription box.
EXCLUSIVE Get to the Choppa T-Shirt
Cue your best Arnold impression with this exclusive tee featuring the iconic line from Predator.
EXCLUSIVE Firefly Serenity Socks
Show off your Firefly pride with these awesome sublimated socks.
Guardians of the Galaxy: Baby Groot Mug
Get your morning caffeine fix with this insanely cute Baby Groot mug.
EXCLUSIVE The Upside Down Art Print
This fan piece Stranger Things art work captures the essence of this supernatural show.
EXCLUSIVE Masters of the Universe Reaction Figures
Super7 is re-imagining the retro feel of the popular Masters of the Universe toy. Get 1 of 3 characters.
Harry Potter Character Pins
Will you get Ron, Harry or Hermione? chow off your Harry Potter fandom with one of these pins.
May 2017 Sci-Fan Block Review Wrap-Up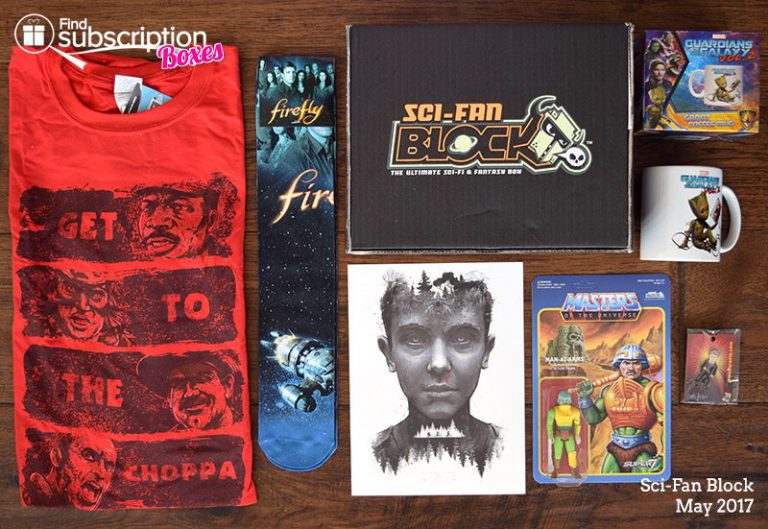 The May Sci-Fan Block had a great variety of collectibles from current and retro sci-fi and fantasy franchises. Guardians of the Galaxy: Vol 2 is in theaters now and everyone is loving Baby Groot. The exclusive Baby Groot mug shows this adorably dangerous character causing chaos with Peter Quill's mix tape.
There were two sci-fi and fantasy fashion items in the May Sci-Fan Block. First is the bold, red Get to the Choppa T-shirt. This exclusive Predator tee has a 4-paneled, comic book design featuring the famous movie quote. Next are the colorful Firefly socks. These exclusive sublimated socks have a picture of the Serenity crew and the Firefly logo at the top. A detailed version of Serenity is at the bottom of the sock.
Subscribers received He-Man, Man-At-Arms or the enchanting Sorceress Reaction figures. We received the Man-at-Arms. This 3.75″ action figure is a re-imagined version of the iconic Masters of the Universe toys from the 80s. The figure has moveable limbs and comes with the character's weapon.
Fans of Stranger Things will love this exclusive art print featuring the mysteries Eleven. The art work is printed on durable card stock and is ready for framing.
The Harry Potter pin is the perfect way to add some magical flare to your muggle gear. We received the Harry Potter pin which shows Harry dressed in his robes, wand drawn and ready to cast the next spell.
What was your favorite May Sci-Fan Block collectible?
Sci-Fan Block Coupon Code
Use exclusive Sci-Fan Block coupon code FINDBOXES to save 15% off the 1st month of any new Sci-Fan Block subscription. Subscribe today!