Tobi Tobin Black Box is a monthly artisan dark chocolate and luxury candle subscription box. Tobi Tobin Black Box subscribers receive a monthly box of handcrafted, artisanal chocolates and hand-poured candles. With today's Tobi Tobin Black Box review, we're unboxing the May 2017 Tobi Tobin Black Box.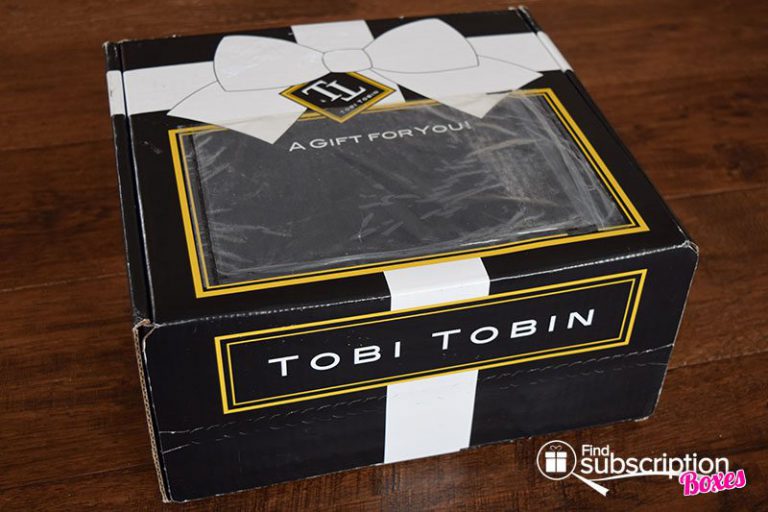 Here's a first look inside our May Tobi Tobin Black Box. We love that each of the items is decoratively wrapped in a burlap sack and bold black ribbon bow. It adds an extra touch when opening the box.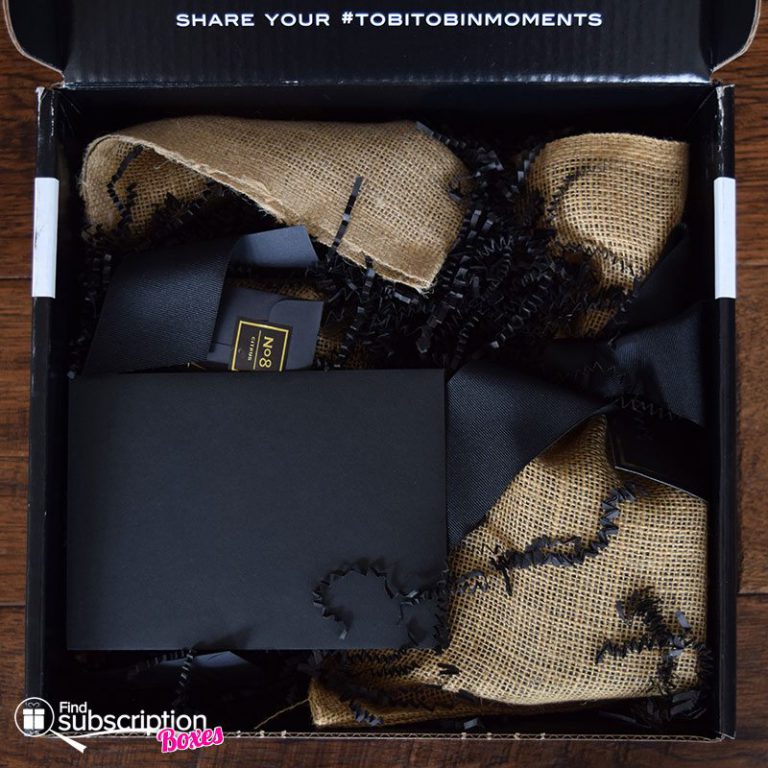 May 2017 Tobi Tobin Black Box
There were 4 items in our May 2017 Tobi Tobin Black Box.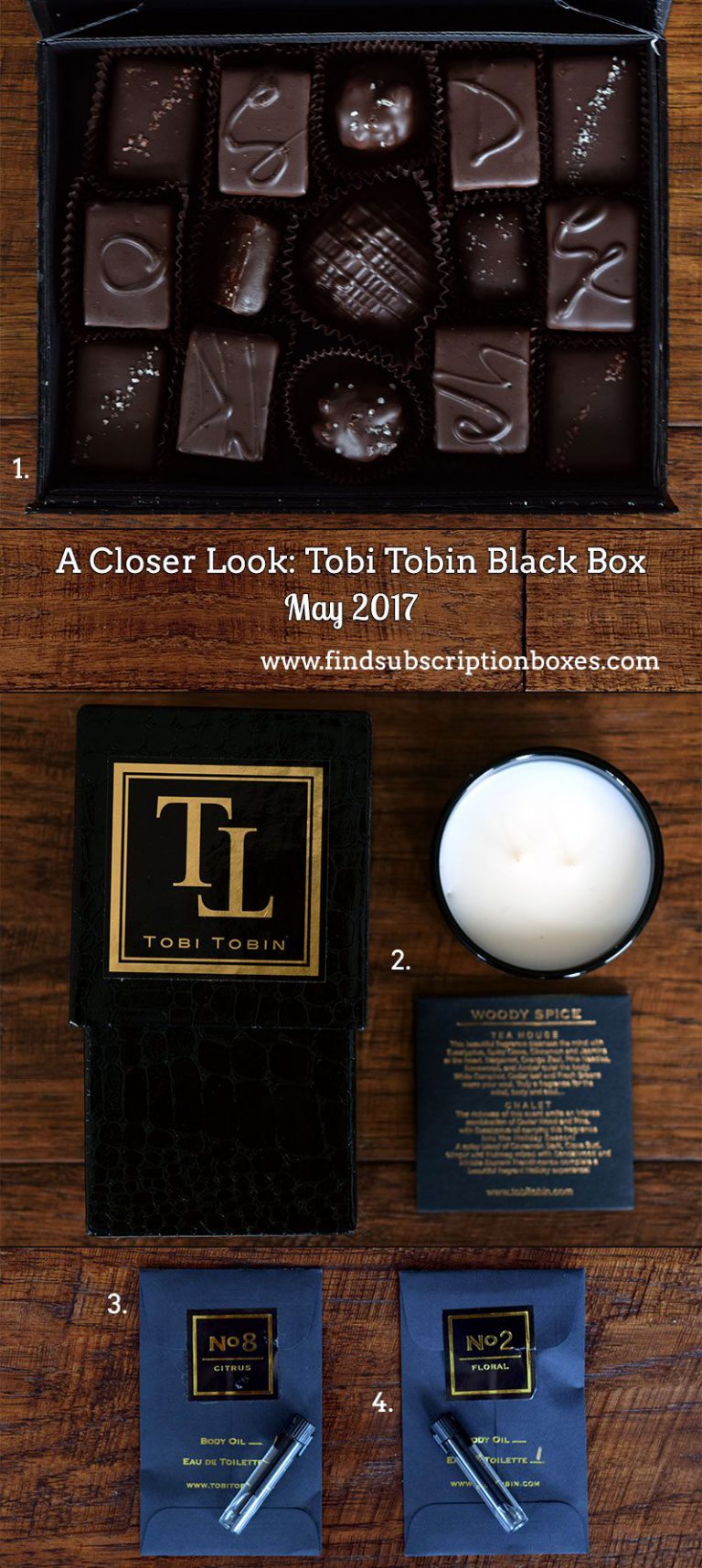 Medium Box of Tobi Tobin Chocolates
The medium box of chocolate is a selection of fifteen different dark chocolate truffles. This box includes our signature salted collection and dark chocolate truffles both with nuts and without.
Tobi Tobin Georgian Candle – 4 oz
This intoxicating fragrance exudes a luxurious aura as Mango and Green Leaf introduce a rich floral bouquet of Gardenia, Tuberose and Orange Flower.

No. 8 Citrus Body Oil
Fijian Island misty waters breath energy into your spirit, you are revived with crisp citrus notes of Bergmot, Lemon, Mandarin, and Neroli.

No. 2 Floral Body Oil
Breathtaking views from a villa in Corsica bring back memories of this romantic floral blend of Pink Jasmine, Magnolia Dew, Peony, and Tiare Flower.

May 2017 Tobi Tobin Black Box Wrap-Up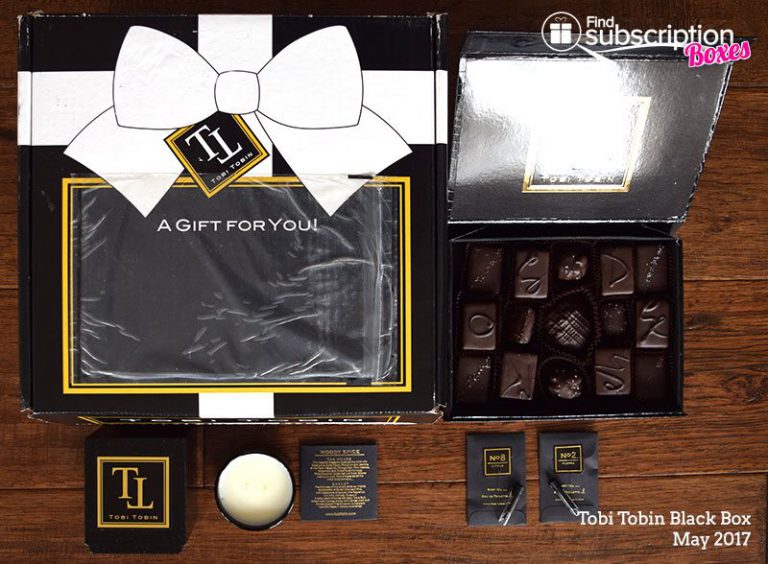 The Tobi Tobin Black Box is a luxurious treat that's the perfect gift for someone with taste and style. Right after opening the box, you're hit with the wonderful aroma of the hand-poured candles and custom blended, fragrant body oils. Each of the body oils has a fresh and delicate scent that lingers without being overwhelming. The No. 8 Citrus Body Oil smells very clean and crisp. The No. 2 Floral scent is softer with stronger flower notes.
The Tobi Tobin Georgian candle is elegantly packaged in a sturdy container. This hand-poured candle is in a gray glass container. The Georgian scent is a bold, yet feminine scent. You can really smell the Gardenia and the throw of the fragrance is amazing.
While everything smelled wonderful, we must confess that our favorite part of the Tobi Tobin Black Box are the chocolates! Subscribers can choose the size of the candy box included in the monthly Black Box. Our May Tobi Tobin Black Box had a medium box of Tobi Tobin dark chocolates. These were so good – it was impossible to eat just one. The chocolate is smooth and we love the extra saltiness from the sea salt. Tobi Tobin lists the chocolates included in each box on their website. Our favorites so far are the Dark Chocolate Truffles and Dark Chocolate Turtles with Walnuts and Caramel. YUM!
What did you think of the May Tobi Tobin Black Box?
May 2017 Tobi Tobin Black Box Unboxing