Medusa's Makeup is a beauty subscription box that sends out four pieces of vegan, cruelty makeup each month. They specialize in bold colors, and they have a badass aesthetic. Their boxes cost $15.95 per month, which is a really great deal for indie and vegan makeup. The boxes typically contain $30 – $40 worth of makeup. Today I am reviewing August's box, which is their special 2 year birthday box! Medusa's Makeup has been promoting it over the past couple months, and saying it will be their biggest box yet. I can't wait to see what's inside!
August's box arrived in a small cardboard box, with fun polka dot tissue paper inside.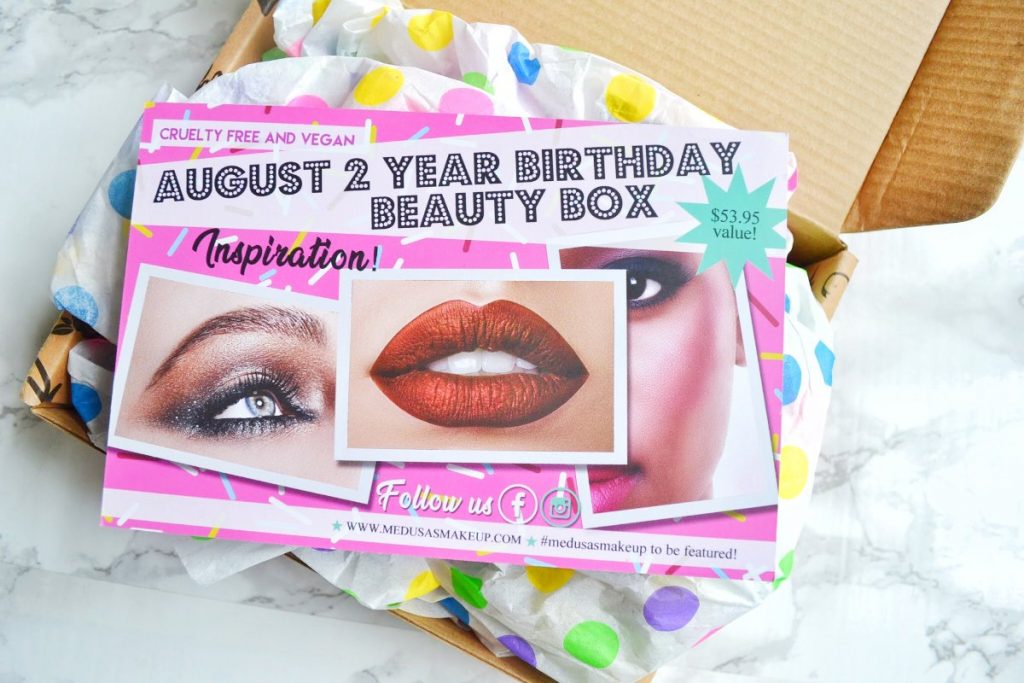 Here's a look at the information card, which has names, prices, and pictures for each included product. I love that they always include the total box value. August's box has a total value of $53.95, which is higher than previous boxes.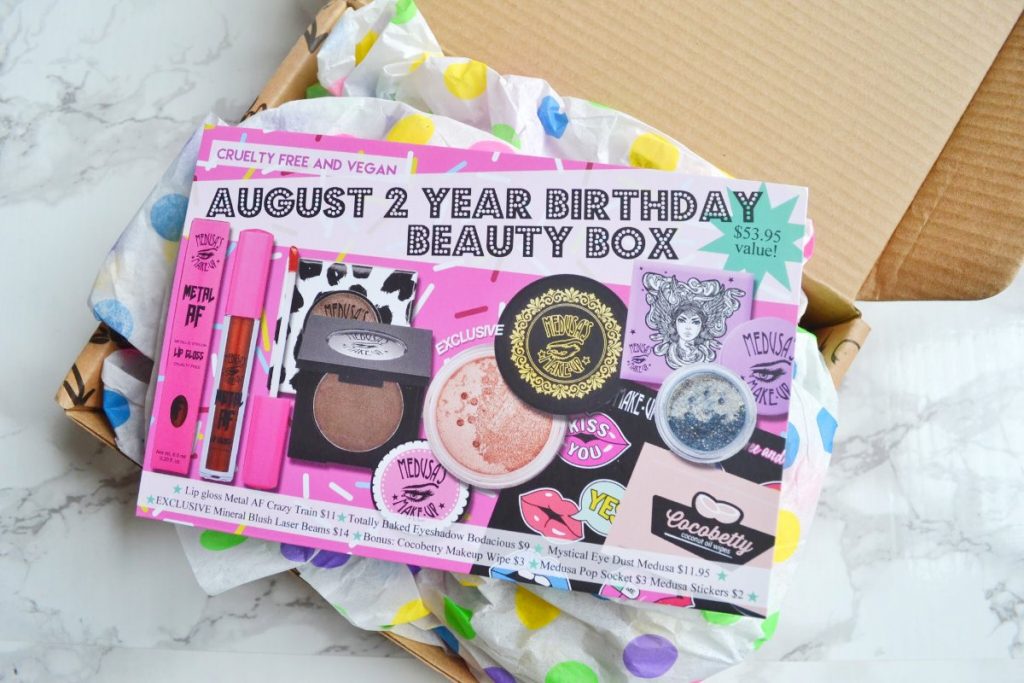 Every product arrived in perfect condition.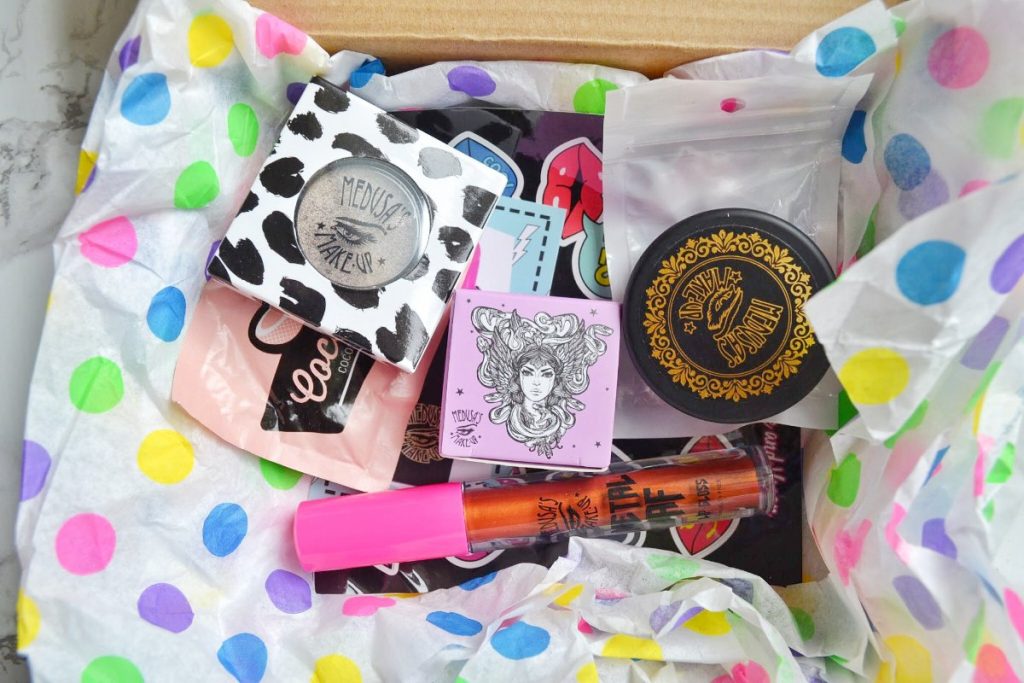 Here's a look at everything that's inside. The August Birthday Box contains four makeup products, and three bonus items!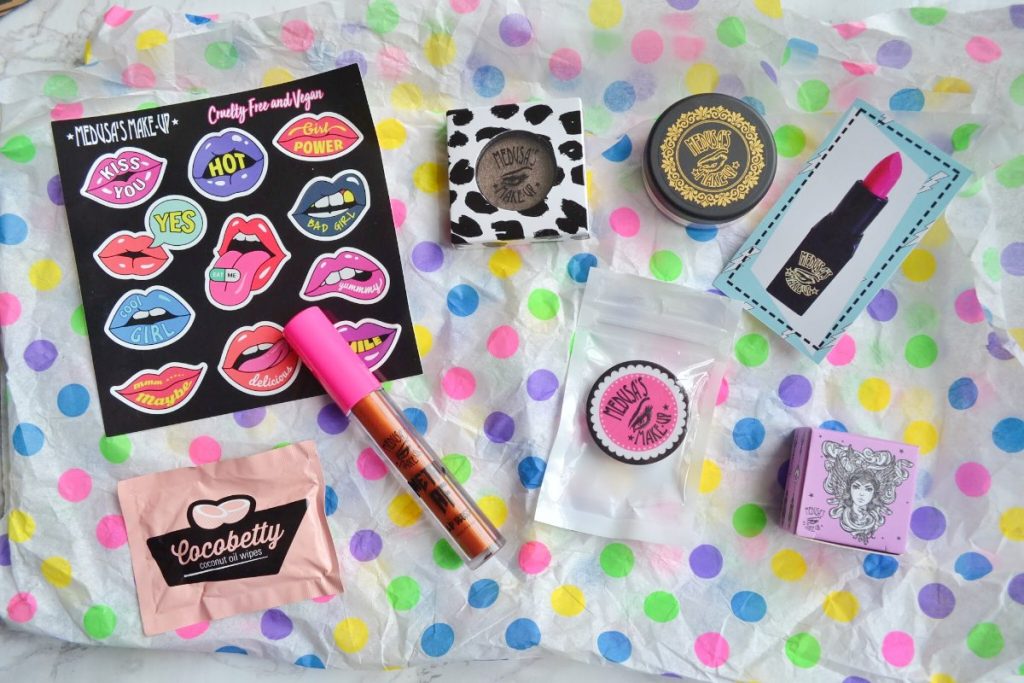 Mineral Blush in "Laser Beams" ($14)
This blush is currently exclusive to the August box subscribers, but it will be released to the public in the future. This is an absolutely stunning peachy shade. It's iridescent and reflective, and I actually think it makes a perfect highlighter. Seriously, this blush is more blinding than some of the highlighters I own. I've been using it on my cheekbones rather than the apples of my cheeks, and it gives a gorgeous, glowy look.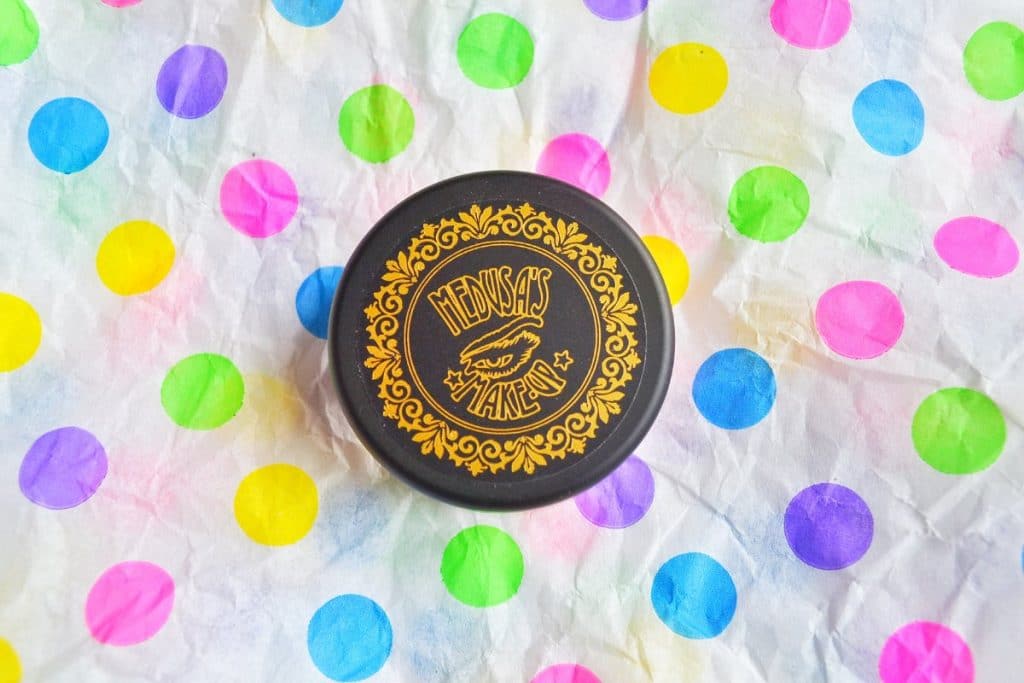 Look at how beautiful and metallic this swatch looks! I really like the highlighter's wet-looking finish.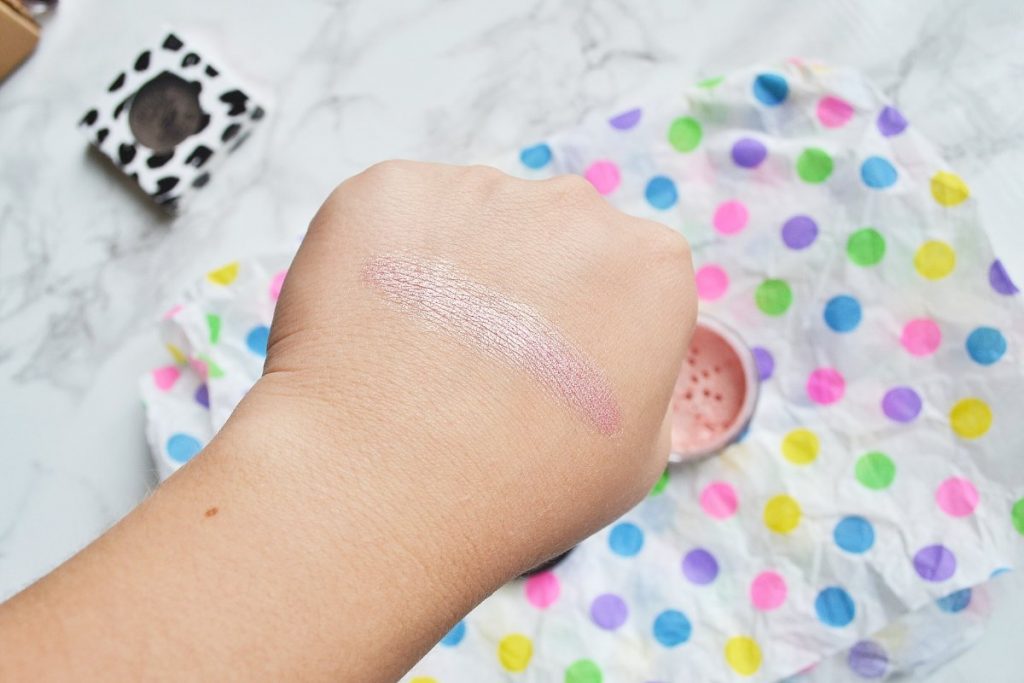 Metal AF Lip Gloss in "Crazy Train" ($11)
Metal AF Lip Glosses are one of my favorite Medusa's Makeup products. I already own the shades Cherry Pie and Kiss Me Deadly, and I'm so excited to add Crazy Train to my arsenal. Now, the Metal AF Lip Glosses don't actually look like a gloss. They are completely opaque, and dry down to a metallic matte finish. Their staying power is truly impressive! They're a bit difficult to remove, but a cotton swab and cleansing oil will set you straight.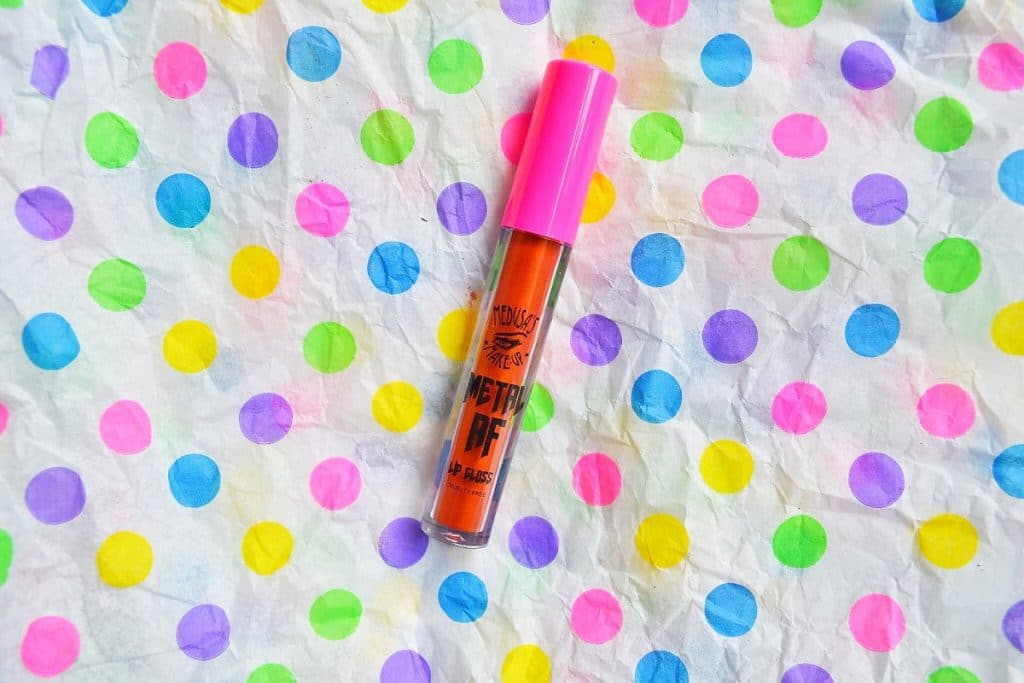 Crazy Train is a beautiful teracotta color that  instantly makes me think of autumn. The color is a little out of my comfort zone (this is coming from a girl who wears blue lipstick on the regular), but that's what Medusa's Makeup is all about!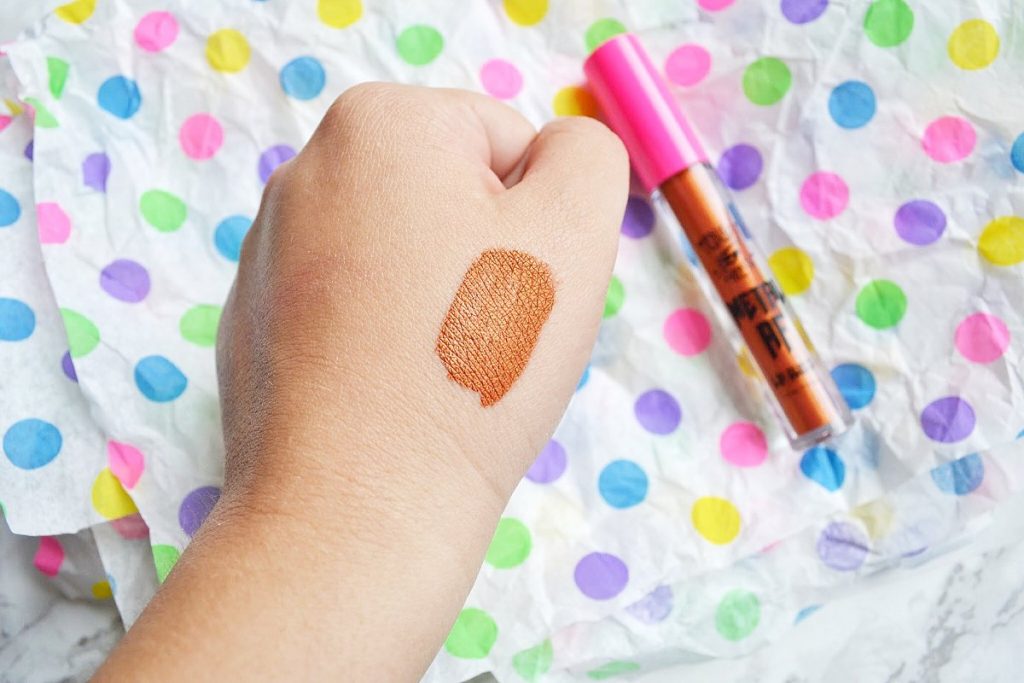 Totally Baked Eyeshadow in "Bodacious" ($9)
I also own a couple different Totally Baked Eyeshadow shades, so I knew right away I would love this. "Bodacious" is a cool toned shimmer shade that looks dark brown straight on, and bronze when the light hits it. I am used to receiving super colorful eyeshadow from Medusa's Makeup, but it will be nice to own one of their neutral shadows.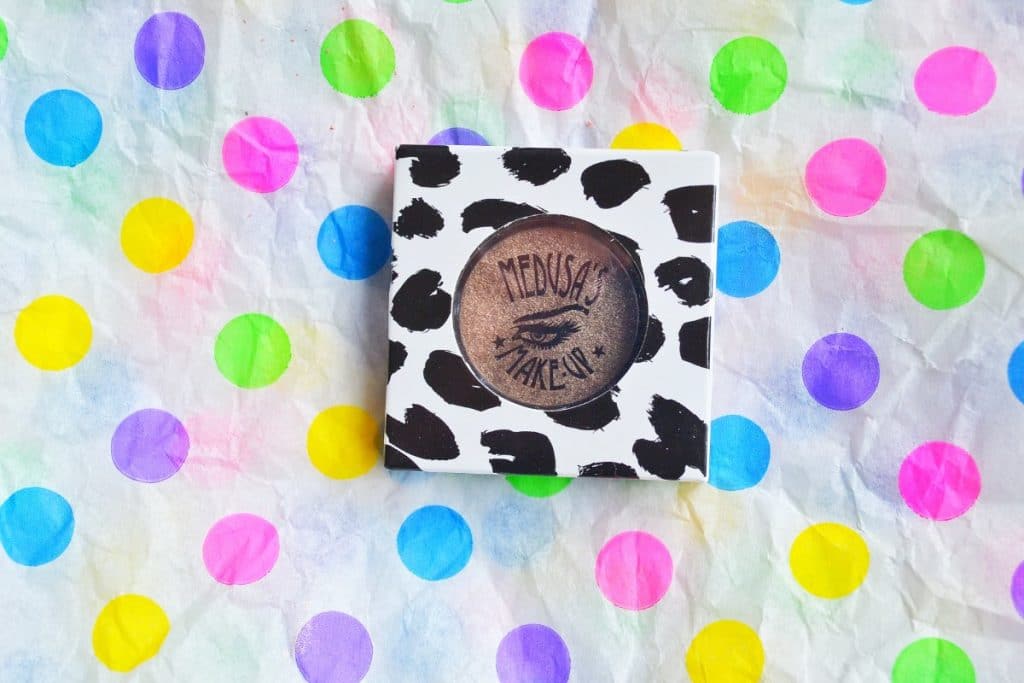 Medusa's Makeup Totally Baked Shadows don't have as much pigmentation as Eye Dust, but they are easily buildable. They are also quite velvety for baked shadows.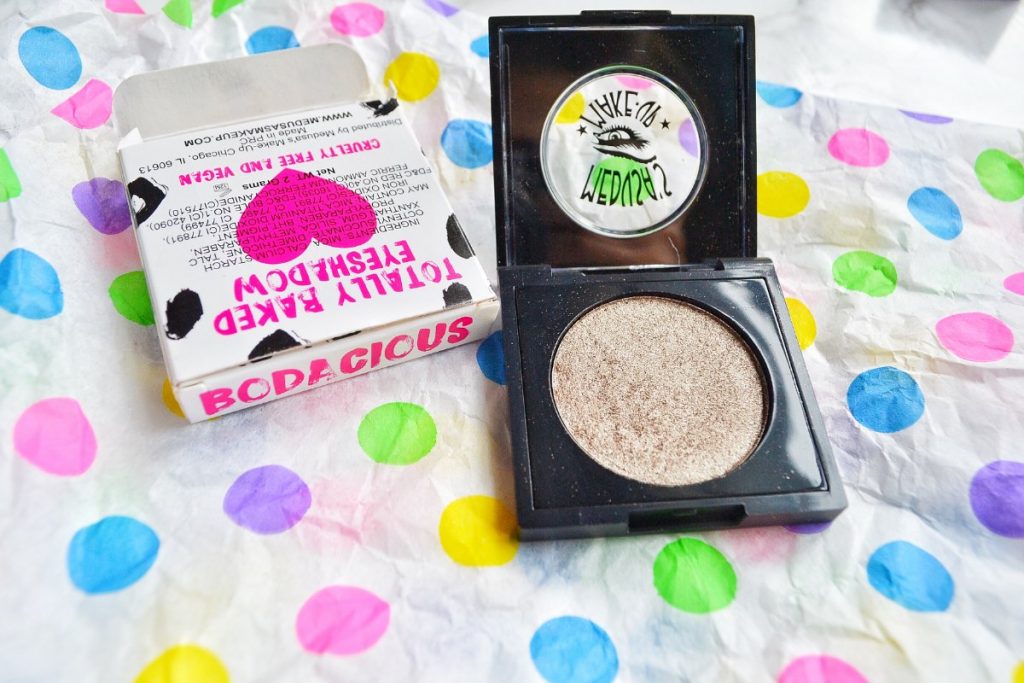 I love how this looks when the light hits it! I'm so excited to finally add a cool-toned bronze to my eyeshadow collection.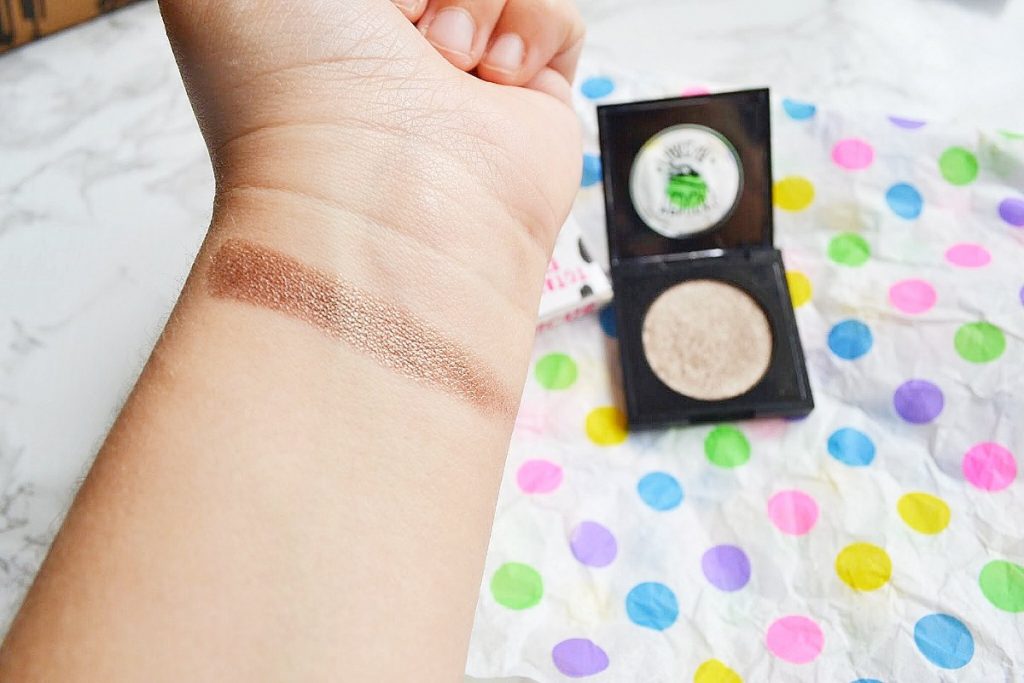 Mystical Eye Dust in "Medusa" ($11.95)
Okay, can we just talk about how gorgeous the design on this box is? I love how it depicts Medusa as the beautiful maiden she was before being cursed by Athena.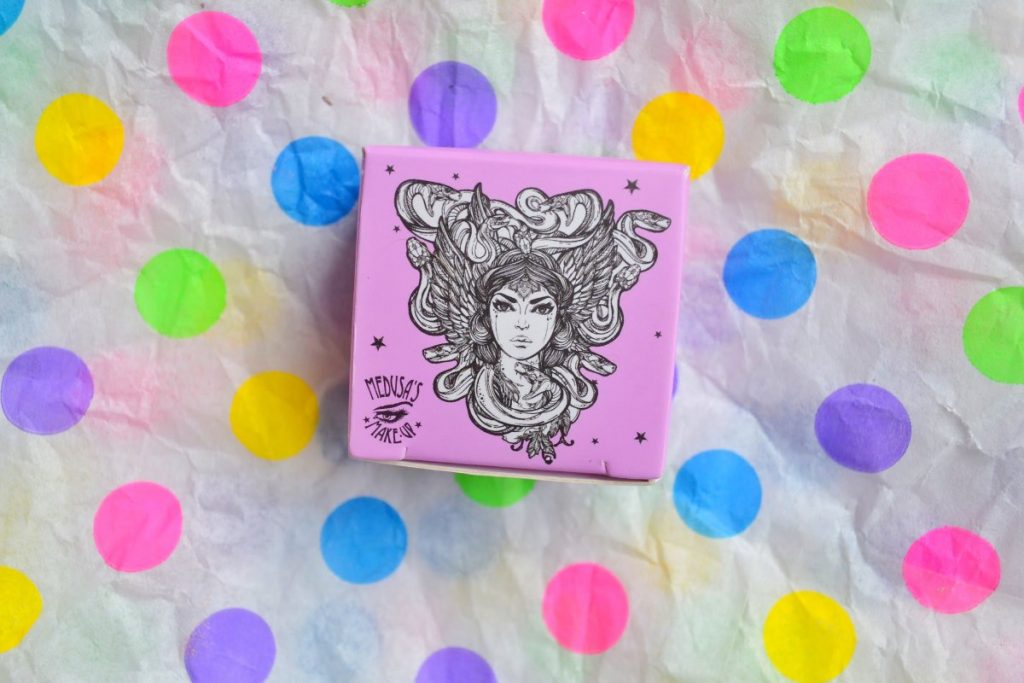 The jar itself has the familiar Medusa's Makeup logo on the top.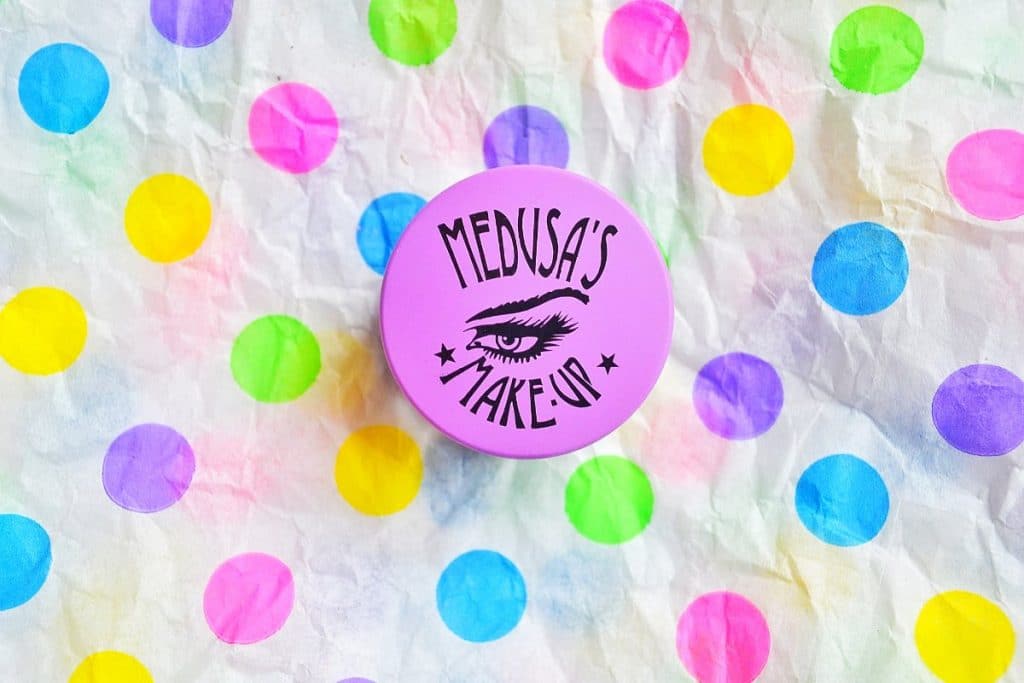 The shade "Medusa" is an ultra-pigmented gunpowder grey, with flecks of gold. The tiniest little bit goes a long way! Seriously, I was able to do this whole swatch with just a speck of eye dust. The eye dust is super soft and smokes out like a dream.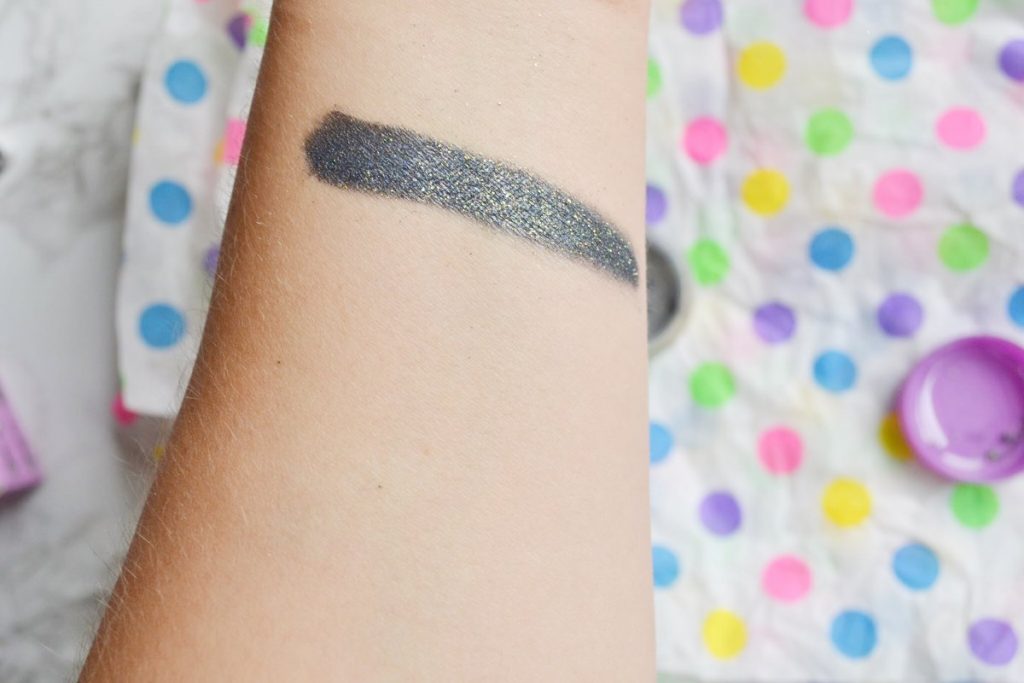 Those were all the makeup products in August's Birthday Box, so let's take a look at the extra goodies!
CocoBetty Makeup Wipe ($3)
CocoBetty uses MCT coconut oil to moisten these wipes, and they won't leave your skin feeling tight, dry, or irritated. They are soft on the face, and remove eye makeup pretty well. I like how these leave my lashes feeling moisturized!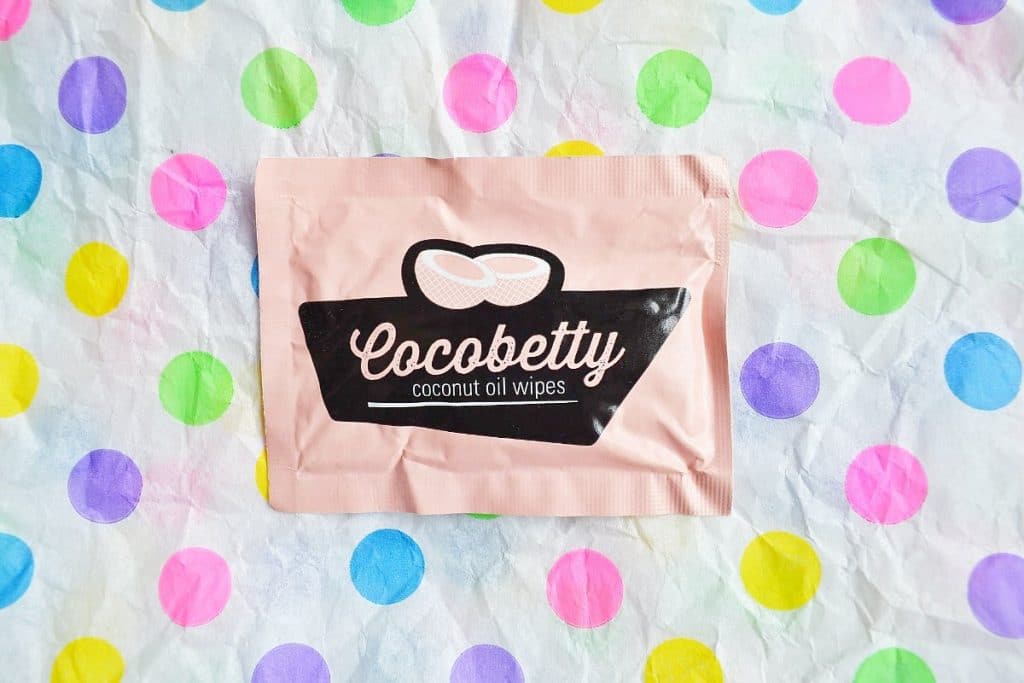 Medusa Pop Socket ($3)
This is my first pop socket ever! I love the Medusa's Makeup logo, so I'm quite excited to have this attached to my phone. I drop my phone constantly, so this was much needed.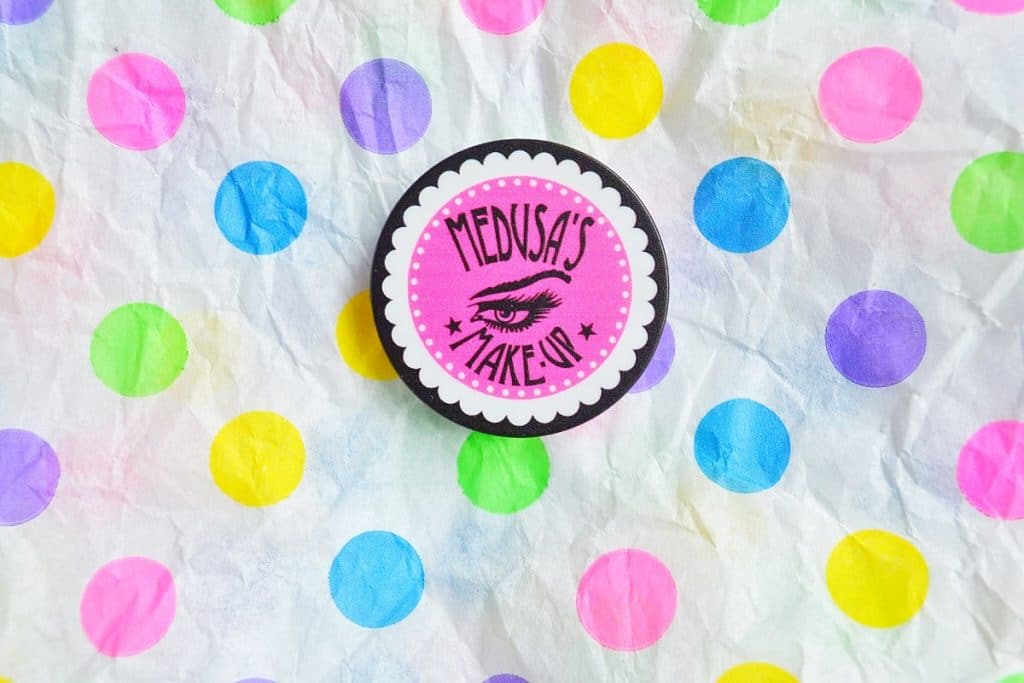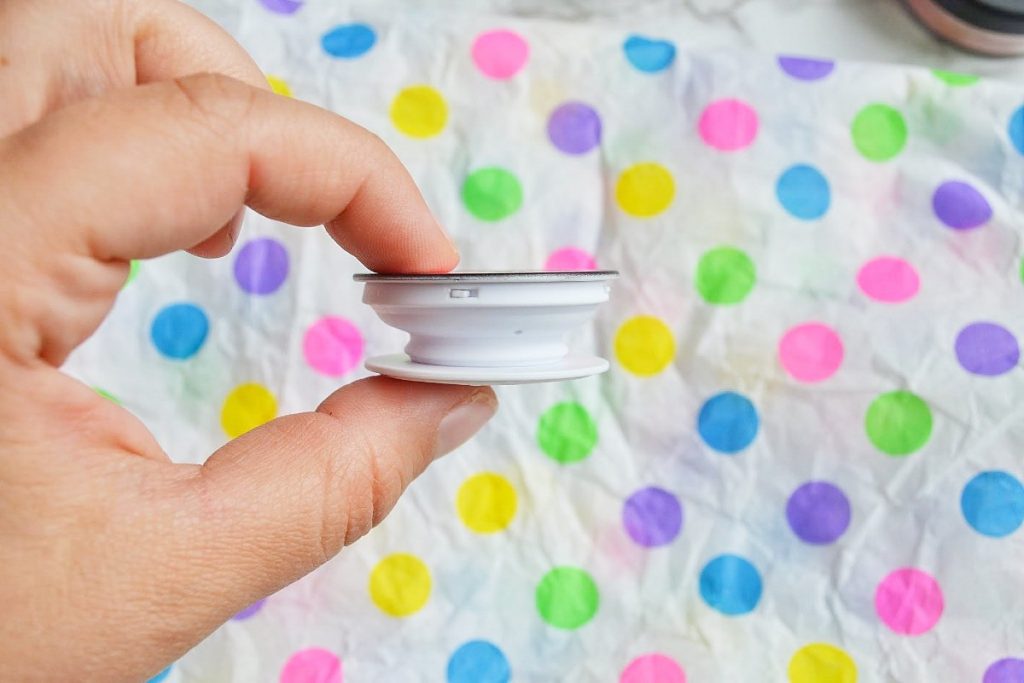 Medusa Stickers ($2)
These stickers are so STINKING cute, and I'm going to put a couple on my laptop. I really love the Girl Power one!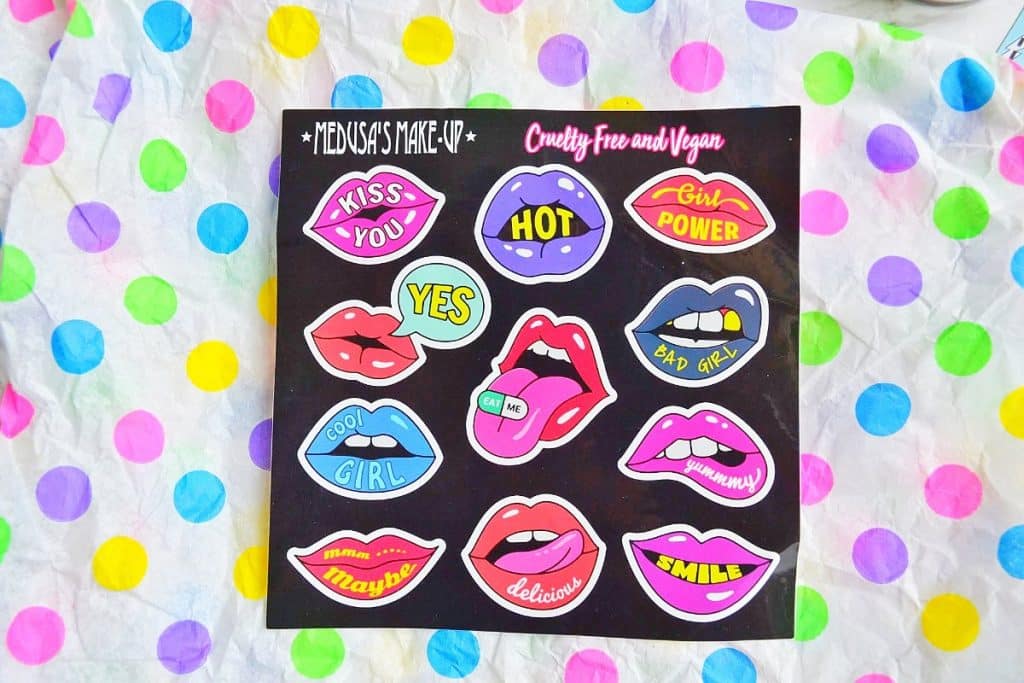 The final item in my box was a coupon code for a free lipstick with a $30 purchase on Medusa's Makeup.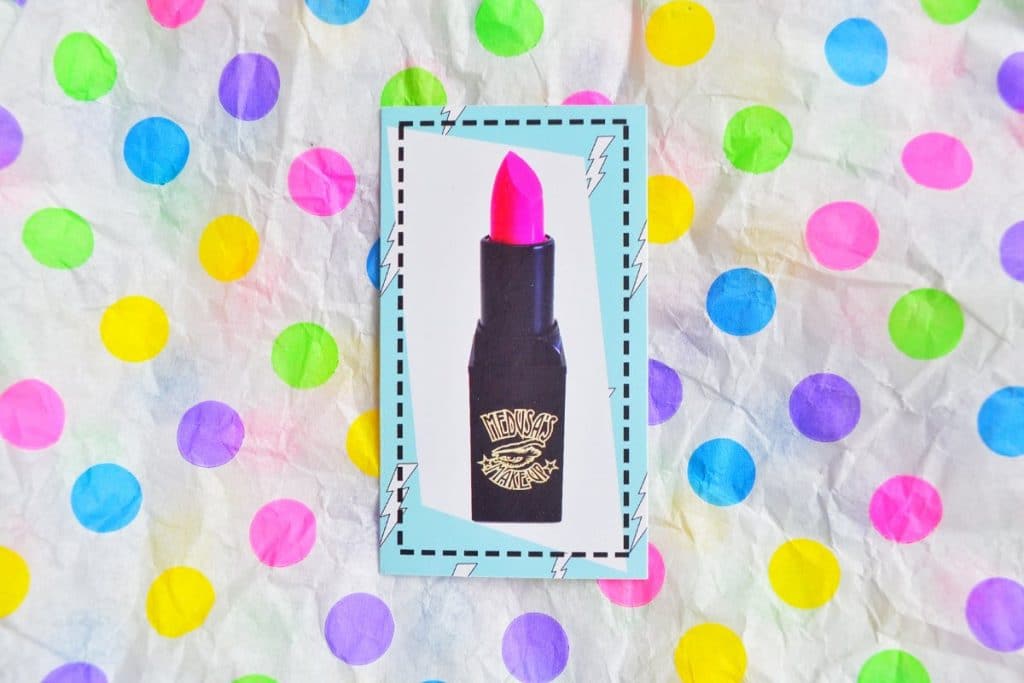 So, I quite liked the extra goodies that Medusa's Makeup put in this box. However, the way this box was promoted gave me the impression it would be filled with extra makeup products. I have talked to several people who also felt that way, and they were disappointed when they realized they were only receiving promo merchandise. The goodies were a nice touch, but I don't think the box should have been hyped the way it was, with Instagram stories saying every day that it's their biggest box ever. I know that technically it was their biggest box, but it felt a little misleading. I know there are lots of people eagerly awaiting their boxes, who are under the impression that they will be receiving six or seven makeup products.
That being said, this was one of my favorite Medusa's Makeup boxes I've ever received (and I was subscribed for almost an entire year). I think the mineral blush is stunning, and it's one of my new favorite products. I also think the box had a great value for the cost. Medusa's Makeup remains one of my favorite subscription boxes, and one of my favorite companies in general.