Create more zen moments in your day with the new Vegan Cuts Yoga Box. From chakra teas and bracelets to healthy snacks and aromatherapy, the Vegan Cuts Yoga Box is filled with products to enhance and support your practice.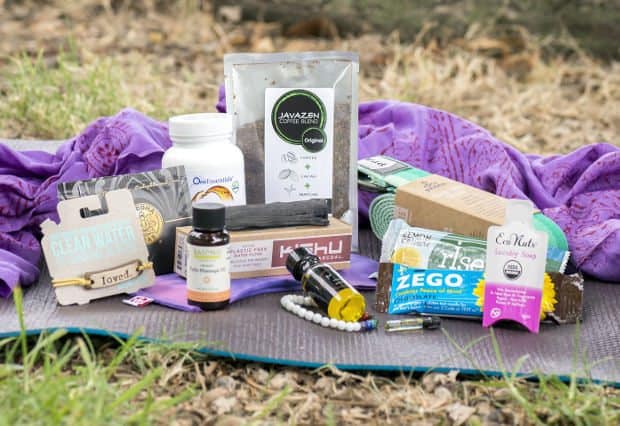 The Vegan Cuts Yoga Box has a $139 retail value and is on sale for just $39 – over a $100 savings. The Vegan Cuts Yoga Box features 14+ products including:
yogitoes hBand – Various Colors – $4 value
prAna Yoga Strap – Various Colors – $15 value
Dharma Shop Sensational Prayer Scarf – Various Colors – $29 value
MudLOVE Loved Bracelet – $8 value
Rise Bar Lemon Cashew Protein+ Bar – 2.1 oz
Zego Chocolate Nutrition Bar – 1.6 oz
SacredxStones Snow Quartz Chakra Bracelet – $10 value
Kishu Charcoal To Go for Water Bottles – 1.3 oz – $10 value
OmEssentials Vitamins – Various Supplements
Javazen Original Superfood Coffee – 1.4 oz
IAMOPUS Body Oil – .5 oz
Eco Nuts Laundry Soap – 1 Load
Banyan Botanicals Daily Massage Oil – 1 oz
21 Drops Focus Essential Oil – .02 fl oz
Buddha Teas 4th Chakra Tea and Solar Plexus Chakra Tea – 2 Tea Bags
YogaDownload.com Coupon – offer expires 12/31/15
The Vegan Cuts Yoga Box is available for purchase and shipping now. Order your Vegan Cuts Yoga Box before it sells out!