Brought to you by the editors of NewBeauty Magazine, NewBeauty TestTube delivers a curated box filled with the latest breakthrough of beauty products. Today, we're taking a look at the NewBeauty TestTube.
It starts with a pink box in the mail, but surprise, when you open the box, and unveil the tissue, there's a tube of products inside.
The brochure guides you through the products, with testimonials from bloggers, explanations of each item, complete with descriptions, prices, and where to buy.
Inside the NewBeauty TestTube July 2015 Box
In the NewBeauty TestTube July box, eight items are included! These items have been carefully curated after experts and editors have tested the products. These are beauty must-haves, and you're sure to find a new beauty favorite. You'll find deluxe samples and full-size products.

1. GLAMGLOW, YOUTHMUD TINGLEFOXILATE TREATMENT — .5 fl. oz.
Unisex, professional-quality mud mask which moisturizes, soothes, and protects in just 10 minutes.
2. Balanced Guru, Style Me Roots to Ends Hair Oil — .5 fl. oz.
Certified Organic hair oil which improves hair texture, controls curls, frizz and flyaways—perfect for styling all hair types.
3. Supersmile, Quikee with Calprox — 30 uses, Full size: .17 oz.
Brightens teeth with Calprox instant stain remover, also freshens breath, and a compact size to go anywhere.
4. GrandeLASH—MD, Grande Mascara — Deluxe sample
Mascara and lash booster with Sympeptide 226EL to promote more dramatic lashes.
5. IT Cosmetics, Brow Power Universal Eyebrow Pencil — Full size
Exclusive, universal shade has the chameleon-like ability to match all hair colors and cover grays to shape natural-looking brows.
6. Ojon, Rare Blend Protecting Treatment — .85 fl. oz.
Heat-protection spray with nourishing oils that helps to protect and condition while taming hair.
7. dr. brandt, Pores No More Cleanser — Full Size, 3.5 fl. oz.
Gel formula improves complexion of combination and oily skin by giving a deep cleanse without stripping skin of its natural oils.
8. WEN, Cleansing Conditioner—6 fl. oz.
5-in-1 cleansing conditioner works as a shampoo, conditioner, detangler, and more. Leaves hair more manageable, stronger, moisturized, and easier to style.
NewBeauty TestTube July 2015 Box Review Wrap-Up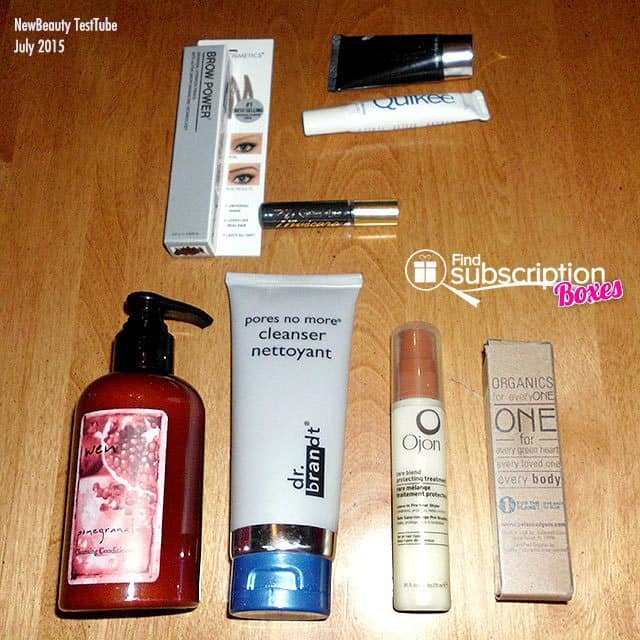 The NewBeauty TestTube July 2015 Tube was packed with trendsetting beauty essentials curated by TestTube's insiders. Everything from brightening teeth on-the-go, lush lashes and groomed brows, facial treatments with a cleanser, and a mask; plus hair care products to cleanse, fight frizz, and protect. The hottest products in luxe and full size samples to pamper oneself every day and create your own style!
Which was your favorite beauty product from the July NewBeauty TestTube?
NewBeauty TestTube 30% Off Promo Offer
For a limited time, save 30% off your first NewBeautyTestTube beauty box and get your 1st NewBeauty TestTube for just $20.95 + shipping – a $9 savings!