Brought to you by the editors of NewBeauty magazine, NewBeauty TestTube delivers a curated box filled with the latest breakthrough beauty products. Today, we're taking a closer look at the May 2015 NewBeauty TestTube.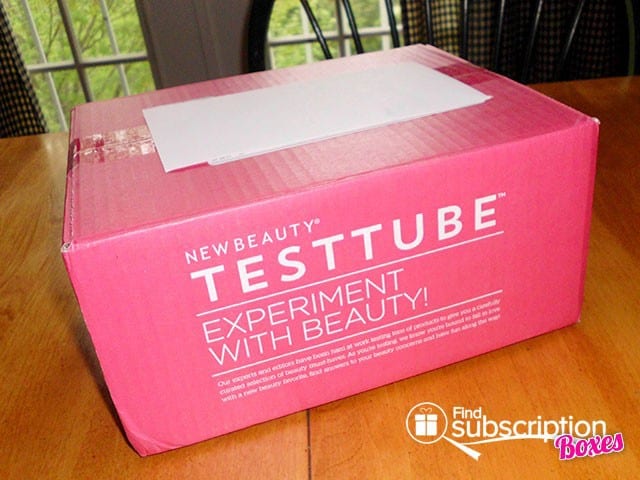 It starts with a pink box in the mail, but surprise, when you open the box, and unveil the tissue, there's a tube of products inside. The brochure guides you through the products, with testimonials from bloggers, explanations of each item, complete with descriptions, prices, and where to buy.
Inside the NewBeauty TestTube May 2015 Box
Upon opening this TestTube subscription box, seven items were revealed. These items have been carefully curated after experts and editors have tested the products. These are beauty must-haves, and you're sure to find a new beauty favorite. You'll find samples, deluxe samples, and full-size products.

1. Patchology, Hydrate FlashMasque Facial Sheets – 1 masque sheet, Full size: 8 facial sheets – $50
Delivers a mega-dose of moisture to quench, refresh, and plump the look of thirsty skin.
2. Brandt Skincare, needles no more—instant wrinkle relaxing cream – Deluxe .085 sample, Full size: .5 fl oz – $89
Created by Dr. Brandt, it's a topical wrinkle relaxing cream: no needles, no pain; releases creases and expression lines, but leaves your emotions intact. Visibly improves look of fine lines and wrinkles.
3. Glo therapeutics, Gentle Cream Cleanser – deluxe sample of 2oz, Full size: 7oz – $37.
Maintains the balance as it gently and thoroughly cleanses the skin.
4. It's a 10, Silk Express Miracle Silk Leave-In conditioner for hair – 2 fl. Oz Travel size
Make your hair longer, stronger, shinier, and more manageable with this lighter-than-air leave-in conditioner.
5. TanTowel, a four-pack sampler with Classic Self-Tan Towelettes and Plus Self-Tan Towelettes
Get a golden glow without sun damage. This natural-looking, no mess, clear tanning formula, and works in a few hours.
6. Hada Labo Tokyo, Replenishing Hydrator. Full Size product sample: 1.7 fl. oz
A powerful combination of 3 types of Hyaluronic Acid. Plump fine lines with a lightweight moisturizer, replenishing, restoring, and can be used under and over makeup for all-day dewy skin.
7. LIDS BY DESIGN, Medical Grade Instant Eyelid Correcting Strips by Contours Rx – Deluxe Sampler
Create a more youthful appearance by lifting and correcting the eyelids without surgery with these medical grade, hypoallergenic, latex free strips, made using organic materials.
NewBeauty TestTube May 2015 Box Review Wrap-Up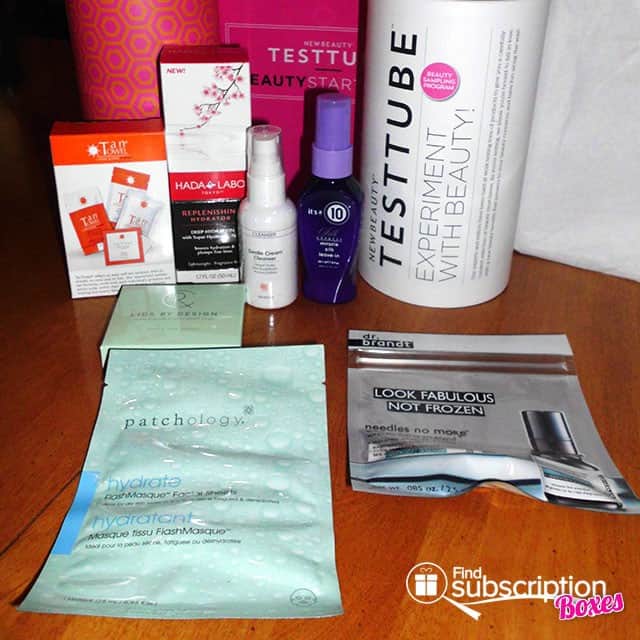 The NewBeauty May 2015 TestTube was packed with beauty essentials for keeping a youthful appearance with the latest and hottest product trends. We love the healthy glow of a sunless tan from the TanTowels, cleansing skin with glo therapeutics, a wonderful leave-in conditioner for the hair. The skin products were perfect for having an at-home spa day to rejuvenate one's look for Spring and the upcoming Summer months. It's wonderful to have many deluxe and full size samples, too.
What was your favorite beauty item from May's NewBeauty TestTube?
Save 30% Off Your 1st NewBeauty TestTube
For a limited time, join NewBeauty TestTube and ave 30% off your first NewBeauty TestTube – a $9 savings!