Loot Crate is the first monthly subscription box for geeks and gamers, delivering a monthly box of geek gear, collectables, and other goodies to your door. If you're familiar with "leet" speak, you may recognize the $13.37 price per month for Loot Crate subscriptions (plus shipping.)
We're taking a closer look at the November 2014 Loot Crate box with this review. The theme of the Loot Crate November 2014 box was BATTLE and featured products that keep your battles in sight – whether you fight in a galaxy far, far away or deep within yourself.
The November Loot Crate box was the familiar black, branded box, however it had a warning label on the side.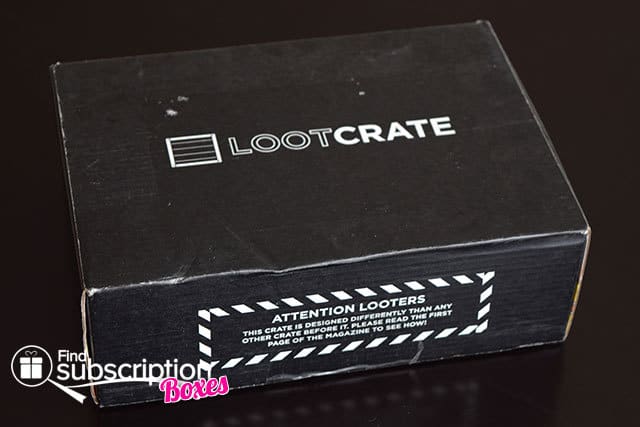 This month's Loot Crate box and mini-mag can be used to make your very own MegaMan vs. Street Fighter Battle Crate!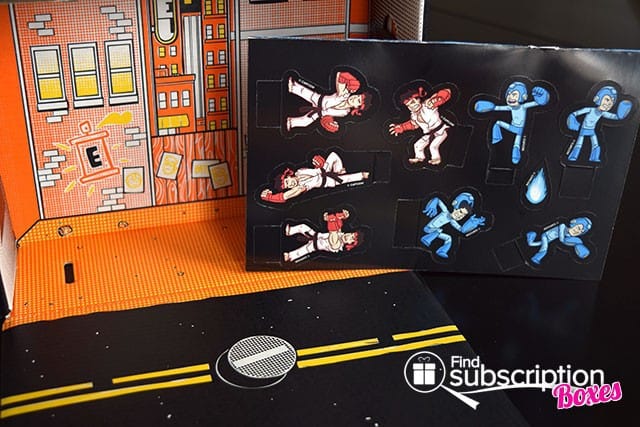 We usually find the Loot Crate mini-magazine at the bottom of the Loot Crate box (under all the "loot.") In addition to information about the items in this monthy's Loot Crate, the mini mag also had an interview with Ubisoft, the creators of Assassin's Creed and and article about HALO.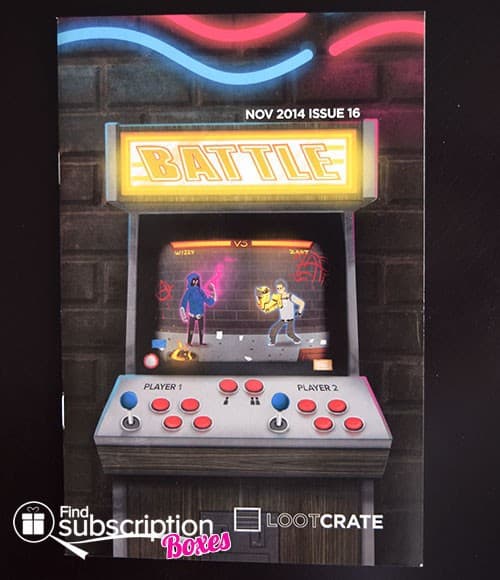 Here was our first look at the November 2014 Loot Crate Box.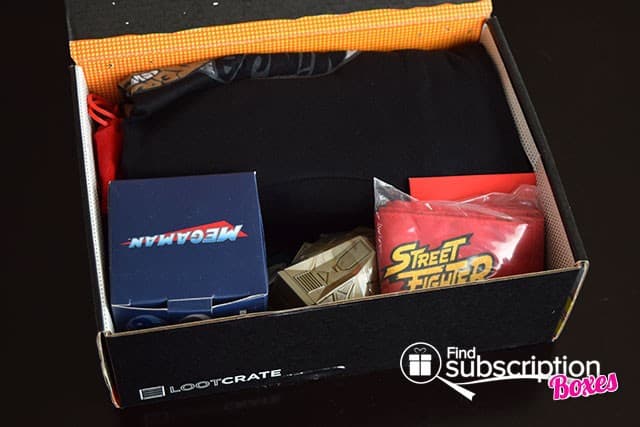 Inside the November 2014 Loot Crate Box
There were 8 items in our Loot Crate November 2014 Geek and Gamer subscription box.

1. Pirates vs Ninjas Shirt by Zen Monkey Studios, Estimated Retail Value: $19.99
This exclusive shirt asks the age-old question " Who would best the other in battle – Pirates or Ninjas?" We vote ninjas!
2. CAPCOM Mega Man Mini Helmet, Estimated Retail Value: $12.95
Featuring Mega Man in some of his classic Mega Man 2 and Megan Man 3's Rush colors, these are exclusive Mega Man mini-helmet replicas!
3. HALO Drop Ship Mini Figurine, Retail Value: $3.99
This drop ship grenade features a HALO mini figure and sidearm, perfect for battling with the UNSC or Covenant forces.
4. CAPCOM Street Fighter Headband, Estimated Retail Value: $5.99
Wear this exclusive replica of Ryu's headband as the new generation of World Warriors. Hadouuuuken!
5. Assassin's Creed IV Unity Coin with Velvet Pouch, Estimated Retail Value: $4.99 
A Loot Crate exclusive, this Unity Coin is adorned with the seal of the Assassins on one side and a space for Looters to engrave their own names on the other.
6. Loot Crate November 2014 Pirates vs Ninjas Pin, Estimated Retail Value: $0.50
Show your Loot Crate flare with this month's collectible pin.
The November Loot Crate box also featured a gift code to download (7.) Super Street Fighter IV Arcade Edition from Steam (a $20 value) and (8.) access to a digital MegaMan comic from Archie Comics.
November 2014 Loot Crate Box Wrap-Up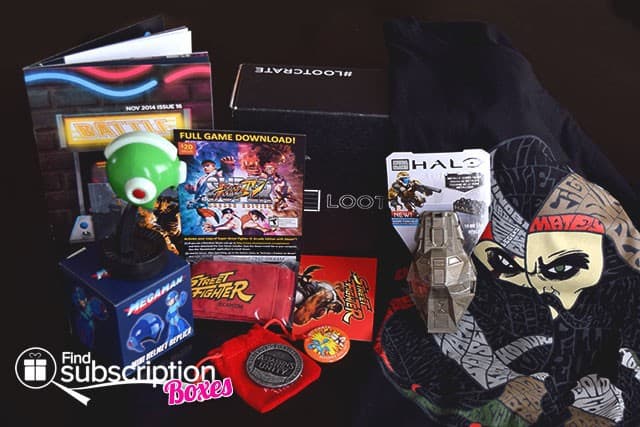 The November 2014 Loot Crate box had a LOT of great exclusive gamer items – from the Mega Man mini helmet to the Assassin's Creed coin. We always enjoy when Loot Crate brings such a great variety of game collectibles in their monthly box. With this BATTLE-themed Loot Crate, everyone should be ready for their in-game "Round One, Fight!" The estimated value of the Loot Crate November 2014 box was $68.41 – an amazing value for this month's box.
Don't miss the December 2014 Loot Crate! Get a sneak peek at the December Loot Crate theme, box spoilers, and save $3 off new Loot Crate subscriptions with code ANNIVERSARY. Hurry, the cut-off date for the Loot Crate December 2014 box is December 19, 2014 at 9PM PST!