Comic Block is a monthly subscription box for comic book lovers. Every month, Comic Block sends a mystery comic box filled with exclusive merchandise, comic books, and other comic collectibles right to your door. Each box has $60 worth of comic collectibles, including an exclusive comic t-shirt. With today's Comic Block review, we're unboxing the November 2016 Comic Block.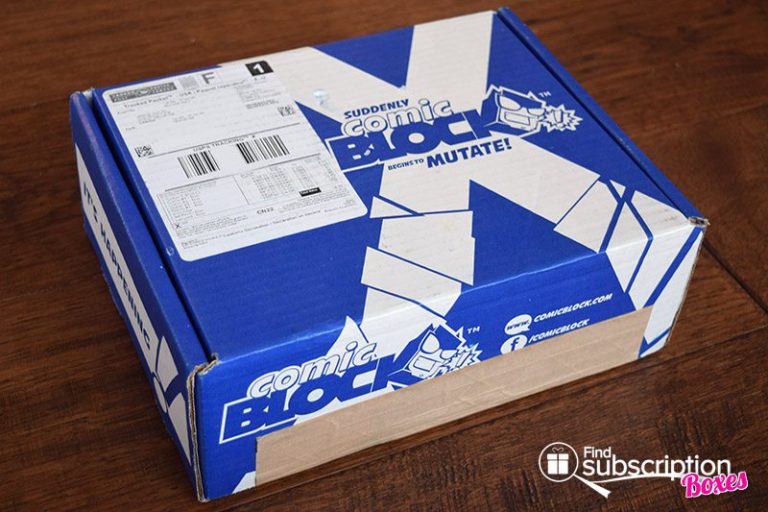 Comic Block includes a product card that describes each of the comic book collectibles in the monthly comic box. There were also box spoilers for the December 2016 Comic Block! December's Comic Block has 7 EXCLUSIVE comic collectibles including 4 exclusive variants and an exclusive Gotham City Sirens Lil' Bombshells figure.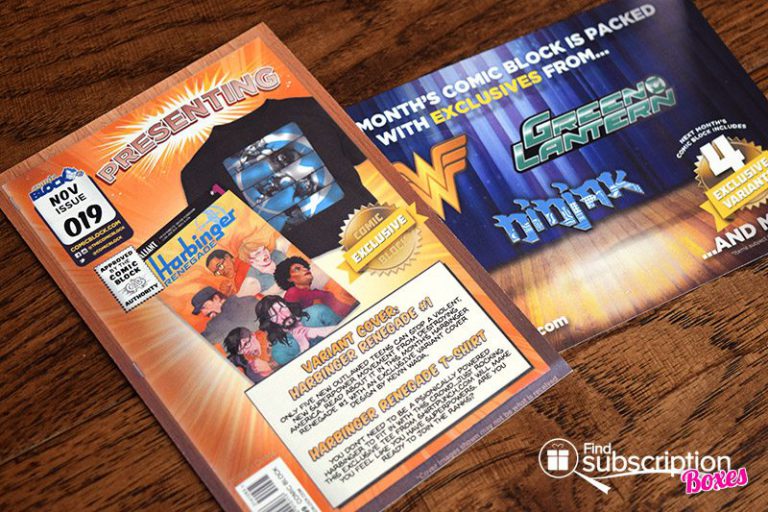 Here's a first look inside our November 2016 Comic Block.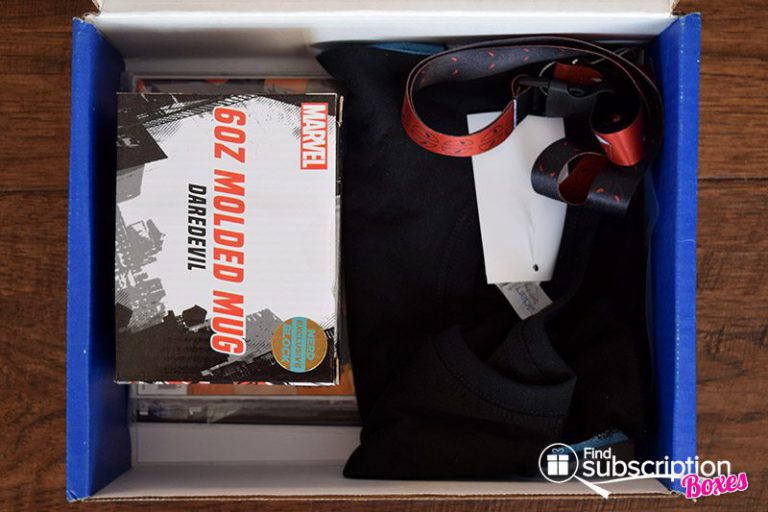 Inside the November 2016 Comic Block
There were 8 comic book collectibles in Comic Block's November box.

EXCLUSIVE Harbinger Renegade T-Shirt
Even those without Psionic powers can look like a superhero with this exclusive Harbinger Renegade shirt.
EXCLUSIVE Harbinger Renegade #1 with Variant Cover
Featuring an exclusive variant cover design by Kevin Wada, follow five new outlawed teens as they try to save America.
EXCLUSIVE Masked #1 with Variant Cover
Follow Frank Brafford as he battles anomolies on his home turf in this issue of Masked with a variant cover by Mark Laming.
EXCLUSIVE Hellboy and B.P.R.D.: 1954 with Variant Cover
Hellboy is on a new mission to find out what creature is behind the attacks on the Arctic expedition.
EXCLUSIVE Batman and the Teenage Mutant Ninja Turtles #1 with Variant Cover
With an exclusive variant cover by J. Bone, this issue shares what happens when Batman and the Turtles meet, clash and team up.
EXCLUSIVE X-Women by Tommoken Art Print
Get a glimpse of the X-Women's street style with this exclusive art print.
EXCLUSIVE Deadpool Lanyard
If you need to add a little excitement to your job, use this exclusive Deadpool lanyard to hold your name tag or keys.
EXCLUSIVE Daredevil Mini Mug
Drink, and live, without fear with this exclusive mini mug designed after Daredevil.
Bonus: A $10 Shirtpunch.Com Credit is in every Block! This month there was also a $10 credit to the Nerd Block Shop.
November 2016 Comic Block Review Wrap-Up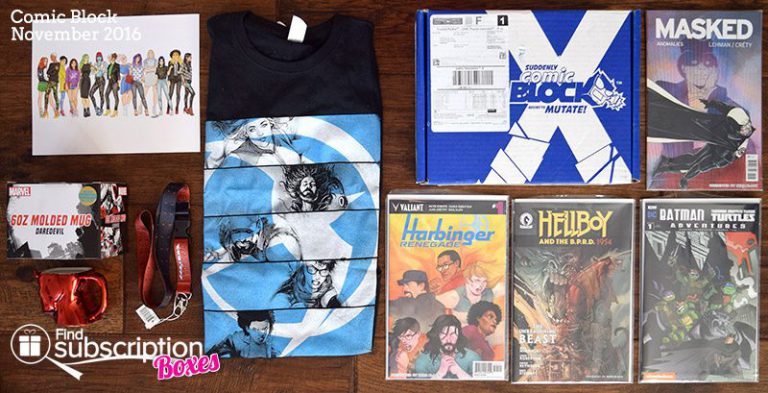 November's Comic Block was totally packed with exclusive comic books and fun comic book collectibles. First is the Harbinger Renegades t-shirt and exclusive issue #1 comic book. We've seen this style of shirt design on a past Guardians of the Galaxy shirt and love how each bar of the design represents a different renegade. In the Issue #1 Harbinger Renegade comic book by Valiant comics, we catch up with Faith, Kris, and the other Renegades as they grapple with the consequences of leaking Toyo Harada's secret files.
We didn't know what to expect with the Batman and Teenage Mutant Ninja Turtles comic book from IDW. In their first adventure, the Turtles and Batman both come across a mysterious symbol surrounding some unexplained occurrences.
From Dark Horse Comics, Hellboy and the B.P.R.D. 1954 comic book series introduce us to Hellboy's first few years as an agent of the BPRD. In this third BRPD mini, The Unreasoning Beast, Hellboy and Agent Farrier travel to an island in the Arctic Ocean to investigate a yeti-like monster.
The fourth comic book, Masked from Titan Comics, introduces us to Frank Baffort. Frank a soldier suffering from PTSD who is trying to adjust to his new life in Paris, including the mysterious Anomalies.
The Daredevil Mini Mug is a fun geek kitchen item. The mug is a metallic red design of Daredevil's head. It's "mini" because it's a 6 oz size.
The art print by Tommoken features many of your favorite X-Women – from X-23 to Dani Moonstar – wearing the latest trends in street style. It is a fun fashion comic book art item.
Lanyards are a staple item in tech companies or jobs with key access. The Deadpool lanyard allows you to be a little rebellious, even while at work.
What was your favorite November Comic Block comic book item?
Comic Block Coupon
Join Comic Block now and save on your first comic box! Use Comic Block promo code FindSubBox16 to save 15% off the first month of new monthly Comic Block subscriptions. Save up to 25% with multi-block and multi-month subscriptions!