Today, we will be reviewing the November 2016 Dog's Best Trend subscription box for dogs. Dog's Best Trend is a monthly subscription box that carries fashionable apparel for your canine family member to sport around. In addition, they donate a percentage of each subscription towards dog rescue associations all around the nation. Dog's Best Friend is currently supporting the Dumb Friends League.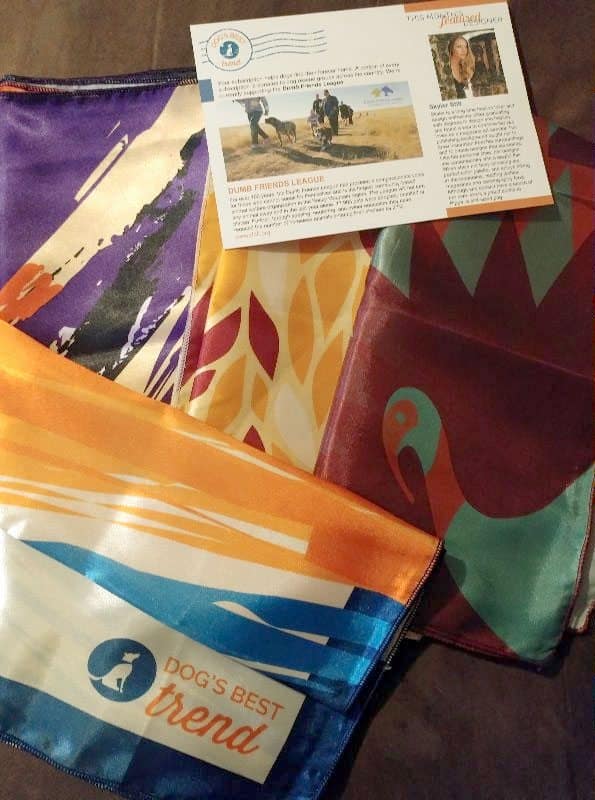 The information card provided by Dog's Best Trend states that "For over  100 years, the Dumb Friends League has provided a compassionate voice for those who cannot speak for themselves and is the largest community-based animal welfare organization in the Rocky Mountain region. The League will not turn any animal away and in the last years alone, 17,903 pets were adopted, reunited or placed. Further, through spaying, neutering and owner education they have reduced the number of homeless animals entering their shelters by 27%." Check out www.ddfl.org for further information on the Dumb Friends League.
Every month, Dog's Best Trend has a featured designer. This month's featured designer is Skyler Still who has degrees in design and fashion. "Her designs are contemporary with a playful flair. Although she does not a have a pooch of her own, she's a proud auntie to Pippa, a pint-sized pug."
Inside our November 2016 Dog's Best Trend Sample Box
Held within a manila bubble mailer were four beautiful, square, silky, scarfs customized to our dog's weight. Your monthly Dog's Best Trend box will include one dog scarf. Each scarf is finished with a stitched outer edge to keep the scarf from fraying and to increase the life of the scarf. The Dog's Best Trend logo is present on at least one of the corners of each scarf. All the scarfs are unisex. Two of the dog scarves have bright, vibrant, fun colors with a splatter paint/ broad paint stoke scratched pattern. The first one being modeled by Autumn in the picture below is purple, orange, black and beige.
Pipp is modeling a fun dog scarf that is blue, orange, and white.
The next two scarfs, modeled by Lessa, are more subtle with distinct patterns. The first scarf design is a mosaic of rust, teal and maroon colored triangles. What seems to be a large bird, such as a peacock or turkey, us in one of the corners.
The last dog scarf design features an off-white background and a variety of maroon, white, and yellow/golden leaf-like shapes.
These dog scarves are so much fun and make our pups look fabulous. We also love that a portion of the proceeds goes towards such a great cause! I recommend checking out Dog's Best Trend and the associations in which they help support. Thanks for reading!
Dog's Best Trend Free Month Offer
Current Dog's Best Trend subscribers have a chance to win a free month of Dog's Best Trend! Just share a picture of your pup wearing one of their scarfs and tag @dogsbesttrendltd on Facebook or Instagram.
Not a subscriber? You can still get a FREE month of Dog's Best Trend. Subscribe today to get your first scarf for free with any new recurring Dog's Best Trend subscription.