Fit Snack is a monthly fitness nutrition snack box that delivers healthy snacks and drinks, motivational tips and fun exercises to your door every month. Every box features only the most delicious and healthiest products on the market – in both full and sample sizes. With today's Fit Snack review, we're unboxing the November 2016 Fit Snack box. Fit Snack includes a card in each box describing that month's healthy snacks.
Inside the November 2016 Fit Snack Box
Oh, the treats! Here's what was in our November Fit Snack Box.
(1) Purely Inspired Powdered Peanut Butter
(1) Tickle Water: Watermelon – a beautifully designed product
(2) Kracklin Kamut
(1) Pasta Chips: Rosemary – one of our favorite snacks
(1) Choco Rite Protein Bar
(2) Rawrev Bar: Chocolate Coconut Bliss
(1) BigTreeFarms Coconut Sugar
(1) People's Choice Old Fashioned Beef Jerky
(2) Smarty Pants Vitamins
Fit Snack also provided some bonus items in November's snack box.
Bonuses:
(1) Dang Toasted Coconut Chips: Salted Cacao – another one of our favorites
(4) Lakanto Monkfruit Sweetener
There was various literature on some of the brands included in November's Fit Snack box.
November 2016 Fit Snack Review Wrap-Up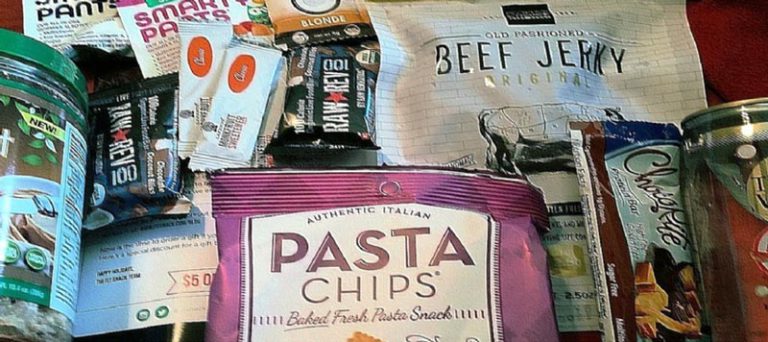 This is our second Fit Snack monthly subscription box and just like the last time that we received it, we were and are, so pleased to have gotten it.  This one is also too fun to get – it's heavier than one hand can grip. The box has an excellent variety of healthy snacks to try, to sample and to enjoy from excellent brands. You'll be familiar with many of them if you are already consuming healthy treats. We also liked that this box had a drink, along with vitamins, which provided an outstanding variety of nutritious treats.
November 2016 Fit Snack Coupon
For a limited time, use our Fit Snack link to subscribe and you'll save $3 off any Fit Snack subscription! Sign up for 6 or 12 month Fit Snack subscriptions and you will also receive up to 3 bonus gifts, in addition to the $3 discount.