Birchbox Man is a monthly subscription box for men's grooming and lifestyle products. Every month, Birchbox Man subscribers receive a personalized assortment of grooming and style upgrades. With today's Birchbox Man review, we're unboxing our October 2016 Birchbox Man box.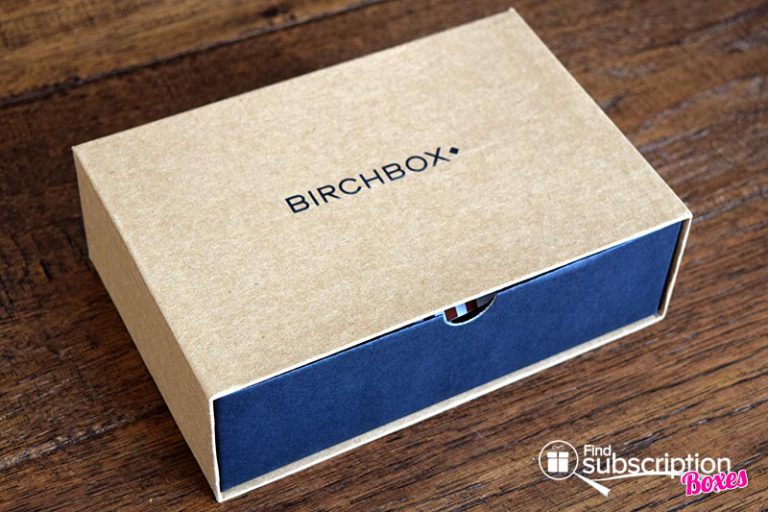 Birchbox Man includes a card describing that month's theme and each of the products in your box. The October 2016 Birchbox Man theme was One of a Kind.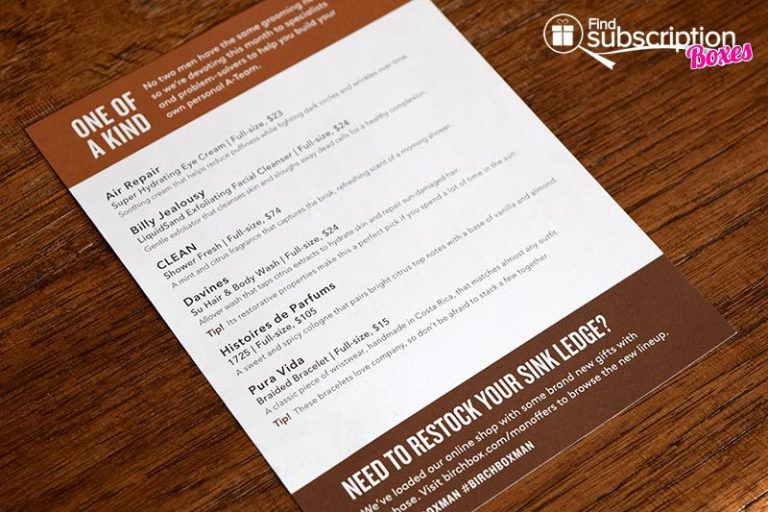 No two men have the same grooming needs, so we're devoting this month to specialists and problem-solvers to help you build your own personal A-Team.
Here's a first look inside our Birchbox Man October 2016 men's subscription box.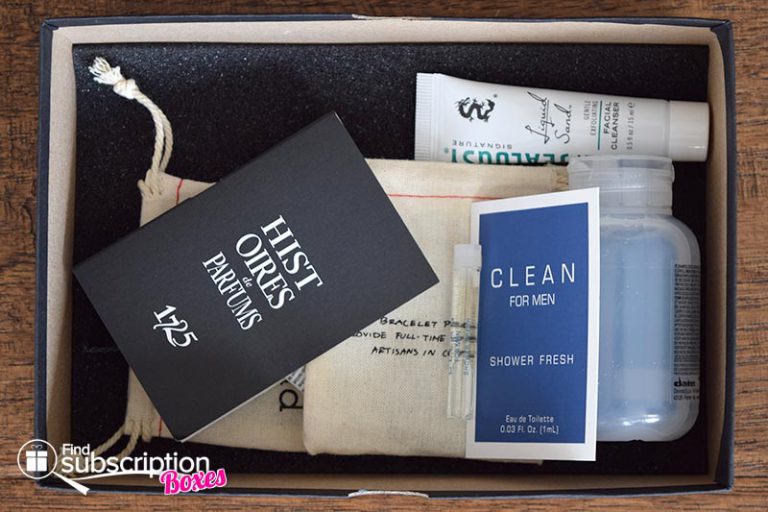 Inside the October 2016 Birchbox Man Box
There were 6 products in our October Birchbox Man box.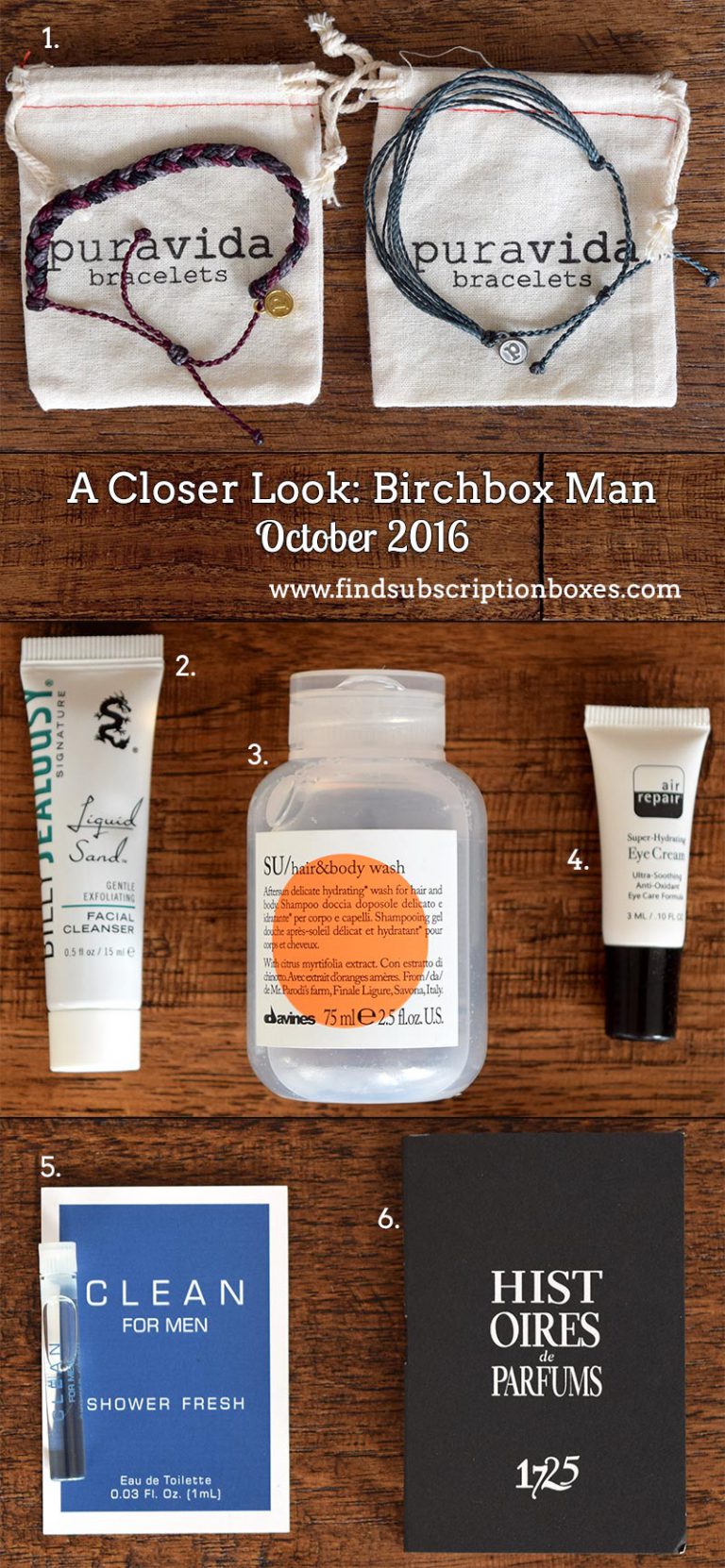 Pura Vida Braided Bracelet
Handmade in Costa Rica, this classic piece of wristwear matches almost any outfit.
Billy Jealousy LiquidSand Exfoliating Facial Cleanser
Cleanse skin and slough away dead cells to reveal a healthy complexion with this gentle exfoliator.
Davines Su Hair & Body Wash
This body wash uses citrus extracts to both hydrate skin and repair sun-damaged hair.
Air Repair Super Hydrating Eye Cream
Help reduce puffiness while fighting dark circles and wrinkles with this soothing eye cream.
CLEAN Shower Fresh
Freshen up with this mint and citrus fragrance that captures the brisk scent of a morning shower.
Histoires de Parfums 1725
This cologne pairs bright citrus top notes with vanilla and almond base notes for a sweet and spicy cologne.
October 2016 Birchbox Man Review Wrap-Up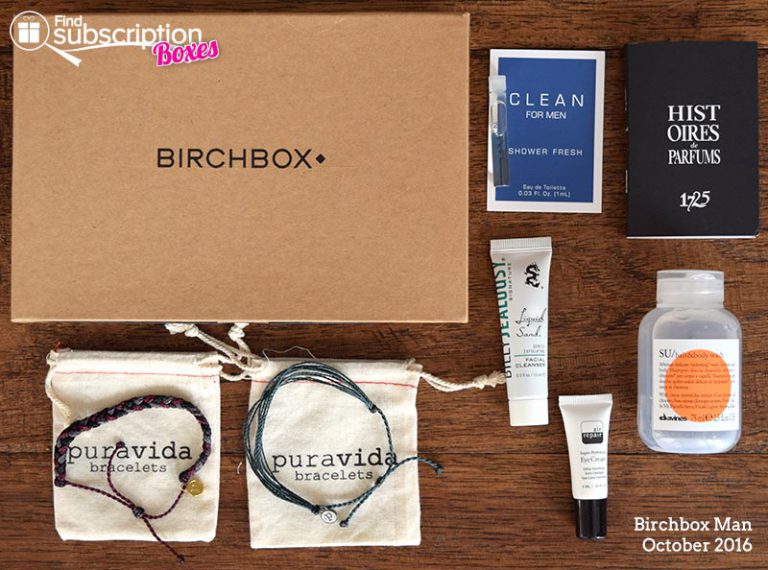 Our October 2016 Birchbox Man box delivered a variety of lifestyle and grooming products to help us look and feel our best. We're not sure if everyone received 2 Pura Vida bracelets, but we loved this stylish wrist accessory. Each bracelet is handmade and has a unique braided design. You can it wear alone or stacked.
The exfoliation cleanser is more gentle than a scrub but still effectively washes away dead skin or grime. It also has a natural moisturizer and helps combat fine lines, which makes it great for every day use. The Air Repair Eye Cream is another product to help freshen up the face. Dab the cream around the eyes to protect and moisturize your skin. If you didn't get as much sleep as you like, this product will minimize the appearance of dark circles and puffiness to help you look more awake.
At the end (or start) of your day, the Davines Hair & Body Wash is a versatile grooming product. This 2-in-1 product not only conditions and repairs damaged hair, but also hydrates your skin while reducing irritation or inflammation from time in the sun.
There were two fragrance samples in our October box. First was CLEAN Shower Fresh for Men, which has a crisp, clean scent. As the name suggests, it really does make you smell like you just stepped out of the shower. The Histoires de Parfums 1725 cologne has a muskier fragrance. The citrus top notes and vanilla base blend to create a complex and manly scent.
What was your favorite October Birchbox Man product?
Birchbox Man Free Gift Coupon
New subscribers that join Birchbox Man today will get a free "Cleansing Trio" packed with fan-favorite samples. Use code CLEANUP at checkout.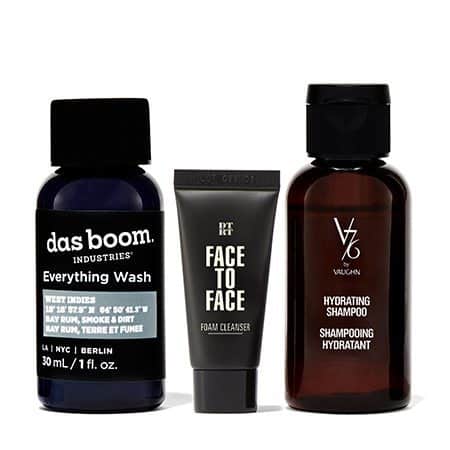 Free gift offer valid through November 11, 2016 or while supplies last.