ZBOX is a monthly subscription box for geeks that delivers a variety of geek items tied to a monthly theme. Each ZBOX features over £40 worth (that's about $50) of exclusive, licensed merchandise. With today's ZBOX review, we're unboxing the October 2016 ZBOX monthly geek box. The ZBOX October 2016 theme was DC Universe and featured items inspired by Gotham and Metropolis.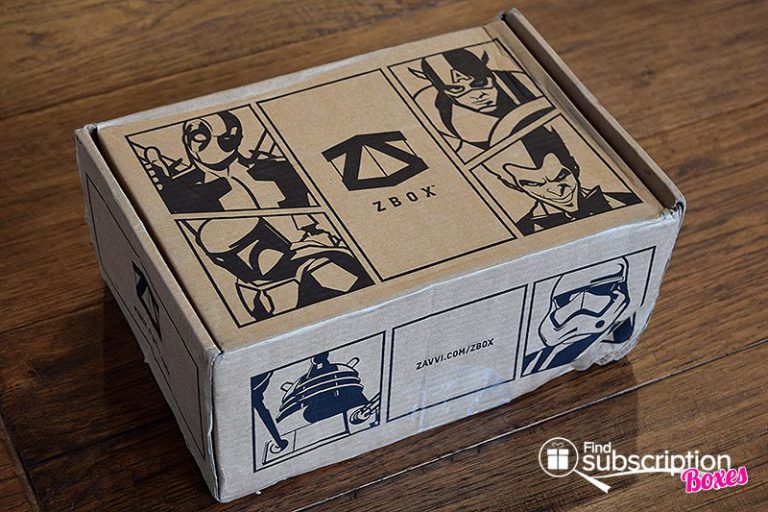 ZBOX includes a fun magazine revolving around each month's theme. The magazine includes fun articles and a description for each of the items in the box.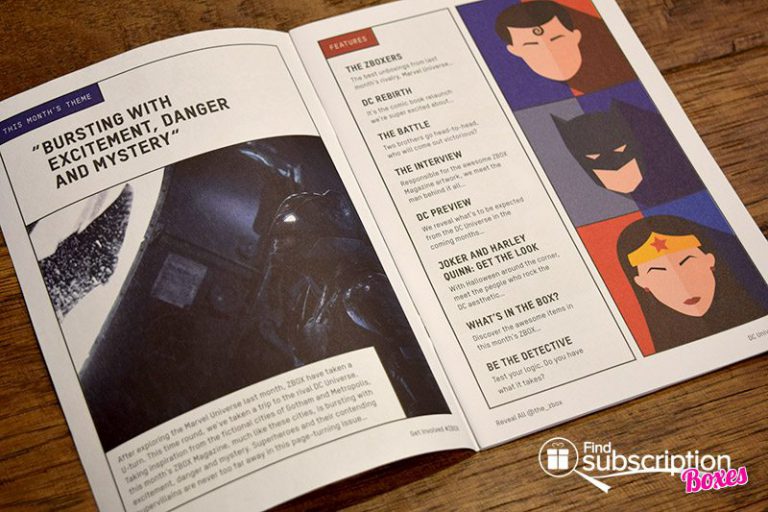 Here's a first look inside our October DC Universe ZBOX.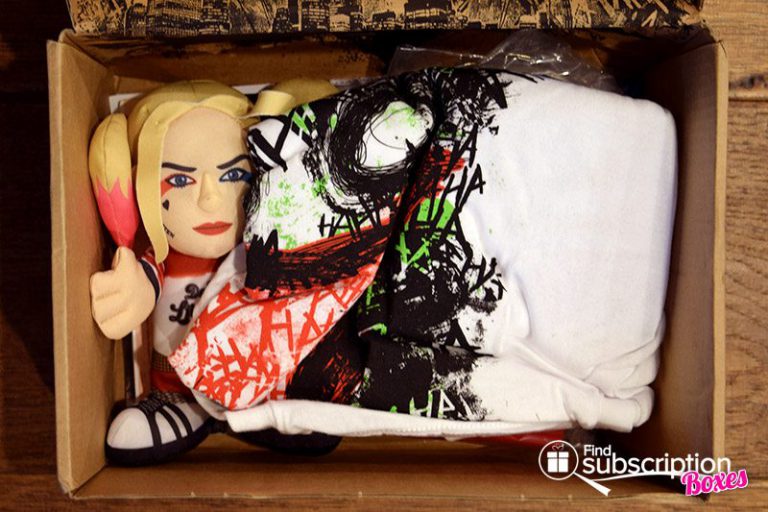 Inside the October 2016 ZBOX
There were 6 geek collectibles in our October 2016 ZBOX.

Joker T-Shirt
Add this Joker tee to your collection and see who's laughing now.
DC Universe Rebirth Suicide Squad #1
Captain Rick Flag, one of America's greatest military commanders before he was banished to a secret military prison has a new mission: keeping the Suicide Squad alive!
Harley Quinn Bleacher Creature
This soft bleacher creature
Harley Quinn Print
Hang this Harley Quinn wanted poster up in your room too add some Harley Quinn decor.
Superman Socks
These ZBOX exclusive Superman socks may not give you the ability to fly, but they'll keep your feet warm!
Batman Projector Torch
Project your own bat signal to bring Batman to life wherever you go.
October 2016 ZBOX Review Wrap-Up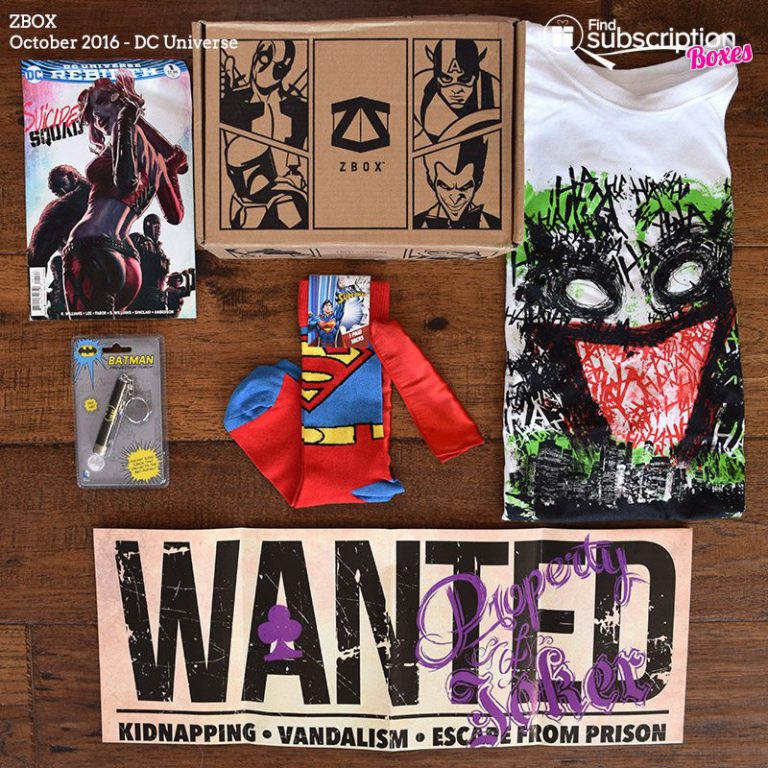 The October ZBOX delivered several items from Suicide Squad and other DC Comics characters. First up is the Joker t-shirt which has Joker's infamous grin laughing over the city of Gotham.
Next, there were two Harley Quinn items in the DC Universe ZBOX. The large Harley Quinn Wanted poster features Margot Robbie wielding Harley's bat, along with the "suspects" description. Next is the Harley Quinn plush. It's sporting Harley's red, white, and blue outfit and pink and blue ponytails from DC Comic's New 52.
In Rebirth Suicide Squad Issue #1, we catch up with Amanda Waller as she sends the Suicide Squad on a new mission. They also share parts of Deadshot's origin story and how he ended up in Belle Reve Penitentiary.
You can't explore DC Universe without coming across two of the most famous superheroes. We love the exclusive Superman socks. The Superman logo is on the leg of the sock and the back of the sock has a red cape! The last item is the Batman Projector Torch. This pocket-sized light shines a Batman logo wherever you shine it.
What was your favorite geek collectible from the October DC Universe ZBOX?
ZBOX Free Star Wars POP! Offer
For a limited time, get a FREE Star Wars Funko POP! with new ZBOX subscriptions. Just click here and add BOTH a 1, 3, 6, or 12 month ZBOX subscription and one of the available Pop! Vinyls to your shopping cart to get the Funko POP! vinyl FREE!