Plum Deluxe is "handcrafted tea infused with love and gratitude" delivered in a monthly subscription plan. The Organic Tea of the Month subscription plan contains limited edition artisan teas for $10 per month for one tea or $16 per month for two tea blends. The tea blends are fresh, seasonal loose teas, hand-blended from organic and fair trade sources. The teas are free from sulfites and artificial chemicals, non-GMO, gluten-free, and vegan. It's a risk-free, cancel at any time plan, and there are options for caffeine-free/herbal and gift subscriptions.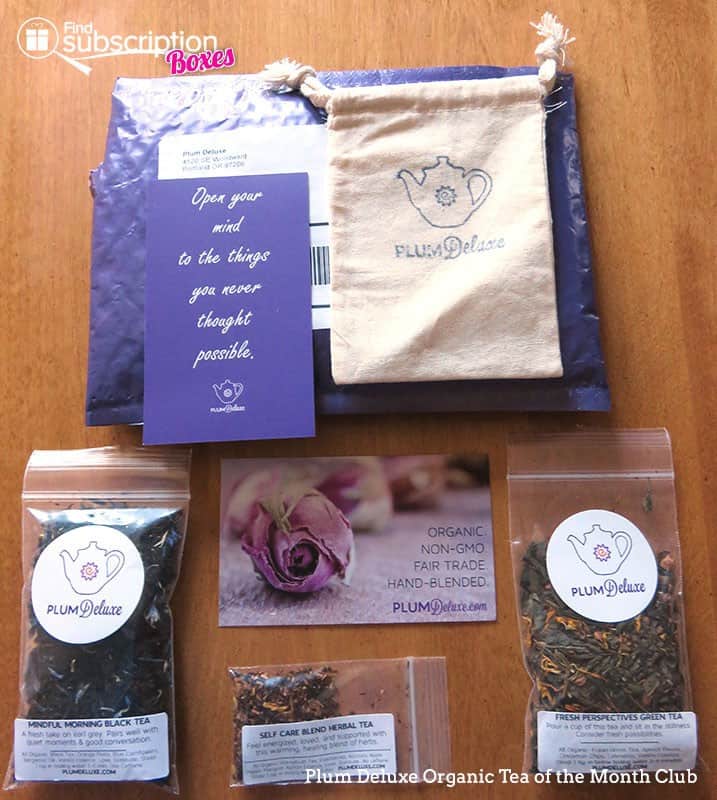 Each month's shipment contains 1-2 ounces of loose tea, enough for about 20 cups, with brewing instructions. In addition, there's a free sample of one additional tea and access to a private Facebook group dedicated to tea lovers. The Plume Deluxe website and lifestyle blog is a great resource for information on tea, inspirational messages, and a place to sign up for the weekly newsletter, The Blend, created by the founder, Andy Hayes.
Being a tea lover, I was very excited to try the Plum Deluxe subscription plan. From the moment I opened the package, the aroma of the teas was enticing. Packaged securely in self-sealing bags, it's easy to open and measure tea for steeping.  There's a nice muslin bag (reusable) for storing the teas in when not in use.
The first tea in my shipment I tried was the Fresh Perspectives Green Tea blend which contained the message: sit in the stillness, and consider fresh possibilities. The blend was delicious. I made a small pot of tea and enjoyed it a lot.
The second tea was Mindful Morning Black Tea blend which is a fresh take on Earl Grey. Its message: pairs well with quiet moments and good conversation. It was another enjoyable blend I made just by the cup, but it can easily be made in a pot, too.
The sample was Self Care Blend Herbal Tea, a caffeine-free tisane with the message: feel energized, loved, and supported with this warming, healing blend of herbs. It was a wonderfully flavored herbal tea.
With each shipment, there are cards with positive notes of encouragement. It's so nice to make the artisan teas at home for a fraction of the price one pays at a café or tea house. The Plum Deluxe Organic Tea of the Month subscription plan is offered in 3, 6, and 12 month increments. The plan also includes access to discounts on extra teas and supplies, a chance for surprise gifts and treats in shipments, as well as the new signature rotation of blends of 1-2 ounces of tea per month, private online community on Facebook, and a sample flavor.