Box of Style by The Zoe Report is a quarterly fashion and beauty subscription box for women. Every season, Rachel Zoe and The Zoe Report Team curate over $350 of the best fashion and beauty products to deliver to your door for just $100. With today's Box of Style review, we're unboxing the Rachel Zoe Fall 2016 Box of Style.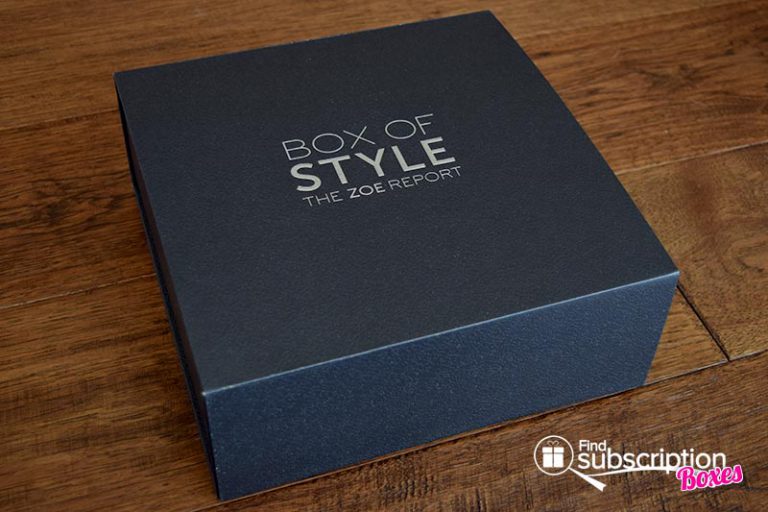 The Fall Box of Style included a product brochure that described each of the products in this season's box. There were also useful styling and beauty tips for wearing the beauty and fashion picks.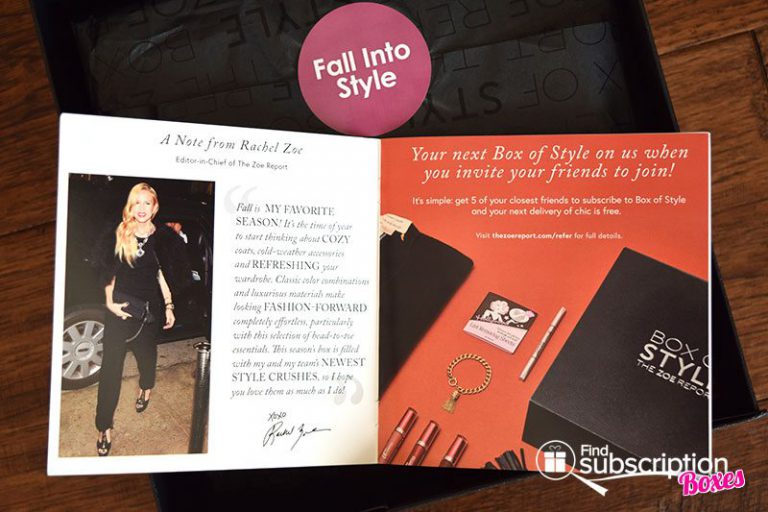 Here's a first look inside our Rachel Zoe Box of Style Fall 2016 box. Each item was carefully wrapped in black tissue paper, which only built up the suspense of the unboxing.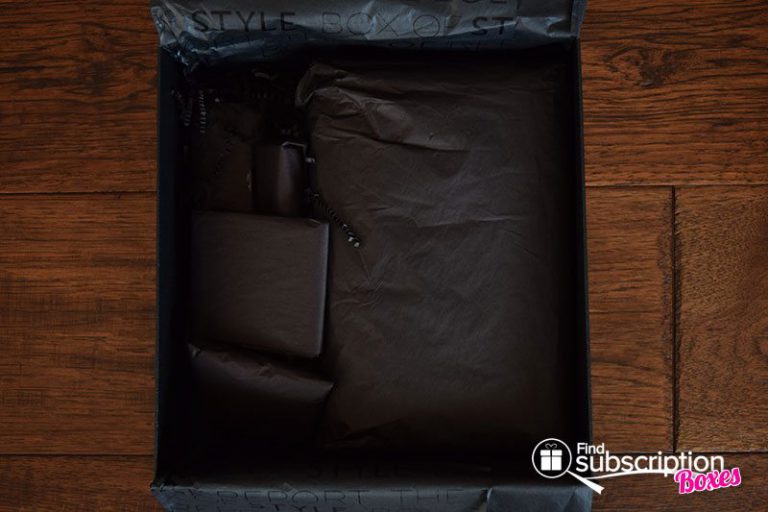 Inside the Rachel Zoe Fall 2016 Box of Style
There were 6 items in our Fall Box of Style by The Zoe Report Box.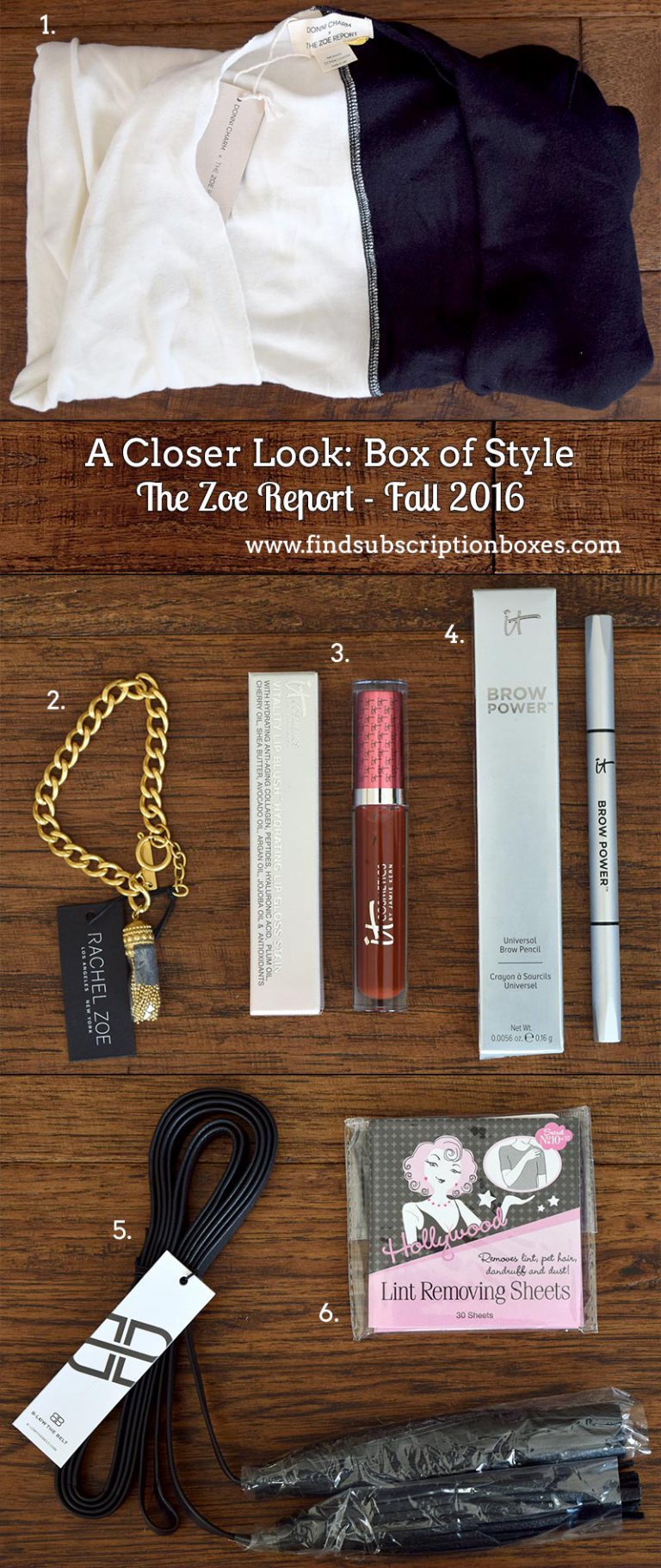 Donni Charm Wonder Cape, Retail Value: $197
"There is nothing more classic than black and white. This versatile cape transcends seasons and flatters every body type – it's sizeless, ageless and timeless." – RZ
Rachel Zoe Tassel Bracelet, Retail Value: $95
"Whether styled on its own as an elegant addition to your look, or layered among your stack of usual suspects, this is a piee of jewelry you'll wear constantly." – RZ
IT Cosmetics Vitality Lip Blush Hydrating Lip Stain, Retail Value: $24
"A bold lip doesn't always mean bright and saturated in color. What I love about the many shades of this lip stain is that it's a great way to boost your natural beauty without completely overtaking your look." – RZ
IT Cosmetics Brow Power Universal Eyebrow Pencil, Retail Value: $24
"This pencil works on any brow color and makes filling in so easy." – RZ
B-Low The Belt Gatsby Wrap Belt, Retail Value: $105
This belt is so versatile: double wrap it to cinch a maxi dress, do a dramatic single wrap around a thicker jackt, or pull it through belt loops on trousers." – RZ
Hollywood Fashion Secrets Lint Removing Sheets, Retail Value: $6
It's so easy to find yourself covered in lint, especially when you're wearing sweaters, scarves and fall coats. These are much more handy and compact than a bulky roll brush…" – RZ
Rachel Zoe Fall 2016 Box of Style Review Wrap-Up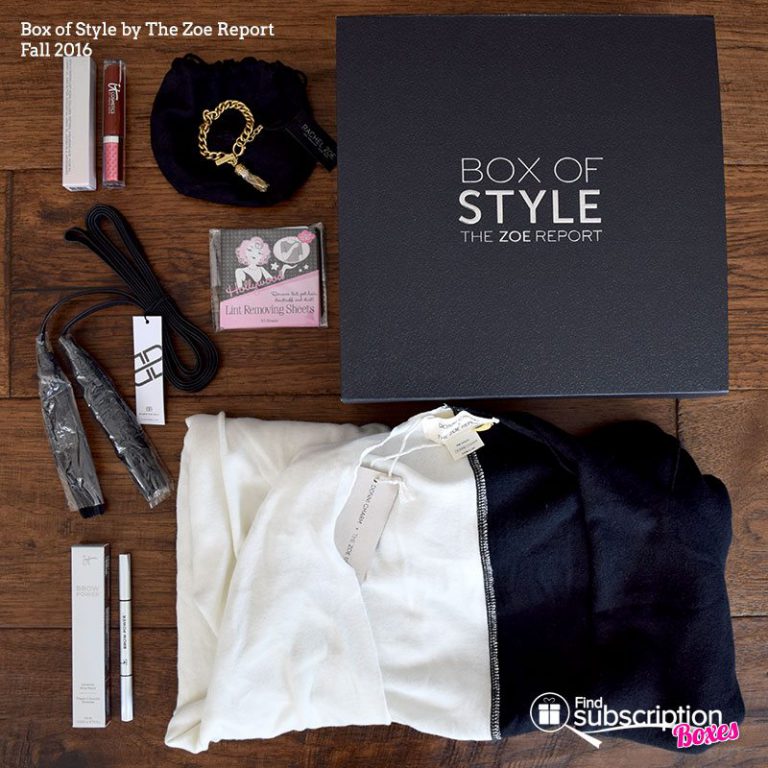 We're ready for fall in fabulous style thanks to Rachel Zoe's Fall 2016 Box of Style. The Donni Charm cape is so chic. It drapes perfectly over the shoulders with the hem hitting right at the wrist. The fabric is super soft and the cut suits any body type. The cape is just the thing to stay warm during the cool Autumn nights. The Gatsby Wrap Belt from B-Low The Belt is a great accessory for the cape. This leather belt has tassels on the ends that add some extra flare. We also love it as a belt for an evening t-shirt and jeans look. You can pair it with a tunic or dress to add a touch of polish and shape.
Rachel Zoe included a jewelry item from her own collection in the Fall Box of Style. This gorgeous bracelet has small, bead tassels that add some movement to your wrist. The medium-sized gold chain links make a bold statement without making your wrist look heavy.
We love beauty products that help make our beauty routine easier. The IT Cosmetics Eye Pencil is one of those products – allowing you to create or fill in your brows and have them look amazing. The brow pencil adapts to your hair color based off how hard you press the pencil when applying. Using quick feathered strokes, you can fill in your eyebrows to have the perfect shape for your face. We got the IT Cosmetics Vitality Lip Blush Hydrating Gloss Stain in Wine Berry Flush. This berry-hued stain not only hydrates your lips, but adds a stain for extra color.
Finally, the lint removing sheets are a must-have for any purse. We love our fuzzy scarves and jackets, and these handy sheets allow you to quickly press away any lint, hairs or fuzz.
What was your favorite Fall 2016 Box of Style product?
The Fall 2016 Box of Style by The Zoe Report is still available. Subscribe today to get this box of amazing Fall fashion finds!
Fall 2016 Box of Style Coupon Code
We have an exclusive Box of Style The Zoe Report coupon code. For a limited time, use Box of Style promo code FSBBOSF20 to save $20 off your first Rachel Zoe Box of Style.