Scent Trunk is a monthly fragrance subscription box that delivers 3 curated perfumes, colognes, or fragrances, to your doorstep every month. Scent Trunk subscribers complete a Scent Profile before signing up to let Scent Trunk know how to personalize your fragrance subscription.
Scent Trunk offers subscriptions for niche men's cologne, women's perfumes, and unisex fragrances. Scent Trunk subscribers also earn points that can be redeemed toward full-size bottles purchases from the Scent Trunk store. With today's Scent Trunk box review, we're taking a closer look at our Scent Trunk July 2015 women's perfume box.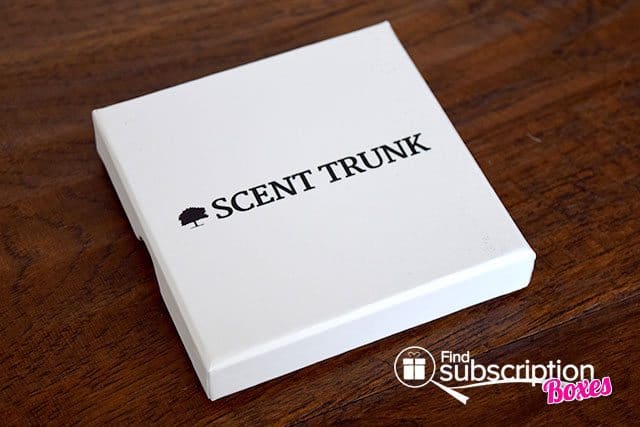 Scent Trunk includes a fragrance card for each of the fragrance samples in your monthly box. These cards share information about each scent, including the top, middle, and bass notes, longevity, and sillage.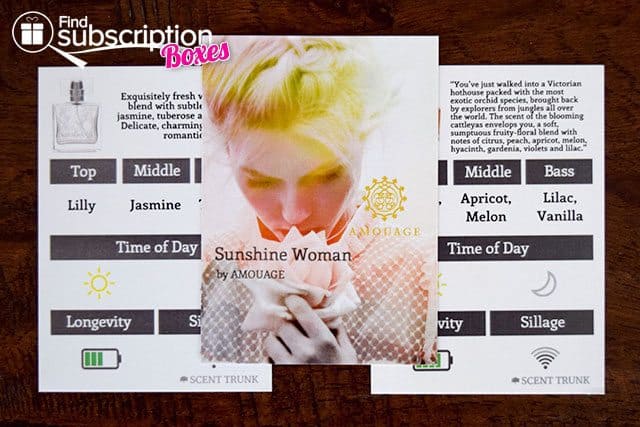 Here's a first look inside our July 2015 Scent Trunk box.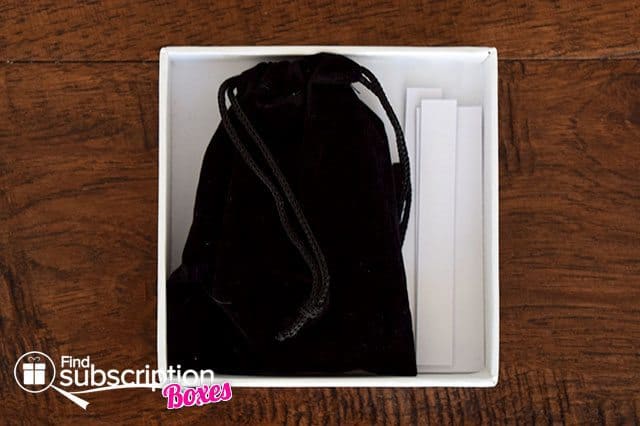 Inside the Scent Trunk July 2015 Women's Perfume Box
Each Scent Trunk box includes three 1.5 to 3 ml sample vials of your personalized fragrance selections. Here are the fragrances in our Scent Trunk July 2015 box.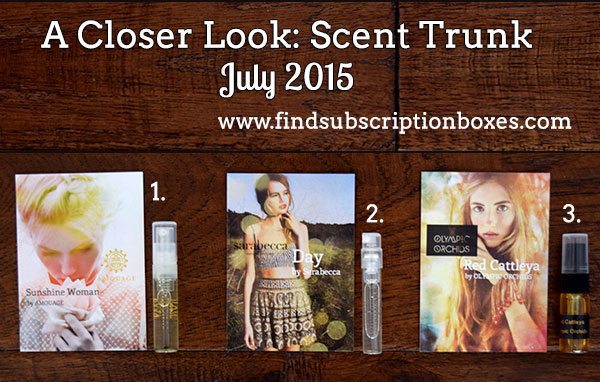 1. Sunshine Woman by Amouage
Brighten up any day with this unique perfume that blends almond and davana top notes with cade and papyrus.
2. Day by Sarabecca
This delicate, fresh fragrance has floral top notes of lily and jasmine for a subtle, romantic scent.
3. Red Cattleya by Olympic Orchids
Apricots, melon, citruses and peach combine with lilac, gardenia, and vanilla to create a soft, sumptuous fragrance.
Scent Trunk July 2015 Women's Perfume Box Review Wrap-Up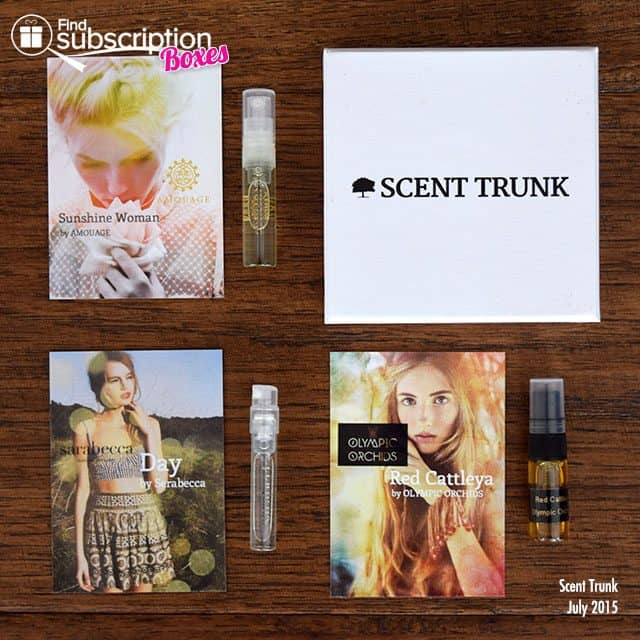 The Scent Trunk July 2015 women's perfume box featured 3 amazing scents that are perfect for summer. We loved that we were introduced to new niche brands and each of the fragrances were unique to each other while still matching our scent profile. A Scent Trunk subscription is a great way to discover and wear new fragrances without having to pay full price on a whole bottle.
What was your favorite scent from your July Scent Trunk box?
Want to give Scent Trunk a try? Use promo code SUBBOX40 to save 40% off your 1st Scent Trunk