GLOSSYBOX is a monthly beauty box for beauty addicts and fans. GLOSSYBOX delivers five deluxe and full-size beauty products from popular and emerging luxury and niche beauty brands in each beauty subscription box. With today's GLOSSYBOX review, we're unboxing the September 2016 GLOSSYBOX. The September GLOSSYBOX is a special Fashion Edition box that has a gorgeous box design illustrated by António Soares.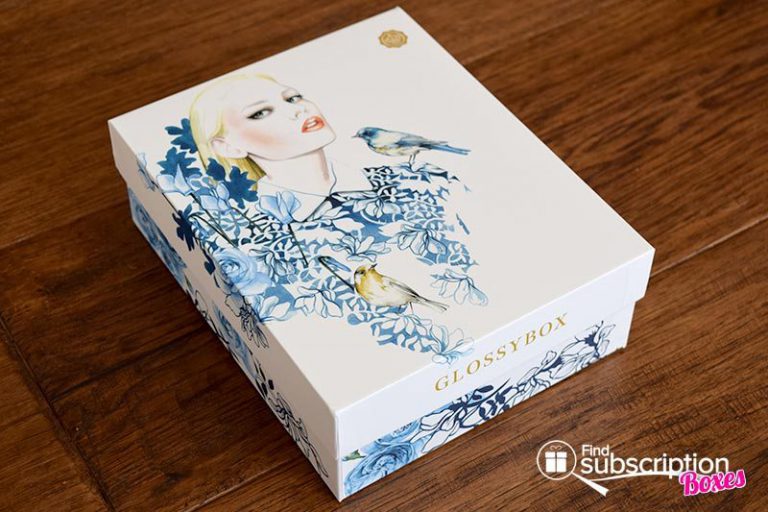 The September box GLOSSYBOX brochure had a matching design and describes each of that month's beauty products. There are also useful tips and tidbits of information for using the luxury beauty treats. There was also a box spoiler for the October GLOSSYBOX.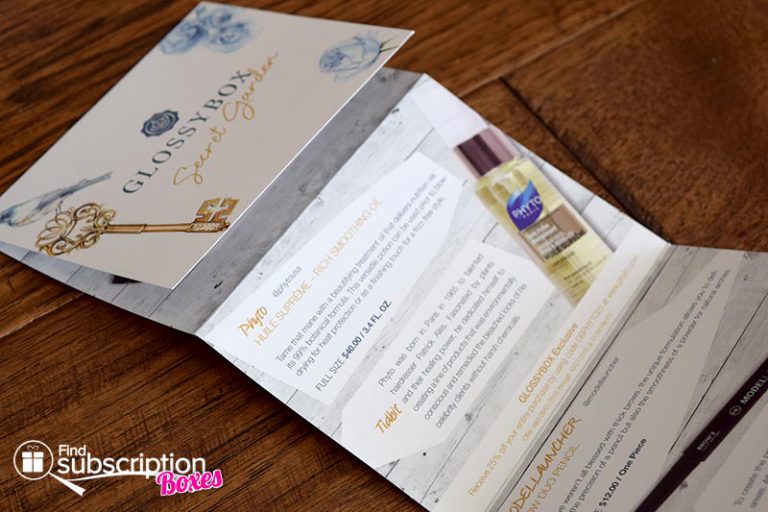 Here's a first look inside our September GLOSSYBOX.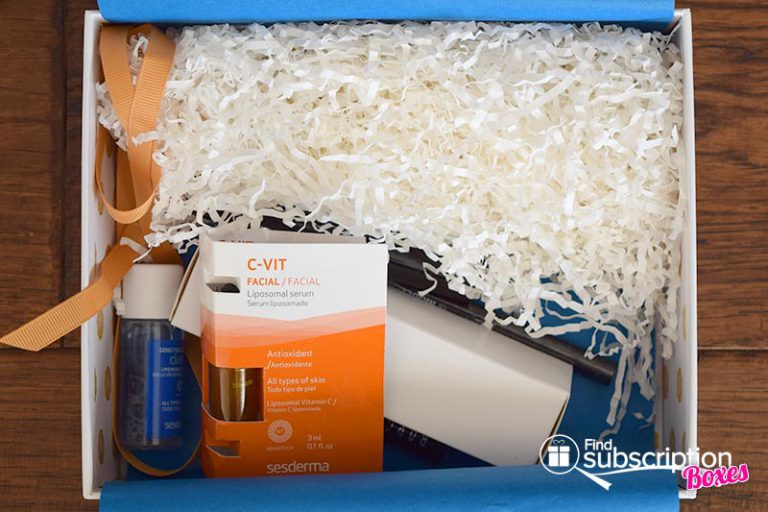 Inside the September 2016 GLOSSYBOX
The September GLOSSYBOX had 6 makeup and beauty products.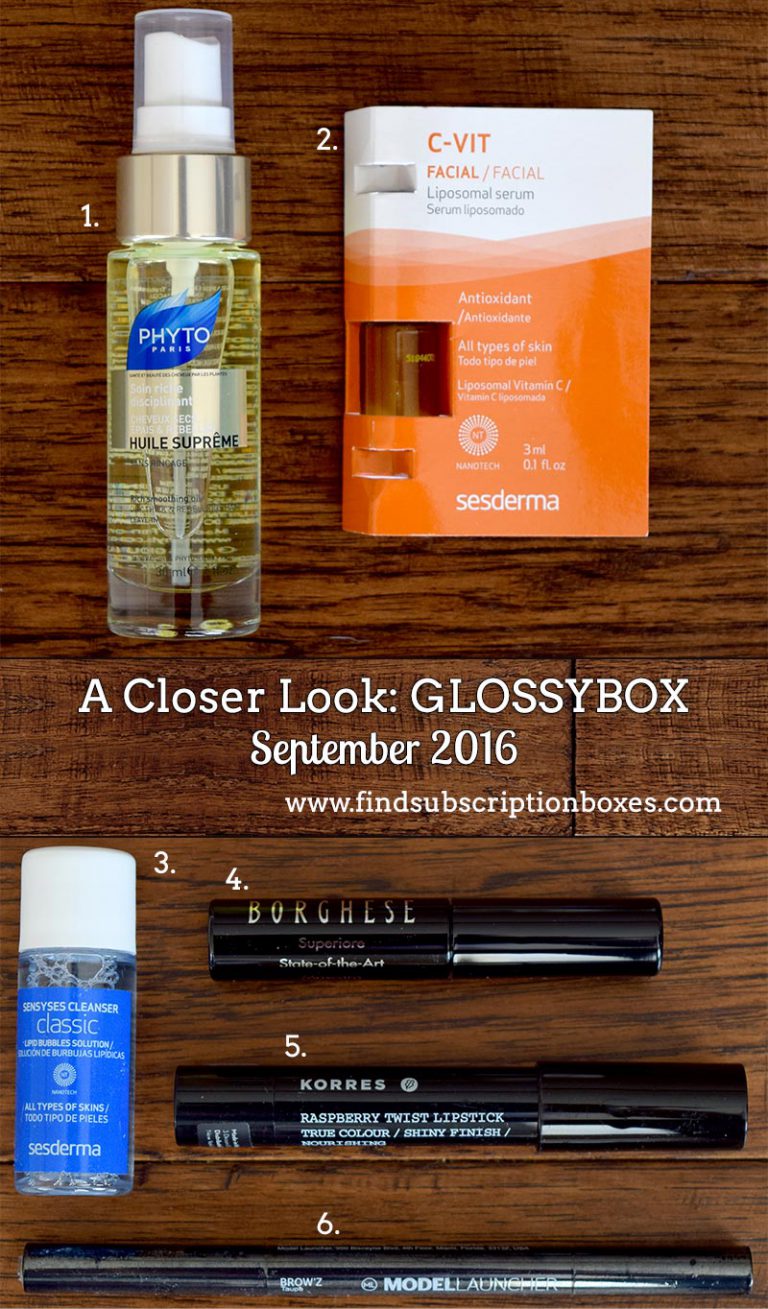 Phyto Huile Suprême – Rich Smoothing Oil
This versatile hair oil has a 99% botanical forumal that delivers nutrition to your hair and help achieve a frizz-free style.
Sesderma C-Vit Moistruizing Serum
This Sesderma Serum uses Vitamin C to moisturize, reduce wrinkles, and clarify spot marks.
Sesderma Sensyses Cleanser
Sesderma's soothing ingredients nourish and cleanse while easily removing face and eye makeup.
Borghese Superiore State-of-the-Art Mascara in Taupe
Lift, separate and curl your lashes with this state-of-the-art-mascara.
Korres Modern Greek Apothercary Twist Lipstick in Charm
Made with rasberry seed oil, this pencil-syle lipstick provides rich color, a glossy finish, and antioxidant proection without harmful additives.
ModelLauncer Brow Duo Pencil
Get the perfect brow with this brow pencil. Fill with small, feathery strokes with one end, then use the brush to blend and smooth.
September 2016 GLOSSYBOX Box Review Wrap-Up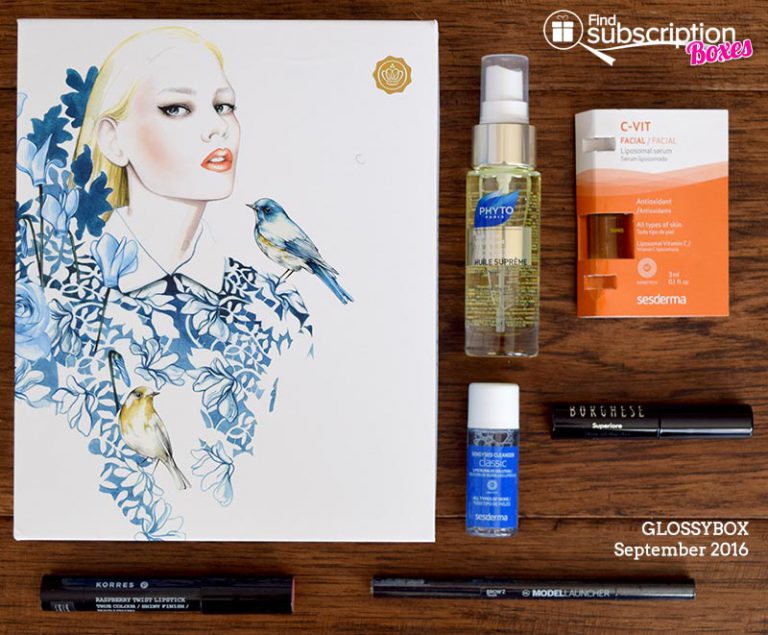 September is known as the month of fashion and GLOSSYBOX used fashion to inspire this month's beauty picks. Whether you're walking the runway or heading to work, you can use the Phyto smoothing hair oil to get smooth, frizz-free hair. The oil is lightweight and with just a few drops, you get a natural shine and great hydration.
At the end of the day, you can use the Sesderma Cleanser Classic to easily wipe away makeup while cleansing and toning your skin. It has a fresh, lightly floral scent. Follow-up with the Vitamin C Serum to reduce the appearance of wrinkles and get smoother, brighter skin.
To get the perfect makeup look, GLOSSYBOX delivered 3 amazing makeup items. The Borghese mascara has a curved wand that allows you to apply the mascara to every lash easily.  The formula goes on smooth and gives volume and length without the clumps. You can accent your eyes with perfectly shaped eyebrows using the Model Launcher eyebrow pencil. The pencil tip allows you to draw small, thin lines to fill in sparse brows. The brush on the other end of the pencil blends the color in with your natural brow hairs.
Finish off the look with a pop of color using the Korres Twist Lipstick. The shade we received was Charm, which is a lovely pink color. This lipstick goes on smooth and we love the chunky pencil shape. The color is perfect for day and evening looks.
What was your favorite September GLOSSYBOX beauty pick?
GLOSSYBOX Free Gift Offer
Through September 30, 2016, new GLOSSYBOX subscribers can get a free bonus box you join GLOSSYBOX today! Use code UNLOCK at checkout to get your free beauty gift.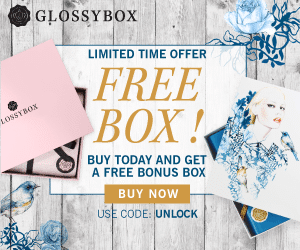 GLOSSYBOX September 2016 Free Bonus Box Offer valid through September 30th, 2016, 11:59 pm ET. Available while supplies last.