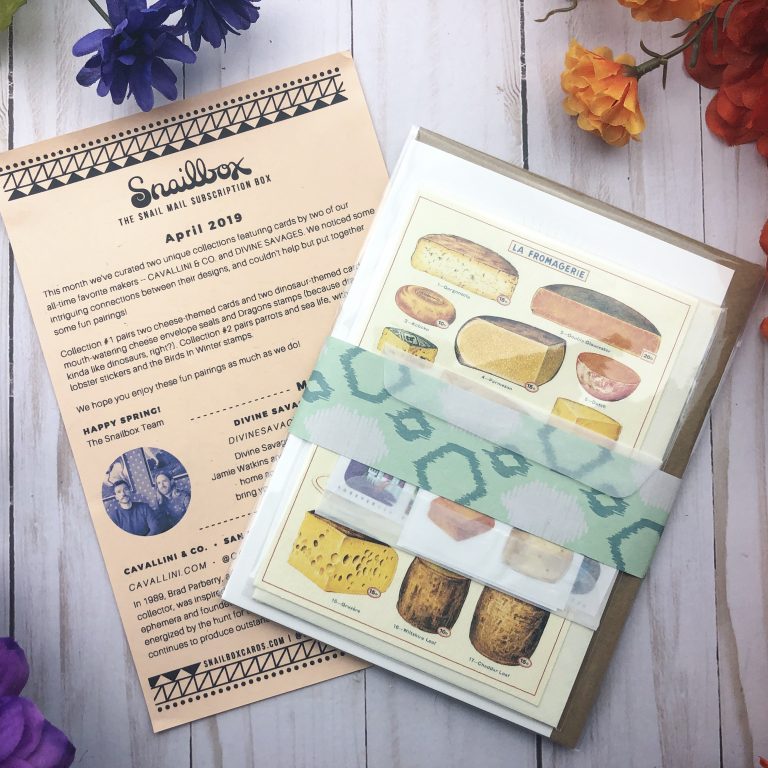 This is the second time that I have received Snailbox and let me tell you, I am so happy that I did! This is an absolute stunning monthly subscription box.
I might have a slight addiction to stationary. I might not use it as much as I should, but this monthly dose of stationary has given me the Pen Pal Bug! Just because I want to share these wonderful cards.
This month's artists for Snailbox were Jamie Watkins and Tom who started Divine Savages. their luxury wallpapers, greeting cards and more will bring your home to life! Snailbox also added another artist for this month's box, Brad Parberry who founded Cavallini & Co. He has been growing his collection of vintage ephemera for years!
Something else that I have LOVED about this subscription is the fact that they also send postage to go with the cards that they send you! How cool is that?!?! You don't even have to worry about not having stamps!
Without further ado, here are the four wonderful cards that they sent in April!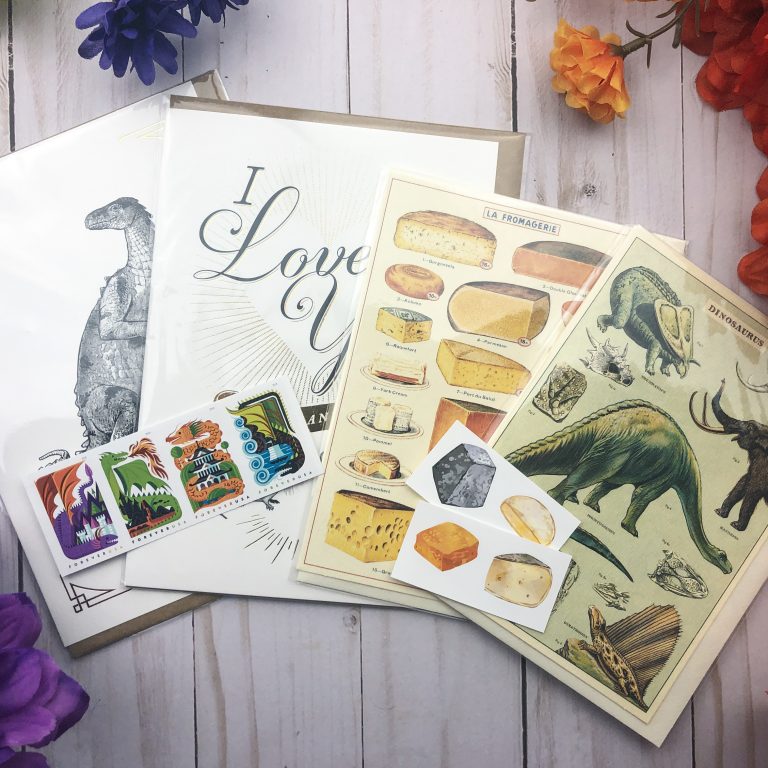 At first I was a little confused when I opened my Snailbox envelope and saw that we had two different themes going on. Dinosaurs and Cheese! Not something that you normally pair together, eh? But once I read their info card everything made so much more sense! I am loving everything about this and I would be super stoked to see more pairings like this in the future.
Dinosaurs!
Of course we have our wonderful dinosaur inspired cards. I love how we have the humor in the birthday card but then the cool seriousness of the infographic card! Paired with the REALLY cool dinosaur stamps and this is perfect. I don't even know if I'm willing to use the stamps they are that gorgeous!
Cheese!
Then of course we have the cheese element of the pairings for this month. Again, I love the playfulness with the "I love You! More than cheese!" That is really serious love if you ask me! Ha!
The cool graphic of all of the different cheeses is really cool as well. This is something that I can see myself actually putting in a picture frame and then putting up in the kitchen as well. I thought it was also wonderful for them to add some cheese stickers as well that you could use to close the envelope!
This whole box was on point! For $20.00 a month I think that this is a steal!
Most birthday cards are 5 dollars in themselves, plus the envelope, and then the postage. This monthly subscription actually ends up saving you money!
I can't wait to see what next month brings!!
~Courtny