Stitch Fix is a fashion subscription box that sends you five pieces of clothing/accessories at your chosen frequency. You pay a $20 styling fee for each box, which is then credited towards any of the items you want to keep. If you choose to keep all five items, you will receive a 25% off discount. If you don't like any ofthe clothes, you can just ship them back in a pre-paid shipping bag that is included in the box. The best way to ensure that your clothes look amazing is to fill out their Style Profile survey. This is an easy questionnaire that asks about your preferred colors, patterns, cuts, and sizes. You can also leave a note for your stylist, and even link to a Pinterest fashion board!
Today, I will be reviewing my third Stitch Fix box. Last month, I kept an expensive trench coat they sent me. This month, I have asked my stylist to include an assortment of affordable clothes.
My clothes arrived in perfect condition in a large cardboard box.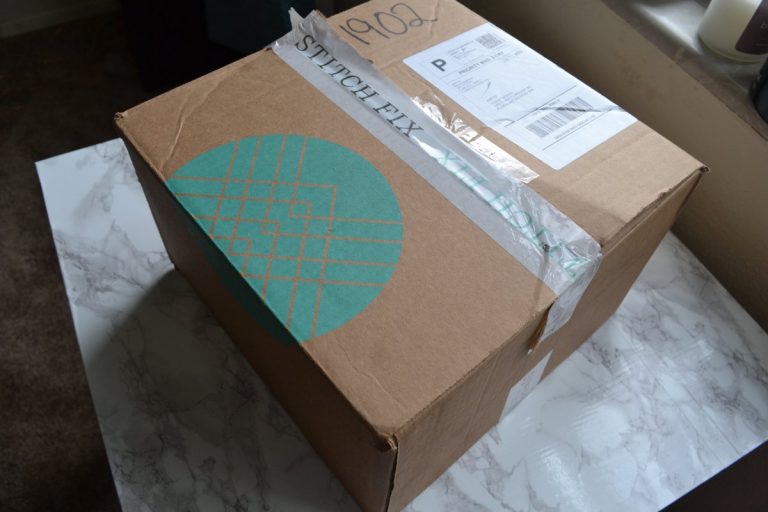 Before trying on any of the clothes, I took a look at the styling sheet they sent me. This card contains information about each item of clothing, and gives styling recommendations.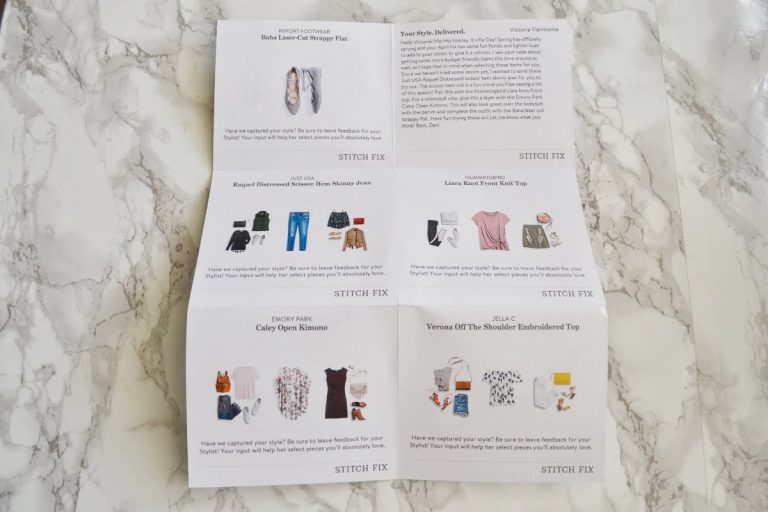 My stylist listened to my request for affordable clothing, and most of what she sent me fell into the $30 – $40 range. These picks were much more affordable than what I received over the past couple months.
The first item I received was a pair of Boho Laser-Cut Strappy Flats by Report Footwear, which cost $40. I received a gray pair, in a size 7.5. Footwear is usually tricky for me because I have wide feet. However, these fit perfectly! I liked the cutout design on the shoes, but I wasn't a fan of the elastic running across the top of the foot. I prefer open foot flats, so I ended up returning these. I did not want to spend $40 on a pair of shoes that I did not absolutely love. I probably would have kept them if they did not have the elastic straps.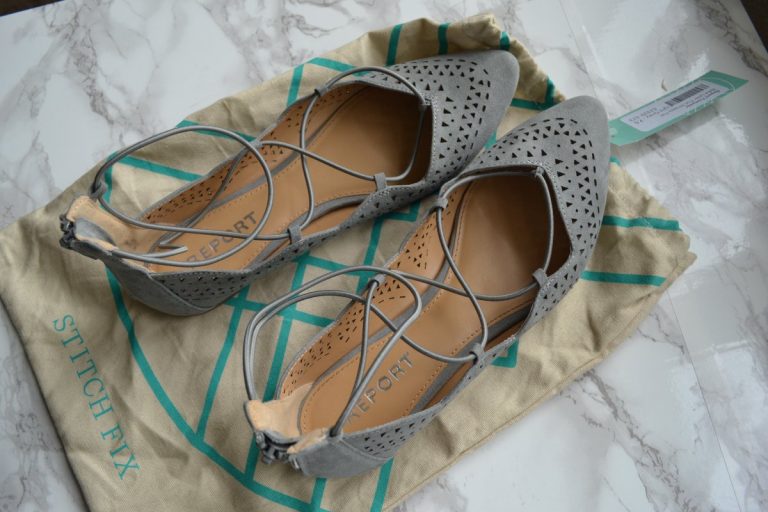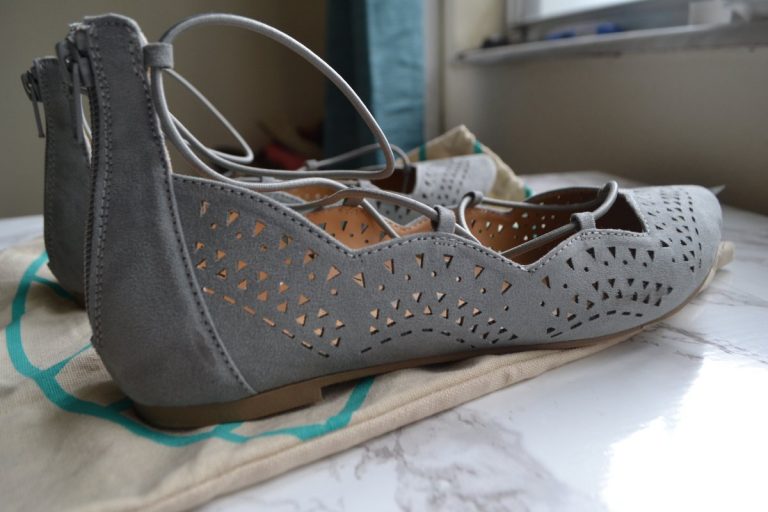 Next, I received a pair of really cute Scissor Hem Distressed Skinny Jeans from Just USA. This was the most expensive product in my box, and cost $58 – which really isn't bad for a high quality pair of jeans. I loved the style of these jeans, and I especially liked that they were not too long for my short legs. I'm only 5'1, so I usually have to hem my jeans or cuff them. However, these jeans did not fit my body perfectly. I like the way they fit my thighs, but they bunch up really weirdly around my knees. Also, the waistband is too loose. However, this isn't Stitch Fix's fault. I actually went down a pant size this month without realizing it, so I did not update my size preference from a 12 to a 10. I ended up sending these jeans back.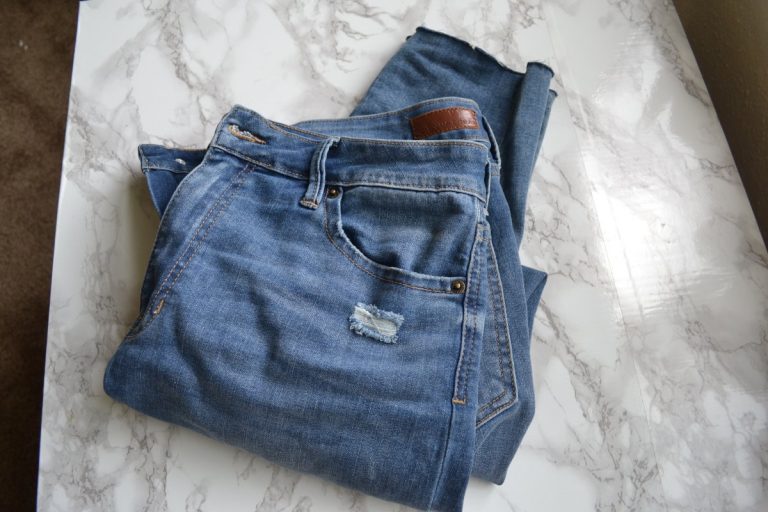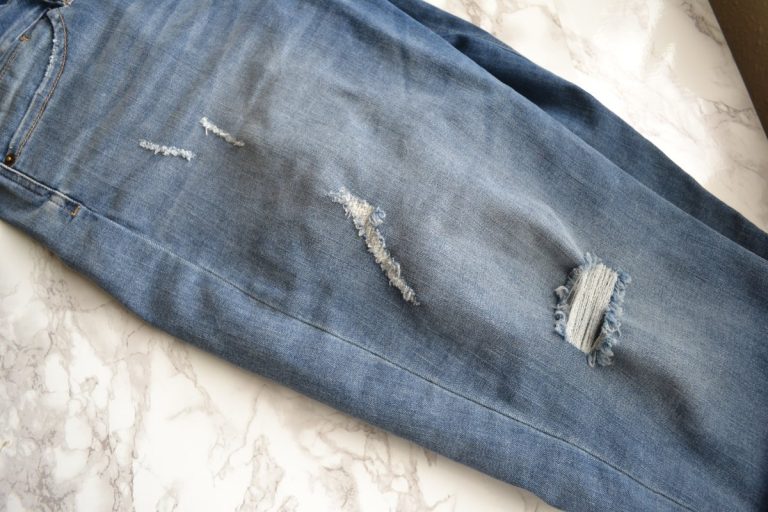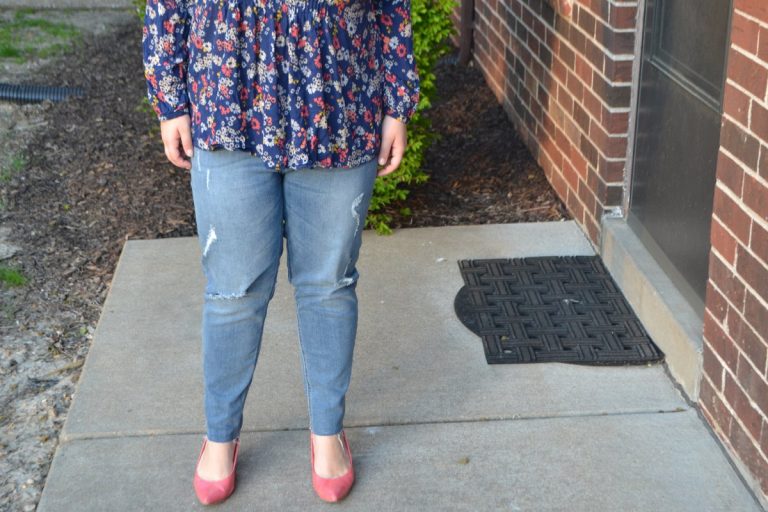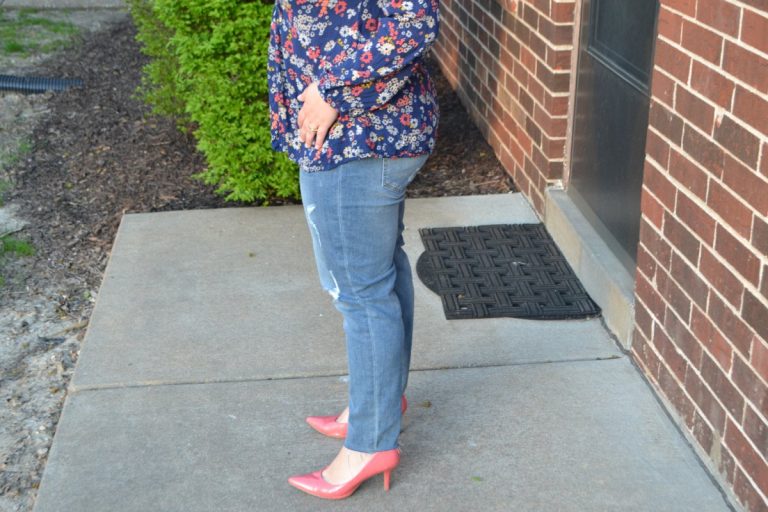 I also received a Verona Off the Shoulder Embroidered Top from Jella C, in a size Large. This shirt is perfect for summer! It is light and airy, and goes well with a strappy tank or a bandeau underneath. I love the floral pattern and I think it is a very flattering cut for my body type. It was only $38, so I ended up keeping it.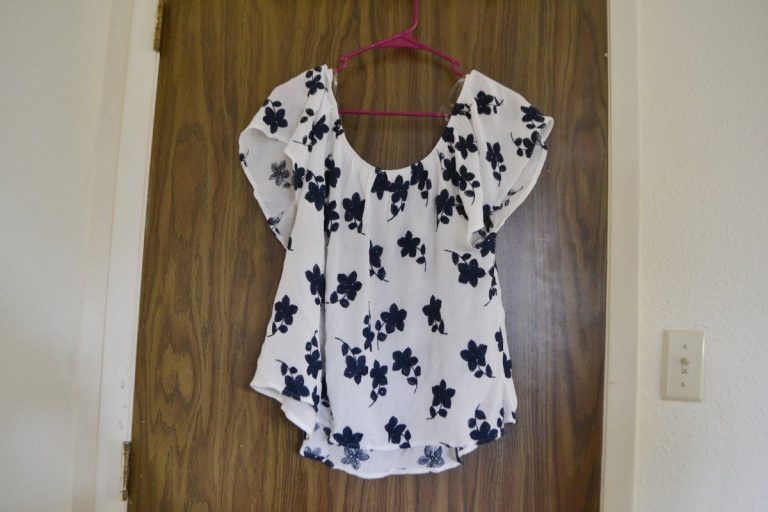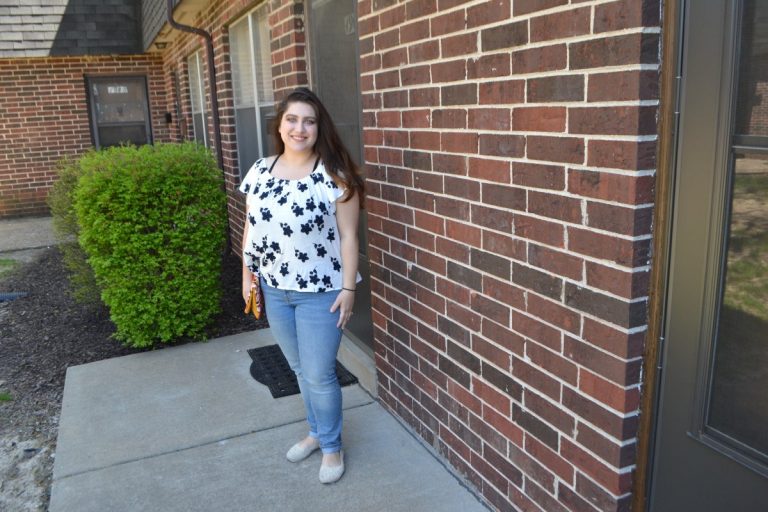 The next piece of clothing they sent was a Caley Open Kimono from Emory Park, which costs $34. It is a size Large, so it is quite long on me. However, I really love the look of long kimonos and cardigans. I ended up keeping this piece, because I loved the fit and the elegant floral pattern.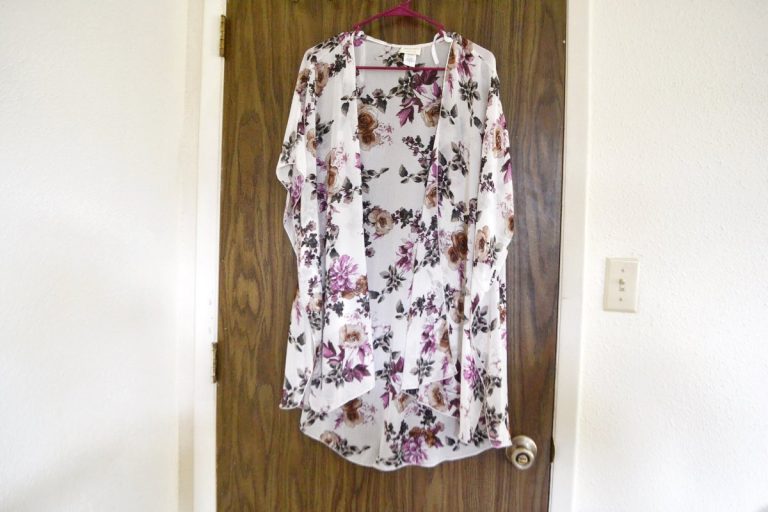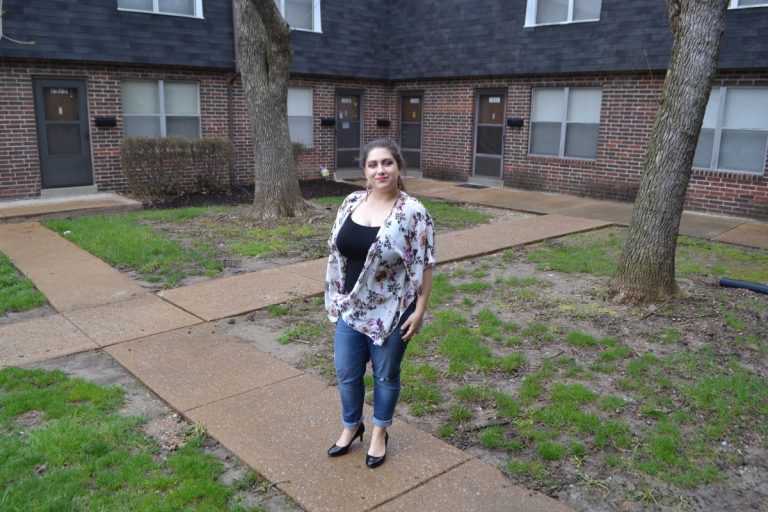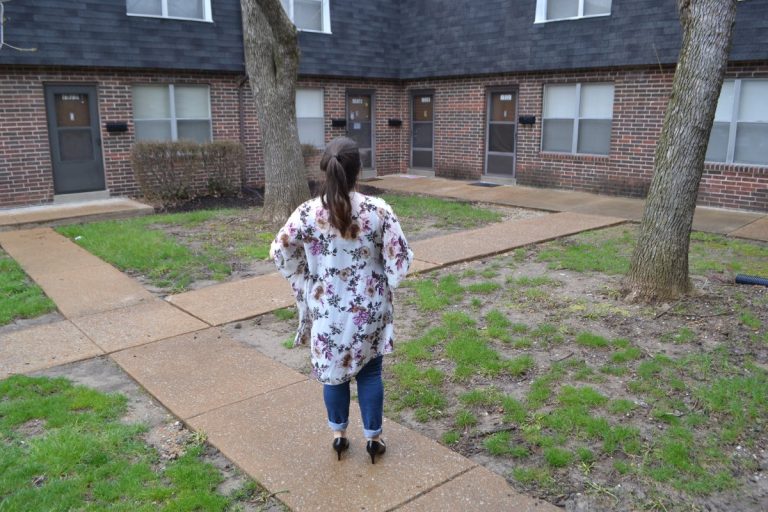 The final item I received was a Liara Knot Front Top from Hummingbird, which cost $32. It was the most affordable item in my box but I really did not like it. It was way too wide for my frame, and hung on me. It ended up making me look about 20 pounds heavier than I really am. I returned this, because it just wasn't flattering at all.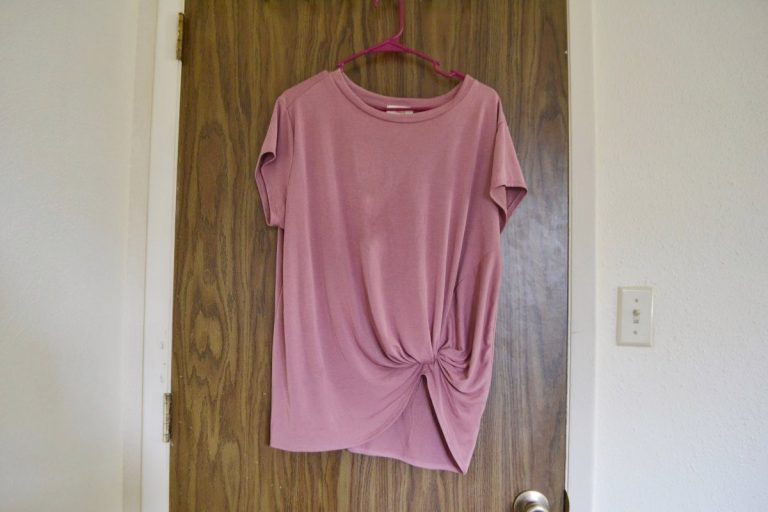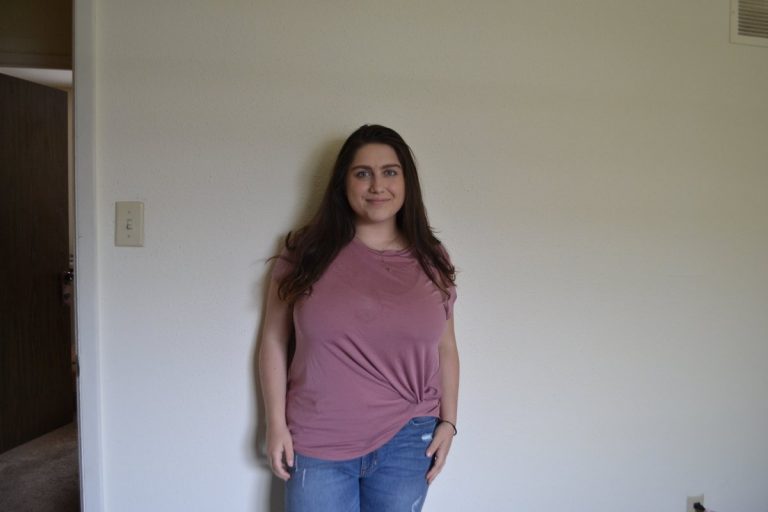 I liked a lot of items in this box, and ended up keeping two of them. The knot front top was a dud, but otherwise I think the stylist did a good job picking out clothes for me.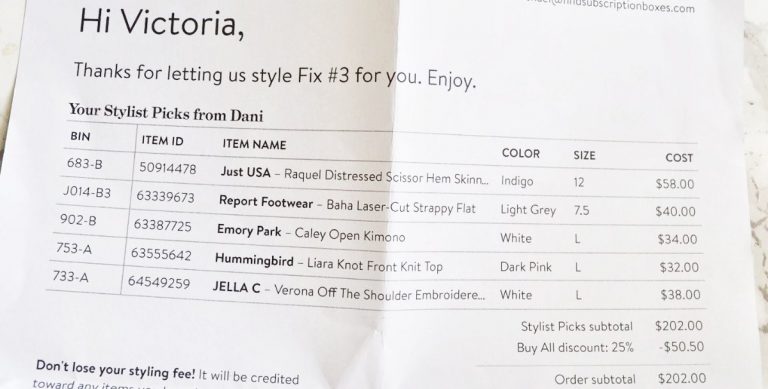 The total value of everything in the box was $202. I ended up keeping the kimono and the embroidered top, which was $72 in total. I was able to put the $20 styling fee towards that cost, so I only ended up paying $52. I had a lot of fun trying on these clothes! I think this is a great way to find new, cute clothes – especially if you can never seem to find anything that fits right when you go shopping.