Stitchfix is a subscription styling service that sends you five pieces of clothing and accessories at your chosen frequency. You pay a $20 styling fee for each box, which is then credited towards any of the items you want to keep. If you choose to keep all five items, you will receive a 25% off discount. If you don't like some of the clothes, you can just ship them back in a pre-paid shipping bag that is included in the box. The best way to ensure that your clothes look amazing is to fill out their Style Profile survey. This is an easy questionnaire that asks about your preferred colors, patterns, cuts, and sizes. You can also leave a note for your stylist, and even link to a Pinterest fashion board!
Today, I will be reviewing my fourth Stitchfix box. I've had a really hard time shopping for a pair of shorts that is comfortable, and fits my butt well. I added a note for my stylist, and asked her to send a pair of shorts that would keep me cool, but not have my butt hanging out the bottom.
All of my clothes were securely packaged in a large cardboard box.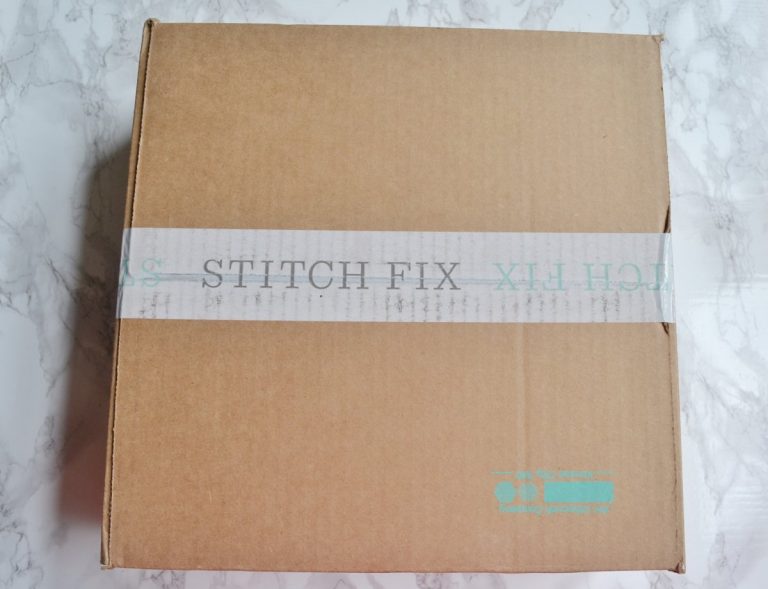 Before looking at any of the clothes, I glanced over the styling sheet they sent me. This card contains information about each item of clothing, and gives styling recommendations.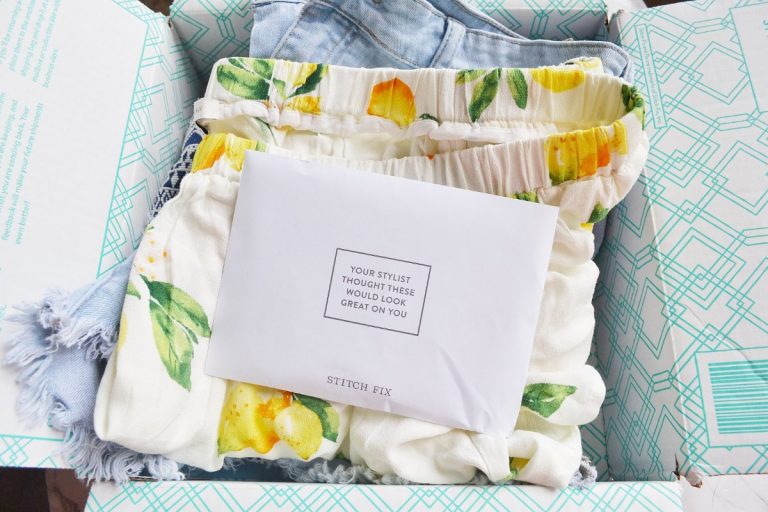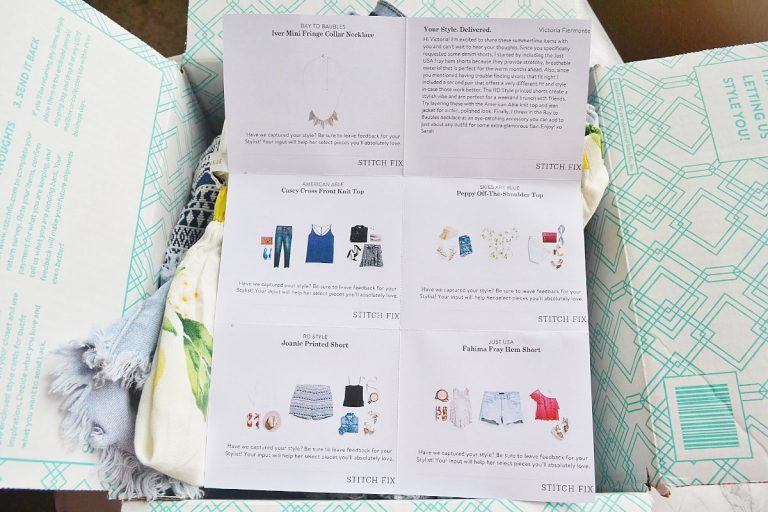 Let's take a look at each item inside my Stitchfix.
Iver Mini Fringe Collar Necklace in Gold ($34)
This stunning geometric necklace is made from little rounded rectangles of varied sizes, looped together on a medium length chain. The necklace is bright and bold, without being too chunky or overwhelming. I prefer gold jewelry over silver, so I'm glad they sent this piece! I wore it several times, and I received a couple compliments on it. I ended up returning it, mainly because I already have plenty of jewelry.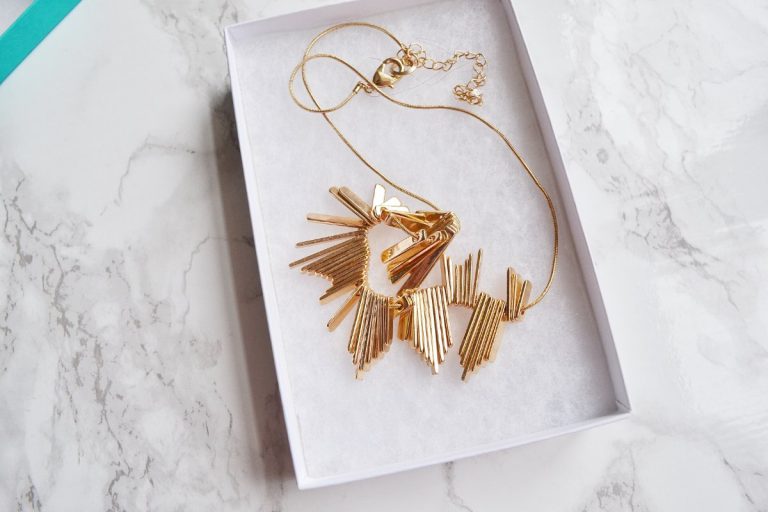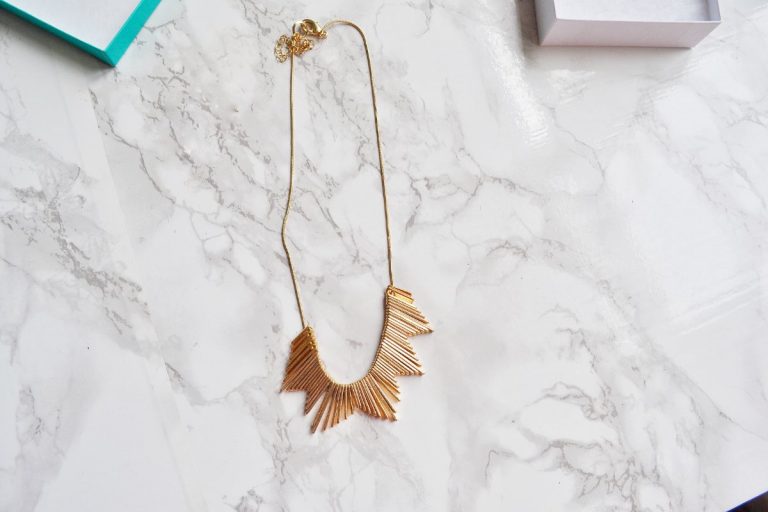 Here's what the necklace looks like while wearing it: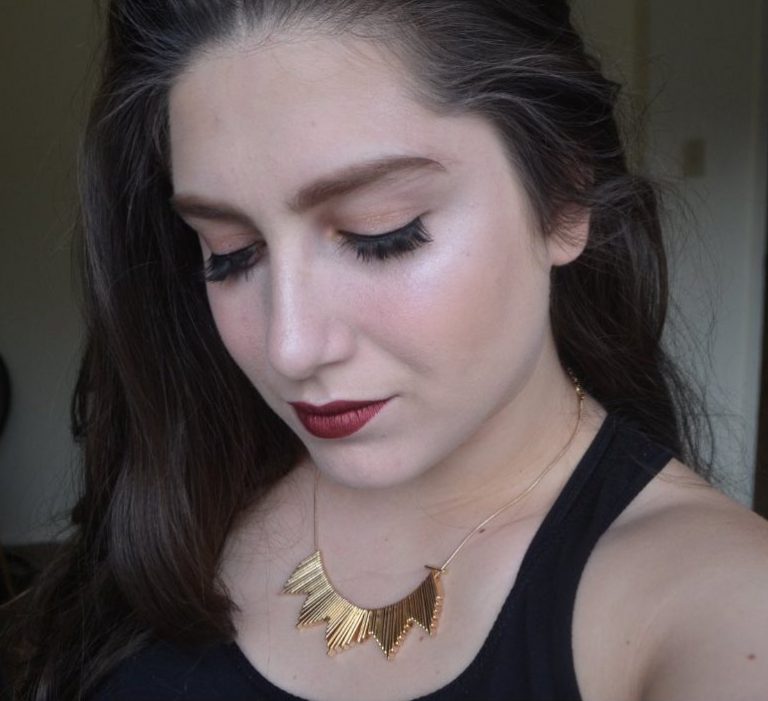 American Able Casey Cross Front Knit Top in Cobalt ($28)
This shirt arrived super wrinkly, but it actually smoothed out a lot while I was wearing it. This knit tank has cross straps in the front, and a T strap in the back. I love the color of the shirt, and I quite like the strappy design. However, the material was thin and flimsy and the fit was too clingy for my liking.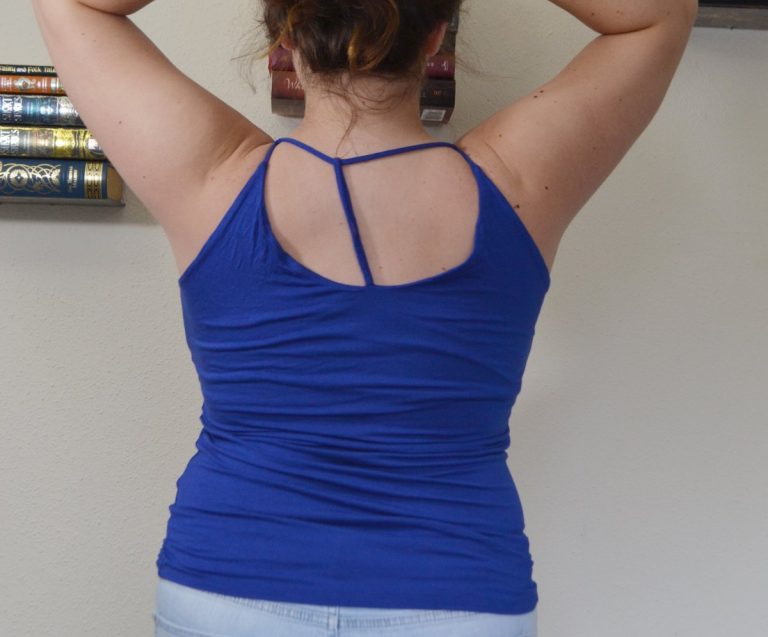 Just USA Fahima Fray Hem Short in Indigo ($44)
I am obsessed with these shorts! They are the perfect length for summer – short enough to stay cool, but not indecent. The frayed detailing is really cute, and it goes with pretty much all of my summer tops. These shorts are also shorter in the back and longer in the front, which is a style I had never tried before. I ended up keeping the shorts, and I've worn them countless times over the last month.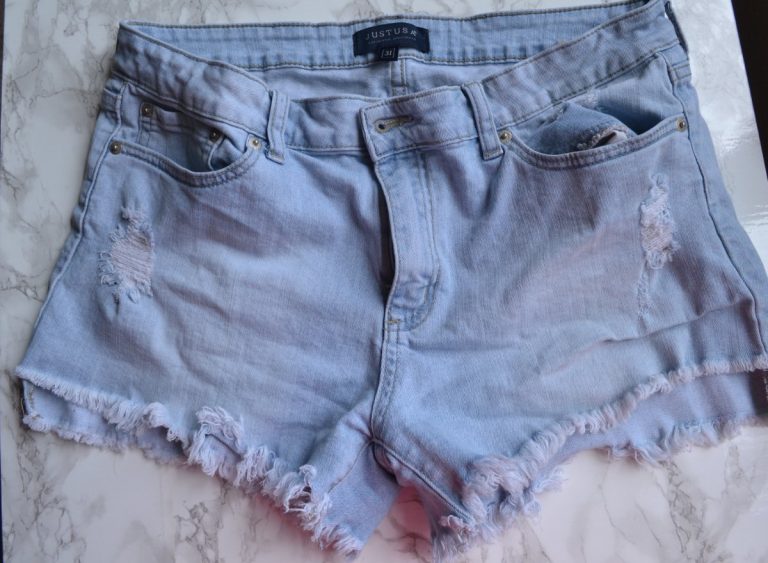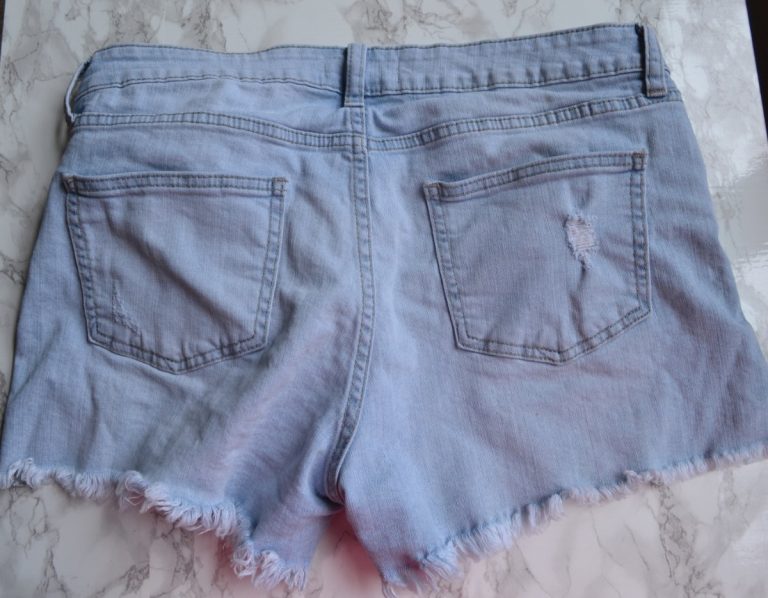 Here's what the shorts look like on me: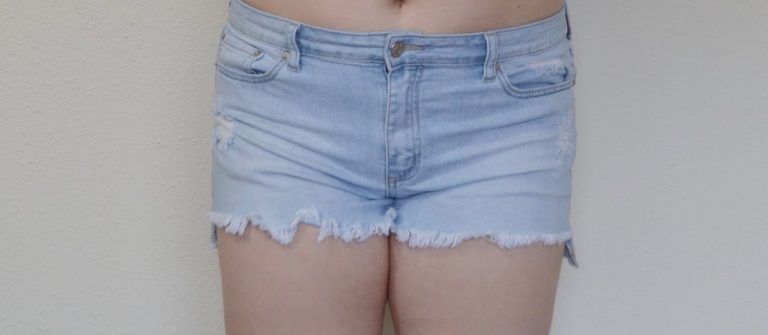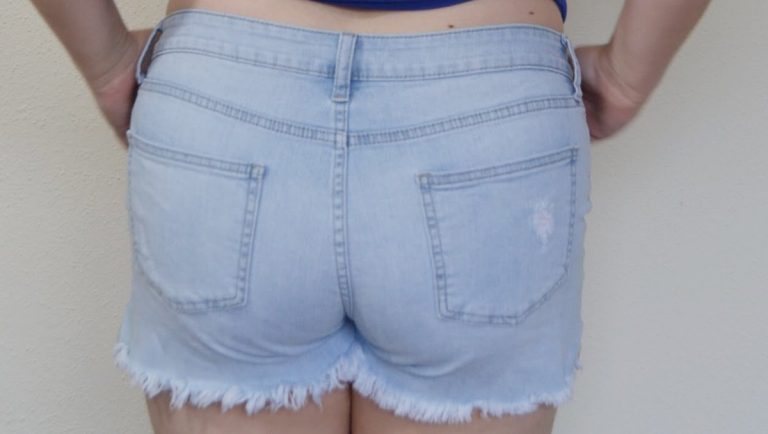 RD Style Joanie Printed Short in Blue ($48)
These high waisted shorts have a cute navy tribal pattern, and are pretty darn comfy. They are like the shorts equivalent of sweatpants, except they look pretty fashionable! Unfortunately, the crotch was way too long for me, and it ended up with an awkward baggy bulge in the front. I'm only 5'0, so I tend to have this problem with shorts. I would have kept these if they fit better, because I like the pattern.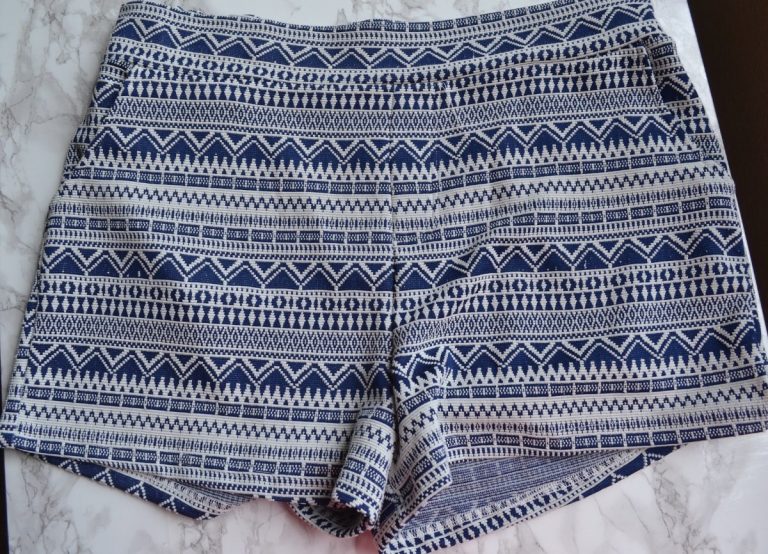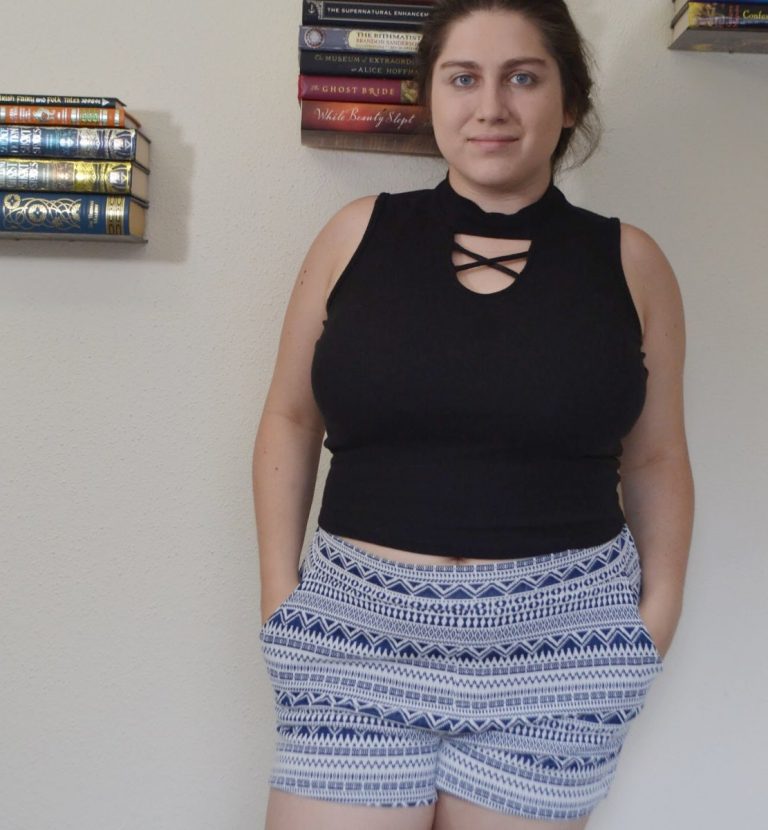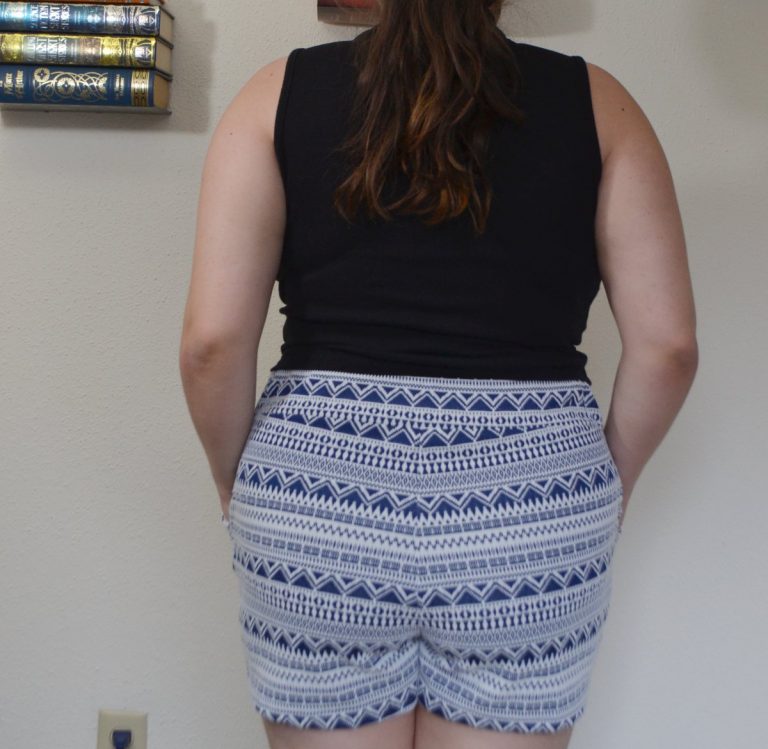 Skies are Blue Peppy Off The Shoulder Top ($48)
In my previous box, Stitchfix sent me an off the shoulder top that I fell in love with. This time, they sent me a similar style shirt with an even cute pattern: lemons! I love the bright look of this top, but unfortunately it does not fit me right. It is very loose and boxy on me, and makes me look heavier than I am. Plus, the off-the-shoulder sleeves just won't stay down! The moment I move my arms, the sleeves pop back up to my shoulders. I sent this one back, which was a shame because I thought it looked the most promising.


The total cost of everything in my box was $202. I ended up only keeping the denim fray shorts, because all the other clothing items had fit issues. I was able to apply my $20 styling fee towards the shorts, so I only ended up paying another $24 for them. I have never felt so good in a pair of shorts, so they are worth every penny to me!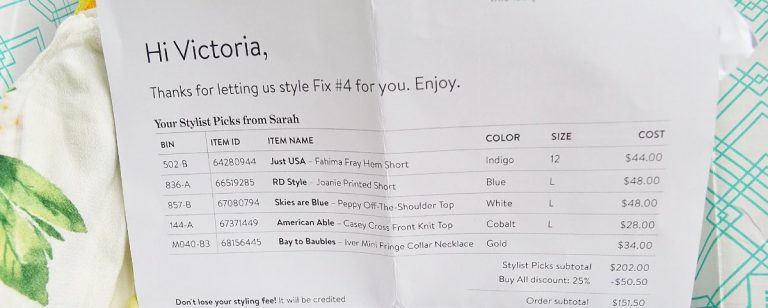 This isn't the greatest Stitchfix I've received, mainly because of the fit issues. However, I am glad to have found a great pair of shorts – which is what I requested of the stylist. Hopefully next month's box will be filled with better fitting items!