The Handy Box delivers a surprise monthly box of tools and handy gadgets to your door every month. With this The Handy Box review, we're taking a closer look at the April 2015 The Handy Box.
The Handy Box includes a product card that describes each of the items in that month's The Handy Box.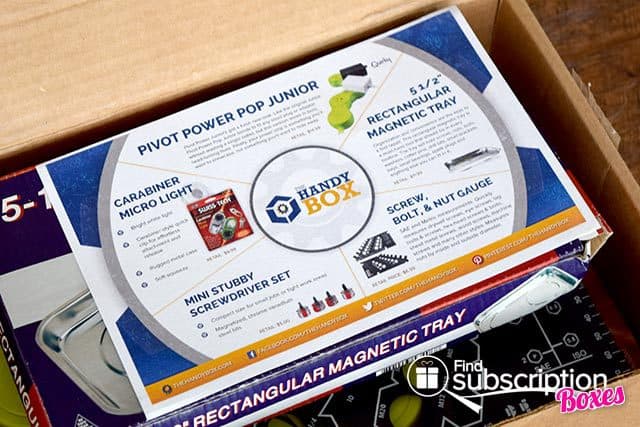 Here's a first look inside our April 2015 The Handy Box.
Inside The Handy Box April 2015 Box
There were 5 items in our April The Handy Box.

1. Pivot Power Pop Junior, Retail Value: $14.99
Never waste an outlet again with this bendable power strip that can bend to fit any sized plug or adapter.
2. 5 1/2″ Rectangular Magnetic Tray, Retail Value: $11.99
Magnets on this rectangular tray ensures you'll have a safe place to hold screws, nuts, bolts, and anything else that can fit.
3. Screw, Bolt & Nut Gauge, Retail Value: $6.99
Quickly and easily measure screws, bolts, and more with this SAE and Metric gauge.
4. Carabiner Micro Light, Retail Value: $9.99
With a carabiner clip, these micro lights for keys are perfect keeping a portable light on hand. Use it as a keychain or clip onto backpacks, purses, or anywhere else you want a portable light handy.
5. Mini Stubby Screwdriver Set, Retail Value: $5.00
These stubby screwdrivers are perfect for small jobs or tight work areas.
The Handy Box April 2015 Box Review Wrap-Up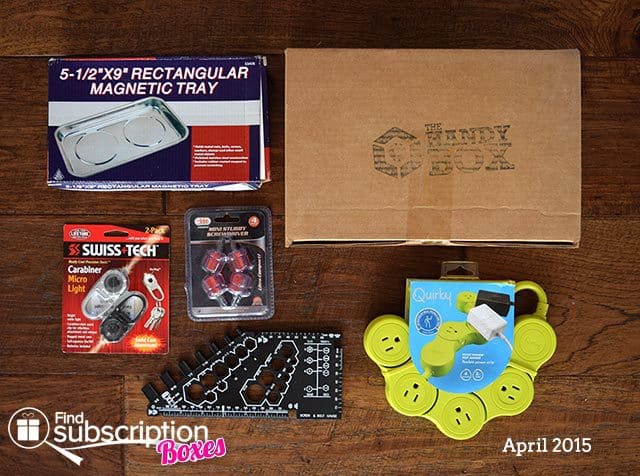 The April 2015 The Handy Box included a mix of high-tech and very useful tools. The screw, bolt, & nut gauge makes it easy for beginning DIYers to identify the right parts while the magnetic tray will keep everything organized. The pivoting, bendable power strip was very unique and is perfect for homes with a lot of electronics or to just add a pop of color to the wall. The total retail value of April's The Handy Box was $48.96.
What was your favorite item from The Handy Box April 2015 box?
Save $2 Off The Handy Box
Use The Handy Box coupon code FINDBOXES2 to save $2 off any The Handy Box subscription.